It takes a few beats for me to realise the farmer is not, in fact, angry that we're blocking one of his access roads. Quite the opposite in fact.
We're definitely in his way, even though I've parked the 450 SEL as far to one side as possible in the wide junction to allow his clattering old tractor to pass unhindered. But as I get closer, with my best "we'll be moving soon" body language on standby, I realise that he's actually trying to offer compliments on the large, dark blue saloon.
Five decades on from launch, the W116-generation Mercedes-Benz S-class still has gravitas. Especially for sun-wizened grape farmers within a stone's throw of Stuttgart.
How much is your car to insure? Find out in four easy steps.
Get a quote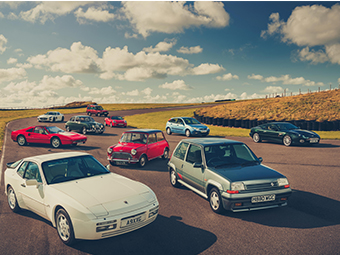 The idea of an S-class was not entirely new when the W116 debuted in 1972. There were big Mercedes Sonderklasse saloons before it, a lineage beginning with the W180 'Ponton' of 1954. The Ponton was a grand and somewhat upright model named for its unbroken unibody styling, after decades of cycle wings and running boards, followed by the 'Adenauer' W189 in 1957.
This time the name informally evoked the first Chancellor of Germany, Konrad Adenauer, who was rarely photographed without one iteration or another of W189 in the background. Two generations of 'Fintail' in the W111 and W112 followed – neither of which should need their nicknames explaining – while finally, between 1965 and 1972, came the W108 and W109 'strich achts' or 'stroke 8s'.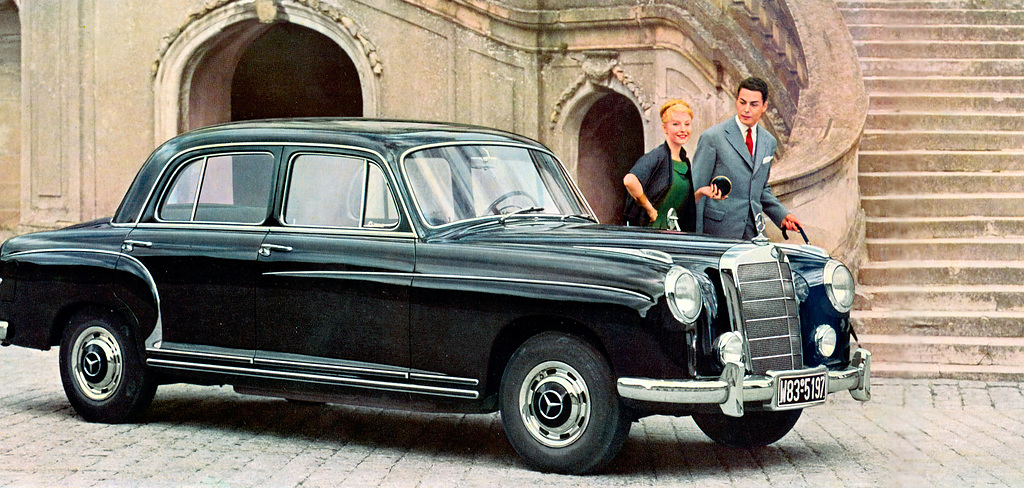 But by the end of the 1960s, the strich acht was due a successor, and while the W116 S-class that replaced it had no catchy nickname, it did have a very clear brief, taking the luxury model in a new direction for design, driveability, and – as was becoming ever more important at the time – safety.
Mercedes implemented an entirely new suspension system, with a control arm setup at the front (lower wishbones with single upper links connected to an anti-roll bar), using lessons learned from the C111 development vehicles. Zero-offset steering geometry – good for stability, but something that can increase steering effort – was justified on the grounds that all models would use assisted steering anyway.
Mercedes' swing axles were safer than most of the period, but for the W116, they finally made way for semi-trailing arms. Conventional springs suspended most models, but the 450 SEL 6.9 traded that for hydropneumatic suspension. Autocar's technical report in 1972 commented that the company made little fanfare about noise-suppression measures compared to its predecessor – but also noted that Mercedes' improvements in structural design and attention to detail meant mitigating measures like fat, isolating rubber bushes were no longer necessary to curb vibrations.
The new cabin was as padded as the Michelin man, with squeezable surfaces everywhere from the screen pillars to the wheel, the dashboard to the sun visors. Mirrors featured anti-dazzle settings, rear doors were equipped with child locks, and door handles were flush-fitted, to avoid the risk of contact in an accident. If any of this sounds routine now, it wasn't fifty years ago.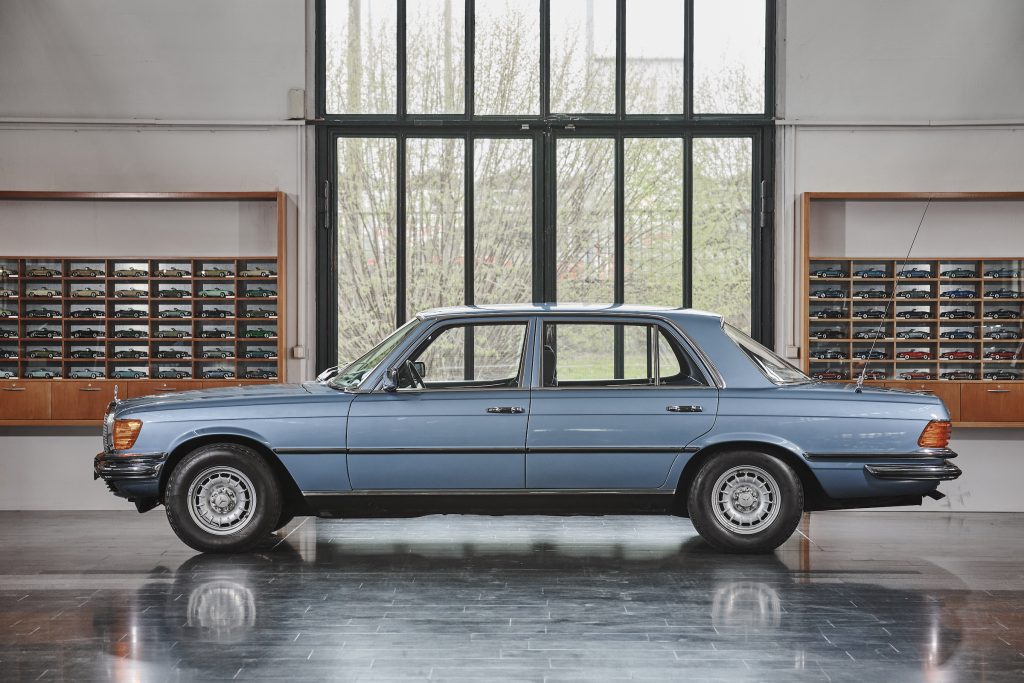 The range comprised inline six and V8 power units, varying from the 160-horse 280S to first 350 and then later 450 SEs, the latter good for 225bhp and 278lb ft from its 4520cc overhead-cam V8. Top of the tree though arrived in 1975, with the mighty 6.9-litre.
Still badged 450, with SEL denoting a longer wheelbase, the 6.9 was derived from Mercedes' 6.3-litre V8, each pot bored from 103 to 107mm but retaining a short 95mm stroke. High revs weren't the aim here though; the red paint started at only 5200rpm, and the 6.9 made a 286bhp maximum at a relaxed 4250rpm. Geared for 140mph, it could also bludgeon past 60mph in only 7.2 seconds. A handy 405lb ft of torque rendered the two-tonne 6.9 mostly oblivious to its own mass.
As the farmer will try and convey in a short while, the W116 has magnificent presence. Friedrich Geiger's shape took cues from the earlier Mercedes saloons penned by Paul Bracq, but like the R107 SL and C107 SLC that debuted a year earlier, and the W123 that followed later in the 1970s, stacked headlights made way for horizontal lamps, a motif echoed in the ribbed tail lights (designed to reduce dirt accumulation), and in several horizontal character lines breaking up the side profile.
It's large but not overwhelmingly so, even in this long wheelbase form. Even for its grandest models, Mercedes operated on the basis that its cars should be no larger than necessary to meet their packaging needs, and dedicated little space to unnecessary styling flourishes or ornamentation.
Conventional W116s stretched to 4960mm, with 10cm added to the wheelbase for SELs. American versions were the longest of all, but only on account of impact bumpers vast enough to serve as an emergency landing strip for small aircraft. They added 274mm – nearly a foot.
That safety-first cabin might be awash with plastic, but there's nothing synthetic about the experience of opening and closing the doors. The action of the button and feel of the handle are unparalleled, and as you close the door, there's something primally satisfying about the combined whump of the door closing – with no reverb or vibration to imply anything close to tinniness – and the clack of the door striker, which looks so substantial it could probably be used to connect train cars.
Hard-wearing cloth covers the front seats and rear bench. The front pews are wide and flat but still promise total comfort, and have that key characteristic of all the best seats, in that they don't need much faffing with to find the perfect position. The dashboard is an object lesson in everything you need, and nothing you don't; large, clear controls, grouped sensibly, and with wear rates to even minor switchgear that you could measure on a geological timescale.
The dials too are perfectly clear, but one number in particular stands out in this 1977 car: 647,800. It's the odometer, and it's showing the equivalent of more than 400,000 miles. Peter Becker, from Mercedes-Benz Classic Communications, explains that the car was formerly part of an industry association fleet and was meticulously maintained both there, and since Mercedes itself adopted the car. There is no better advertisement for both building a car properly to start with, and then maintaining it correctly; if I'd peered inside and the odo had been reading a hundredth of that figure I'd have been no more surprised.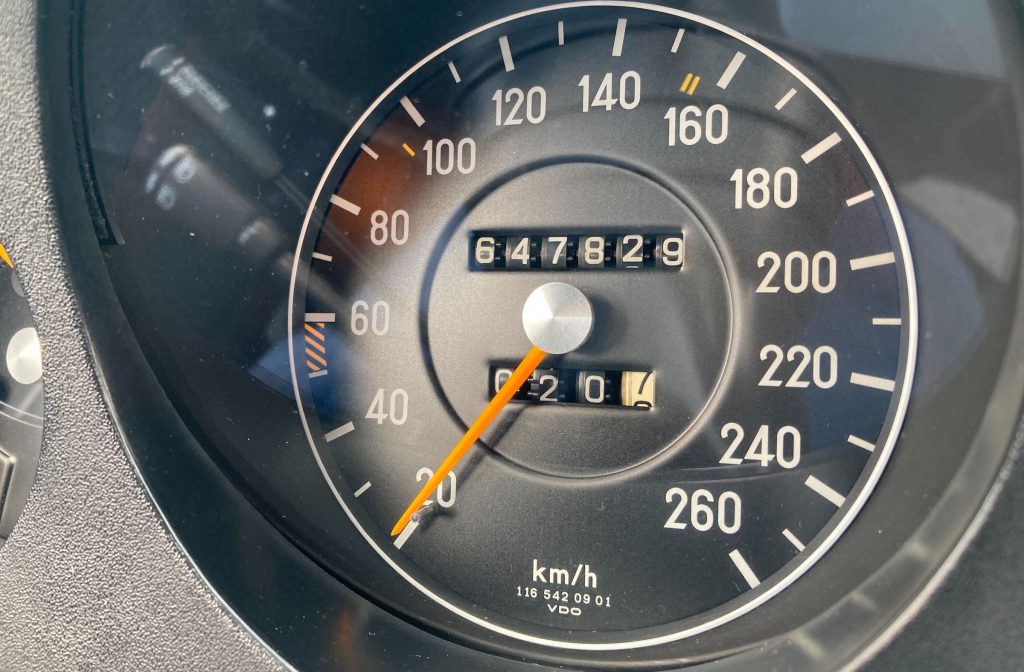 As the car warms up, Becker leaves me with a warning to be careful out of junctions. The 6.9 litre with its limited-slip differential is more than enough to trouble the efforts of 215-section tyres with a balloon-like profile over 14-inch wheels. And sure enough, at the first brisk getaway to avoid losing the photography car in traffic, there's a screeeee from somewhere aft, though all feels so calm from the driver's seat it could have been from a different car entirely.
Winding through urban areas the main sensation is one of more space to move than expected; the SEL might be more than five metres long, but at 1870mm wide it's slimmer of beam than modern equivalents, and doesn't require a sharp intake of breath every time the road tightens.
The heavy throttle needs firm pressure to get the desired result, leading to those occasional sporty getaways when you misjudge it, but the S-class creeps easily through traffic and hangs on the coat-tails of modern traffic without getting flustered. The steering is also easy-going – it's not fingerlight, but requires little conscious effort to direct.
The 6.9 has a rich character but is naturally muted for this purpose. AMG-style fire and brimstone is absent. In their place, a kind of reassuring rumble, which does build in intensity with a piledriver-like intake noise towards the red line. Still, it's never enough to disturb conversational volume. Or, in my case, the German pop music emanating from that wonderful period Becker Mexico.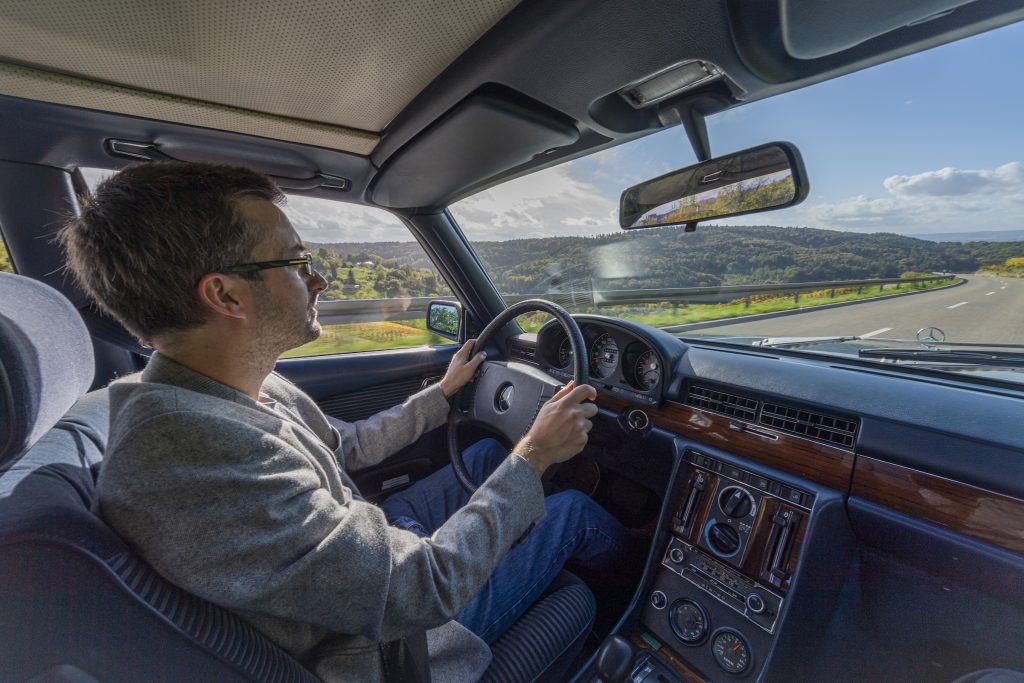 Ask for small throttle openings and the 6.9 surges proportionally forward. Demand more, and the pauses get larger, as the torque converter spins up, and occasionally allows a lower gear for even more acceleration. Never with a thump; if the noise is judged to allow deals to be brokered uninterrupted, then acceleration and gearchanges are metered out in such a way as to avoid spilling the champagne toasting a successful business venture.
Titans of industry might need to hold on tighter in the corners. A good chauffeur will always try and keep the vehicle right and level, but present a motoring journalist with a couple of closely stacked and perfectly-surfaced S-curves and the temptation is often too great.
In deference to age, mileage, and value I abstain from true silliness, but like a charging sumo the S-class has moves unexpected for its size. Much like the later W201 190E we drove in 2021, the W116 seems to shrug off its straight-line softness as soon as there's a corner in sight. The nose goes where you put it, and while the photos betray high roll angles, the chassis still feels like it has grip to spare.
Gearbox in sport setting for the best response, it needs maybe only half throttle on the exit of a tight turn for those 400 pounds-feet to overcome the rear tyres. It sounds more dramatic than it feels, requiring just a small lift for the rubber to hook back up. Around faster corners, it shows genuine balance too, moving with all four corners rather than leaning hard on the front and unloading the rear as it does in slower turns.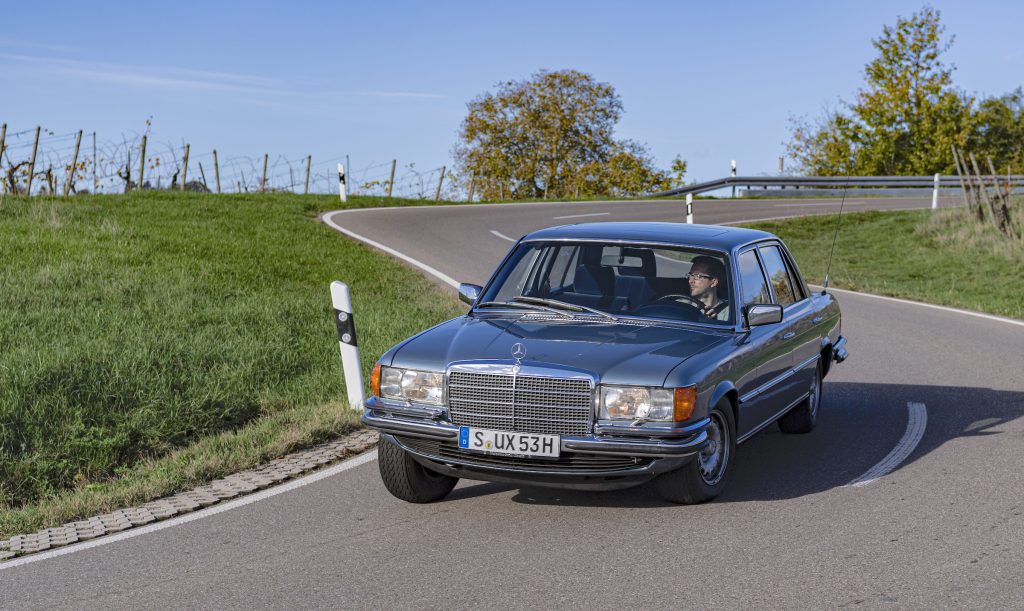 The brakes are more than suited to harnessing two tonnes of German steel. A driver deft of foot can pull off wonderfully smooth 'limousine stops' in normal driving, but despite tiny discs crammed into those 14-inch wheels, they don't protest at more frequent, more insistent prods when winding up and down hill for photographs.
If there's one surprise, it's that the ride can sometimes feel a little sudden. The fact that this is notable only sometimes is characteristic to hydropneumatic setups, which lull you into a false sense of security with feathery-softness before making hard work of certain types of bump. We didn't have time to seek out any Autobahnen, but if the ride doesn't settle down to perfection there at three-figure speeds (where those brakes should further reassure), you can brand me with a three-pointed star.
By now the cabin is getting warmer than the engine, and after adjusting a few knobs and levers, the air conditioning releases a wintry blast from the vents. The driving position has been comfortable all afternoon, and the S-class eases back into cruising as happily as it had put up with being hustled around a few curves.
It's tempting to dismiss modern advances when putting old in the context of new, but so many of a modern luxury car's fundamentals are right there in the original W116 S-class. Its new equivalent is of course more comfortable still, quieter, more spacious, easier to drive, but by smaller margins than you might expect.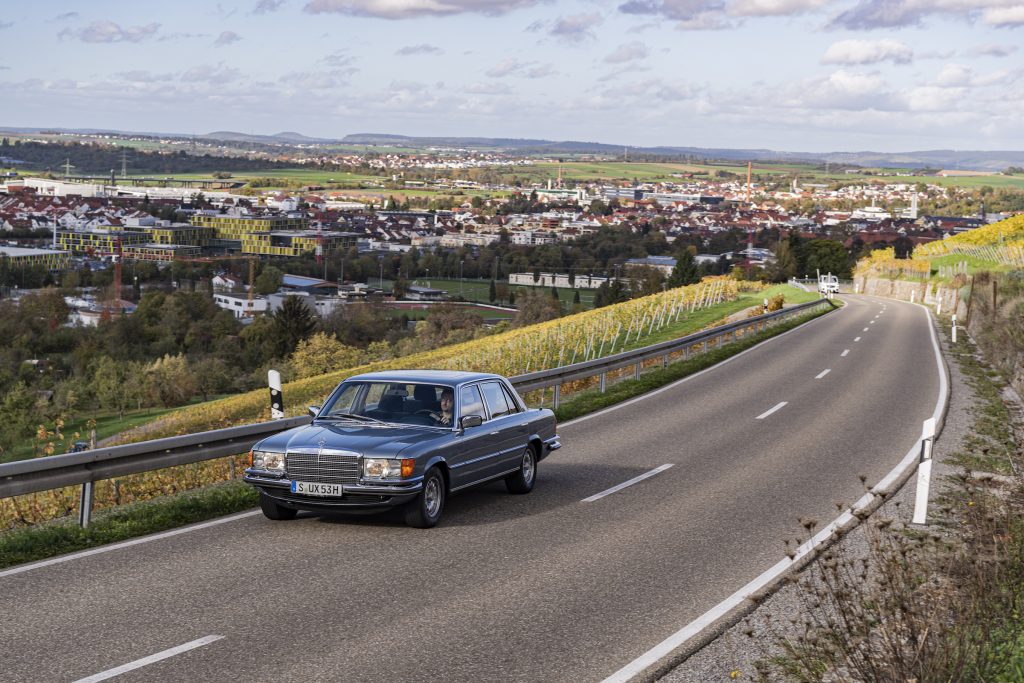 Only in performance do modern limos significantly outpace their ancestors, particularly with the advent of electric propulsion, though I suspect all that means to the average chauffeur is that they use a smaller proportion of it than ever before. Nobody keeps their job by launching their clients to 60mph in the blink of an eye whether the car can do it or not.
And offered the chance to do significant distance in a luxury car, the only thing that might compel me to choose new over old, assuming I was paying for it myself, is fuel efficiency. Mercedes reckoned on around 18mpg for a touring figure, and as little as 12mpg in normal use. Assuming this one's done 15mpg over its 400,000-mile lifetime, it's imbibed more than 26,600 gallons of unleaded over the last 45 years. Or about three and a half articulated fuel tankers' worth.
The best part of five decades ago, and for a certain kind of client, this would have been of little concern of course, and on modest trips, and for an enthusiast with reasonably deep pockets, nor should it today – as the privilege of driving this luxury icon is as grand as it ever was.
The qualities of a luxury car are timeless. Mercedes had honed them before the car it called the S-class came along, and it has refined them since. But it was the W116 S-class, and the 450 SEL 6.9 especially, that defined them.
Read more
2023 UK Bull Market List: 10 collectable cars primed to take off this year
Despite £115m 300 SLR sale, Mercedes says its commitment to classics is as strong as ever
Driving the Mercedes 300 SLR "Uhlenhaut coupé" – the world's most expensive car