This Sunday marks the 125th anniversary of Britain's longest-running motoring event. The London to Brighton Veteran Car Run 2021 takes place on 7 November with more than 300 late 19th and early 20th Century cars trundling along the 60-mile route from capital to coast.
But as well as celebrating the dawn of motoring, it's also a great spectator event that enables car fans to get up close to machines that pioneered our love affair with the automobile. And Hagerty will be there – complete with our 1903 Knox and guest, Paul Cowland. Come and say hello, at what promises to be a fun-filled weekend.
What is the London to Brighton Veteran Car Run?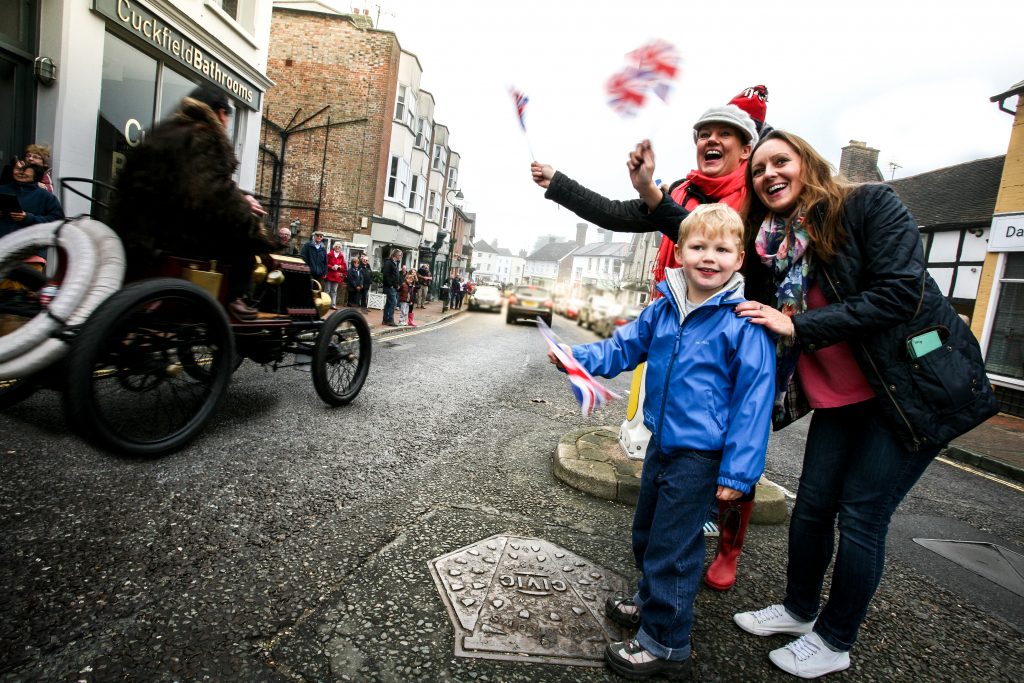 The London to Brighton Veteran Car Run commemorates the Emancipation Run of November 1896, the event staged to celebrate the removal of the most restrictive Victorian legislation that prevented widespread use of cars on Britain's roads.
Eligible pre-1905 cars start at first light from London's Hyde Park on Sunday morning. They then motor down the A23, finishing on Brighton's Madeira Drive any time between mid-morning and late afternoon. It means there's a choice of atmospheric places to watch the event, from the mist and murk of Hyde Park at dawn, to the famous Madeira Drive at Brighton's seafront – and anywhere along the route between.
The first run wasn't repeated until 1927 when the Daily Sketch and Sunday Graphic newspapers organised a celebration to see how many cars over 21-years old were still on the road. There were 51 entries, of which 44 started and 37 finished.
It became an annual event in 1930 when the RAC took over organising it. Apart from the war years of 1939-45, petrol rationing in 1947 and the 2020 Covid-19 pandemic, the event has run every year since.
What is the significance of the event?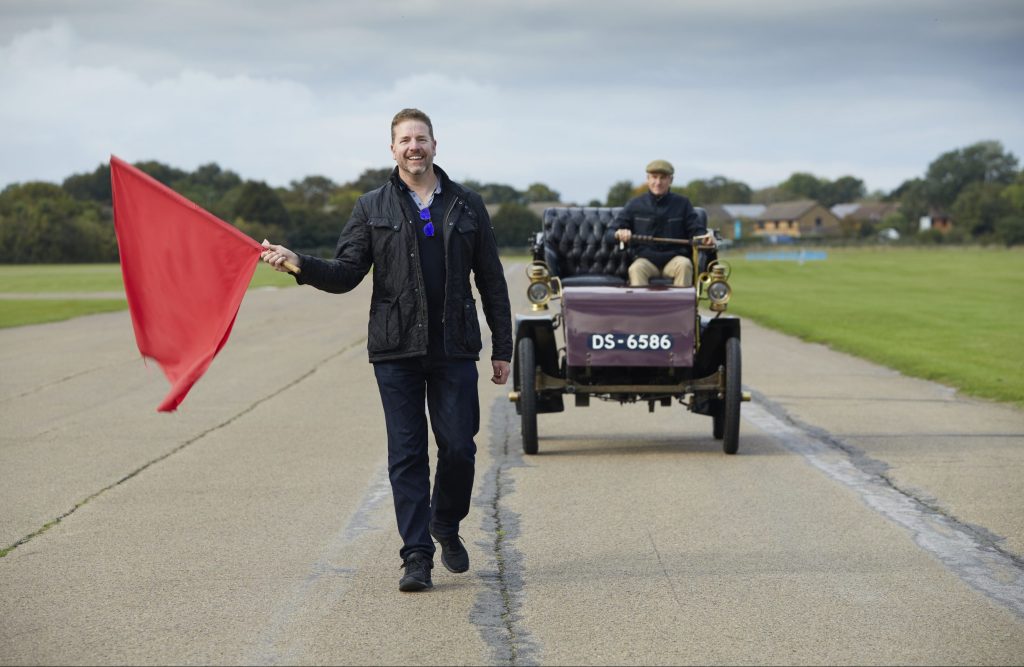 The run celebrates a law change that gave Britain's budding car industry the boost it needed to flower. That law was the Light Locomotives on the Highway Act. It came into force on 14 November 1896, raised the speed limit to 14mph and transformed the private car into a viable alternative to the horse.
Prior to that date, the 1861 Locomotives on Highways Act forced cars to travel at 4mph, or 2mph in built-up areas, preceded by a man on foot – at the time, women were considered too delicate for such work.
Initially, vehicles that were towing trailers had to have a man with a red flag walking in front of them. There's some confusion as to whether this law really did apply to cars before the 1896 act. But that first London to Brighton Run was kicked off by horseless carriage enthusiast Murray Finch-Hatton, 12th Earl of Winchilsea, ripping a red flag in half. It's a tradition that continues to this day.
That first event caused quite a stir. Few people in Victorian Britain had ever seen a car and reports say 500,000 turned out to watch the start from the Metropole Hotel in central London's posh Northumberland Avenue.
One of those present apparently recalled: "A loud 'whirr' as of countless sewing machines made speaking impossible, and every car commenced vibrating with the utmost agitation."
What cars take part?
The event is open to cars made in 1905 and before. Yes, you'll see familiar names such as Mercedes, Fiat, Ford, Peugeot, Renault and Vauxhall but there are also legions of long-since defunct makes, including Hagerty's very own Knox, which Paul Cowland recently took the tiller of.
Pretty much anyone with a modest sum of money, a shed and the desire could make a car at that time. And the automobile was in its infancy, hence why cars on the run are powered by internal combustion, steam and even batteries.
There are obscure names aplenty: Gasmobile, Georges Richard, Arrol Johnston, Mors and Rochet are just some of them. The most represented manufacturer by far in this year's event is French maker De Dion Bouton with more than 50 entries.
There are also pre-1905 motorbikes and even bicycles. The latter start at 6.45am. And anyone who manages the 60 miles to Brighton on an 1885 Penny Farthing deserves more than a medal!
The cars start at just past 7am. They go in date order, the earlier the vehicle and the lower its horsepower, the earlier they start. Hence the first car to go is an 1894 Benz. You should also get plenty of time to see them, even when they're on the move: a large proportion of the cars only have a single cylinder and a handful of horsepower.
Who takes part?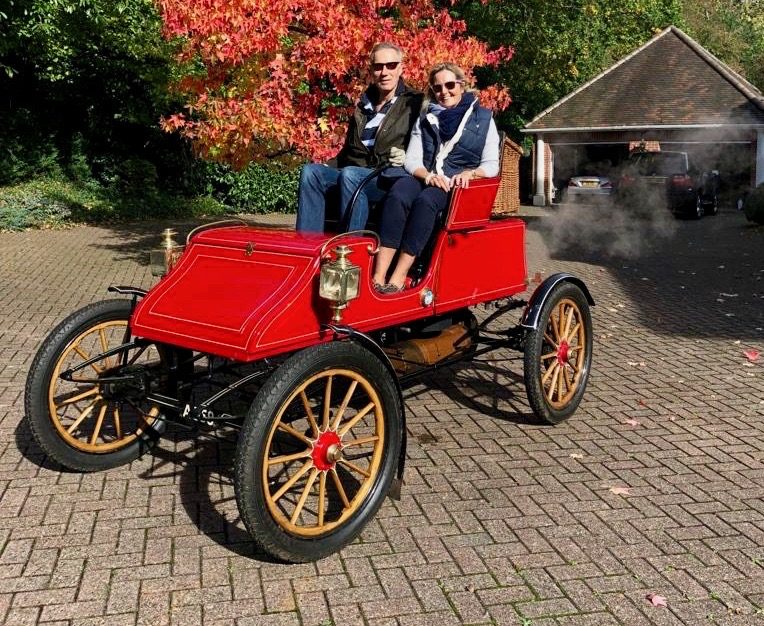 Got a pre-1905 motor? You're welcome to take part and plenty of people do. Of course celebrities turn out for the chance to do something a bit different.
Over the years, land speed record holder Sir Malcolm Campbell, musician George Formby plus F1 stars Stirling Moss, Nigel Mansell and Damon Hill have done the run. And in 1971, Queen Elizabeth II was a participant in a 1900 Daimler.
But for the most part, entries are from private owners who've bought and restored their cars simply for the love of it. One of them, Martin Bodenham has taken part in previous events driving a 1902 Renault. This year he's in his 1903 Haynes-Apperson, a little-known American model that came to the UK in 2000.
After acquiring it as essentially a bag of bits, the biggest problem Bodenham had was registering the car with the DVLA. He explained: "As there was no official history, they wanted me to get further information from the manufacturer… and it went out of business in 1905!"
Another entrant in his own 1904 steam-powered Stanley Runabout is Andy Green OBE, the fastest man on earth. He's a fan of the event. "There is nothing quite like the magic of the London to Brighton Run," the former fast-jet pilot said.
Green's Stanley, which is running in the event for the first time since 1976, will do the run on a single tank of unleaded. It will however have to stop at least twice on the way to fill up the 18-gallon water tank.
He added: "Going back to the turn of the last century, the combustion engine was a brand-new innovation, whereas steam power had been around for a long time with technology developed on the railways. So, by comparison to other early vehicles, in many ways steam cars are a lot more sophisticated."
What's it like taking part?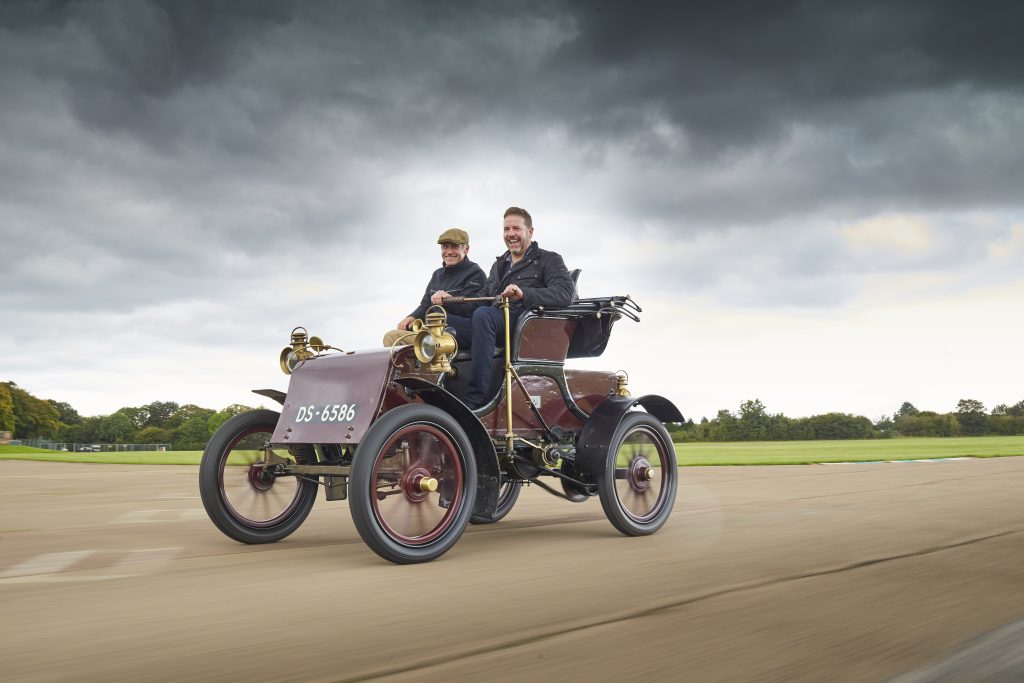 This was an era when cars were so primitive closed heated cockpits were still a distant dream. Hence why drivers and passengers frequently dress as if on a Polar expedition. The cars also have controls like nothing we're used to.
Andy Green revealed his Stanley has a tiller rather than a steering wheel: "My wife looks at it with great suspicion as the tiller is not quite as intuitive as a steering wheel. But given the choice, I'd have a tiller every day. You just point the stick in the right direction and that's where the car goes."
After driving Hagerty's 1903 Knox, Paul Cowland described the initially confusing controls: 'Everywhere you look on this car, there are beautiful details, but nothing functions as you might think. Throttle is by your left hand, as is selecting either one of the gear ratios. The right hand pedal is a nod to what followed by being a braking system on the drivetrain itself, whereas what you might think would be the clutch is actually reverse gear.'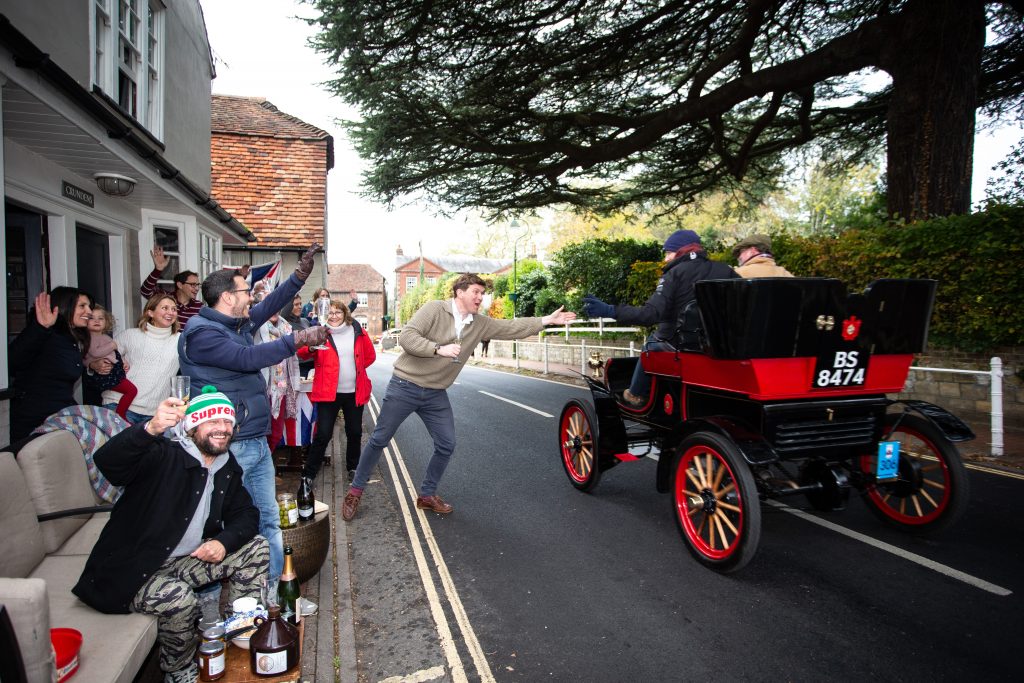 Jeremy Townsend from Vauxhall is looking forward to his second London to Brighton Run in a 1903 four-seater. "It's a brilliant event," he said. "There's a lovely atmosphere in Hyde Park: smoke, steam and oil with cars breaking down before they've started. People wave and cheer as if you're famous, car clubs hold meets outside pubs along the route and by the time you get to Brighton, it's bedlam.
"You can prepare the cars as much as you want but there's still a good chance something's going to go wrong on the day. These cars are incredibly old and things always break. But it's worth it."
What are the weekend's activities?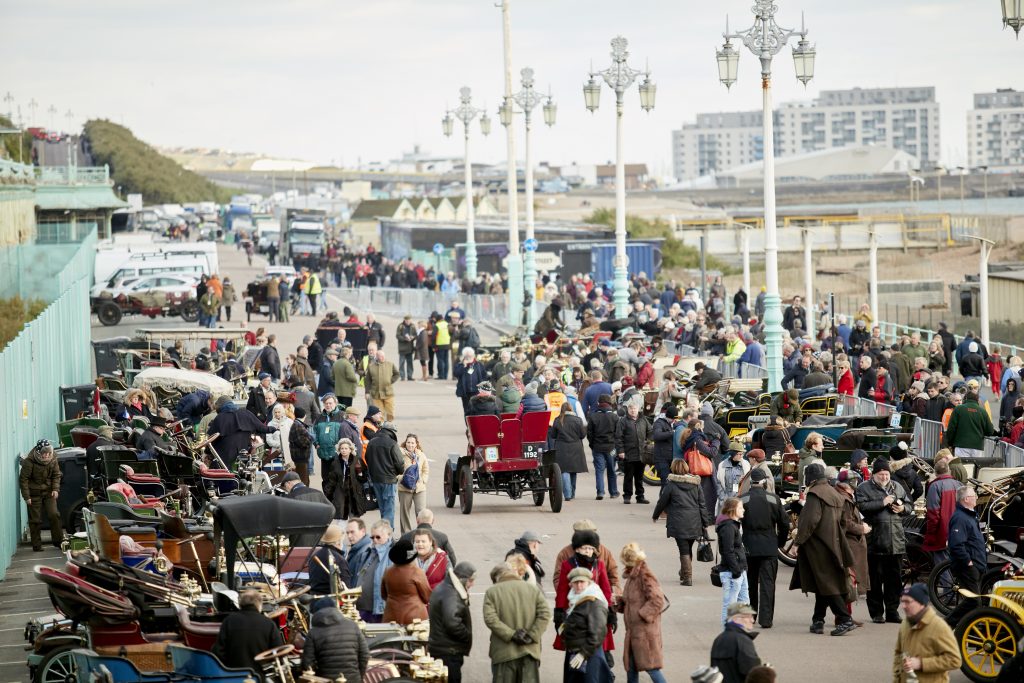 From being a veteran car event, the London to Brighton Run has turned into a weekend of activities for car lovers. It kicks off on Saturday at 10.30am with the Regent Street Motor Show in central London.
The shopping street is pedestrianised for the day. It'll be celebrating the 60th anniversary of the Jaguar E-Type, there'll be a Land Rover Defender from the James Bond movie No Time to Die and a selection of classic cars to whet the appetite.
There's also a Concours d'Elegance where the veteran cars (and their owners!) from the following day's run will be appraised on their appearance by a panel of judges.
Then at 4.30pm, the RM Sotheby's London Auction takes place at the Royal Automobile Club on Pall Mall. If you've got a burning desire to add something else to your garage, you can bid on anything from a Porsche 917 kid's car to a 2003 Ferrari F1 show car via Porsches, Ferraris, Jaguars and all sorts of other mouth-watering metal.
Where can you watch?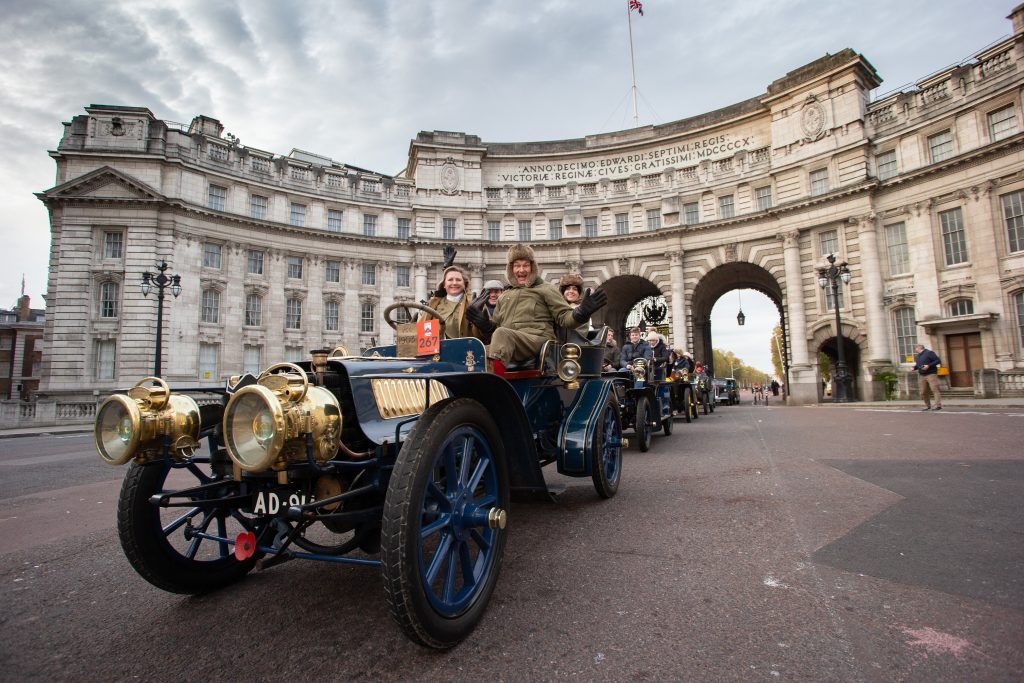 You've got 60 miles of route to choose from. Hyde Park has been the starting point since 1936. Cars will cross Westminster Bridge between about 7.15 and 8.30am.
The route splits in two in south London to help reduce congestion. One takes the A23 through Brixton and Streatham, the other follows the A24 from Clapham to Tooting. Both routes converge in Croydon.
The cars will be in Mitcham between about 7.30 and 10am, Redhill between 8 and 11.40am and Brighton any time between 10am and 4.30pm. In Brighton, the cars finish at Madeira Drive and the paddock area is at St Peters Church, York Place.
There's also a selection of pubs where you can enjoy some sustenance in between cheering the cars on. The Red Lion at Handcross, The Jolly Tanners and The Victory Inn in Staplefield, and The Rose and Crown in Cuckfield are recommended by the organisers. If you're hungry, it's worth making a reservation first.
How many of them complete the route?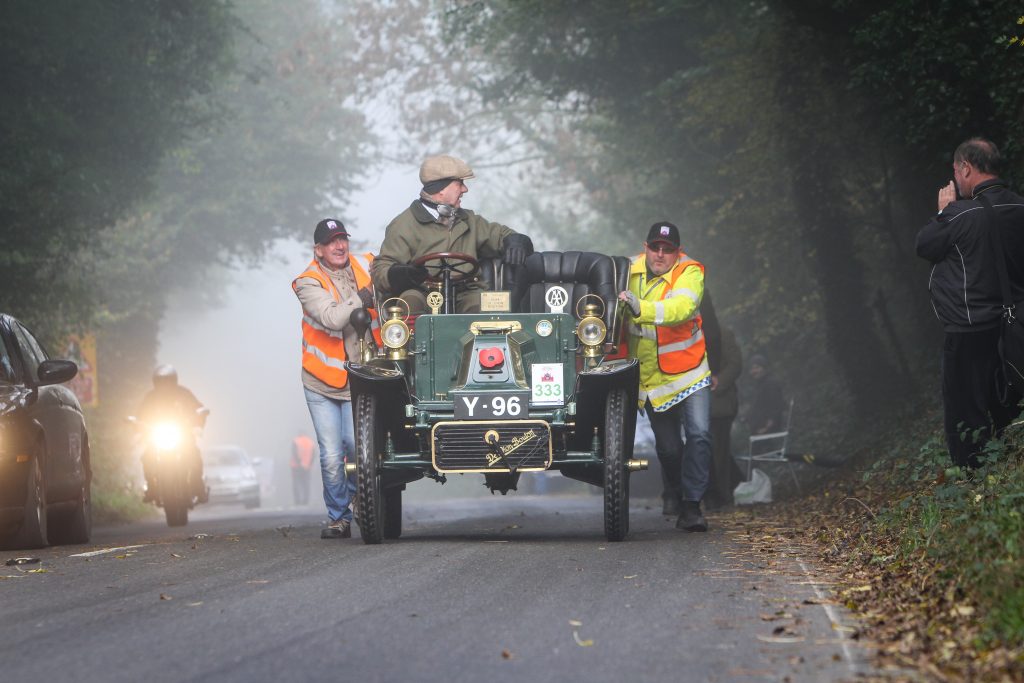 For a modern car, a 60-mile drive is effortless. At the dawn of motoring, it was a real achievement – and remains so to this day. The RAC provides around 30 patrols to ensure as many of the cars make it to Brighton as possible.
Most patrols have worked on the London to Brighton Run before and some come from as far afield as Bristol and Manchester for the day.
Tony Cullum, regional patrol leader at RAC Motoring Services explained: "The main thing about being in an RAC patrol is to think outside the box. You've not got that garage equipment round you, or that part that you can get delivered in two days' time. We've had con-rods snap, and we've taken them out and welded them back together. It's such an achievement for these vehicles to complete the run and we'll do everything to get them to Brighton."
On the original run 125 years ago, 33 cars started and 17 made it to Brighton. That's a success rate of just one in two. This year getting a larger proportion than that of the 300-plus entrants to their destination will be considered a success.
Good luck to one and all.
Read more
Learning to drive… like a Victorian
Top Ten Veteran Cars
Your Classics: Patrick Sumner's 1942 Jeep is a veteran of WWII and family life