As more companies spring up to convert classic cars to electric power, certain models have received more attention than others. One of those is the Mini, and now those looking to convert their Mini to electric power will soon be able to go right to the company that made it in the first place.
Well, sort of. Minis were built under numerous brands back in the day, but since BMW bought Rover and then retained the Mini brand, the current torch holder is the Bavarian brand. Mini still builds cars here in the UK though, at its Oxford plant, and that's where engineers have been developing the Mini Recharged concept.
How much is your car to insure? Find out in four easy steps.
Get a quote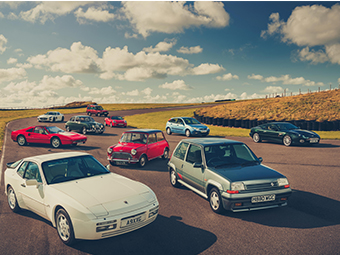 Cast your mind back to the Before Times and you might remember Mini released an official electrified concept at the 2018 New York Auto Show. A positive reception to that car set the ball rolling for a full customer package.
A-series and integrated transmission make way for a 90kW electric motor and a battery pack good for a roughly 100-mile range. The modest motor still offers a performance upgrade on say, a good Rover-era Cooper, taking around nine seconds to reach 60mph, versus 12 in a late Cooper. Charging is similarly modest; a 6.6kW charger and a bit of mathematics using that range estimate means a full charge from empty would take around 4-5 hours.
Externally you'd not know the difference – an electric Mini will still look like the same cheeky, part-of-the-furniture icon as its petrol counterpart, though if you peer under its rear valance you'll not find the usual peashooter tailpipe. Inside, changes are mainly indicated by a central instrument cluster with dials for range, speed, drive temperature and the selected gear.
While the conversions might be offputting to some and not feasible for others, Mini points out that as zero- or low-emission zones begin to permeate through Britain's cities, an electrified Mini could whirr right in without a problem. And, presumably, be a bit of a hoot as it does so, assuming you still get the usual Mini handling benefits.
Like all the best EV conversions, the Mini Recharged conversion is also reversible. Should original Minis rocket up in value even more than they already have, or should the individual or the world decide that electric power isn't for them, you could cram the old A-series and conventional instruments, stored by Mini during conversion, right back in there.
Mini tells Hagerty it hasn't finalised a price yet (the project is still in its early stages), nor when exactly you'll be able to drop your Mini off at Plant Oxford for conversion (turn-key cars won't be offered, at least initially), but more details are expected soon. Having Mini's own engineers electrify your car will surely make it one of the most appealing Mini EV conversions out there.
Read more
Everrati Series IIA review: Meddling with a national treasure turns out to be no bad thing
Modern Isetta nears as Microlino minicar preps for production
Review: Electrogenic Porsche 356 EV