Bedrock Cowley automobile factory counts Austin, Austin-Healey, Honda, Morris, MG, Mini, Princess, Rover, Sterling, Triumph, Vanden Plas and Wolseley production in its past
The Mini factory at Oxford celebrates 100 years of car-making this March, against a picture of rising production, increased investment and continuing expansion. Today, Plant Oxford employs 3,700 employees who manufacture up to 900 BMW Neo Minis every day, and has contributed over 2.25 million BMW Minis to the tally of more than 11.65 million cars that the factory has produced since 1913.
The first car built at the then-named Cowley factory was a Bullnose Morris Oxford, which emerged on 28 March 1913. It was followed by cars from a wide range of famous British marques (and one Japanese) including MG, Wolseley, Riley, Austin, Austin Healey, Mini, Vanden Plas, Princess, Triumph, Rover, Sterling and Honda, besides founding marque Morris. The Pressed Steel Company subsidiary occupying the same Cowley complex also built bodyshells for Rolls-Royce, Bentley, Jaguar, MG, Standard-Triumph, Ford and Hillman, as well as tooling dies for Alfa Romeo. The plant has a long history of shipping cars abroad that has resulted in more than 1.7 million modern Minis going to overseas customers.
How much is your car to insure? Find out in four easy steps.
Get a quote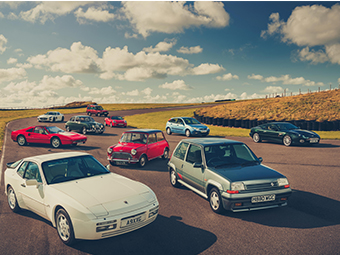 The plant has produced an array of famous cars, including the Bullnose Morris, the Morris Minor, the Mini, India's Hindustan Ambassador (aka the 1954 Morris Oxford/Cowley) and today's Neo Mini. It also produced Hondas for a short period in the 1980s (remember the Triumph Acclaim?), as well as some less succesful models, including the early Riley Pathfinder, the much-derided 3-box Morris Marina, the startling '70s wedge Princess and the Austin Maestro, one of the world's earliest 'talking' cars.
There have been eight custodians of Plant Oxford over the past 100 years, beginning with founder William Morris who owned the factory both directly and through Morris Motors until 1952, when Morris merged with arch-rival Austin to form the British Motor Corporation. Morris himself, by this time known as Lord Nuffield, was chairman for six months before retiring. During the early '60s the plant had as many as 28,000 employees producing a a huge range of badge-engineered models, mostly styled by Pininfarina.
In 1967 BMC became British Motor Holdings after merging with Jaguar, and the following year that group was merged with the Leyland truck company (which also included Triumph and Rover) to form the British Leyland Motor Corporation. Nationalisation followed in 1974, the group undergoing several renamings until it became the Rover Group in 1986. Graham Day was charged with privatising the company for the Thatcher government, which was completed in 1988 with the sale to British Aerospace. They in turn would sell the Group, which included Land Rover, to BMW in 1994. The Neo Mini emerged six years later, based on a BMC design that cheerfulyl updated the original. Check out BMW's own 1997 egg-on-wheels idea, if you want to see how badly things could have turned out.
BMW Group invested heavily in Rover, deciding early on that a replacement for the Mini would be a priority. But considerable headwinds and an unfavourable exchange rate led BMW to sell Rover to the Phoenix Consortium in 2000 and Land Rover to Ford in 2000. The Mini brand was retained together with Plant Oxford, as Cowley had been renamed, along with the associated Swindon pressings factory and the new Hams Hall engine plant in Birmingham that was preparing for production.
Today, Plant Oxford is flourishing with the manufacture of the Mini hatchback, Convertible, Clubman, Clubvan, Roadster and Coupé. It is currently undergoing a major investment that includes the installation of 1,000 new robots for both a new body shop and the existing facility. This represents the lion's share of a £750,000,000 investment programme, announced in the last year, which also sees the significant upgrading and installation of new facilities at Hams Hall and Swindon.