Three men walk into a pub… Sounds like a joke, doesn't it, but from the driver's seat, the new Ineos Grenadier feels anything but.
Ahead is a great sea of mud, spoil from a worked-out iron-ore mine in the Alsace-Lorraine area close by the Hambach production home of the new Ineos Grenadier 4×4. We're supposed to get across this ooze, which would challenge even the hardiest of Land Rover Defenders – the latest of which is reviewed here – or Toyota Land Cruisers.
How much is your car to insure? Find out in four easy steps.
Get a quote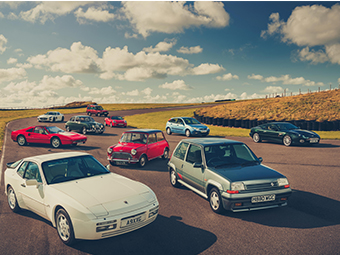 The pub? The Grenadier in Wilton Row, Belgravia, though history doesn't identity the drinking partners of Sir Jim Ratcliffe the petrochemicals billionaire, although like the best plans, that's where the idea of the Grenadier 4×4 utility was first mooted.
Decided over a pint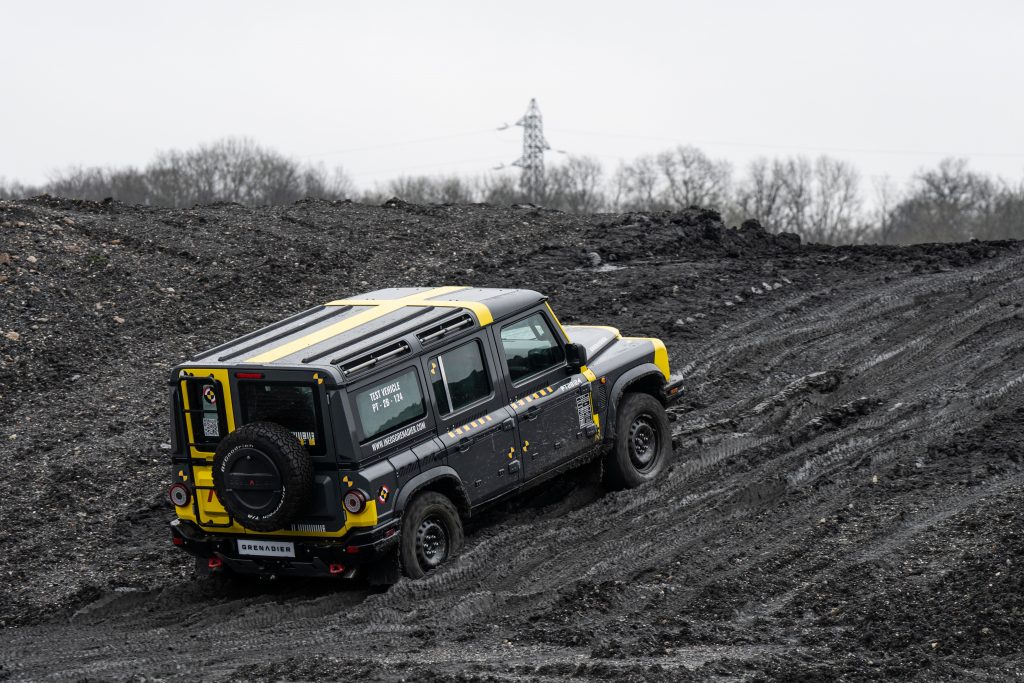 Sir Jim had already been turned down by Land Rover when he asked about the possibility of buying the tooling for the Defender model, which went out of production in 2016 after 68 years of carrying the flag into some of the most difficult terrains across the globe, if not always carrying the flag out again. This would have piqued the great man, so there remains an element of unfinished business, here.
New Defender, is quite unlike old, employing an aluminium monocoque, based on a much-strengthened Range Rover Sport frame. While that gives the Defender better road manners, there are markets where toughness counts for more. Think of utilities, like the electrical suppliers whose linesmen and women will have been busy last weekend; agriculture; soft-skinned military fleets; industrial plant; mining; and the rescue and emergency services. With a financial breakeven figure of between 25,000 and 35,000, Grenadier models a year, it's hardly a big footprint into a small but significant specialist market, though Ineos is also keen to sell its off roader to Mayfair farmers who need to take their little darlings to school in a car capable of crossing the snowy Cairngorms.
Why Hambach?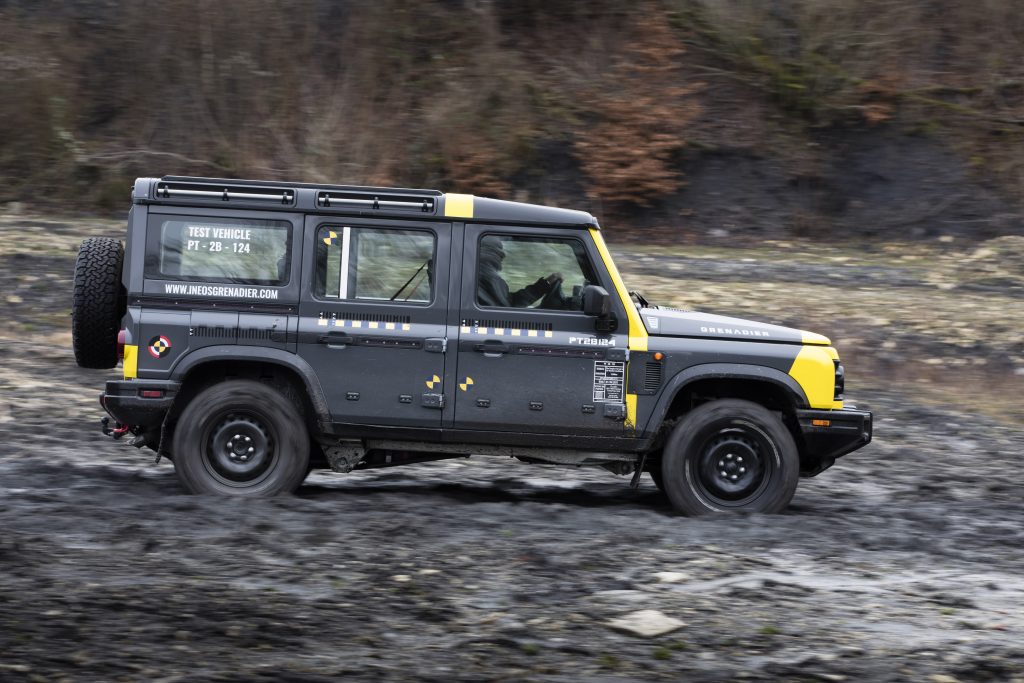 The Hambach plant was purchased 18 months ago by Ineos. Sited close to the French/German border on what has historically been disputed ground, this was and still is the 82-hectare Mercedes-Benz Smart plant opened with much fanfare by German Chancellor Kohl and French president Chirac in October 1997 and which, in the meantime, has produced four generations of Smart cars for the three-pointed star.
There's been a lively debate about whether Ineos should have kept to its original plan to produce the cars from a £600 million Bridgend site in Wales, but what most of the arguments don't take in is that Mercedes had already spent nearly half a billion euros upgrading the plant to produce the EQB electric SUV before changing its mind and selling up.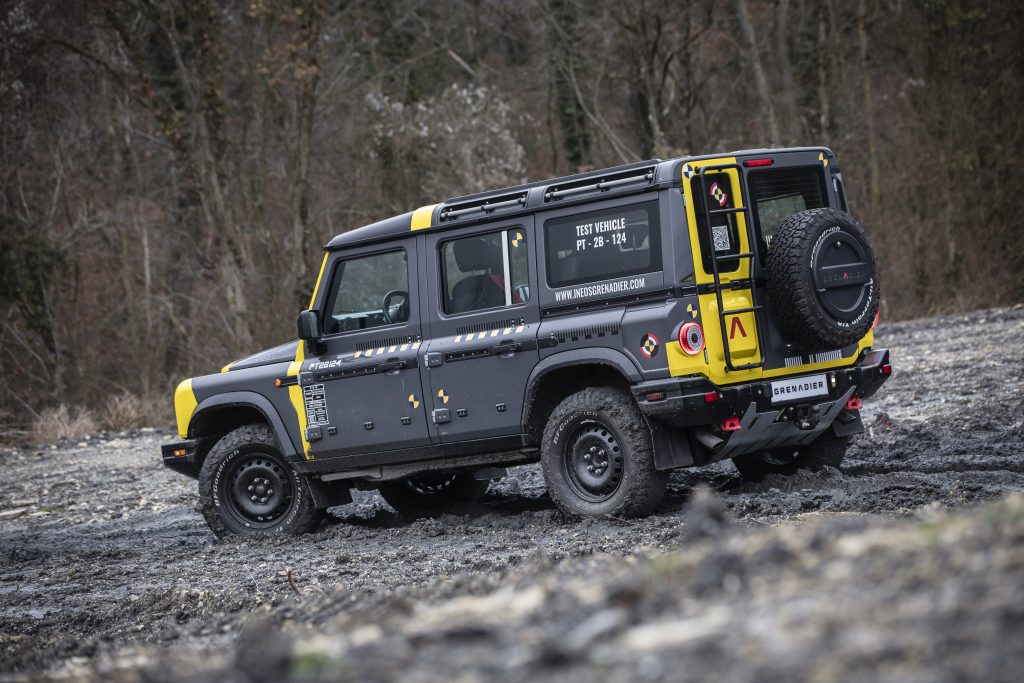 It would have been a brave decision to turn down a highly experienced workforce of 1,300 ex-Mercedes-Benz staff, a pretty much ready-made production facility for a big SUV, robots and precision measuring machines galore, plus contracts to continue to produce cars for Mercedes-Benz – Ineos has already built 20,000 Smart cars for Mercedes and is contracted to produce Smart EV until 2024 and EQB panels until that model's life ends in 2027.
Not that adapting the production line to the 4,927mm long and 1,930mm wide Grenadier (for which a kerb weight rather ominously hasn't been disclosed), hasn't cost a lot, €50 million in fact, with changes and reinforcement to the X-shaped production line, the vehicle carriers and even the buildings to suit.
Under the skin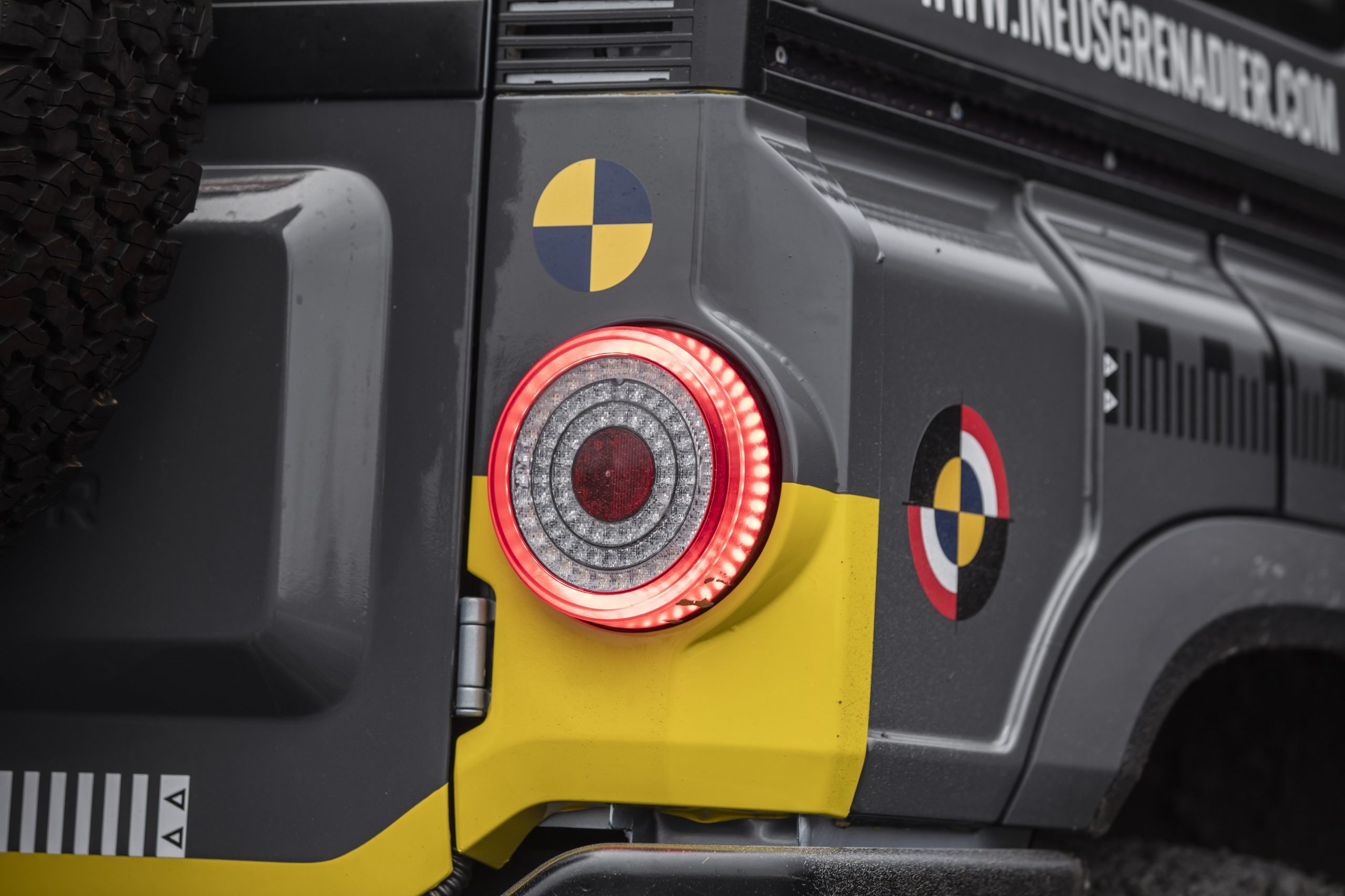 Grenadier is based on a massive, ladder-frame separate chassis, all Metal Inert Gas (MIG) welded and fully-flitch-plated, with side members up to six inches deep. in other words, it's built tough. Coil springs and telescopic dampers keep the Carraro-developed front and rear solid axles in check and the drivetrains slot in on top before the body is lowered into place on the production line. The engine family comes from BMW, comprising a three-litre, straight-six available as a twin-turbo 245bhp/406lb ft diesel, or 281bhp and 332lb ft single-turbo petrol, with a ZF eight-speed automatic gearbox. The vehicle has permanent four-wheel drive, with a two-speed transfer case and a standard locking centre differential and optional locking differentials in the front and rear.
Wheel choice is between 17 and 18 inches with Bridgestone all-terrain, all-season tyres and optional BF Goodrich KO2 off-road tyres.
For the off-roaders amongst you, the ground clearance is 264mm, wading depth is 800mm, the approach, breakover and departure angles are, respectively, 35.5 degrees, 28.2 degrees and 36.1 degrees. Oh, and it'll tow up to 3.5 tonnes
Will the 4×4 hardware make for plain sailing across the ooze?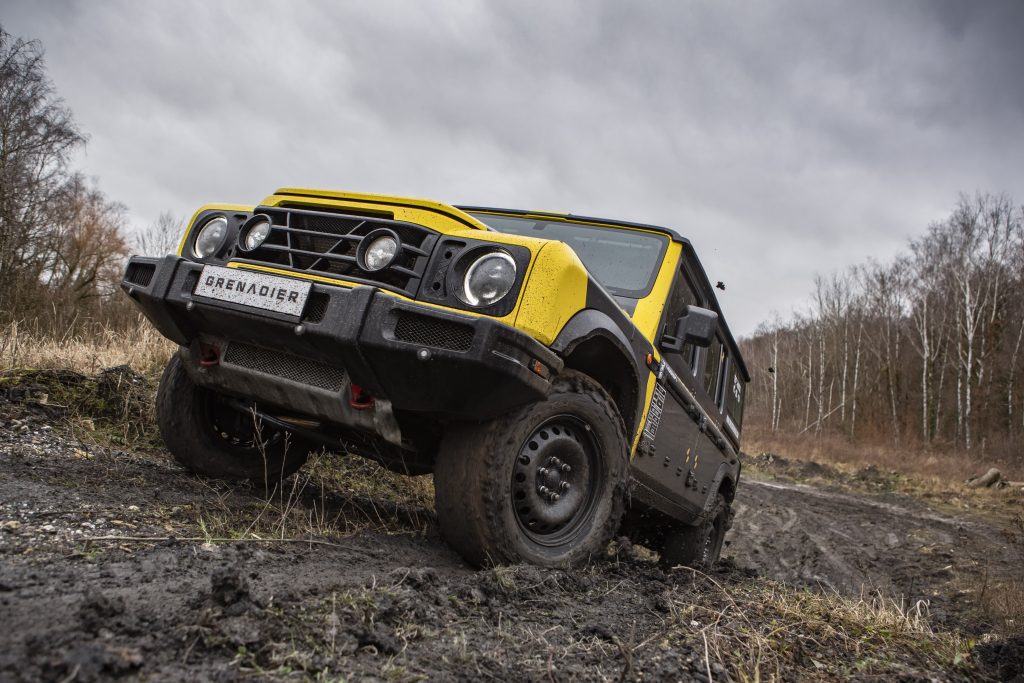 The cars we drove were very early prototypes with roll cages and early versions of Toby Ecuyer's big button interior. The Grenadier's designer used marine and plant equipment as inspiration for the facia and it's certainly different from rivals from German firms. All the switchgear appears huge as if built for giants, but the Recaro seats are comfortable and supportive and it's easy to see out to the front and sides and the door mirrors offer a panoramic rearward view.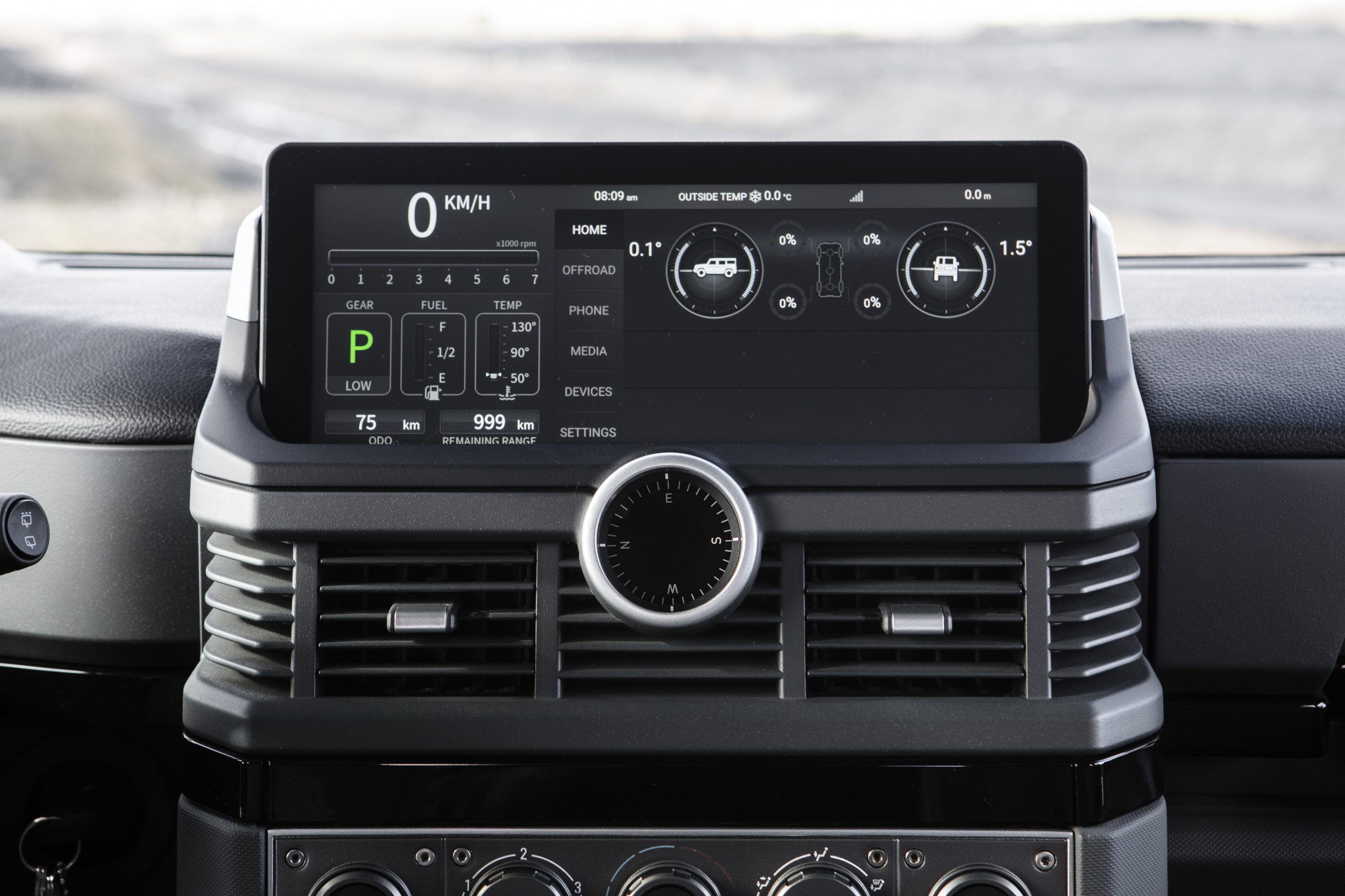 So, pull the BMW gear lever into Drive and the big transfer box into Low and trundle off.
This is the long-wheelbase station wagon, although it doesn't have the optional locking differentials at each end. All the same, it proves surprisingly adept across this black mud, which quickly fills the tread blocks in the dual-purpose BF Goodrich All-Terrain tyres on 17-inch steel rims, leaving any sort of grip at a premium.
Even with the chassis grounding out on the central land, the wheels continue to trundle as the petrol six pot drives us at idle speeds at less-than walking pace. Some of the slopes are steep and as slippery as dropped ice cream.
In these circumstances you'd probably choose to lock at least the rear wheels together to ensure the action of the rear differential doesn't just facilitate runaway wheelspin on the side with least grip. Nevertheless, the Grenadier rumbles through some pretty treacherous conditions and only occasionally would you wish for the turbodiesel engine which would give even better low-speed mud plugging.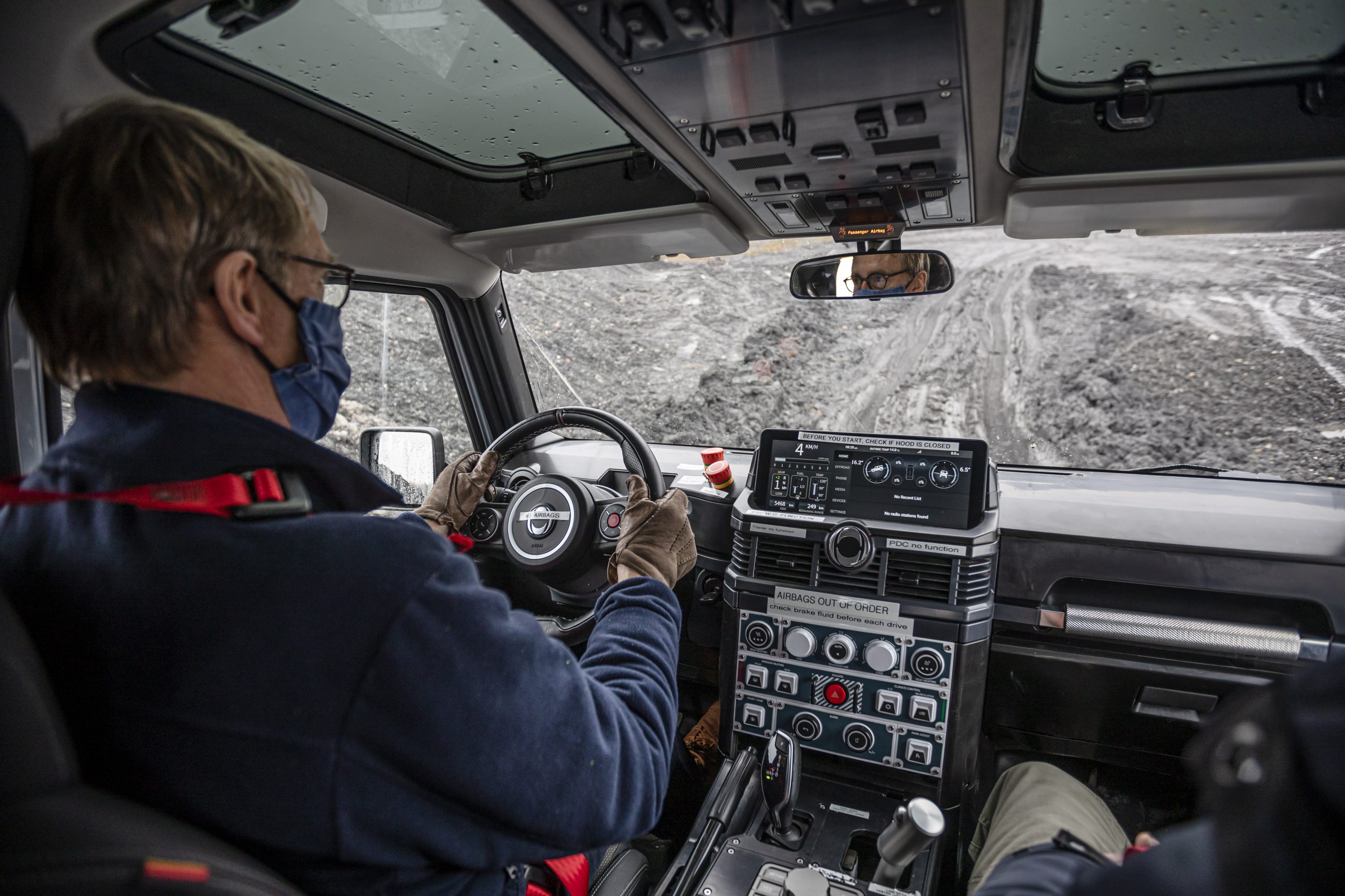 Get too enthusiastic and the ZF changes down and spins up the tyres, but it does have a manual override for getting down the steeper slopes in control. One criticism was of the steering, which is long geared with little self-centering or feedback. It's difficult to determine which is straight ahead on this mud and you can end up travelling with a turn of lock on, which can rapidly bring the vehicle to a halt.
Donna Falconer, head of product at Ineos, agrees that the steering on these very early prototypes isn't particularly communicative. "I've driven some of the Production Try Out 1 (PTO1) cars, which are several stages down the process of development," she says, "and they are a lot better."
All round disc brakes are powerful which you'd expect, but even with the discs covered in mire, the grab at the top of the pedal is impressive and the progression as you push harder is full of feedback.
Verdict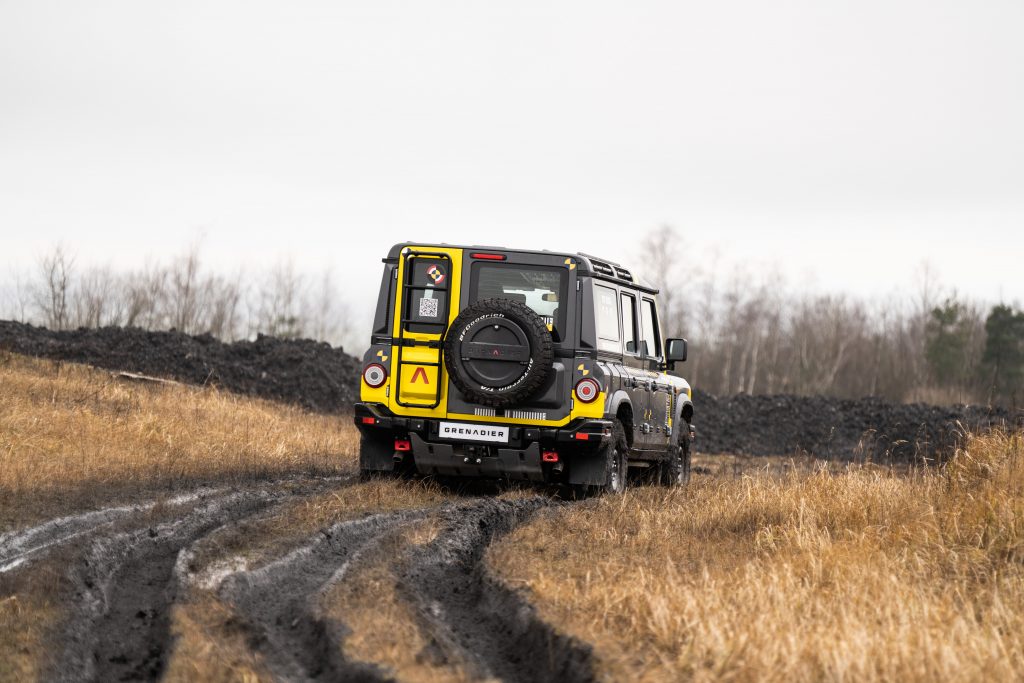 Clearly this was a very limited acquaintance and only indicative of the Grenadier's capabilities in black mud that would suck your wellies clean off. Yet the fact that these early prototypes felt strong and capable, water-and-mud tight with nicely installed drivetrains, was at the very least promising.
There's lots to do before the vehicle goes on sale later this year (North America will have to wait until 2023) with a wide range of different sorts of dealers to recruit including agricultural merchants and BMW dealerships.
Prices will start at £48,000 including VAT for the two-seat commercial and the five-seat versions will be in "the early fifties," says Gary Pearson, head of sales and marketing. "Trims and options will be straight forward and honest," he says. "There'll be no pricing where you end up miles away from that starting price and you won't be adding tens of thousands of pounds to get to where you want to be."
Built in France, engineered in Austria with parts from Italy and Germany, and owned by a British company, there's no doubt that the Grenadier will get you to where you want to be wherever that is in the world, but there are still questions to answer. Key amongst these is whether it will have the reliability standards exacting customers demand and which the old Defender struggled to match and also whether there are enough folk in the world wanting this sort of capability at this sort of price.
Failure on either test could turn this into a not-terribly funny pub joke; let's hope that doesn't happen.
Read more
Buying Guide: Land Rover Series 1 (1948-1958)
Everrati Series IIA review: Meddling with a national treasure turns out to be no bad thing
Revenge is sweet: Maserati MC20 review