It's the classic Land Rover image: a big bull elephant foraging for food in a sandy riverbed in Africa, Land Rover Defender not far away, its driver and passenger observing through binoculars and long camera lenses. We watched as the elephant munched on the vegetation, nourished by the recent rain. ­Namibia is the driest country in southern Africa, but this was the wet season. Other parts of that long and meandering river system were flush with water, which we discovered later. Then the elephant turned, trumpeted a warning, waited till we moved on, and disappeared into the bush beyond.
Land Rover forged its reputation in Africa, thanks to adventurers and explorers, bush farmers and game-park guides, as well as the 1966 movie Born Free that told the true story of Kenyan conservationists Joy and George Adamson. Old Land Rovers are still a common sight in Africa, giving loyal service in the more removed regions of the continent.
How much is your car to insure? Find out in four easy steps.
Get a quote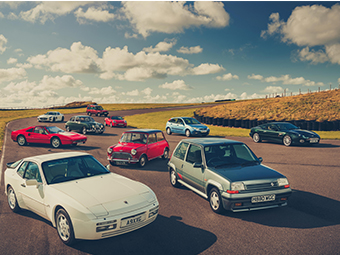 So it made sense for Land Rover to host the first big off-road media drive of the new Defender there. It was a three-day, 420-mile adventure in one of the most remote regions of Namibia. Fewer than 10 of those miles were on paved roads. The rest were a mix of rocky mountain passes, sandy deserts, dunes, gravel, and dry (sometimes wet) riverbeds.
The new Defender is well suited to Africa, but Land Rover needed to make sure it was also made for significant markets such as America. This is the first new Defender sold in the States since 1997. Like the old one, it prioritises off-road prowess and fortitude. It has pleasingly familiar square styling and short overhangs, rides on tall tyres, and has terrific ground clearance. It features auto-locking centre and rear diffs, plus low-range mode. But it will be much more popular on the smoothly surfaced roads of the suburbs than in the rugged desert. This Defender is aimed at well-heeled buyers who'll value its practicality, go-anywhere capability, versatility, and its adventurous heritage – even if they won't be putting all of that potential to the test.
The old Defender was the world's longest-lived 4×4. When production stopped in 2016, after 68 years of evolution, Land Rover was faced with the dilemma of how to replace it. Truly tough 4x4s are a dying breed. The world wants soft-roader SUVs, designed for families and for those whose idea of adventure is to ski, cycle, fish, or play sports. The ability to cross Africa is, for them, mostly irrelevant. Replacing a bruiser of an SUV, one never designed for a soft urban life, with such customers in mind was a difficult proposition.
The result is a hardy and highly capable off-road SUV that exhibits surprising refinement on the road. It's spacious and comfortable enough for everyday use, and there are the usual trappings of modern Land Rover luxury, including rich leather and handsome wood furnishings. The cabin is both classy and functional. Note the grab handles for when driving angles go vertical, the door and boot trim secured by exposed bolts, and the big magnesium bulkhead that's part of the dash and the car's structure. The rubber flooring, too, is easy to wash and sweep clean. The gear shifter is mounted on the dashboard to free up room for an optional centre front seat. It also has a side-hinged tailgate to which an external spare wheel is fixed. Classic Land Rover touches, all.
Less familiar to traditionalists is a new state-of-the-art dual-LTE-modem Pivi Pro infotainment system, a generation ahead of anything on the ritziest Range Rovers or Jaguars. (It will be rolled out to other Jaguar and Land Rover models soon, replacing the much-maligned InControl Touch Pro system.) There is a central touch-screen through which you access most functions, and surrounding cameras can act as remote off-road spotters. A particularly clever piece of tech allows you to seemingly look through the bonnet via the feed from a front-mounted camera, useful for tough off-roading (or parking).
To old Defender die-hards, these systems may appear heretical, but they make this young gun easier to drive when the going gets tough. Over-the-air software updates can also automatically upgrade chassis, braking, and engine settings, as well as infotainment.
Perhaps the biggest change is to the chassis and suspension. The old Defender had a body-on-frame design and beam axles. The new one uses a stronger version of the sophisticated aluminium monocoque that underpins the latest Land Rover Discovery and big Range Rover. It also uses air springs and fully independent suspension. The former gives height adjustment, boosting go-anywhere prowess. It can wade deeper than the old Defender, and, of course, extra ride height means more rough-terrain capability. The latter makes for a much calmer and more comfortable ride, especially at speed. It can act as a work vehicle too, if necessary – towing capacity is up to 3500kg.
We tested two versions on our journey, both 110 models (there's also a shorter-wheelbase 90 model exclusively offered as a two-door). We tried the 237hp four-­cylinder 2.0-litre turbodiesel and the top-of-the-range 110 X using the new 395hp 3.0-litre straight-six mild-hybrid turbocharged petrol engine. Both are mated to smooth-shifting eight-speed auto 'boxes.
The top 110 X will start at £79,695 but comes without key accessories like a tow bar (from £735), or option bundles like the Country Pack (£1578), and Explorer Pack (£3418). Short answer: It's not cheap. The entry-level 110 D200 model costs £45,600 and uses a 200-hp four-­cylinder 2.0-litre diesel engine. It's £815 for the optional front jump seat and £1020 for the two-seat third row. Land Rover is kicking off sales for the two-door Defender 90 with a First Edition model that starts at more than £55,200, but standard 90s will follow with a starting price close to that of the entry-
level 110.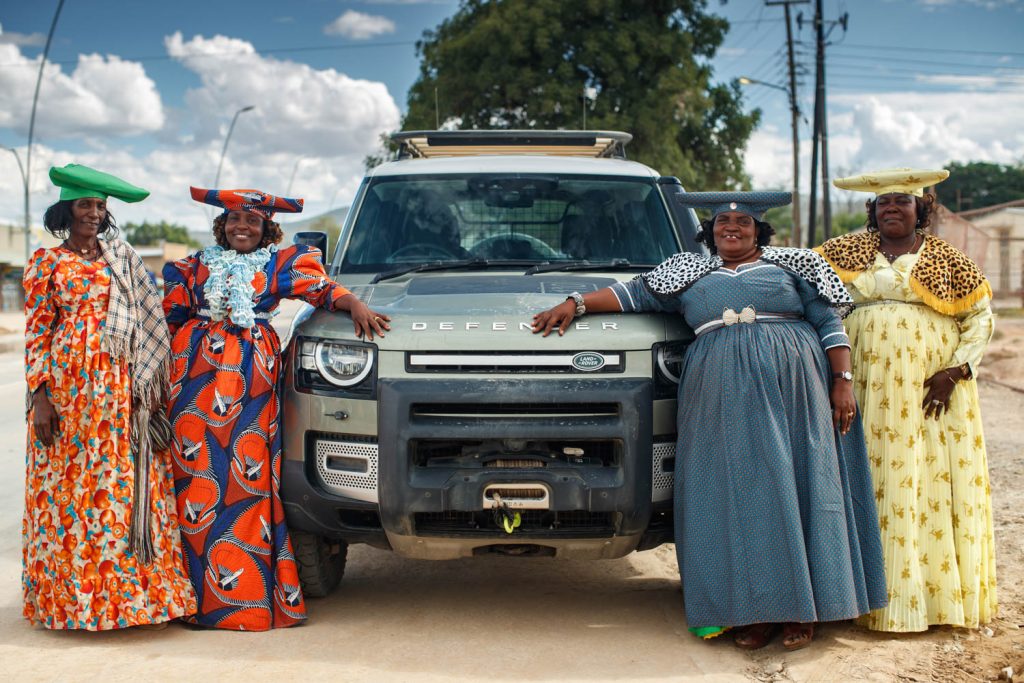 Our trip began in Opuwo, a frontier town of about 7500 people in northwest ­Namibia that's home to Himba tribespeople. The women wear goatskin skirts, along with a sea of necklaces and bracelets. They contrast with the Herero tribeswomen, who carry parasols and wear voluminous full-length dresses, petticoats, bodices, long sleeves and shawls, and elaborate hats. This style is a vestige of German colonialism. The missionaries and settlers let the Herero women work in the colonists' homes and land, but only if they dressed like colonists. They have dressed this way ever since.
On day one, we drove along gravel roads and hard-packed sandy tracks, and across dry riverbeds and crossings surging with recent rainwater. Semi-nomadic Himba were leading their cattle and goats. That night we made camp and ate under a sky effervescent with stars. We slept in tents, the world outside alive with bush sounds.
On day two, we descended the nearby Van Zyl's Pass, named after a former local commissioner who built this track in the 1960s as a shortcut to move cattle. This was the toughest off-roading we encountered, a precipitously steep descent (at an angle up to 35 degrees) over rocks and loose gravel. Described as "the wildest 4×4 trip in Namibia," the hill is so steep that it's only possible to drive in one direction – down. It took 2.5 hours to travel 4 miles. At the bottom lay a mangled Toyota Hilux pickup, which had clearly slipped over the edge and rolled into the valley below.
We then sped through the sandy Marienfluss Valley, sandwiched by tall mountains. That night we slept at a lodge in the small town of Purros and watched giraffes browse in the neighbouring dry riverbed as we ate breakfast.
Our final day took us into the Skeleton Coast Park, which is normally off-limits to off-roaders, but Land Rover had a permit. Here, we clambered over sand dunes and through dry and wet riverbeds, thankful that the new Defender can wade through water almost 3 feet deep. Once, we got
literally bogged down as the chunky Goodyear Wrangler tyres got stuck in the sludge. The remote electric winch pulled us clear, and that's when we saw the big elephant in the riverbed, enjoying the water holes and vegetation of the recent rain.
Occasionally we glimpsed the beaches and surf of the Atlantic. More than 1000 shipwrecks—the result of vessels deceived by the wind, currents, and rocks—line this coast. Then we sped on a decent gravel road north, back to Opuwo.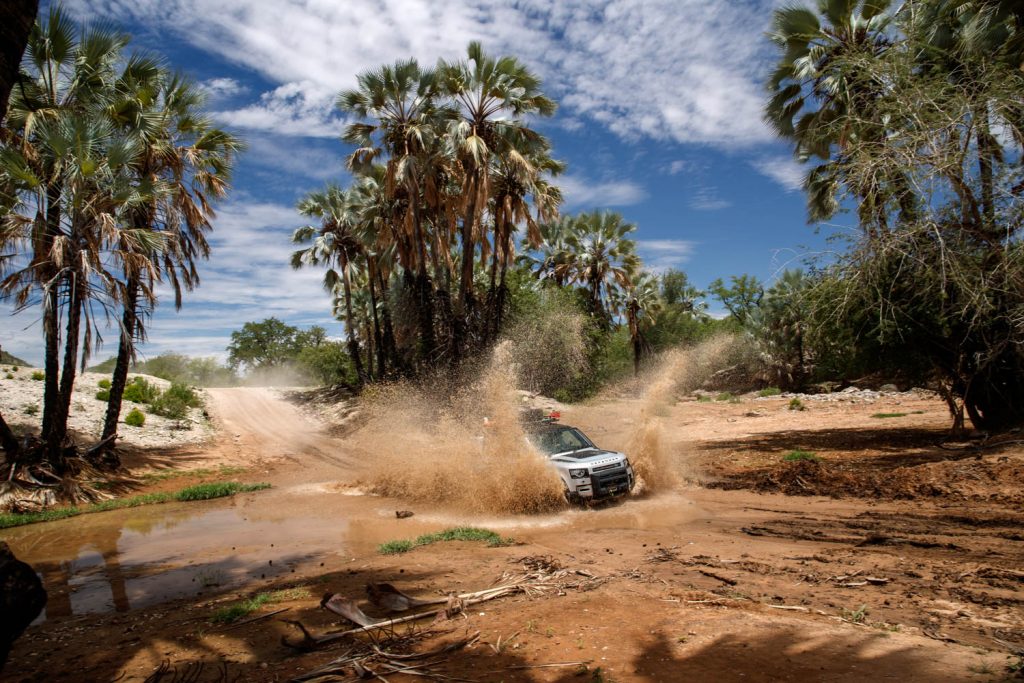 Land Rover engineering boss Nick Rogers, who joined us on the adventure, says this is the best off-road vehicle that Land Rover has ever built. It's hard to disagree. Accessories such as "expedition" roof racks, a roof tent, and a waterproof inflatable side awning make it perfect for remote excursions, or at least for camping in the woods.
That Land Rover can build such a ferocious off-roader is one thing, but more surprising is how the Defender does not sacrifice on-road performance. The ride is not as smooth or as refined as a new Range Rover's or Discovery's, but it's commendably close. The Defender is more alive and involving, with sharper handling, too. The new six-cylinder is smooth, powerful, and provides brisk performance for such a large vehicle: 0-to-60 mph in just 5.7 seconds.
Most significant of all, the new Defender signals Land Rover's return to making a tough off-road 4×4. The grand dame of Europe's SUV makers is getting its tyres dirty again. After years of urban drift and premium positioning, here is a Land Rover ready to conquer the world.
Via Hagerty US