Editor's note: Every now and then we ask contributors to champion cars, some obvious, some less so. Andy Plumb was the designer of the Reliant Robin MkIII, and has literally written a book on the subject – Tipping Point. Here he celebrates the best-known three wheeler ever to hit the road. James Mills.
Ask ten people to name a car at the bottom of the four-wheeled food chain and the chances are it will have three wheels and be made by Reliant.
Reliant was, for a time, a success story within the British car manufacturing industry. Founded in 1936 by Tom Williams, he teamed up with a former colleague from Raleigh and, at the end of Williams' garden, set about creating a three-wheeled van.
Williams had a hunch that Raleigh was wrong to end production of its line of three-wheeled vehicles. His hunch paid off. Reliant grew rapidly and became Britain's second biggest independent car manufacturer by the 1960s. The company's famous three-wheelers were topped by the Regal, with 130,000 sold.
How much is your car to insure? Find out in four easy steps.
Get a quote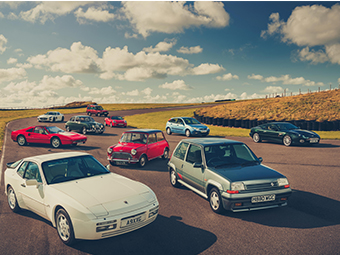 When the time came to replace the Regal with what would come to be known as the Robin, in 1973, a talented team was in place, and one of the leading engineering figures was John Crosthwaite. He'd worked with Cooper, Lotus and BRM – the latter at the behest of Graham Hill – and began consulting for Reliant in 1966, refining the chassis and suspension of the Scimitar sports touring car.
Now you might find this hard to imagine, but you can have a lot of fun in a Robin. It really is a hoot to drive. Contrary to what certain television motoring pundits (we'll name no names, Clarkson, Hammond and May… oops!) would have you believe, thanks to faked stunts, hair-raising moments on two wheels are as rare as a Hispano Suiza and you'll no more roll one over than you will a Weeble.
The Robin really is the literal definition of a balanced chassis. Believe it or not, everything about it has been quite perfectly engineered. The chassis is lightweight galvanised steel with the wheels placed geometrically such that four passengers can be carried in more comfort than an original Mini. No other three-wheeler has ever done this. It's much more difficult – if not impossible – to have two wheels at the front, one at the back, and still carry four passengers and their luggage.
It was Crosthwaite's engineering nous that led to a lightweight, balanced vehicle for the working class and their families. He succeeded in the nearly impossible task of designing a lightweight chassis to a strict budget for the UK's second largest independent car maker after British Leyland.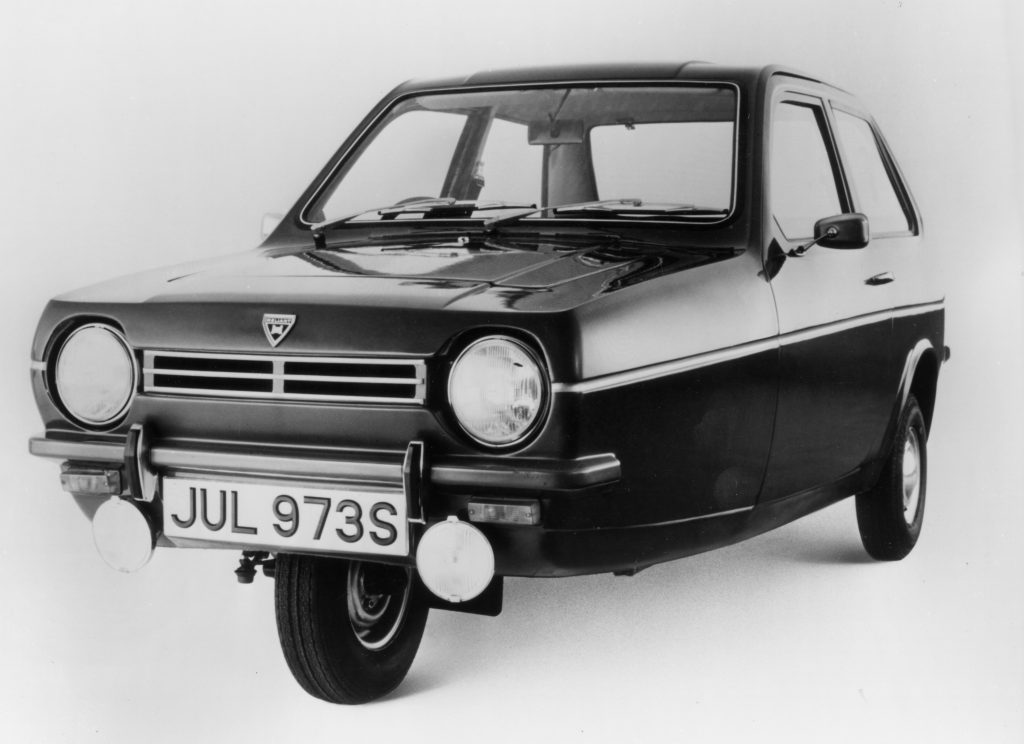 Crosthwaite knew a thing or two about engines as well as chassis, and felt Reliant's in-house power unit was a peppy, ground-breaking engine that would keep the Reliant's weight down and performance and fuel economy competitive. It was actually the first all-aluminium engine produced in volume in Europe, beating the more famous Coventry Climax power unit by a whisker to that accolade. Little wonder it was consistently in high demand for single-seat race cars, and it readily lent itself to being tuned for greater performance.
Designing the body for a three-wheeler like the Robin is also a major challenge because the proportions are so different to conventional four-wheeled cars. Reliant turned to one of the biggest and most successful British design houses, Ogle Design, run by the talented and affable Tom Karen. Ogle has been responsible for the design of other icons, including the Raleigh Chopper bike, Reliant Bond Bug, Reliant Scimitar (one of which is still owned by Princess Anne) and more to boot.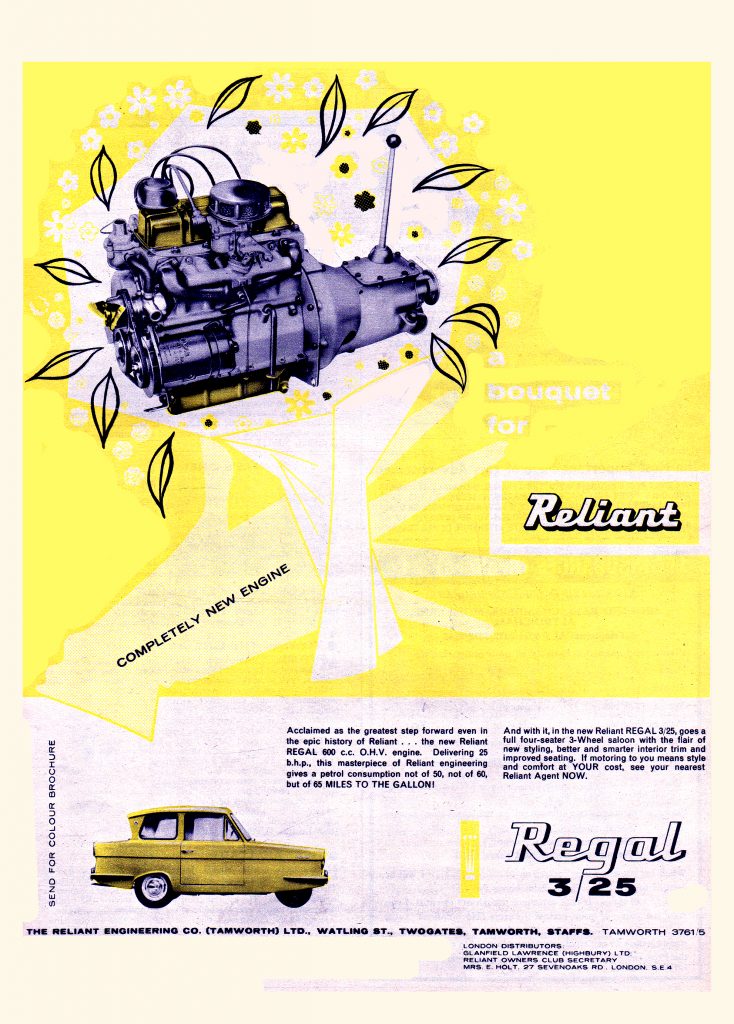 Ogle took 10 years to get the styling right. It couldn't be hurried as the vehicle it was to replace was the Regal. And there were significant hurdles to clear. It had to weigh under half a ton to be classed as a Covered Motorcycle for its economical tax bracket, yet the body had to look like a car to appeal to the aspirational.
Reliant had extensive experience working with fibreglass. After Chevrolet's Corvette, in 1953, Reliant was the first mass manufacturer in Europe to make whole bodies, replacing aircraft style aluminium. They even beat Lotus to that one, while Formula One teams only started using composite bodies in the 80s. (By then Ogle, Reliant and Lucas had also created a plug-in hybrid using the Reliant engine as a range extender, but that's another story.)
Where fibreglass scored was on cost. Reliant did consider hemp in the 1990s as a more eco-friendly alternative, but the cost and ease of manufacture of fibreglass enabled Reliant to make the Robin bodies entirely and precisely by hand, turning them out of moulds literally every two minutes and employing thousands of skilled workers. Reliant's world-class skill with the material led to the company advising Lotus and Ford, culminating with the Ford RS200 Group B rally car – all non-works RS200 rally cars and road-going versions were built by Reliant.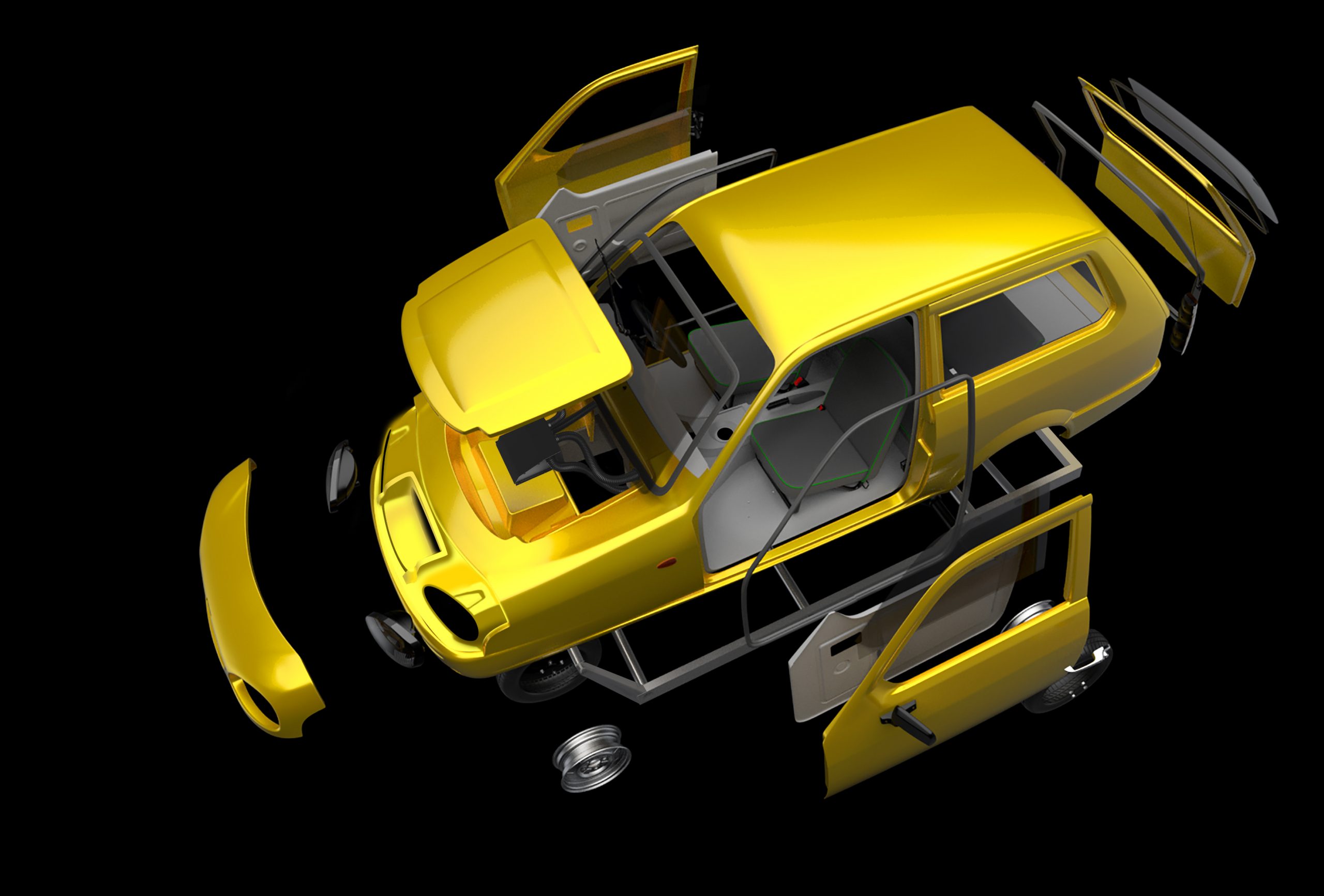 So we have a vehicle sold globally by the hundreds of thousands, engineered using Formula One technology and cunning. A car styled by a leading design house, featuring a revolutionary engine that was mid-mounted in a capable and capacious chassis. And a car clothed in a clever, lightweight composite body. And what's more, it was a sales success, generating revenue and jobs for Reliant and helping power the working men and women of the UK and beyond who needed affordable and efficient transport.
Is it so surprising that the underdog became part of British culture? Every man and his dog has a 'Robin Reliant' story.
I still call it the Robin Reliant. In the same way the Jaguar E-type is the E-type Jag, such is the fondness for it that the names can be reversed. Fun fact, while I bring it up; one of the last Reliant Directors in the '90s was the Son of William Heynes, instigator of the E-type.
The Robin may not be an E-type Jag. But it has just as much, if not more fortitude of engineering and design thought behind it, given the complexities of scaling down a four-seat car to three wheels all within a weight and price point that would give it a competitive advantage and cater for the common motorist.
For the working man, the Robin was more than a sports car – it was their only car.
Tipping Point, Derise and fall of the Reliant Robin, by Andy Plumb, costs £34.99 and is available from Amazon.
Read more
The Death Eaters, Chapter 2: Reliant Regal
7 lesser-spotted British classics you can buy for under £10k
What fuel crisis? 10 fuel-sipping classics to keep you moving