If this summer has largely deprived us of cheering on live motorsport events and hanging out at car shows, Ford Power Live squeezed in a bit of everything to one action-packed, sun-soaked September Sunday last weekend at Brands Hatch – the rollercoaster racetrack that's just a hop over the Dartford Crossing from Ford's epicentre, Essex.
I spent a (mostly) relaxing weekend touring the club displays, interviewing the dedicated Ford fans who'd restored and modified a mouth-watering selection of Blue Ovals, and was even let loose on track in the brilliant and frenetic EnduroKa race series, featuring, yes, a grid jammed full of Ford Kas.
How much is your car to insure? Find out in four easy steps.
Get a quote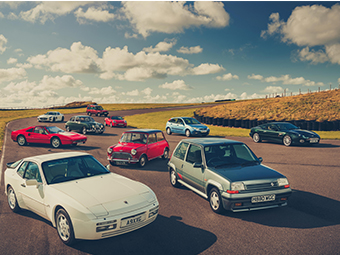 First held in 2017, Ford Power Live is now in its fourth year, and serves as a powerful reminder of not only the passion of Ford fans (surely only Porsche rivals it in this respect) but also just what a broad church Ford fandom is – seemingly disparate automotive strands from Formula 1 racers to custom cars, modified Mondeos to original GT40s, and American muscle to hot hatches were all seamlessly knitted together under the Blue Oval umbrella.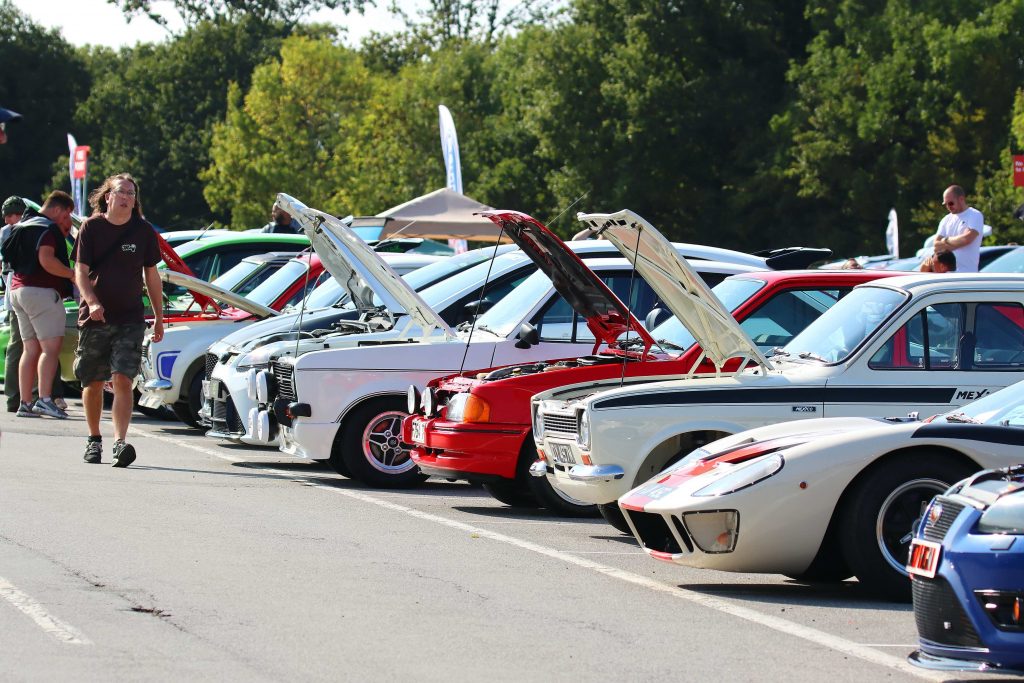 But if any Ford sub-genre was best represented, it was Ford's Rallye Sport RS back catalogue. This greatest hits gathering of RS Sierras, Escorts and Focuses (if there was an RS Fiesta on site, we missed it) all gleamed in the sunshine, and continue to be highly prized – a ten-year-old Focus RS500 sold for £56,560 last month, and a three-door Cosworth fetched £85,760 last year, prices that elevate these models far beyond their blue-collar heritage. Perhaps food for thought for the suits, given Ford says it can't build a business case for a new, hybrid-powered Focus RS.
On track action began on Saturday, before the gates opened to a Covid-limited number of spectators the following day. After watching Mike Saunders hang his metallic green Mk1 Escort Mexico sideways with an unfamiliarly thunderous exhaust note emanating from its exhausts and take P2 in the Modified Fords series, we headed to the paddock to find out more from the man himself and dad Tony, who were both poking about in the engine bay. Tony explained that the previous Pinto engine (with which Jeremy Clarkson raced at Lydden Hill) had been replaced with a monster 4.7-litre TVR V8. The result is circa 420bhp in a car weighing just 870kg – no wonder it's partial to a bit of oversteer!
Laki Christoforou was working on another Mk1 Escort with a group of friends nearby, this time a gorgeous RS1600 running an aluminium-blocked 2-litre BDG with 285bhp – the evolution of Cosworth's BDA motorsport engine. "I've always loved Fords since being a kid," explained Laki. "They're great to drive with fantastic handling, and they're easy to work on too – I do everything myself." Not that a budget appears to be the issue – Ford's demographic-transcending appeal was given flesh and bone with Laki's revelation that he raced a Ferrari 488 Challenge in the GT Cup last year.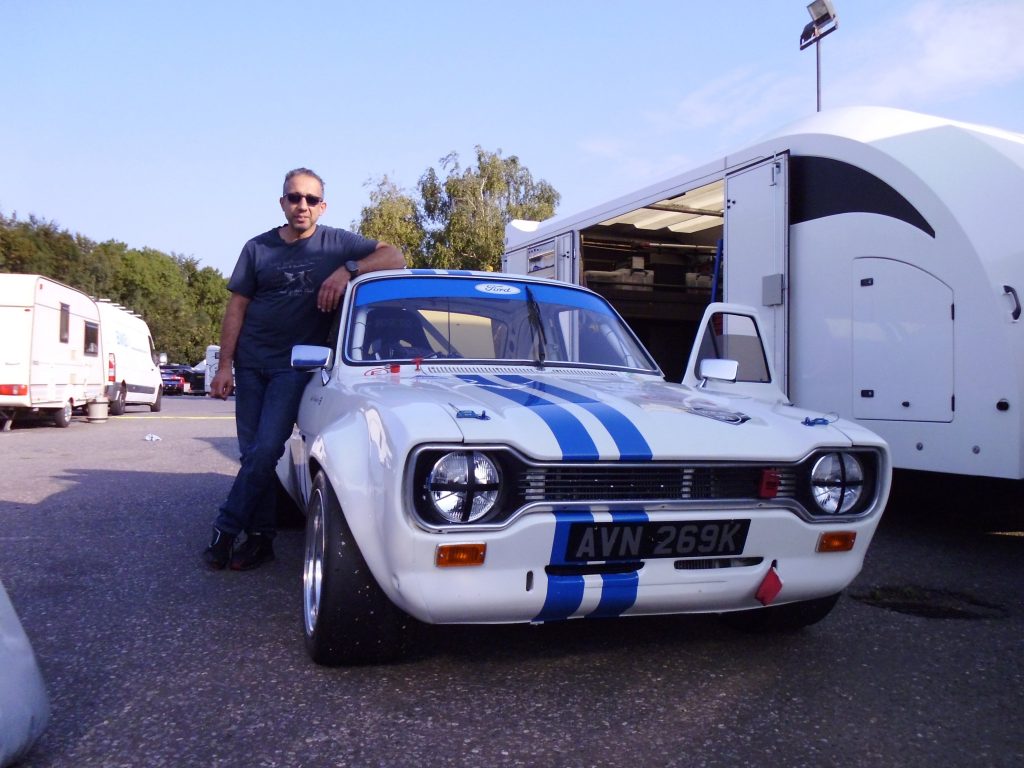 First thing Sunday morning and a procession of immaculate and eclectic Fords streamed through the Brands Hatch main entrance, with the expected RS, Cosworth and ST models all present, correct and polished to a dazzle, but also a surprising number of 1970s and '80s base models you might otherwise find at the Hagerty Festival Of The Unexceptional. Only, these one-time vanilla family runabouts had been painstakingly and subtly modified – meaning even a once basic and commonplace Mk1 Fiesta and a Mk2 Escort L turned as many heads as the high-performance range-toppers that once lorded it over them.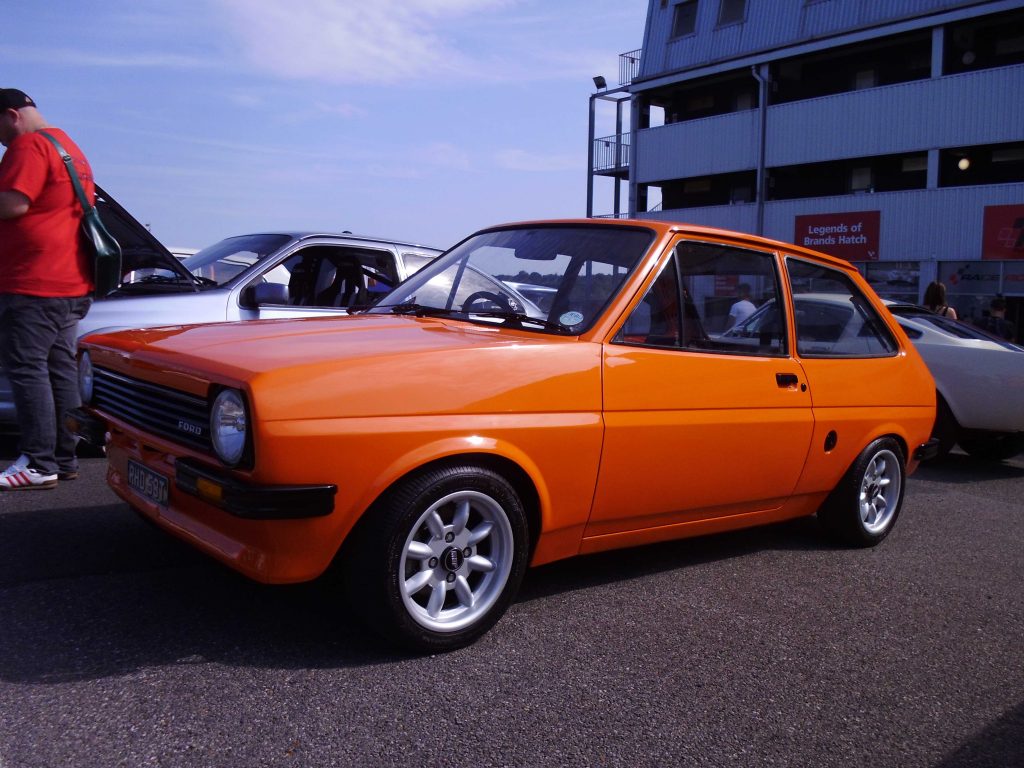 Gradually the Fords all lined up and were given a final buff while the Focus Cup Championship (a series where competitors are arrive-and-drive and all the diesel cars are maintained by the same team) took to the track for the first of the morning's racing. With baking sun pushing temperatures towards the mid-20s, a limited if far from sparse crowd and cars displayed in leafy areas near Clearways corner, at times it felt more like strolling through a nice park that just happened to be hosting a car race and show than anything as formalised as an event.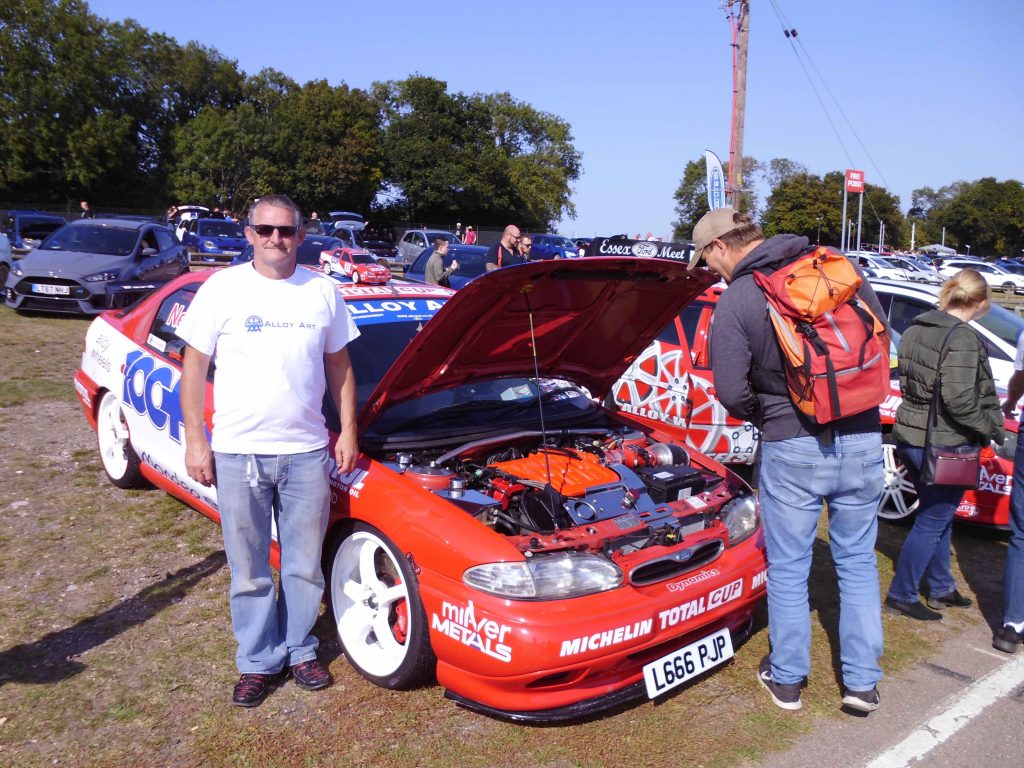 Among the usual and unusual suspects, there was an interesting absence of some fast Ford staples, and an unexpected surplus of some less venerated models: very few front-wheel-drive Escorts or XR models were represented despite what must still be a large following, and yet there was a healthy display of Mondeos and the largely unloved (outside of Ford circles) first-generation Fiesta ST. Philip Petchey had even given his Mk1 Mondeo the full Matt Neal British Touring Car treatment, and explained that he loved racing in the era and still builds race-spec Mondeos from bare bodyshells today.
Perhaps even more unexpected was the large turn-out of Ford Anglias, ranging from perfectly preserved 1950s motoring artefacts to Mike Howell's baby-blue example with its spaceframe chassis and transplanted Duratec engine. Like many enthusiasts, David Osborne was far too young to have remembered the Anglia first time round. Aged just 23 when he bought his burgundy example from a colleague in 1997, he recalls working on his 'labour of love' with his dad in a garage without a power supply, in an era when you'd scour scrapyards and autojumbles, not the internet. Ah, them were the days. Osborne's passion has been passed down through generations, and his young son came along to Ford Power Live too, soaking it all in.
"My granddad used to work for Fords when they were at Woolwich, my dad did his apprenticeship there and we had the Privilege scheme with money off new cars – you're brainwashed from a young age basically!" he laughed. "I've had Mk1 and 2 Escort estates, I really like the long roofs, but there's just something about the Anglia for me."
While some might prefer matching numbers, engine swaps are par for the course in Ford circles – sure enough Ford Power Live was host to a perfect Mk2 Escort RS2000 with a Sierra Cosworth YB turbo engine, a beautiful Mk2 Capri with a 5-litre Mustang V8 transplant and a sneaky Mk3 Escort estate with '1.3L' badges but RS Turbo power under the bonnet. Perhaps more surprising given the Ford fanbase's brand loyalty was the prevalence of heart transplants from other marques, mostly for the track, yes, but there was even a perfect Mk1 Cortina with its bonnet proudly propped to reveal Honda VTEC power.
The show cars were so distracting that I was only just in time to jump in the EnduroKa for the ahead-of-schedule first race. Together with a teammate at LDR Performance Tuning we'd qualified 17th of 27 – not too bad given we didn't drive in the Friday test, but equally there was room to improve during the four sprint races. I took the wheel for the first, and the dicing proved both the original Ka's inherent fun factor, and that you can still have a ball racing on a budget with such limited power and grip.
The Kas might have puny 1.3-litre engines, but they weigh just 950kg with a driver, lock their brakes easily, slide with little provocation and scrub speed if you're clumsy. And so the plunge over Paddock Hill Bend is still heart-in-mouth, the Ka floating over the crest as you saw at the wheel, before drifting out towards the gravel in the compression. Whoop!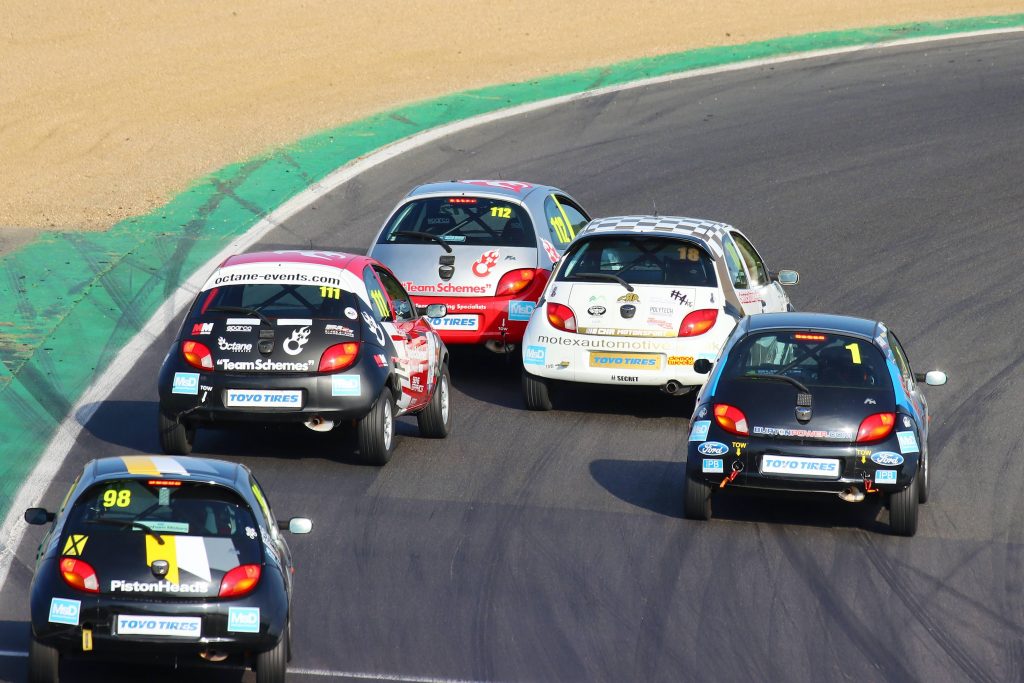 I managed to move up to 13th before getting stuck behind a couple of slower, squabbling cars that successfully thwarted my progress. That was clearly an inauspicious start position for my teammate in race two, who got collected in a tangle and speared off into the wall, though thankfully his trip to the medical centre was merely precautionary and body parts only temporarily sore.
The shunt ended our race weekend prematurely, but that just allowed more time to enjoy one of the most diverse one-make car shows on the calendar, and meet an automotive fanbase arguably more loyal than any other.
Some visitors will have been inspired by seeing these cars in magazines, on television, or by watching them racing and rallying, whether that's decades ago or in the 2010s, and of course that's a significant influence. But more than that Fords have always been woven into our daily lives – the enthusiasts at Ford Power Live had grown up with Fords, they'd turned their heads while walking down the street as kids, been another member of the family, and friends and relatives had even worked at the company or passed their passion for the brand down to the next generation.
Memories, aspirations and happy times are wrapped up in these Escorts and Fiestas and Capris, and now they're accessible, still desirable and needing to be preserved, no matter if those kids have grown up to be blue collar workers or entrepreneurs of the app generation. Being amongst the fans and the Fords provided first-hand experience of how no other car company is quite so deeply rooted in the British psyche.
These 10 affordable Fords will be fun to drive while you wait for them to attain classic status