The RS1800 was one of Ford's most successful motorsport cars, and like any rally car there had to be a road version to enable the cars to obtain homologation to go racing.
Ford built a limited undisclosed number of road cars, thought to be around 109. These road cars were built in a small unit at the Advanced Vehicle Operations (AVO) Pilot Plant Aveley Essex, later to become Special Vehicle Operations (SVO). This site is where the earlier Mexicos and RS cars were built.
How much is your car to insure? Find out in four easy steps.
Get a quote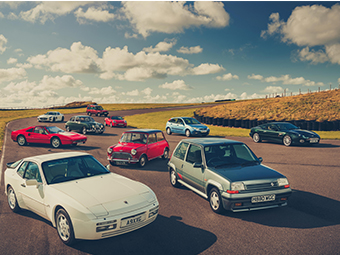 The Ford RS1800 launch date was 10th June 1975 with a price of £2825 for Basic model and £2990 for the custom version, with a plusher interior. By the end of production in September 1977, this had risen to £4274. Three cars were built for the 1975 Geneva Motor Show: a motorsport car, a white road car, and a red car, all left-hand drive. All later cars were produced in white apart from a further two known red cars.
Early 1975 production cars were Escort 1600 Sports that were converted, many unique parts were made to make the car stronger and what became known later as the "RS" shell. Plush interior, black paint work around the exterior, unique two tone blue stripping, and the addition of the well-known Cosworth 16 valve BDA engine were used by Ford to launch their new road car.
Later 1976 and 1977 cars used a production RS Mexico from Fords Saarlouis plant in Germany, these cars were complete cars that were transported to the Aveley Plant, again stripped and then converted to RS1800 specification. Unused parts like the Pinto 2.0litre OHC engine were sent back to Germany.
The last 50 cars had a unique engine upgrade, modified pistons, steel crankshaft and different intake manifold to aid strict European emissions at the time.
A Buyers guide has recently been produced in the RS Owners clubs magazine, this is a more detailed explanation and insight to the cars. A further more in depth version will soon be available.
To celebrate these rare cars on its 40th year anniversary, a display was held this weekend at the RS Owners' Club National Day at Donington Park Circuit, with over 15 Ford RS1800s attending.
To find out more about the RS1800 Register, or the RS Owners' Club, contact Dave Robinson through the RSOC: http://www.rsownersclub.co.uk/ The Ford RS Owners Club, PO Box 280, Upminster, Essex, RM14 9BP. – Tel: + 44 (0)8702 406215 / +44 (0) 844 561 7483 – email: info@rsownersclub.co.uk