In a tribute to the cars celebrated at Hagerty's Festival of the Unexceptional, Giles Chapman peers into the past of Britain's everyday cars.
Chance upon one of the few surviving Ford Mondeos from 1993, and it's hard to picture it as the most talked-about new car of its day. The unremitting blandness of its outer design, in four-door saloon, five-door hatch or estate forms, truly belies that; on the surface the Mondeo is the perfect fit for Unexceptional Classic status. Yet the expectations and the stats involved were enormous.
How much is your car to insure? Find out in four easy steps.
Get a quote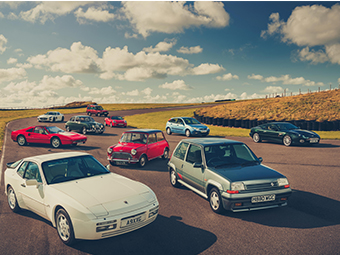 Ford spent a then staggering $6bn developing this thing, roughly £4bn. Admittedly, every single part was brand new, but it remains possibly the biggest single budget any one car has ever swallowed. In Europe and especially the UK, it had to beat back the Vauxhall Cavalier which had for years been showing up Ford's Sierra as an embarrassing (Cosworths excepted) relic with the ghost of the Cortina still rattling its rear-wheel drive chains inside. And, on top of that, the jointly run project between Europe and the USA had to produce a version that would appeal to budget-conscious America.
Mid-way through the design process, in 1990, Ford's engineers, busy at the Essex engineering centre where Project CDW27 was based, got a couple of nasty jolts. Ford's new Escort, just launched, was universally panned for its mediocre driving experience at the same as the new Sunderland-built Nissan Primera emerged as the surprise family car class leader for ride and handling. An upping of the game was urgently needed.
And so, when the Mondeo was launched, it was praised to the rafters for the great way it drove. With front-wheel drive, there were also all-new transmissions and suspension systems with front and rear subframes that provided excellent handling and comfort standards. Autocar road testers were in rapture. 'For anyone seeking mid-sized motoring, it does not get any better than this,' said the car mag. Accordingly, it beat the Citroen Xantia to become European car Of The Year in 1994.
The thing most of us recall instantly about the Mondeo is its political status. "Mondeo Man" became a seminal figure in late 1990s Britain. He was encapsulated by Tony Blair, then the Labour Leader of the Opposition, in his 1996 conference speech. The fellow was the imaginary 'swing voter' whose dad voted Labour but he himself had become a Tory as he bought his council house, owned his own car in the Sierra/Mondeo bracket, and worked on a self-employed basis in construction. Drawn from a much wider background than the 'Essex Man' of old, Labour needed this get-on-in-life character to switch his voting patterns to gain power. And the party's policies persuaded him to do just that for Labour's election victory a year later.
Mondeo Man was offered a choice of 1.6-, 1.8- and 2-litre four-cylinder or 2.5-litre V6 engines, and there was even a four-wheel drive option. Every Mondeo sold in Europe was built in Belgium, and the range was the first ever to offer a driver's airbag as standard in even the lowliest models. The omens looked good, yet there was still something underwhelming about this mainstream Ford – perhaps not least the humdrum badge on the front when, for not hugely much more, you could get a BMW 3 Series. More worrying for the company was the drift away from models of this size as the company car perk was starting to be taxed; assistant regional managers everywhere were going for smaller cars, like the VW Golf.
Almost 334,000 were sold in 1993-5 before a big revamp was needed to sustain buyer interest, after which some 389,000 more were sold up to 1999.
I once drove one of these first-gen Mondeo diesel estates from London to Zürich to pick up some furniture. It performed well enough – aside from leaving oil in every spotless Swiss car park it visited – but I can't say I was sad to give it back afterwards. Like many early Mondeos, most of the light grey plastic of its interior already had a slight yellowish tinge and the paintwork had gone flat. With not much in the way of lasting quality, I found it hard to love.
America, it seems, felt the same, but for different reasons. There the car was built and offered as the Ford Contour, with all sorts of nips and tucks that ate into the economies of scale but, even then, Americans found it too poky inside, and sales weren't particularly good.
Ford was braver with cars like the first Ka, original Focus and Puma. But the Mondeo never really recovered from that false start, one that Audi, BMW and Mercedes seized to their advantage as they set out to lure Mondeo Man.