Tim McNair is a master of understatement. "Today," he tells us, "on Beyond the Details, we're going to do something completely different." That 'different' is detailing a BMW S70/2 V12, removed in its entirety together with the gearbox, exhaust and rear suspension assembly from a McLaren F1.
At the time, the 1992 F1 was as singular and uncompromised as cars got. Although, some may point out that Gordon Murray, the creator of the F1 concept, had brought the world the 380kg Rocket, via the Light Car Company, but that's another story told in this review of the Rocket…
Murray had initially turned to Honda, given the relationship between the Japanese car maker and McLaren in Formula One, but with Honda set to withdraw from F1 it decided against getting involved. Enter BMW.
How much is your car to insure? Find out in four easy steps.
Get a quote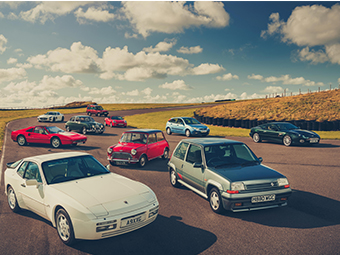 At the 1990 German Grand Prix, Murray broached the subject of an engine for a new supercar with Paul Rosche, the head of BMW's engine development. The two had known one another since the days of working with Brabham. Murray set out the goals, in terms of capacity, configuration (V10 or V12) size, weight and power, and Rosche went to work. In the end, it was reportedly 16 kilos over its target of 250kg, but Murray couldn't care less when he learned of the power output – 627bhp, well up on the 550bhp yardstick that had been set.
When you see it in all its glory, as we do here, it is hard not to be impressed. From the compact dimensions to the carbon-fibre air intake, it exudes the attention to detail of motorsport.
McNair is the lucky individual entrusted with deep-cleaning the engine and associated components. Some areas are no-go zones: for example, the gold-foil lined heat shields are said to be so delicate – ironic, given they can reflect and withstand such high temperatures – that they can't even be wiped with a microfibre towel.
We love watching McNair go to work. Steam-wanding, degreasing and scrubbing with brushes are all done with the confidence that comes from many years of detailing some of the most exotic cars in the world. As he puts it, "You want to go slowly, work very carefully; it's not like I can replace this [the component] easily, so I've just gotta take my time, be very careful and touch up each piece as I go along."
As he stresses, if you don't know what everything does on the engine, and don't understand its sensitivity, you should not be allowed near it. "You could really mess this up without really trying," cautions McNair.
From the throttle linkage to the brake hubs, suspension to exhaust pipes, pulley faces to carbon intake, everything comes in for McNair's attention. Little wonder it takes two whole days for him to tackle the job.
Watch more
Dry ice blasting a McLaren F1 supercar | Beyond the Details
Washing a car isn't always the best way to clean it | Beyond the Details – Ep 3
Polishing the Ferrari F40's Lexan rear window | Beyond the Details – Ep 5