Looking for inspiration when it comes to detailing your car? You've come to the right place – and video. In the third episode of Beyond The Details, hosted by Tim McNair of Grand Prix Concours, he sets to tackling a dusty, dirty Nissan 240Z (Datsun to us folks in the UK), which has a rather special engine under that wonderfully poised, long bonnet – from a Skyline GT-R.
This episode is interesting for many reasons, but primarily because McNair tackles the debate over whether it's better to wash an old car and risk water getting into places it shouldn't, or clean it using quick detailing spray-on products. The answer may surprise traditionalists.
"In my business, I do a lot of very expensive cars, and a lot of these cars, especially from the '50s and '60s, tend to leak. So I never wash a car or put a hose on anything. I use quick-detailers all the time; I've never had an issue with it scratching the paint and it's a lot easier to work the paint versus trying to bail two gallons of water out of a Testarossa."
How much is your car to insure? Find out in four easy steps.
Get a quote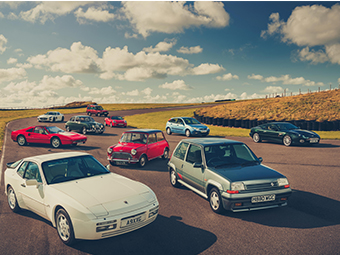 McNair admits that this means he gets through a lot of detailing product but feels the result are worth it for older cars. It also means he gets through a lot of microfibre towels, and suggests folding it into quarters and flipping it over, before turning it inside out, to get the most use from each towel. Happily, they can be washed and reused, and McNair will use older towels for the underside of a car, and new microfibre towels for the glass, bodywork and chrome areas.
Another trick McNair reveals is the restoration of the Z's badge. The black and white paint that should be on the badge has faded and flaked away over time, so McNair uses modelling paint to make repairs. The difference, he says, is significant. "This is what separates a car that's been prepared for concours versus one that's just been cleaned."
The next tip is one that many owners of classic cars will be interested in: how to clean chrome trim. McNair makes sure it's definitely chrome and not anodised aluminium, then uses glass cleaner and towel to wipe away any dirt, bird droppings and squashed insects, before switching to steel wool and the same glass cleaner. "Always go in straight lines and use short strokes," he stresses. The reason? If you pick up a piece of dirt in the wool and it marks the surface, you only have to polish a scratch out of a smaller section.
Then comes the engine bay, where the wire wool comes in handy again, tackling the details on the cam cover.
As ever, watching McNair at work is both soothing and informative, and by the end of it you may find yourself itching to put some of his tips into practice with your own car. Or you may just be wondering how damned fun that Skyline-powered Nissan 240Z must be to drive…
Read more
Detailing a rally legend: Lancia Stratos | Beyond the Details – Ep 02
Dry ice blasting a McLaren F1 supercar | Beyond the Details