On the latest episode of Beyond The Details, Tim McNair, master detailer of some of the world's greatest cars and car collections, has a new challenge to share with all of us who obsess over caring for their cars – polishing Lexan polycarbonate.
Before we dive in to the video, let's take a moment to remember why the Ferrari F40 uses Lexan in the first place. The polycarbonate resin thermoplastic is a solid substance that can deform in extreme heat (typically 147 degrees Celsius, or 297 degrees Fahrenheit) and be manipulated and shaped without cracking or breaking. When fully formed, the polycarbonate sheet is said to have an impact strength 250 times greater than glass.
How much is your car to insure? Find out in four easy steps.
Get a quote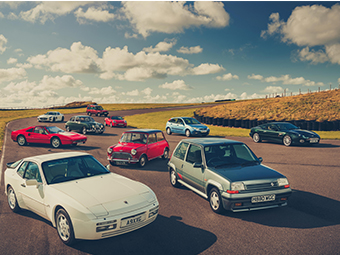 So when Ferrari came to devise a way to get heat out of the engine bay of the F40, its engineers knew that Lexan was the answer. It could be formed with the necessary vents but would be tough enough to withstand the heat and other stresses placed on it by a 3-litre twin turbo V8, 201mph supercar. And, well, let's face it, it looked cool as heck, right?
However, over time the Lexan needs more than just a wash and wipe. And McNair know just the product to treat it, to keep it clean, remove any swirl marks and protect it against further damage. He uses a three-step polishing process that was developed for maintaining aircraft canopies made from Lexan.
As McNair says, "The thing about working plastics like this is you err on the side of caution. You want to keep a slow, constant speed [using a rotary polisher with the softest pad], not anything to quickly, as you don't want to burn or melt it – not that you can really do that with Lexan because it's a very durable finish, but on the other hand, why risk it?"
Watch what happens as McNair works his detailing magic.
Watch more
Washing a car isn't always the best way to clean it | Beyond the Details – Ep 03
'The most exciting supercar in the world versus the greatest.' Head-to-head in the Ferrari F40 and Porsche 959