We all know that Richard Hammond has crashed a car or two, notably surviving a near-death smash after a jet-powered dragster shed a tyre at more than 300mph, in 2006, and dragging himself from a mangled, burning Rimac Concept One in 2017, but it is doubtful anyone could have imagined just how 'unlucky' the accident-prone the television presenter has been behind the wheel – and behind the handlebars too.
As Hammond reveals during Hagerty's livestream with the world's second-most famous motor mouth, he's quite good at crashing things.
How much is your car to insure? Find out in four easy steps.
Get a quote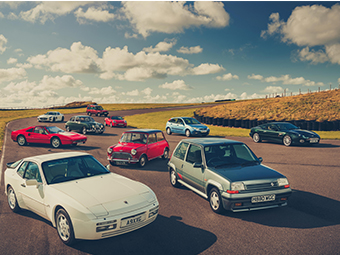 Happily, he hasn't made a habit of that since launching his new venture, The Smallest Cog. The classic car restoration workshop is so much more than a passion project for Hammond; his grandfather, Leslie Dunsby, was a coachbuilder and Hammond says he has long held a desire to learn the skills of a craftsman while giving something back to the car hobby after years at the top of televised four-wheeled entertainment.
He discusses all this and more – and yes, there's a lot of crashing involved – with Charlotte Vowden. Enjoy the interview.
Check out the Hagerty Media homepage for daily news, features, interviews and buying guides, or better still, bookmark it.