The first season of Richard Hammond's Workshop is set to debut on 18 October. The new TV show, which airs on discovery+ and follows the fortunes of Hammond's recently launched classic car restoration business, promises to lay bare the challenges of starting up in a highly specialised industry where reputation counts for more than a name.
The name chosen for the new business, The Smallest Cog, is intended to reflect the level of detail that its craftspeople work to, says Hammond. "Jeremy [Clarkson] and James [May] might suggest otherwise, but it's to highlight the fact that our attention to detail will be right down to the smallest cog… and the smallest cog is often the most significant whether it's in a gearbox, engine or differential."
How much is your car to insure? Find out in four easy steps.
Get a quote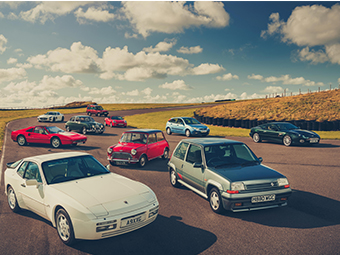 Richard Hammond's Workshop is a six-part season and will follow the ups and downs of getting The Smallest Cog established in a new premises, including the cost and complexity of equipping the workshop with everything from an English wheel to hugely expensive paint booths.
When Hagerty paid Hammond and the team behind The Smallest Cog a visit, he half-joked that the dust-collection booth was "the Porsche 911 T I sold," while the painting booth was "the Lotus Esprit". In total, Hammond raised £230,000 by selling some of his prized cars and even-more cherished motorcycles, to raise capital for the new venture.
Hammond has formed the business with restoration experts Neil and Anthony Greenhouse, a father and son team that have successfully renovated a number of Hammond's own collection of classics. They are based on the outskirts of Hereford.
Having already restored a 1979 Ford Escort RS2000 Mk2, and displayed the finished car at several car concours events before offering it for sale through Classic Car Auctions, the team at The Smallest Cog recouped a further £36,630.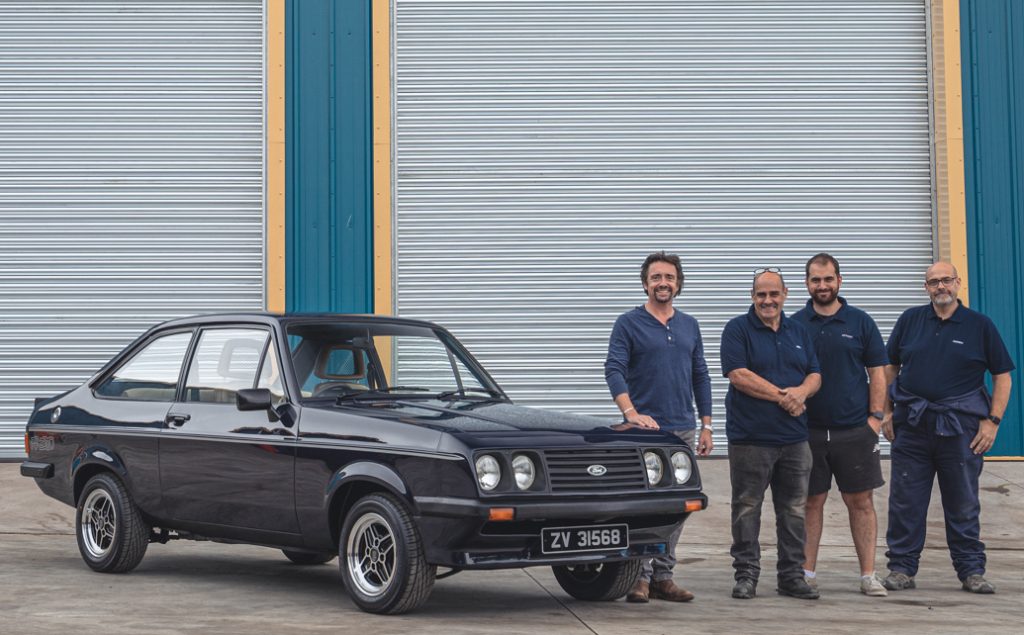 Richard Hammond has spoken of how he was motivated by his grandfather, who was a coachbuilder working with Mulliners in Birmingham and at Jensen in West Bromwich. "It's in my bones. I've always wanted to prove to him that there's more to me than driving around the world, talking about other people's supercars, crashing them and then pretending to weld them up in a desert."
The new show is being produced by Hammond's Chimp Television production company, and is described by discovery+ as 'an entertaining, character-driven series and a window into the world of the classic car repair business. The series draws on the vibrant father and son duo, Neil and Anthony Greenhouse, who run the garage and the heritage skills of artisan craftspeople. The viewers will get to know a plethora of passionate personalities, including Richard's wife, daughters, close friends, and celebrities, all working hard to get the new venture off the ground.'
Alongside barn finds, prestige cars and restored classics, the team will also work on Richard's own cars and bikes.
Discovery+ is available for free, but upgrading to an Entertainment pass (£49.99 a year) provides access to discovery+ original shows, including Richard Hammond's Workshop. It can be watched on most digital streaming devices. Sky Q customers can enjoy a complementary 12-month subscription to discovery+.
Read more
Hammond sells his 'toy collection' to raise £230,000 for The Smallest Cog
Good news! Smash hit Clarkson's Farm confirmed for second series
Richard Hammond exclusive: 'From rolling cars to rolling the dice on The Smallest Cog, my biggest gamble yet'