Price: £4000-£5000 estimate
Year: 1976
Mileage: 12,000
Condition: Average, but complete
Seller: Bonhams MPH
It's feasible that in the next few years what we know as the coupé could disappear entirely from the new car market, outside of a handful of premium models. The sector has been on a steady downward slide since the early 2000s and sales are now just a trickle, their kind almost entirely replaced by crossovers and SUVs.
How much is your car to insure? Find out in four easy steps.
Get a quote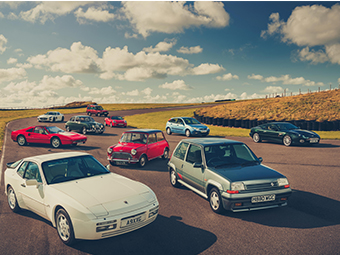 Quite amazing to think then that some manufacturers used to offer not one coupé but often several. Walk into a Honda dealership in the 1990s and you could drive out in a Civic Coupé, CRX, Prelude, Integra Type-R, Honda Accord Coupé, Honda Legend Coupé, or an NSX. Barmy. Fiat had quite a lineup in the 1960s too, with a coupé based on almost every model in the range. And in 1971, Renault released two simultaneously: the 15 and the 17.
Both 15 and 17 were similar under the skin, using mechanicals from the family-friendly Renault 12. The appeal, as ever with mainstream coupés, was the painless ownership experience of any other car in Renault's 1970s range (no giggling at the back), but a dash more style than the dowdy hatchbacks, saloons and estates.
The 15 and 17 differed predominantly in their styling. Each shared a fastback silhouette, but the 15 was subtler with expansive glass in place of the 17's kicked-up rear window and rakish C-pillar, and conventional square headlights where the 17 got a pair of round lamps on either side.
Buyers, at least in the UK, were relatively apathetic. A French coupé with modest performance (59-89bhp from regular models, and no more than 107bhp from the 17 Gordini) would have been a hard sell alongside home favourites like the Ford Capri and Vauxhall Firenza, while 1974 saw the launch of the Giugiaro-penned Volkswagen Scirocco.
The Irish dealership that first sold this Renault 15 GTL in 1976 then must have been relieved for the original customer's business. For sale at auction with Bonhams MPH on March 20, it's thought to be the only one in the UK.
With numbers that low you can't be too choosy about condition. It's an automatic, which might not be a buyer's first choice, and the Bonhams MPH listing is honest, with most of the car's faculties rated somewhere between average and good. It apparently runs and drives well though, so it looks like a good rolling restoration candidate – and in the pictures at least, it all looks complete enough that you shouldn't pull any hair out trying to source obsolete parts.
It's low mileage on an apparently genuine 12,094, but for us the impetus would be in owning not just a rare example of Renault's back-catalogue, but a rare category of car full stop. On roads littered with SUVs, a coupé like this will achieve with even greater success what it was designed for in the first place: turning heads.