Gary looks at 'The Car You Always Promised Yourself' half a century on and drives the very last one made, a 1986 Ford Capri 280 Brooklands.
Had you or one your forefathers popped into your local newsagent on Tuesday 14th January 1969, expecting to buy that week's latest issue of the popular weekly motoring magazine Autocar, you would have walked away disappointed.
How much is your car to insure? Find out in four easy steps.
Get a quote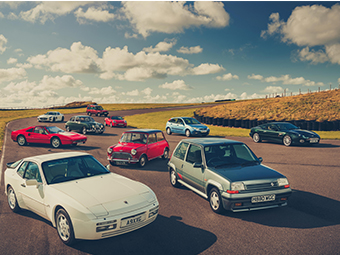 Back then, 50 years ago, for the very first time in Autocar's long history (first published 124-years ago, in 1895) the production of the weekly journal had purposely been postponed by a day (unheard of at the time) to announce the arrival of a very important new car, due to be unveiled by King Baudouin of Belgium the following day at the 1969 Brussels Motor Show.
The car? It was the exciting new Ford Capri, a dashing GT coupe revealed to a receptive audience, displayed on a turntable as a white 1300 with the driver's door missing to enable show-goers to admire the roomy red interior. It was pictured simultaneously in an eye-catching red in aspirational range-topping GT XLR guise on the delayed cover of Autocar the same day.
The Ford Capri was an instant hit; a stylish and affordable four-seater fastback coupe that could accommodate the family and their paraphernalia during the week yet adapt to the desires of the youthful string-back gloved motoring enthusiast out for a Sunday morning jaunt to the golf club and 19th hole.
Taking its inspiration from Ford's hugely successful sporting Mustang, launched 'across the pond' almost five years earlier, the Capri was Ford of Europe's scaled-down response to the swift-selling American 'pony' car.
Jointly developed by Ford's British and German styling and engineering divisions (the Escort Mark I of 1968 being Ford's first collective European venture), the 'champagne tastes/beer income' Capri delved heavily into Ford's parts bins to source proven components from existing family saloon models to make keep its retail price affordable. The Capri's platform, for example, was essentially a modified Cortina Mark II base, with the model's smaller engines taken from the Escort, mid-range units from the Cortina, and larger motors from the Corsair for Halewood-built models, with Continental Capris differing mechanically with a range of Taunus-derived V4 and V6 engines.
Famously promoted from by Ford's marketing gurus as 'The Car You Always Promised Yourself' (and pitherly described by Car magazine as a 'Cortina in drag') car buyers – particularly in the UK – couldn't wait to get their driving gloves on a new Capri, the coupe selling over 400,000 examples in its first two years alone, and production reaching one million units by late August 1973, helped by some image-building competition success around the globe.
In early 1974, and 1.2 million examples later, the original (but facelifted in late 1972) first-generation blue collar Capri was replaced by a svelte new three-door hatch, conservatively styled to retain the booted coupe's fastback profile and enticing looks, but with enhanced desirability and practicality, including fold-down rear seats.
The Capri continued in this form, with a vast array of engines and trim levels, until the oddly-named Capri III (essentially an updated Capri II with quad round headlamps and a bonnet bulge) appeared in 1978, the model soldiering on in this final form uniquely for the British market (Continental LHD sales ending in late 1984) until RHD production finally ceased in December 1986.
Along the way, Ford made some important additions and improvements to the Capri, the most notable being the introduction of the cleaner Cologne-built 2.8 injection V6 Granada engine at the 1982 Geneva Motor Show to replace the previous thirstier 3.0 V6, the tyre smoking hero on our small screens in The Professionals. The new Capri 2.8i temporarily revived sales of Ford's aging coupe, which had successfully already seen-off copycat rivals such as the Opel Manta, Toyota Celica and Renault 17-Fuego. The Capri was under increasing competitive pressure though, increasingly out-classed by the new wave of more modern performance front-wheel-drive 'hot hatches', typified by the younger VW Golf GTI/Ford Escort XR3i generation.
Having not driven a Capri since my formative motoring days in the 1980s (a friend of mine ran a tatty Capri II 3.0 S which I could easily out-maneuver in my older Honda S800 coupe, until he blitzed past me on the long-straights), a recent opportunity to try the very last Capri of 1,886,647 built – a special 1986 run-out edition 280 Brooklands, owned by Ford's heritage workshop – was far too tempting to turn down.
Sliding into the Capri's inviting leather Recaro driver's bucket seat – a standard fitting on each of the 1,038 examples of the 280 Brooklands made – the car's sweep-away dash (first used on Ford GB's 1970 Cortina Mark III), thin-rimmed steering wheel, ashtray and lack of cupholders, instantly reminded me that I was in an old classic car, already dated, even by 1986 standards. The interior of a contemporary Ford Sierra looked like a space ship by comparison!
A turn of the key instantly brings the pleasing 2.8 V8 Cologne engine to life, and suddenly the Ford feels considerably more modern, with a satisfying rasp at idle, sadly lacking on most early 21st century cars. From start-off, the Capri's steering is light and pleasingly communicative, though heavy by over-assisted modern standards, but the Cortina-derived chassis delivers a fidgety (or engaging, if feeling more charitable) ride with constant steering inputs required to keep the car straight and true.
Corners are quite entertaining though, offering old-fashioned thrills, with the rear end keen to slip and slide, even on dry tarmac with the standard limited-rear-differential found on all 280 models, and the grin gets broader the harder you press-on. In the wet, however, the tail would snap away more readily, helping to explain way so many Capris in period expired long before their 'best before' dates, heading backwards through flint walls and hedgerows.
The 160 bhp 2.8i V6 could propel the 280 from 0-60 mph in a respectable 7.8 seconds; impressive in its day, and still not too slovenly now, unlike the five-speed manual gearbox, which requires deliberate and precise changes. Overall though, the Capri feels pleasingly lively and spirited, rather than balls-out quick; its old-fashioned rear-wheel-drive platform making the Ford reassuringly nostalgic but rewarding to drive, though the brakes (or lack of) are way too inadequate for the car's performance potential. Just as well the steering is reassuringly precise and direct!
As for the ergonomics though (plus the low driving position, poor visibility and excessive wind noise), the Capri reminds you that the motor industry has come a long way since 'The Car You Always Promised Yourself' first became a stylish part of the British way of live 50 years ago. Happy Birthday Capri!