Price: £1500
Year: 1994
Mileage: 25,000
Condition: Rare survivor
Seller: eBay
With a delightfully tidy Daewoo Espero making an appearance in this year's Concours de l'Ordinaire at the Festival of the Unexceptional, we remarked recently that the era of the unexceptional Korean car is very much upon us.
There will be consternation from some quarters over this turn of events. Korean cars, they'll say, are just soulless boxes, automotive white goods with little merit beyond the very basics of transportation.
How much is your car to insure? Find out in four easy steps.
Get a quote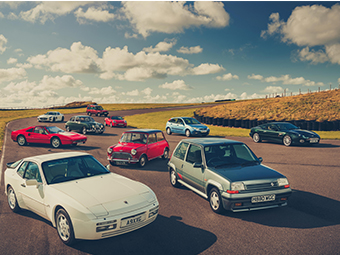 To that we'd say that Japanese cars were once viewed in exactly this light, and look how interest in those has grown in recent years. While one generation might see something like an old Corolla as dreadfully dull, another – probably younger – generation has grown up racing cheap and cheerful Japanese cars around in videogames and reading about them in tuning magazines.
They might also interact daily with people from all around the world, in countries like Japan and the United States, where Corollas and Civics are the first step on the ladder for modification and personalisation. Japanese cars have become demonstrably cool.
Korean cars, we suspect, will go through a similar awakening in the public consciousness. They don't have the benefit of many videogames or movie appearances on their side, but they've long offered dependable transport just like their Japanese counterparts, and do have a following elsewhere around the world that may well bleed into the UK market eventually.
Do you know, for instance, that in Australia there's a thriving race series for the first-generation Hyundai Accent? The car was hugely popular over there, and much like Citroen C1s and Ford Kas are beginning to end up on the UK's race tracks, the Accent is a wildly popular grassroots racer in Oz.
In fairness, budding V8 Supercars stars aren't tearing around in four-door, automatic saloons, like the 1994 Hyundai Accent GLSi we've found for this week's Unexceptional Classified. The Aussie racers are making somewhere north of 100bhp from a revvy twin-cam 1.5. Our own Accent makes do with a single-cam, 12v engine with only 86bhp through its four-speed auto.
Still, considering it's a car from the first year of production, and these cars aren't (yet) known for attracting a following, it's survived remarkably well. With little more than 25,000 miles on the clock and given the traditional four-door layout and auto 'box, some may be tempted to resort to stereotypes and assume an elderly previous owner.
The majority of those miles were completed prior to the last decade as well. At only a few hundred miles a year since the first visible MOT in 2006, it's had a very gentle life, and that same MOT history doesn't throw up anything too scary. Its last failure was in 2015, and that was just for weak washer jets – though the car has clearly been off the road most of the time since, as before its most recent test in April, the previous was in 2016.
It's a shame the Ultra Low Emission Zone – explored in detail in this Hagerty investigation – is likely to boot cars like this out of London (and soon other cities), as it seems destined for a life of local trips. That would give the still-shapely seats the easiest time, and no doubt make greatest sense of that 90s slushbox.
The fact that it's Korean is beneficial for your wallet, too. A 1994 Ford Escort on mileage this low, and in this kind of condition, would no doubt have a much higher number attached to it simply on account of the badge. We don't see Accents and the like suddenly rushing up in value in the coming years, but we certainly expect to see a few more appearing at the Hagerty Festival of the Unexceptional.
Also read
11 cars to get you gently excited for the 2021 Hagerty Festival of the Unexceptional
Take a chance on me: The £200 Renault Safrane that paid off
Unexceptional Classifieds: Nissan Sunny Coupé