No car is guaranteed to appreciate in value, particularly those towards the lower end of the market, but a lot of people who've been sitting on an old Ford in recent years will have had plenty to smile about.
Fast Fords in particular have done well – just check out the values of sporty Mk1 and Mk2 Escorts, or anything with a Cosworth badge. But even the humbler stuff has started to come around, and seeing base-model Fiesta and Escort "Pops" (or Bonuses) go for the kind of money that'd get you a three-year-old supermini is enough to pique anyone's curiosity.
How much is your car to insure? Find out in four easy steps.
Get a quote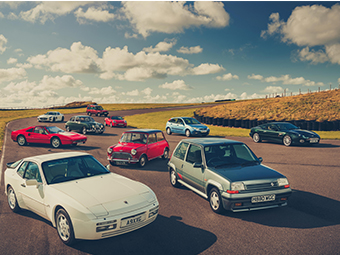 Particularly nice examples of rarer or more inventively-optioned models can command even more, and that's where we find ourselves with this 1993 Ford Escort 1.8 Si Cabriolet, for sale at a dealer on eBay. After the colour – a shade the seller calls "sunshine yellow" but appears to be Zinc Yellow – the most eye-catching aspect is the price: £9995.
That kind of money gets you a lot of car at the moment, and even a lot of Ford: Mondeo ST200s and ST220s, Focus ST170s and five-cylinder STs, naturally-aspirated and turbocharged Fiesta STs, and while it won't quite stretch to a Racing Puma, £10k must be enough to get the finest, most rust-shy standard Puma in existence.
But nope, here it is, a Mk5 Escort Cabrio – a generation of Escort beaten mercilessly by the press when new, remember – in bright yellow, with unlimited headroom. If sharp dynamics are your bag then it's probably not the best place to put your money, but as a rarely-seen and eyecatching variant of one of the nation's most popular cars of the period, it isn't without appeal.
Si specification in 1993 meant a 1.8-litre 16-valve Zeta engine (later renamed Zetec), thankfully kicking the old CVH to the kerb, and 115bhp at its disposal. It also meant, if you peel back the roof and take a peek inside, a pair of the most remarkably-bolstered chairs of the period, and rear pews with matching mottled pinky-purple trim. This being the early 90s, there's also a sporty but non-airbagged three-spoke leather-wrapped wheel staring back at you.
The ad states that the car was once a dealer demonstrator, and having this parked on the lot in 1993 no doubt helped draw in customers who, perhaps, went on to buy more humdrum offerings. The dealer-demo status may also explain the six-spoke wheels from the RS catalogue, but the car's condition looks to be the result of having just one owner since.
The asking price is probably justified, though at ten grand we'd shy away from suggesting it's a wise investment, as the market is fickle and that's still a lot of money for a car that was never that well received in period. But you're unlikely to see another, and old Fords will always draw affection from regular folk. On a sunny day, it may still give you plenty to smile about.
Also read
This rare Honda Civic barn find could save another
9 key moments in the history of the Ford Mondeo
Future classic: Ford Focus RS (Mk1)