I can remember the moment that I thought the original Ford Focus RS was a keeper. It was at sunrise, just after skirting round the furthest fringes of Geneva and turning off the A40 autoroute, after driving through the night from London.
One day in early March, 2003, the RS and I had ended up leaving the Top Gear office late, headed to the Eurotunnel, and were ejected at the other end at around 11pm. The roads were empty, the cruising speeds – well, less cruising, more speed – were generous and the fuel stops were frequent. But the feisty little hatchback felt stable, planted and reassuring. We made good progress.
How much is your car to insure? Find out in four easy steps.
Get a quote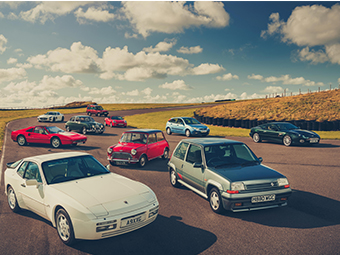 Onto the D907 we switched, through Taninges, then the ascent started in earnest on the D902. The sun was rising behind the mountains, the locals were still asleep and the adrenalin shot of a mountain climb was just what was needed after a drive through the night.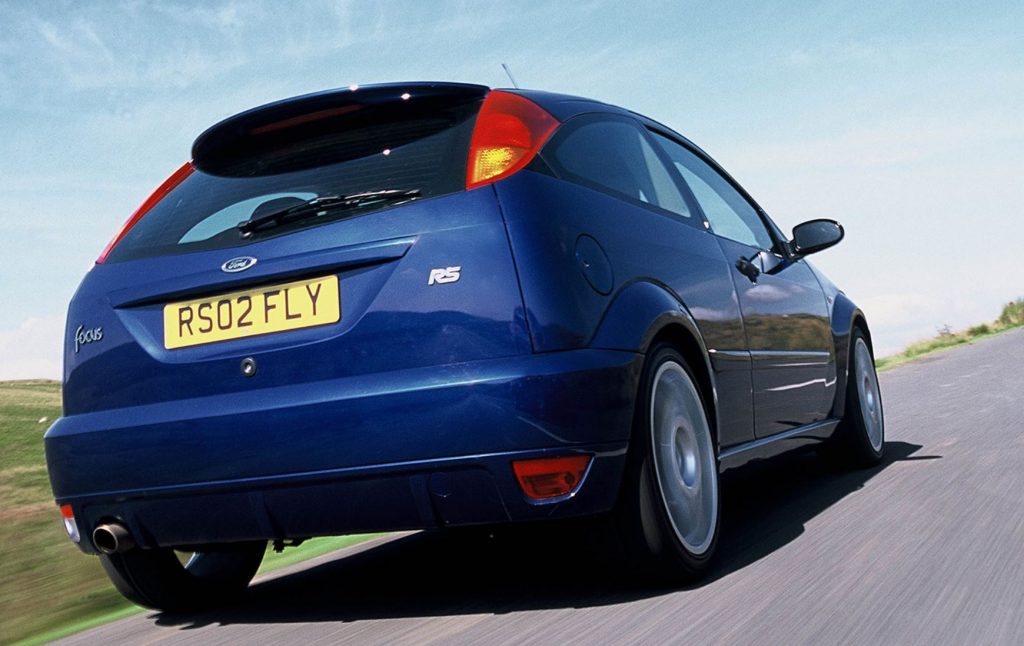 The Focus seemed to hunker down. Its steering tipped the nose into turns instinctively, on the smooth surfaces the Quaife differential put down the engine's power without any misbehaviour from the front tyres or steering, and the ground-hugging nose clawed its way out of each apex as through a set of slick front tyres had been added.
It encouraged you to push on. Brake later, and the Brembo front discs took it in their stride. Carry more speed and the chassis maintained its composure. Play with the throttle and the tail gave you a nudge and a wink. It was as immersive as a hot hatch of the time got.
And so it should have been. The original Focus was critically acclaimed for its driving dynamics and excellent packaging. The Rallye Sport version took things so much further, introducing a whole raft of new componentry – 70 per cent of it was said to be unique to the RS, no less – and a huge helping of attitude with it.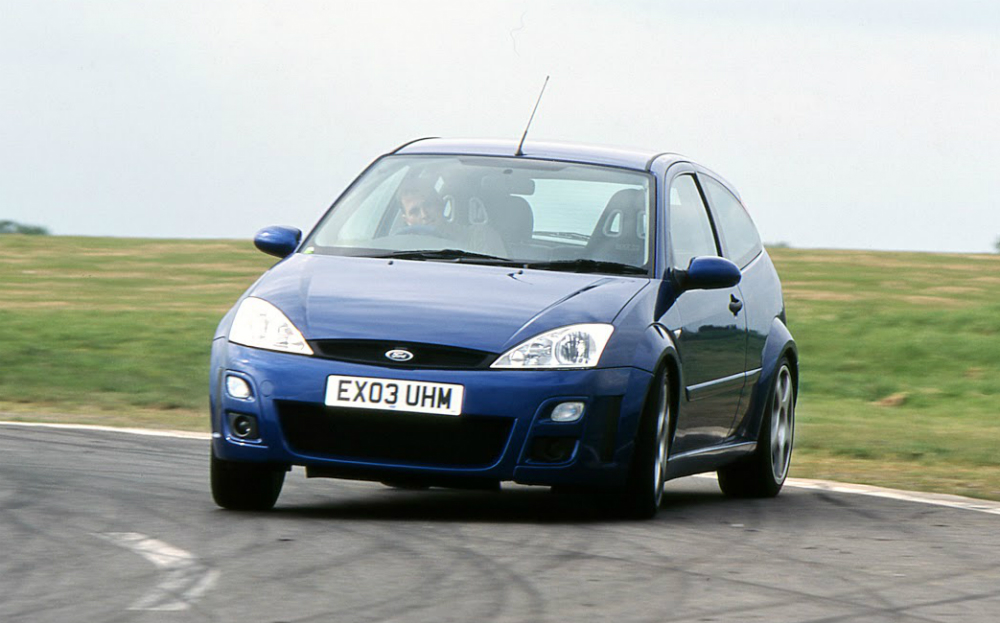 Ford took the 2-litre Duratec engine, uprated the oil return system and pistons and compression ratio, fitted stronger forged conrods, added higher flow injectors, set to work on the oil and water cooling and finished it off with an uprated manifold and exhaust and different air intake and intercooler. Oh, and there was a Garrett turbocharger, too.
With 1275kg to lug about and 212bhp at 5500rpm and 229lb ft of torque at 3500rpm, it could move plenty quick enough; 0-60mph took 5.9sec and a claimed top speed of 143mph. The short-shift five-speed gearbox came with shortened gear ratios – handy when working your way around the slight turbo lag – and there was no traction control to speak of. Just your brain, your right foot and your steering inputs to keep on top of things.
Happily, it handled. Ford lowered the Focus by 25mm, fitted Sachs dampers, widened the track by 65mm, played with the front camber and threw in thicker anti-roll bars, uprated bushes and a quicker steering rack for good measure. It was a delightfully focused (sorry) thing, a little unruly at the edges but up for a good time and in many ways all the more entertaining for it. All this when the equivalent Golf R32 was a comparative roly-poly.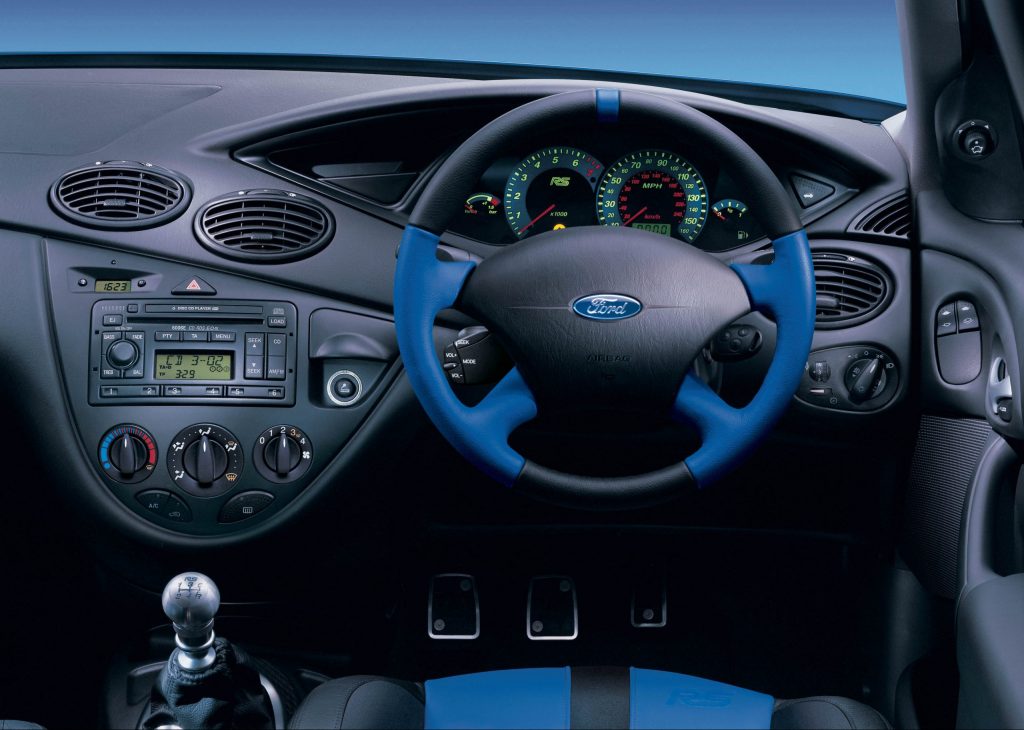 This being a Ford, it couldn't be all good news. The interior's colour scheme, with its blue-leather finished Sparco seats and equally vibrant steering wheel would have been rejected by even a budget airline for being a taste-free zone. But who cared when the driving position was spot-on?
It's hard to imagine that that was 18 years ago. Since then, hatchbacks have got faster – much faster – but with every generational change the driver has become further and further removed from the process, as electronics place an unseen filter between driver and machine.
And shout me down for saying this, but I don't think there has been a better looking hot hatch since. Somehow, the first Focus RS – its colour, stance, crisp lines and telltale signatures like the OZ wheels – all came together as the ultimate expression of Ford's (by then) ageing New Edge design language.
Relatively few were built (4501, with nearly 2150 sold in Britain) and plenty have been, shall we say, enhanced, by owners who care not about originality.
However, if you've had you eye on these for the past handful of years, you won't need me to tell you that the boat has well and truly sailed on this one. Prices have been rising steadily, but it remains something of a high point on the timeline of the hot hatch. A point where the driver actually did the driving. And for many, that will make it appealing for decades to come.
Sadly, at the end of my year's custodianship, the RS returned to Ford. The keeper was not for keeping. But today I'd be sorely tempted to put my money where my mouth is.