The past year and a half hasn't been great for many of us, but when you've created a TV show about travelling the globe then a travel-restricting lockdown becomes a particular challenge.
Thankfully for those of us who enjoy some car and travel-based silliness, a little lateral-thinking means The Grand Tour is returning to our screens on July 30 with its latest special: Lochdown.
How much is your car to insure? Find out in four easy steps.
Get a quote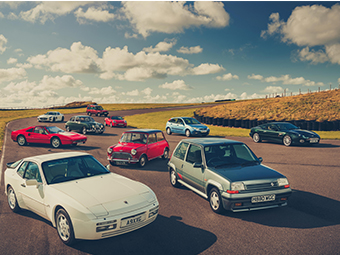 And yes, like previous specials Seamen and A Massive Hunt, there's a clue in the title as to what you can expect from Lochdown, with Jeremy Clarkson escaping his farm, Richard Hammond taking time away from his new classic car restoration business and James May leaving his cookery bunker to travel around the Outer Hebrides in Scotland.
The cars they're using come as slightly more of a surprise, with various American vehicles rather than the Scottish themed cars you might expect (Hillman Imp? AC 3000ME? Argyll GT?). The trailer shows Clarkson in a blue Lincoln Continental Mark V, Hammond in a green Buick Riviera and May in a red Cadillac Coupe de Ville, but several other classic muscle cars make an appearance too.
As for challenges, there's a real mix, from what seems to be a completely inappropriate jaunt around the Knockhill circuit in the trio's land yachts, as well as some bridge-building and caravanning – something, as we're sure you're aware, hasn't always gone to plan in the past.
As ever, you'll be able to watch The Grand Tour's latest caper on Amazon Prime, when it arrives on Friday, July 30. Just maybe avoid replicating it when you embark on your own summer travels to Scotland…
Read more
You-know-who are back: Clarkson, Hammond and May return with The Grand Tour Madagascar special
Video: 9 high-octane highlights from the Goodwood Festival of Speed
Plastic fantastic! The caravan is making a comeback and you could tow the line too