The government minister responsible for transport decarbonisation has sought to reassure owners of classic and enthusiast cars and the wider specialist automotive sector, saying older cars will be able to remain on the road long into the future.
Rachel Maclean, the Conservative MP for Redditch who is overseeing transport decarbonisation, told Autocar that it is "important to be clear that while we're phasing out the sale of new petrol and diesel vehicles, at this stage we don't have any plans to actually ask people to remove existing or classic cars or older cars from the road."
How much is your car to insure? Find out in four easy steps.
Get a quote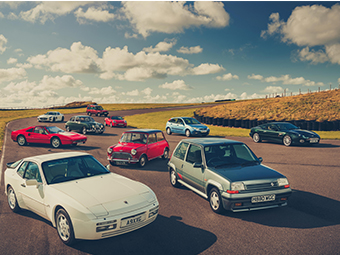 Owners of classic and enthusiast vehicles have to contend with changing regulations around the use of ethanol in unleaded petrol and the introduction of ultra low emissions zones (ULEZ) in cities around the UK, two tactics employed to help tackle air quality and CO2 emissions.
However, E10 fuel contains a mix of approximately 10 per cent ethanol, and many older engines and associated components such as fuel tanks, carburettors and rubber pipes may suffer damage from running on E10 fuel over the longer term.
In May, the Historic and Classic Vehicles Alliance accused the government of unfairly penalising classic cars as part of its drive to decarbonise. Its research revealed that the low annual mileage of a typical classic car in the UK – just 1200 miles – means it emits about half the CO2 of a personal computer.
And Hagerty has previously highlighted the challenges faced by drivers and riders of classic cars and motorcycles when E10 fuel arrives at petrol station forecourts from September, as well as the difficulties that ULEZ areas present.
"Obviously, the classic car community is a really important group and a really important part of the whole picture," she told Autocar.
"The existing policy is that obviously we won't be allowing any new [petrol or diesel] vehicles to be sold [beyond 2030], but those existing vehicles can continue. It's quite important, so hopefully I can say this and reassure people.
"Even when we think about things like E10 petrol, we want to be very clear that we do consider the needs of classic cars and their drivers, because it's a big part of their lives."
Maclean, who drives a Jaguar i-Pace electric car, said the government open to all technologies in the drive to decarbonise transport, but believes that hydrogen is best placed for heavy good vehicles, while emerging synthetic fuels which have been promoted by the likes of Audi and Porsche are likely to prove best-suited to the aviation and maritime industries.
Formula One is preparing to introduce E10 fuel, for its 2022 season. However, the engines of motor sport's pinnacle racing series will be purpose-designed to be compatible with the fuel – not something you can say about engines of cars and bikes built before 2002.
It's lights out at the #BritishGP @SilverstoneUK circuit 🏎🚦
Watch the video below to hear @F1 Chief Technical Officer Pat Symonds talking about the new lower-emission #E10 race fuel the cars will be running on from next season 👀👇#OneStepGreener #KnowYourFuel pic.twitter.com/xEIgQsZOar

— Department for Transport (@transportgovuk) July 18, 2021
Read more
E10 fuel confirmed for September 2021 introduction
Opinion: Why are motorists being governed by stealth?
Opinion: Come on Boris, help the classic car community tear up GDPR red tape