History. Classic cars are all about enjoying the past in the present. What they are now stems directly from what they have been between the day they were made and the present time, and the more we know about the 'between', the more intriguing a classic car can be.
More than that, history and provenance can play a huge part in a classic car's covetability. A full file of bills and a full list of past owners is a valuable commodity, but very often they are not present.
How much is your car to insure? Find out in four easy steps.
Get a quote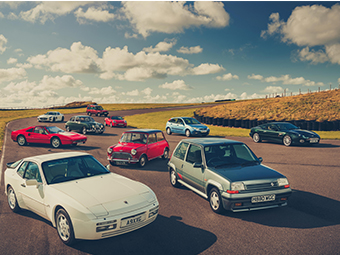 Not so long ago, you could send £5 and a V888 form to the DVLA and receive a list of all your car's past owners on the DVLA database. Armed with that, you could conceivably contact some of them to find out some of your car's history. A past owner might regard this as an outrageous intrusion, in which case you apologised politely and let it drop. Another might be delighted to help, and could even dig out documents sich as photographs, old bills not transferred with the car, even an original sales receipt from when the car was bought. Your car might even have been owned by an aristocrat, a celebrity, someone on the same street as your parents… the possibilities are endless.
You never knew what might turn up, but when I have contacted past owners the helpful ones far outnumbered the grumpy ones. But even if every contact had drawn a blank, at least there were names, addresses and dates to bring your car's past whereabouts to life and plant a possible life history in your head. You could imagine its proud first owner, family aboard, setting off from home in Hertfordshire to a holiday in Hastings, or a fast-moving company executive enjoying the status of his new company car.
Since 2017, though, this has no longer been possible. GDPR, the General Data Protection Regulation, is why. The DVLA still has the information, but it is now released only to people or bodies with a pressing and proven need to have it, such as the police pursuing a criminal investigation or a car-vetting organisation checking for mileage fraud. Or, more likely than not, parking enforcement companies.
A classic-car owner's curiosity doesn't count, and indeed the DVLA would prefer that we didn't even keep the details of the last person who owned the car. This used to appear on the V5C registration document, but hasn't done since 2018.
When you buy a car, the person you buy the car from is supposed to enter your name in the V5C's 'new keeper' section and send it back to the DVLA, complete with those printed details of the owner previous to him/her if they are present. Of course, wanting to grasp what morsels of history we can, we photograph it for posterity before it disappears into the DVLA abyss. However, if we've been modern and have notified the DVLA of the change of ownership online at the time of sale, then the seller passes the old V5C to us to add to the history file. Strictly speaking, that shouldn't happen. But where's the harm?
Is all this hiding of harmless history what GDPR intended? Wouldn't it be better if we could discover who used to own our cars as we were once able to do? After all, it doesn't seem to be illegal to sell a classic car with a full history if it does have one, so why not make it possible once again for us to fill in the gaps where the history is missing? We can search public records for our ancestors, we can read past news stories about identified individuals, we can even see the electoral roll or read a telephone directory. Discovering who used to own our cars is hardly going to result in any criminal activity or identity theft; we're just owners of funny old cars who want to know more about something that is ours.
The GDPR legislation is an EU-wide scheme, to which the UK was bound. I think Brexit was a disastrous idea in the greater scheme of things, an extraordinary act of national self-harm whose ramifications are becoming clear in unexpected ways as well as expected ones, but you may well not agree with me. Brexit does, however, give the UK the ability to rethink many rules and regulations. One tiny glint of goodness in post-Brexit Britain could just be a unilateral tweak of GDPR to allow us, once again, to learn about our cars' pasts.
Could it happen, once our government's more pressing problems have abated? Our prime minister is, or at least was, a bit of a petrolhead; he used to be GQ magazine's motoring correspondent. So, Boris, how about it?