Leading figures across the classic car and and bike industry warn that more than 110,000 jobs are in peril as the scene faces unprecedented hurdles.
The warning comes from the newly formed Historic and Classic Vehicles Alliance (HCVA) which has been established to help protect the British classic car industry, a sector estimated to have an annual turnover of £18.3 billion.
How much is your car to insure? Find out in four easy steps.
Get a quote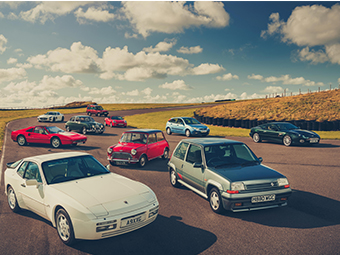 The HCVA is calling on British politicians and regulators to use Britain's independence from the European Union to support this sector of the economy and help it continue to flourish. It believes that 'bureaucracy and poorly focussed environmental legislation' as well as complex rules on importing and exporting to and from the EU could threaten the stability of the significant sector.
Notable figures behind HCVA include Jeremy Barker of shipping firm Cars UK, Julian Barratt of Jaguar specialist SNG Barratt, Emma Crickmay, MD of Frank Dale & Stepsons, said to be the oldest independent specialist of Bentley and Rolls-Royce cars, Henry Pearman of Eagle, the Jaguar specialist, Paul Griffin, Professor in law at Dundee University, Guy Lachlan of Classic Oils and Harry Whale of Silverstone Auctions. Events and motor racing are represented by and Tomas de Vargas Machuca, co-founder of HERO-ERA, the classic car events platform, and Duncan Wiltshire, chairman of Motor Racing Legends.
They are calling on individuals and businesses to sign up to the Historic and Classic Vehicles Alliance, and will be campaigning to clearly present the benefits the classic vehicle industry brings to the UK. The organisation says it is '…respectful of the green agenda…' and believes that '…restoration and revival of classic and historic vehicles is in fact the epitome of sustainability because it is all about applying enduring skills to prolonging the life of great pieces of craftsmanship rather than surrendering to built-in obsolescence.'
It cites research from the Federation of British Historic Vehicle Club, which suggests there are 665 apprenticeships within the British classic vehicle industry and 700,000 classic car owners in the UK (of vehicles aged 40 or older). The average annual mileage for a car in the UK is approximately 7200 miles, whereas the equivalent classic sits at 1200 a year. This results in a CO2 output of 563kg a year – less than half that of the typical mobile phone or computer, which are said to come to 1250kg and 1400kg respectively.
"Our sector is a great British success story and has been for decades," says Harry Whale of Silverstone Auctions. "But it's in serious jeopardy and may not survive to continue providing opportunities for future generations if we don't act now. We need to ensure the voice of the industry and owners is heard and understood by regulators and those in power."
Nusrat Ghani, the former transport minister and serving East Sussex MP who has classic car trade firms in her
constituency, says the classic and historic vehicle industry is "a great British success story". She adds the scene "gives pleasure to millions and it would be disastrous if it suffered serious damage through neglect or ignorance. We need to do all we can to support a sector that provides thousands of highly skilled and well-paid jobs in my constituency and across the UK and preserves exemplary skills and craftsmanship. The HCVA has my wholehearted backing."
Her calls are echoed by Gordon Murray. The celebrated engineer said: "The restoration and preservation of classic cars keeps our rich history in the automotive sector alive for future generations. As we move towards electrification and ever more stringent regulations, in my view it will become even more important to support and protect our classic automotive heritage."
To find out more about the Historic and Classic Vehicles Alliance, click here to visit its website.
Read more
Making history with Crosthwaite & Gardiner
Hannah Gordon: We need more role models to bring young people into the car industry
How a small Scottish leather company conquered the car industry