"It's the last great analog supercar," says Gordon Murray, as we survey his new T.50. Its connection to the McLaren F1, Murray's seminal 1992 machine, is obvious. Note the seating-for-three and that jet fighter-like central driving position. Note the lowness, smallness and styling simplicity. Murray hates wings and spoilers and fussy style. From the front, it could almost be a McLaren F1.
It's only from the rear that the T.50 looks very un-F1 like. That's due to the big 15.7-inch fan in the tail, looking like the massive exhaust in a fighter jet. This is the T.50's showpiece. That fan, linked to the underside, regulates downforce. It improves braking, cornering, stability and top speed. It's the reason why the T.50 will have phenomenal performance but has no need for big wings, skirts, vents or other aero-linked styling excrescences.
How much is your car to insure? Find out in four easy steps.
Get a quote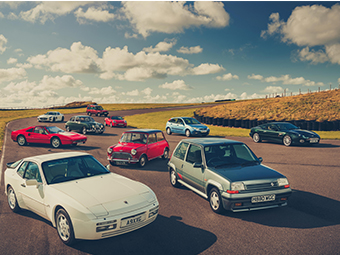 Just how fast is the new T.50? Says Murray: "Top speed is not important, but we estimate about 230 mph. That's a bit slower than the F1 due to the extra downforce." How quick will it accelerate to 60 mph? "I have no idea and I don't care. I'm not chasing numbers. This car is all about driving enjoyment and engagement. But the power to weight ratio is better than a McLaren P1 or a Porsche 918. So if you think it's going to be slow…"
Murray is the former technical director for the Brabham and McLaren F1 teams. His cars won world championships for Nelson Piquet, Ayrton Senna and Alain Prost. He also has history with fan cars. His 1978 Brabham BT46B used a fan to boost downforce, won the Swedish GP for Niki Lauda, and was then promptly withdrawn amid controversy and complaints. After 20 years in GP racing, Murray turned his attention to road cars to give us the McLaren F1, the fastest supercar of its day, and by some margin.
Although the T.50 is a car more about feel than figures, let's start with the headline numbers. At 986kg with fluids but no fuel (or 957kg dry weight), it promises to be the lightest modern-era supercar. The new Ferrari SF90 Stradale, by way of comparison, weighs almost 1600kg. Murray is obsessed by light weight. "Light weight is the key to great performance. Not just for acceleration but for braking and handing too."
The bespoke mid-mounted 3.9-litere 653 bhp V12 is the lightest, highest-revving (to 12,100 rpm) and most power-dense naturally aspirated road V12 of all. It's built and developed by Cosworth, famous for its racing engines. Murray claims it will be the finest V12 ever built and the most throttle responsive. It uses neither hybrid nor turbo power. We can't be the only ones clasping our hands together and raising them in thanks for such a pure approach.
Gearshifting is by a six-speed H-gate manual, built by Xtrac. The T.50 uses rear, not four-wheel, drive. Suspension is by forged aluminium double wishbones. Steering is by rack and pinion and there's power assistance for parking but it's unassisted at speed, for a purer feel. Murray pioneered carbon fibre in road cars with the McLaren F1, so naturally the body and monocoque of the T.50 are carbon. As on the F1, a pair of dihedral doors give access to the three seats. The twin passenger seats are outboard of, and behind, the central driver's seat.
The price is £2.36 million before taxes (about £2.83m in the UK) and the lucky owners will buy direct from Gordon Murray Automotive in the UK. Only 100 will be built and "about 70" have already been sold, sight unseen. America and Japan will be the two biggest markets. And the name? It is the 50th road or racing car Murray has designed and also celebrates Murray's 50th year as a car designer.
We meet the affable 74-year old at Gordon Murray Automotive's – or GMA's – headquarters in Dunsfold in Surrey, south-east England. This is where the 100 cars will be built, by hand, by Murray's new car company. The first is due for completion in January 2022.
The silver T.50 we view is McLaren F1-like in style and extremely compact. It's a tiny bit longer and wider than an F1, but shorter than a 718 Boxster and about the same width as a 911. Murray hates excess size, as well as weight.
We start talking about the car's most controversial feature, that fan. Its driven by a 48-volt motor and spins at up to 7000rpm. It accelerates air passing under the car, forcing it through active ducts that form part of the rear diffuser. The fan and its ducting system actively manage underbody and overbody air flow, working with a pair of active spoilers at the rear.
There are six driver-selected aero modes. In default Auto setting, the fan is inactive: the ground effect downforce is passive. The other modes all engage the fan either to boost downforce for improved braking, stability or cornering, or reduce drag to increase straight line speed. The fan can even extend the trailing wake of the car, creating a virtual 'long tail' for better streamlining. Downforce can be boosted by up to 50 per cent (and 100 per cent for braking) and drag reduced by 12.5 per cent. The fan can also be used for ram air induction to (briefly) increase maximum engine power to 690 bhp.
The engine is unique to the T.50, and unrelated to the Aston Martin Valkyrie's Cosworth V12. "It had to be a V12, it's the ultimate supercar engine. It's all part of the romance of the car. It also had to look beautiful." It does. All ancillaries are driven by gears not unsightly belts. Conrods and valves are titanium. The engine bay is accessed by twin gullwings that hinge on the car's spine.
Why no turbochargers? "Turbos just don't give you good enough throttle response and that instant pick-up." Why no hybrid? "Too heavy and you don't get the instant response that a sports car needs." No four-wheel drive? "Too much weight, hurts the steering feel and the packaging." No paddle shifts? "An H-pattern manual shift provides a more satisfying driving experience. It's more engaging and also lighter."
Despite the low weight, there are all the expected cabin creature comforts such as aircon, satnav and a new 10-speaker audio system from British specialist Arcam that weighs just 3.9kg. There are no touchscreens. Murray hates them. No column stalks, either.
All switchgear is bespoke, "all engineering art," says Murray. The controls are machined from solid aluminium. The brake and clutch are also milled from solid aluminium, while the most important control of the lot – the accelerator – is crafted from lightweight titanium, to deliver the ultimate in control and sensitivity.
There is no fast car today quite like the T.50. There will probably never be another car like it. Murray insists he won't do any more: future GMAs won't be supercars in this vein. Plus, the T.50 may well use the last all-new naturally aspirated V12. If so, it looks like being some swansong for the 12-cylinder supercar.
Gordon Murray Automotive T.50
Price: £2.83 million
Layout: 2-door, 3-passenger, mid-engine rear-wheel drive coupe
Engine: 3.9-litre DOHC naturally aspirated V12, 653 bhp, 344 lb ft
Transmission: 6-speed manual stick-shift
Driving the Light Car Company Rocket – Gordon Murray's original minimal hypercar