When Stuart Turner was announced as Ford's European head of Motorsport in 1983, he decided he needed a project to make Ford competitive again. The days of the MKII Escort's rally dominance had passed, as had the heady Le Mans days of the GT40.  Turner's plan was to go Group A racing, and for this he needed a suitable car.
With the backing of Walter Hayes, he approached Cosworth, Fords long-time engine partner and the firm behind both the BDA and the DFV race engine. They were presented with a 16-valve twin cam derivative of their own Pinto, which when turbocharged would be ideal for the project. For simplicity, the Sierra was chosen as a base car – rear wheel drive, aerodynamically sound, and already powered by the Pinto which ensured the new engine would fit.
How much is your car to insure? Find out in four easy steps.
Get a quote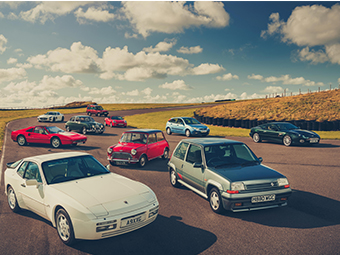 To circumnavigate Type Approval, many parts from Ford of America's Merkur XR4Ti – a turbocharged Sierra derivative – were reused, and several others were designated as having been developed for that car. The wild bodykit, though disliked by Ford managers, was crucial to avoid the aerodynamic lift Sierras had in standard form and to dissipate heat from the intercooler. It was disliked by dealers too; market prediction was that they could sell 1500. But Group A homologation required 5,000, and Ford had been forced into a contract with Cosworth for 15,000 engines.
The Ford Sierra RS Cosworth was launched at Geneva in 1985, and offered for sale from July 1986. Ford's predictions were wrong – over 1,600 were registered in the UK alone, with a smidge over 5,500 in total. 1987 saw a further homologation special, the RS500 which had several subtle differences. Just 500 were made, all of which were RHD UK cars. But the Cosworth for the masses was still to come.
The Sierra Sapphire Cosworth was the first mass-produced Cosworth. Built in Genk, Belgium, using Cosworth engines imported from the UK, it was marginally faster than the homologation cars owing to better aerodynamic qualities. Minor suspension changes made the Sapphire a friendlier prospect to live with, favouring the ride and flattering less professional drivers. And the concept worked, with 13,140 finding homes.
Not, of course, that these homes were always with people who had paid for them. The Cosworth concept of an 'everyman hero' made them rather desirable to thieves, and several Cossies were stolen to partake in criminal activity. Few police cars could keep pace with a gang of yobs in a pinched Cosworth, and several gave up their lives in flames as the hoodlums attempted to obscure evidence.
Arguably the only thing to hold the Sierra's dominance back was that it was rear wheel drive – on a rally stage, it couldn't keep pace against competitors from Lancia, Subaru and Audi. So Ford responded in 1990 with an evolution of the Sapphire; a 4×4 using similar four wheel drive geometry to that of the earlier XR 4×4. Ford listened to customers too; bringing back the iconic bonnet vents as well as increasing the power output from 204bhp to 217bhp to offset the additional 100kg the 4wd system brought. Now not only was the car a highly respected touring car, it could go rallying. But the MT75 gearbox wasn't strong enough, and early examples were plagued by unreliability. Later examples took several 2nd and 3rd places, but it wasn't enough. Its replacement would have to be better.
So Ford chose a smaller car to be the basis of the next Cosworth when Sierra production ended in 1992. Where other Sierras were replaced by the Mondeo, the new Cosworth would be an Escort. Except it wasn't. It was a shortened Sierra Sapphire Cosworth 4×4 chassis under a body which aped the Escort. Few panels were shared, though Steve Harper's work on the body was clever in that it resembled both the early Sierra Cosworth and the then-current Escort in one swoop.
Launched in 1992, it was meant to take on the World Rally Championship and win. It didn't. But it won eight Group A events between 1992 and 1996, and two more World Rally events in 1997 and 1998. The car led its first rally until a final push by Toyota saw its Celica take the flag. The Cosworth made up for this by winning the 1996 Monte Carlo rally, but while it captured the public imagination it didn't achieve quite what Ford had hoped.
Where it did achieve, however, was on the streets. Just under 7,200 were made, and they became instant classics with several bought and carefully stored from new. Several others, however, fell into the wrong hands – like the earlier Sierra Cosworth, it was popular with people who wanted a fast car and felt it could be run on a Ford budget. These poorly-maintained cars are mostly a thing of the past, but it's still vital to check any Cosworth over thoroughly before purchase.
There's also the additional risk that they've been crashed; many were taken without their owners' consent and subsequently parked in trees or ditches. That's the ones that weren't stolen to order, or to help with bank robberies and shop raids. This reputation made Cosworths uninsurable during the mid-1990s, with several companies quoting five figure premiums and others refusing to quote at all. Indeed, it's only in recent years that the Cosworths have shaken off their lager lout and criminal image, and become accepted as the widely-regarded classics we see them as today.
Everyone has a Cosworth story. And deep down, everyone wants a Cosworth. Because from race-winner to poster car, from rally legend to getaway wagon, Cosworths have been a key part of British culture for three decades.