Gordon Murray got behind the steering wheel of his earth-shattering T.50 hypercar for the first time and, as you can see from the video, it isn't actually a wheel at all. The design seems to fall somewhere between a Tesla yoke and a Formula 1 driver's device.
Murray jokes that on his first drive he'll keep the V12 engine to "nothing more than 10,000 (revs) this first time." The 3.9-litre Cosworth motor has a 12,100 rpm redline, but on this drive the engineers limit it to just over 3000 revs. Nonetheless Murray says "the response of the engine is ridiculous even up to three (thousand rpm). It was chirping the wheels up."
How much is your car to insure? Find out in four easy steps.
Get a quote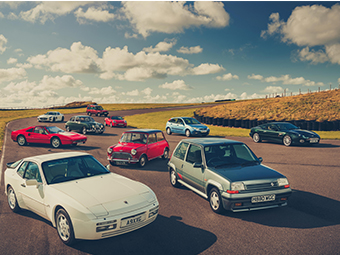 From the outside none of this drama is visible, though. In fact the T.50 looks rather pedestrian as it laps the Top Gear test track in Sussex. There's no smoking tyres, no powerslides, and well, no sense of speed other than the look on the T.50's creator's face in the interview after he extricates himself from the car's central driving seat.
This first drive was little more than a systems check and we're sure it won't be long before Gordon Murray Automotive's resident racer Dario Franchitti takes over driving duties. Then we'll get to the see the T.50 taken to the limit, hear the naturally-aspirated V12 howling to its redline and see how the ingenious rear fan deploys to stick the car to the road.