Bad news for London motorists who own cars built after 1983 and have emission standards lower than Euro 4 for petrol and Euro 6 for diesel: The city's expanded Ultra Low Emission Zone, or ULEZ, is one step closer to going ahead.
A planned expansion of the existing ULEZ was confirmed last year by the Mayor of London, Sadiq Khan, but a coalition of several London boroughs issued a legal challenge to prevent the plans, which would see ULEZ borders extend from the north and south circular roads as far as the M25 in some places.
How much is your car to insure? Find out in four easy steps.
Get a quote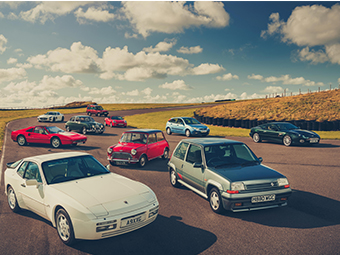 However, as Auto Express reports, the High Court has ruled against the legal challenge, deeming the expansion lawful. That means the expanded ULEZ is likely to go ahead as planned.
The boroughs of Hillingdon, Bexley, Bromley, Harrow, as well as Surrey County Council, launched a legal challenge on the basis the expansion was unlawful, though the High Court agreed to hear only two arguments. The first was that the planned changes effectively constituted a new scheme entirely, and that statutory procedures for such a change had not been followed. The second was that there had been insufficient consultation on mitigating the effects of an expanded ULEZ on Londoners – particularly with regard to a scrappage scheme to help drivers into newer cars.
Current ULEZ rules require that any car driving through the zone must meet Euro 4 emissions standards if it runs on petrol, or Euro 6 for diesels. Certain vehicles are exempt – notably, for those of us who drive classics, vehicles of more than 40 years old, the same as for MOT and VED vehicle tax exemption.
While the exemption for classics is welcome, there's a big gap between cars built in 1983 and those meeting Euro 4 emissions regulations, and owners in this gap must pay the £12.50 charge for every day they drive within the zone. As the zone expands, more and more cars fall afoul, and while some coveted modern classics will be affected, the bigger problem is for those drivers on low incomes who may be running around in a car from the 1980s, 1990s or 2000s because they can't afford something newer – at a time when household budgets are already squeezed to breaking point.
By the Mayor's own figures, affected vehicles make up only 10 percent of the London fleet, so while they might be more polluting than newer cars, they also aren't making up the bulk of traffic in the city. That's one problem the ULEZ won't fix any time soon, no matter how big it grows.
With the legal challenge dismissed, the expanded ULEZ will likely now come into effect on the planned date of August 29, 2023. You can find more details on the new zone on Transport for London's website.