The V12 is enjoying an Indian summer. This hallowed engine, some would argue the ultimate petrol car powerplant, is clearly in the late autumn of its life. All petrol engines are. But V12s are experiencing a glorious last hurrah, and the newest 12-cylinder supercar has just been unveiled.
It's the T.33 from the relative newcomer, Gordon Murray Automotive. It comes hot on the heels of Murray's T.50 – also V12 powered – and joins other new V12s from Ferrari (Daytona SP3), Lamborghini (Sián and Countach LPI 800-4), Bentley (Continental GT Speed), Rolls-Royce (Ghost) and Aston Martin (deliveries of the Valkyrie have just commenced). More V12s are promised from Ferrari, Lamborghini, Bentley, Rolls-Royce – and from Gordon Murray.
How much is your car to insure? Find out in four easy steps.
Get a quote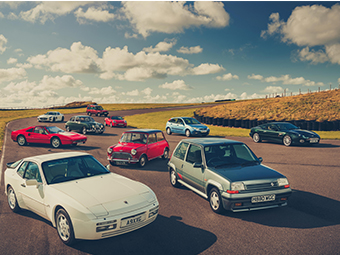 Murray's T.33 is powered by a slightly detuned version of the new Cosworth-developed 4.0-litre V12 used in the T.50. Same block, crank, bore and stroke, and modified heads. But much of the rest is new. As with the T.50's V12, it's wonderfully light, physically small, gorgeously presented, and revs to the stratosphere – or more precisely to a heady 11,100rpm. That's easily the highest rpm in production V12 history, if we exclude the T.50's unit (12,100 red line). The GMA Cosworth will probably be the greatest V12 of all – a fitting finale to the greatest engine configuration in petrol-power history.
We know what you're thinking… So how powerful is it? The new T.33 develops 606bhp at 10,500rpm and summons 332Ib ft of torque at 9,000rpm – although the engineers stress that 90 per cent of that torque is delivered between 4500rpm and 10,500rpm. The fuel tank holds 75 litres of Super, and there's the option to order an overdrive sixth gear that lifts the touring range from 400 miles to 440, says GMA. Heck, there's even a 280-litre boot, making the supercar just as 'practical' as a Porsche Boxster.
The company hasn't revealed performance figures for the T.33, but with a power to weight ratio of 556bhp per tonne, it will be considerably brisker than catching a bus.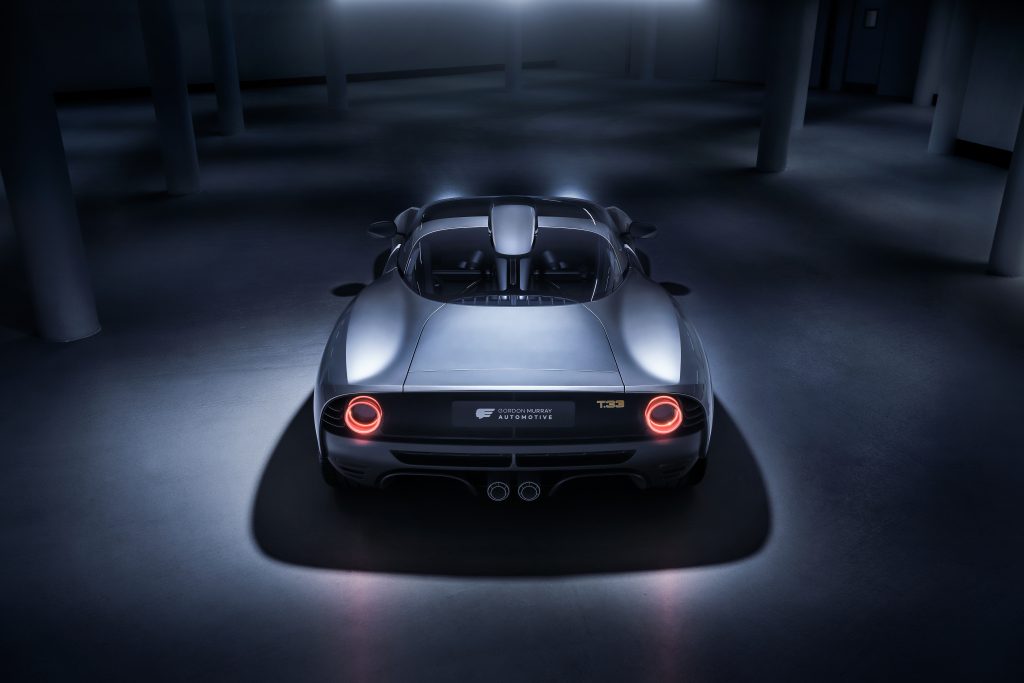 Like Murray's T.50, the new T.33's production is limited. Just 100 will be made – something common to all GMA cars. Exclusivity is the hallmark of Britain's newest supercar maker. GMA's other goals, says Murray, are variously: the best driving enjoyment in the class; light weight (a famed Murray mantra); beautiful simple design; engineering art; hand-built British premium; and highly personalised.
We meet the T.33 at GMA's new headquarters in Windlesham, Surrey, about 30 miles south-west of London. The 54-acre facility is the former HQ of British Oxygen Company (BOC) and previously was a convent. Now it's engineering that is worshipped. Production of the T.33 begins in early 2024, priced at £1.37 million plus taxes – making it £1.64m in the UK. You pay for the exclusivity. More than half have already been sold – and that was before it was officially unveiled. The car is homologated for all major markets, including full US federal homologation.
It should tick every GMA corporate brand promise. What's immediately obvious is just how clean and uncluttered is the styling. It could almost be a '60s mid-engine supercar: there are hints of Lamborghini Miura, mid-engine Ferrari racers of the '60s, and the Ford GT40. There are no big spoilers or splitters or skirts. Murray wants a classic, uncluttered, timeless look – "so it still looks fresh and modern in 30 years". Most of the aero magic is performed, hidden, under the car. (The most notable exception is a small active pop-up rear spoiler.)
It does without the T.50's rear-mounted fan that draws and regulates the airflow under the body, through carefully designed diffusers and active ducting. The T.33 still has an aggressively shaped diffuser, to boost downforce, and cleverly designed ducts that Murray claims gives excellent passive ground effects aero. This includes hidden diffusers in the front wheel arches. Murray knows a thing or two about aerodynamics: he was a leading Formula One designer for 20 years before he designed the McLaren F1 road car, fastest and arguably the best performance car of the '90s.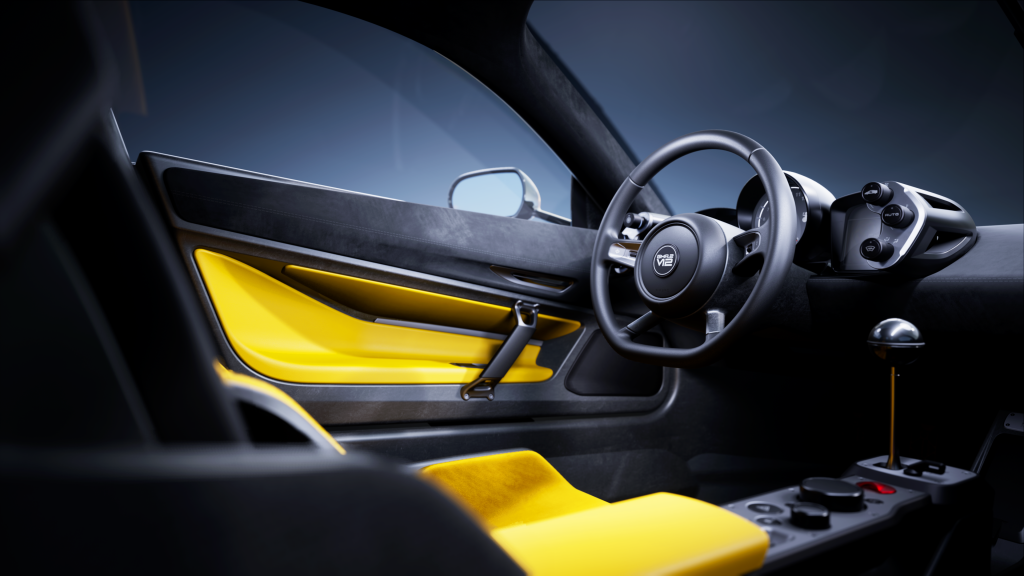 The T.33 is substantially different from the T.50. Under 10 per cent of components are shared. It uses carbon fibre body panels and a new carbon and aluminium chassis, as opposed to the T.50's full carbon tub. It's 50mm longer and 100kg heavier (at just under 1100 kg), due partly the heavier frame. But it's still a physically small car, and a featherweight by modern supercar norms. Modern Ferrari or Lamborghini mid-engine cars are typically 300kg heavier. Murray's drive for lightness is an obsession. The reason is simple: a lighter car is inherently a more responsive car, and responsiveness is the key to driver appeal.
In most ways it subscribes to the usual Murray mantras. There are no turbos: he believes they damage throttle response. No four-wheel drive – too heavy and unnecessary. No hybrid – again, too heavy. But the next all-new GMA design, four years away, will use a hybrid powertrain. Future legislation demands it. In the meantime, there'll be two new variants of the T.33, both production capped at 100, as per the Murray model.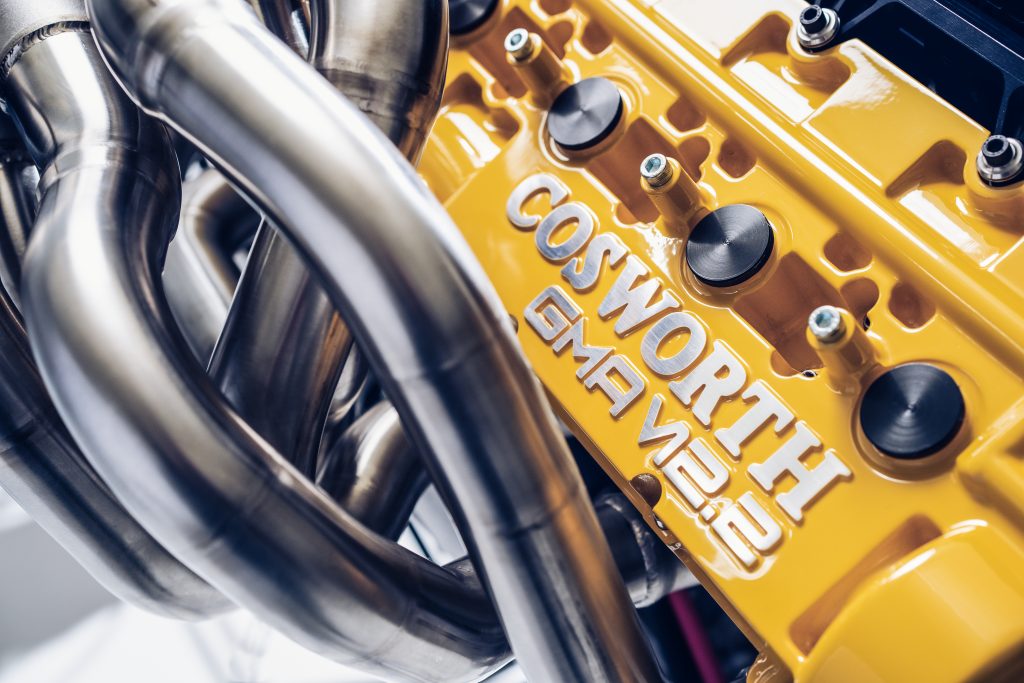 The T.33 uses dihedral doors, another Murray signature. And there's no touchscreen, which Murray hates. The cabin is classically styled, minimalist, and all switches and controls are GMA bespoke, including a big central analogue rev counter and lovely milled aluminium rotary controls.
One major Murray design departure is that the T.33 is a two-seater rather than the three-seat configuration we find in the T.50 and McLaren F1. He believes it should broaden the car's appeal. Left- and right-hand drive are available. There's also the option of a paddleshift gearbox rather than the classic Murray-preferred H-gate manual, again as found on the F1 and T.50. Thus far nearly all sales are for the H-gate. GMA's customers, like its boss, are clearly a traditionally-minded bunch.
Read more
10 things you should know about Gordon Murray
Gordon Murray tells Hagerty why his new T.50 hypercar will be better than the McLaren F1
Why the McLaren F1 is the ultimate investment