Alpine might have committed to an electric future just like every other car company, but apparently it's got a few other tricks up its sleeve as it announces the A110 R.
Whether you think the R stands for racing or, as Alpine likes to put it, radical (either way, it's too new for RADwood), it's the hottest road-going iteration of the A110 sports car yet, promising a 0-62mph time under four seconds, and a top speed of 177mph.
How much is your car to insure? Find out in four easy steps.
Get a quote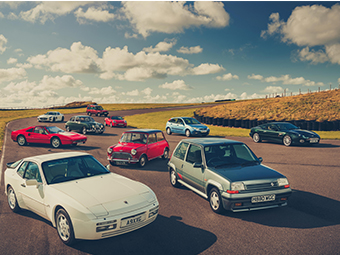 And some wild styling, naturally. If the regular A110 is classically pretty, just like the car from which it draws its name, the A110 R trades some of that for attitude.
First off, there's a new colour: Racing Matte Blue, matching the brand's F1 racers. Then you'll spot a bare carbonfibre bonnet, weighing in 2.9kg less than the standard item and featuring a pair of aerodynamic intakes. The stark look of the unpainted bonnet is replicated on the roof and at the other end too, first with a carbonfibre engine cover (vented, once again) in place of the standard glass, and then with a rear wing hanging off swan-neck mounts.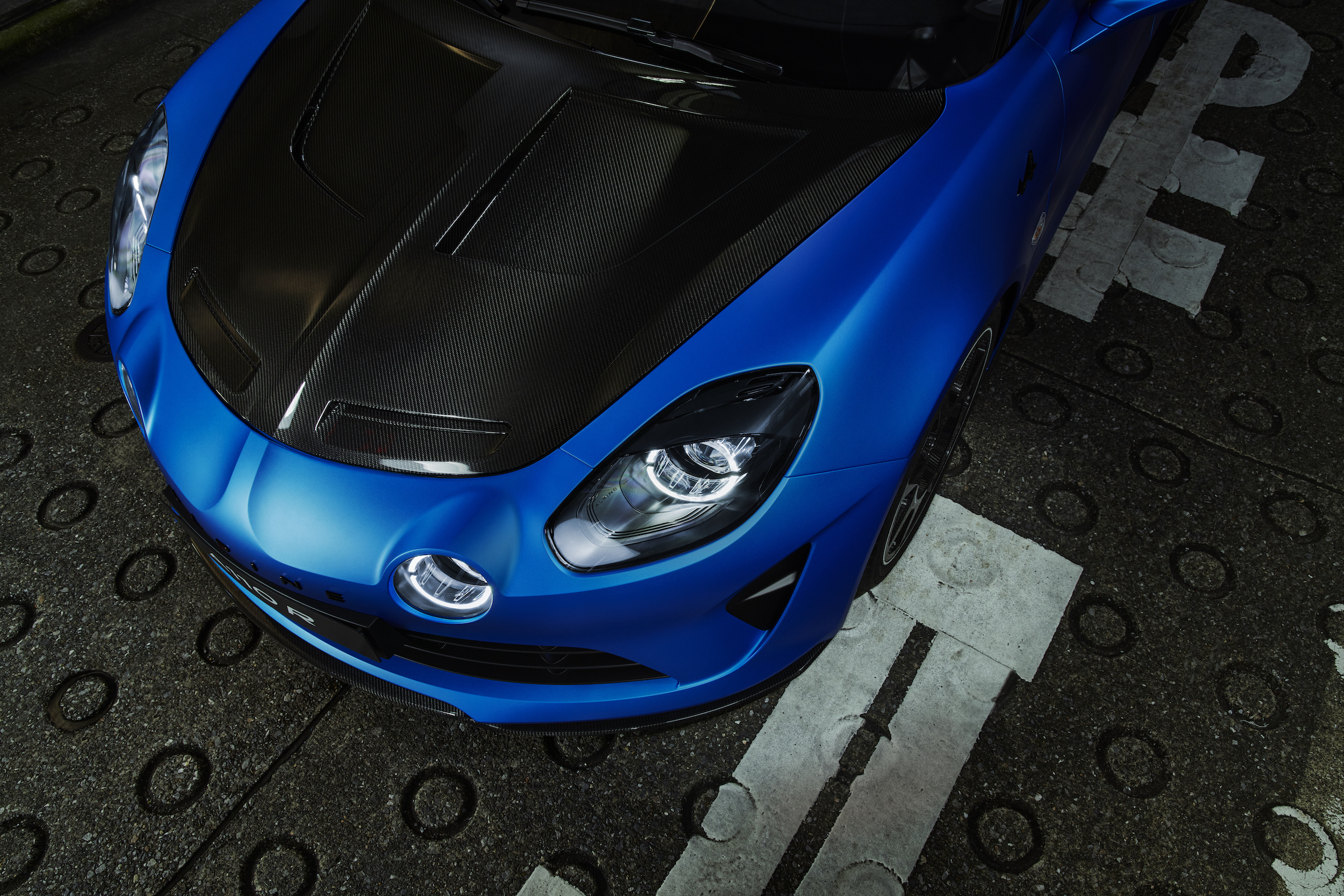 The upshot, along with a redesigned rear diffuser, flat floor, side skirts and a new front lip, is a claimed 29kg increase in downforce at V-max. While that figure is largely meaningless (first, how often will you reach 177mph, and secondly, it's pretty tame compared to say, the 144kg a GT3 RS makes at 125mph), the A110 R should at least be more stable at speed, making those occasional race track forays less buttock-clenching.
Alpine has worked on the aero in other ways too, most notably with the striking 18-inch wheels. Made from carbonfibre, they're lighter than those you'd find on the A110 S (by a combined 12.5kg), improving unsprung and rotating mass, but the rear items are designed also to reduce aerodynamic drag. The fronts, while we're on the subject, remind us of the Speedline items you'd sometimes see on rally cars in the 1990s, which is alright by us.
There's been work under the skin too of course. Sitting between seats and rear axle is the same 1.8-litre, four-cylinder turbocharged unit (and seven-speed dual-clutch gearbox) that powers all A110s, making a modest 296bhp – the same as the A110 S.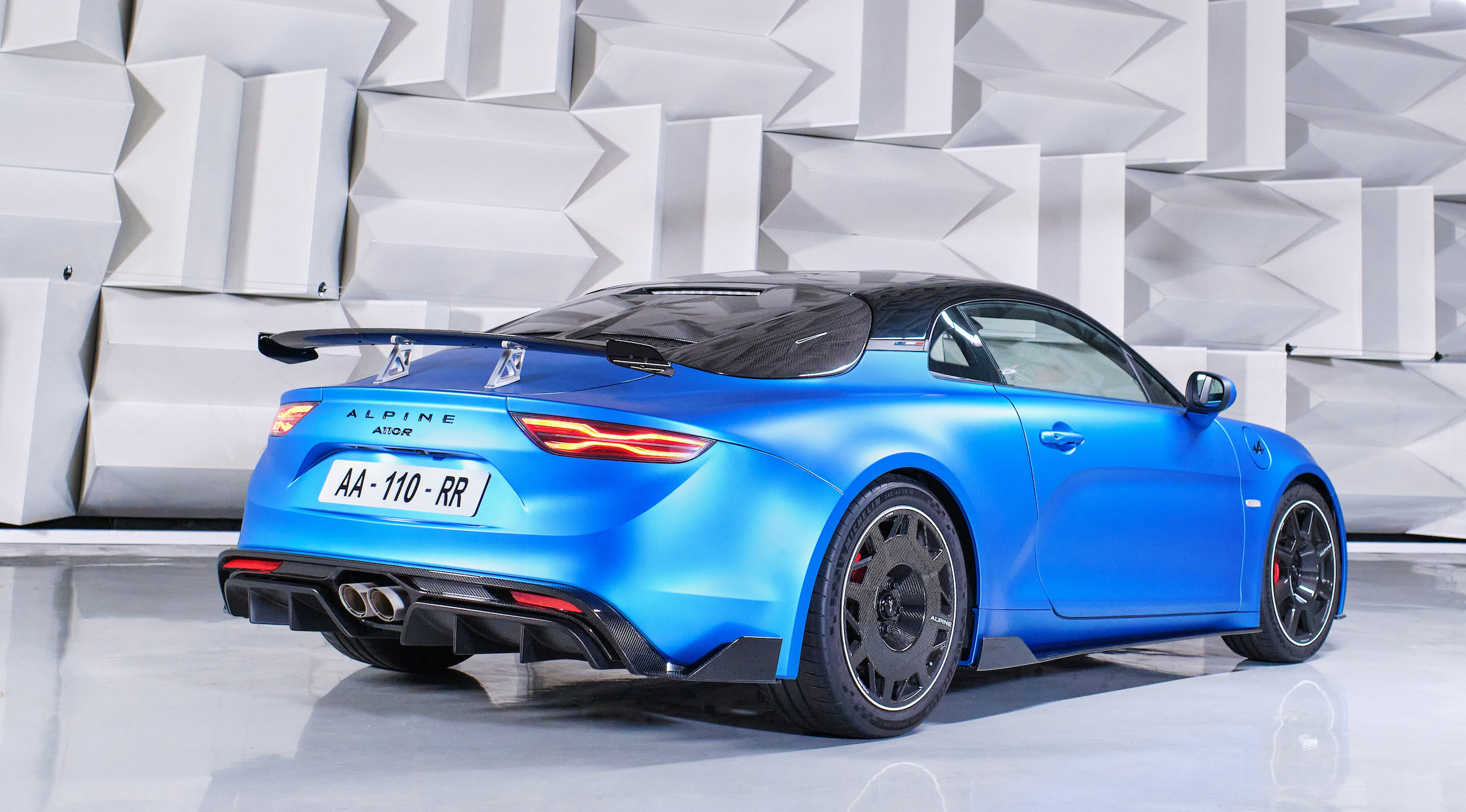 But thanks to a 34kg reduction in mass (down to 1082kg overall) and a set of Michelin Cup 2 tyres, that engine can now deliver a 3.9-second 0-62mph run. The exhaust is a 3D-printed double-wall design, helping reduce temperatures around the pipes.
The chassis has seen attention too, with new anti-roll bar settings, revised axle geometry, 10 per cent stiffer springs (paired to adjustable dampers), a 10mm lower ride height as standard, and on track, scope for a further 10mm drop. Braking is by Brembo, with 320mm composite discs at both ends.
Inside it's mostly as per other A110s. Not a bad thing, certainly; someone coming from a Porsche or a BMW might find it a bit hollow, but that's the price you pay for weighing a third of a tonne less than a Cayman GT4. The design still looks good though, and the new pair of Sabelt carbonfibre bucket seats especially so. Six-point harnesses keep driver and passenger secure.
The price for all this will presumably be a less easy-going nature than the standard A110, though cars like the Cayman GT4 or BMW's GTS models show there's a ready market for road cars that feel like racers. The actual price, meanwhile, will be somewhere over £70,000; expensive for an Alpine (which starts in the £50k range), but less so for what's sure to be an engaging driving experience.
Read more
Future Classic: Alpine A110
7 turbocharged cars where boost and lag are worth… the… wait
Paris preview for rugged Renault 4 concept