A brand new motorbike with a famous name and a familiar look is due in showrooms very soon. BSA, now owned by Indian giant Mahindra, is being relaunched. And its debut model is a 652cc single-cylinder roadster called the Gold Star, in recognition of one of the great British classics.
The most famous 'Goldie', as members of the Birmingham firm's long-running family of singles were nicknamed, was the DBD34 Clubman's Gold Star, revered in the Fifties as the ultimate racebike on the road. For much of that decade it was arguably the bike for speed-loving riders – whether competing at the Isle of Man TT, on short circuits or on the street in unofficial coffee-bar burn-ups.
The DBD34 Clubman's was the last, fastest and best-known version of a series of Gold Star models that included 350 and 500cc bikes in touring, trials and scrambles form. Its look is unmistakable. The chrome-panelled petrol tank features a star-in-a-red-circle badge. The headlight juts slightly too far up above a narrow pair of clip-on handlebars. A swept-back exhaust pipe exits from the engine's heavily finned vertical cylinder.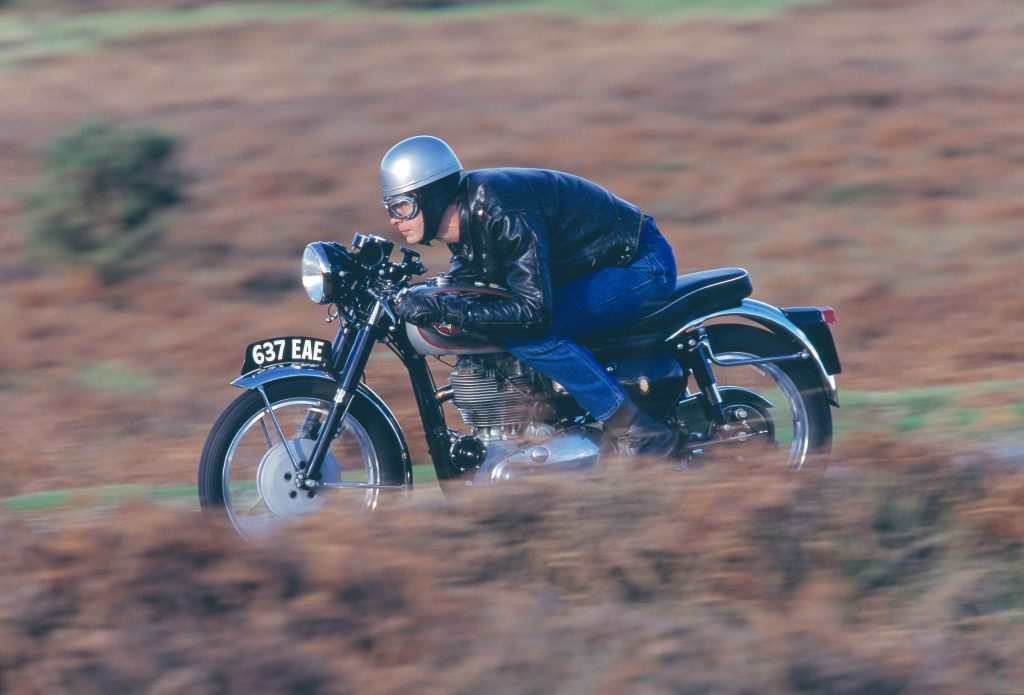 The Gold Star story began in 1937, when a rider named Wal Handley earned a Brooklands Gold Star award by lapping the pioneering banked circuit in Surrey at over 100mph on a 500cc BSA. The following year BSA produced a replica, the M24 Gold Star. Its name signified that each machine had been built using tuning parts, then dyno-tested for power output – roughly 28bhp running on petrol, or 33bhp on alcohol, with customers receiving a chart to confirm as much.
After World War II, BSA produced a competition single called the B32, then in 1949 the ZB32 Gold Star, a sporty 350cc model, followed a year later by a 500cc version, the ZB34. They were quick, reliable, competitively priced and came with numerous options. Customers could specify engine tune, gearing, petrol tank capacity, exhaust system, wheels and more.
Suddenly the 'clubman' or amateur racer had a relatively inexpensive bike that could be both ridden on the road and raced, and was competitive against more exotic tackle. Before long Gold Stars were dominating Clubman's races at the Isle of Man TT, so much so that these were dropped after 1955, when 33 of the 37 riders in the 350cc Junior event were on Goldies.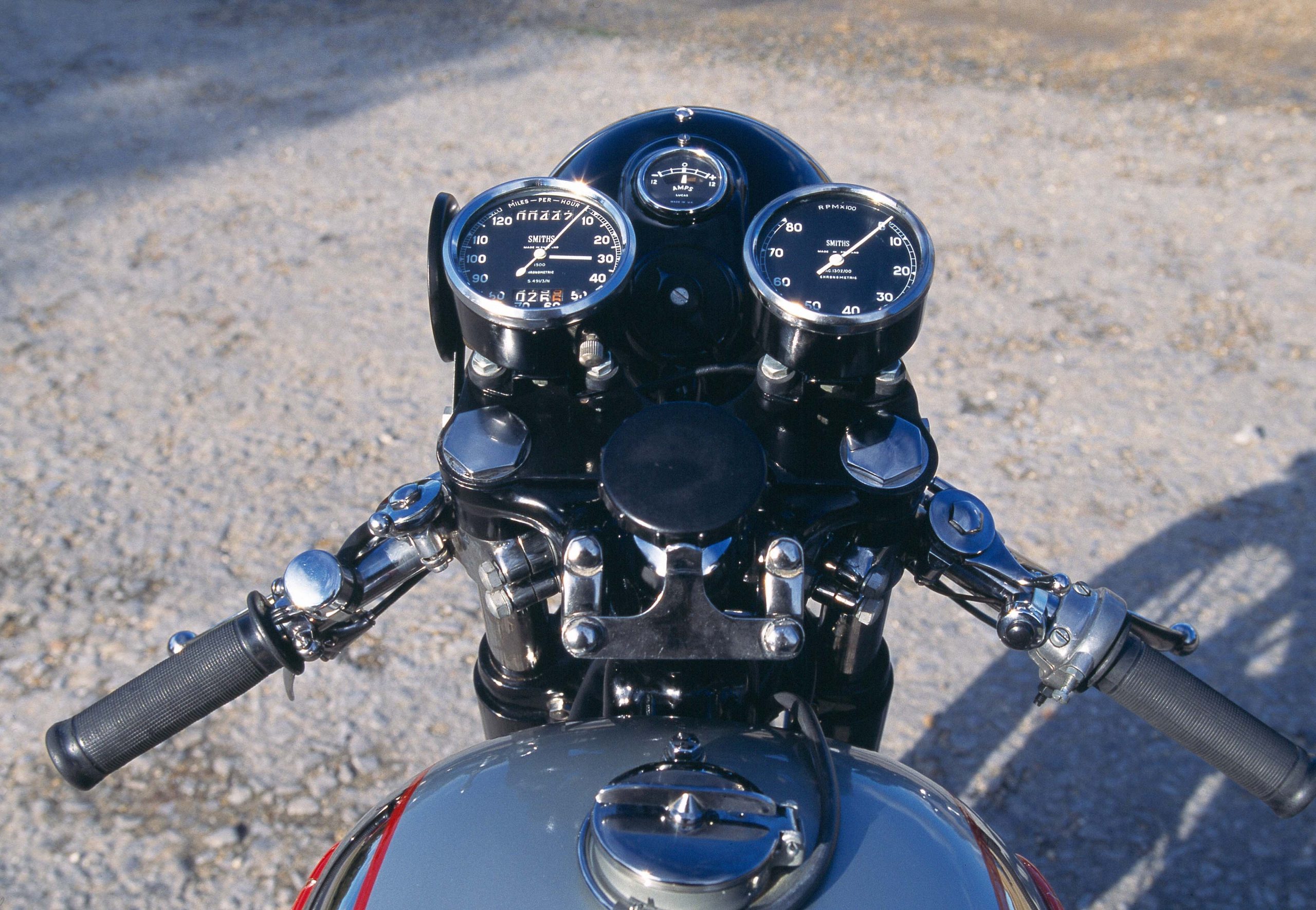 The following year BSA introduced the DBD34 Clubman's, with updates including a bigger Amal carburettor, modified exhaust silencer and close-ratio gearbox. It also featured, for the first time, the lights required by that season's competition regulations. This gives a deceptively normal appearance, but the 500cc single was one serious motorbike. It made an impressive 42bhp and its big carb, high compression ratio and that gearbox, with its ultra-tall first ratio, made it a demanding and temperamental roadster.
First task is to start the beast, which is normally not too difficult – provided you do it exactly right. Put the bike on its stand, fuel on, tickle the Amal's remote float bowl, retard the ignition with the lever on the right handlebar, ease the big piston over compression, hold the throttle a fraction open… then KICK. Nineteen times out of 20 the BSA responded to a hefty boot by firing up with a delicious single-pot rumbaaa. But when I didn't get it quite right, the bike point blank refused to start.
So the motor's running, the road is clear and to pull away you dial in a big handful of revs, sliiiiip the clutch for ages, and machine-gun away with that first gear seeming to go on for ever before it's time to tread down into second with the fairly slick right-foot change. The highly-tuned single is lumpy at very low revs, and prefers at least 3000rpm on the black Smiths tacho, so at slowish speeds you're better off staying in the first two gears rather than short-shifting into third.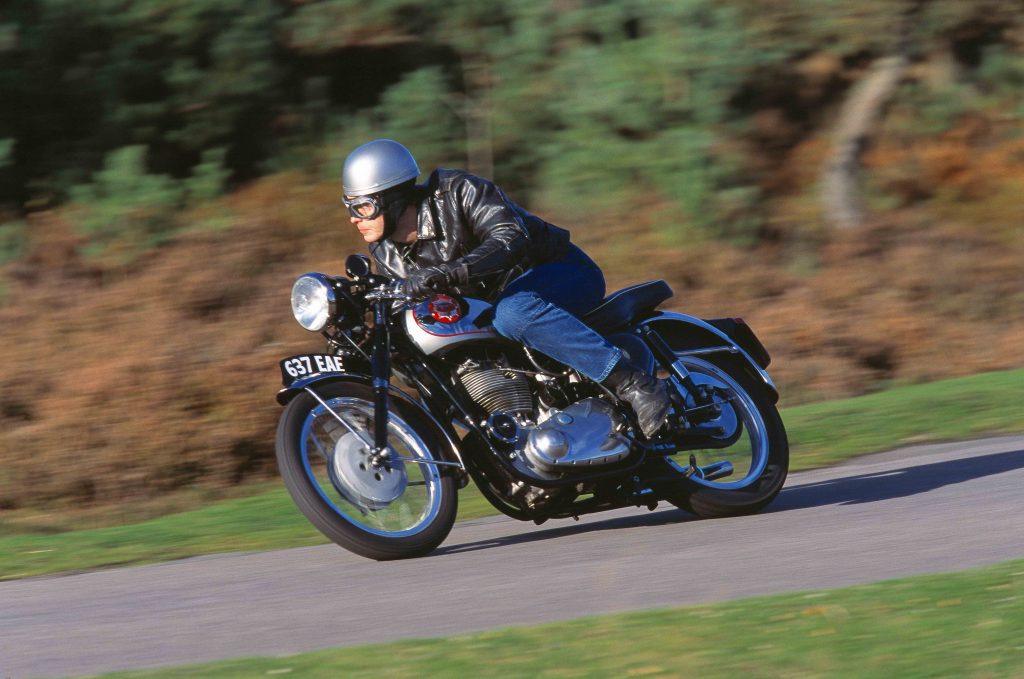 Howard, the bike's owner, had warned me that, "If you haven't ridden a Goldie before, you'll probably be disappointed." But before half a mile was up I was in love with the BSA's relaxed feel, its evocative sounds – gulping carburettor, rustling motor and rumbling, twittering exhaust – and even its sheer bloody-mindedness. Like a sporting genius with two legs rather than two wheels, when it's this special you can forgive the occasional tantrum.
The only slight disappointment was that because this immaculate bike was recently rebuilt and not yet fully run-in, I couldn't take the revs over 5000rpm and experience the high-revving power that did so much to give the Gold Star an edge over its competitors in the Fifties. When using all the revs, first gear is good for an incredible 60mph, and second for 90mph. With the rider's chin brushing the big steering damper knob, the single had a genuine top speed of about 110mph.
Despite my self-imposed 5000rpm rev limit the Goldie was fast enough to be hugely entertaining, thundering up to the legal limit and beyond at a very satisfying rate, and surprising me with its smoothness for a big, solidly mounted single. On the open road the four-speed gearbox worked well, too, although first was sometimes hard to find, and predictably all that clutch-slipping caused some dragging, which happily cured itself once I was under way again.
BSA's work in developing the Gold Star chassis had paid off by the time the DBD34 was released, and the combination of light weight, fairly rigid twin-downtube frame and good quality suspension meant it handled well even under racing conditions. On my road ride the rear shocks proved firm and well damped, and the front end was fine too although the forks dived when the drum brake was used to its modest maximum.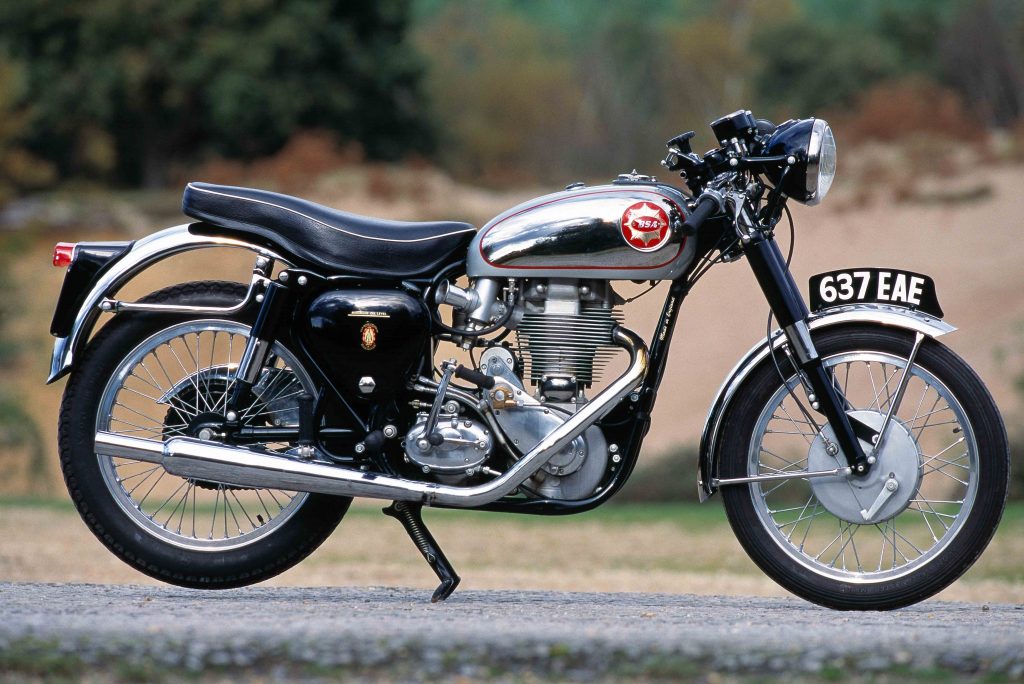 Despite this bike's age and value it felt so eager to be ridden hard that I was soon leaning it far enough to scrape the centre-stand, despite its skinny 19-inch tyres. As I cranked though a fast right hand bend, then accelerated with that exhaust note bouncing off the surrounding walls, it was easy to imagine this bike, virtually unchanged apart from removal of that stand, roaring round the Isle of Man's Mountain circuit on the way to TT glory in the Fifties.
Yes, the BSA DBD34 Clubman's Gold Star is the real thing, make no mistake about that. It's raw, rapid, uncompromising, and on the right road fantastic fun. If reborn BSA's new model of the same name is anywhere near as impressive it will be an ideal bike with which to bring the famous old marque back to life.
1956 BSA Gold Star DBD34 Clubman's
You'll love: Intoxicating speed and charisma
You'll curse: Starting troubles, traffic
Buy it because: The Fifties race chap still rocks

Condition and price range: Project: £10,000; Nice ride: £15,000; Showing off: £20,000 – £25,000
Engine: Aircooled pushrod single-cylinder
Capacity: 499cc
Power: 42bhp @ 7000rpm
Weight: 174kg without fluids
Top speed: 110mph
Read more
50 years on, the Kawasaki Z1 is still one of the meanest motorcycles on the road
The Young Ones: The baby-faced bikers turning to classics
Like grandfather, like father, like son: the third-generation exhaust fabricator saving Britain's classic motorcycles