Mecum's 30th annual vintage and antique motorcycle auction in Las Vegas looks like being a real treasure trove when it opens on April 28. But among an enormously diverse collection of motorcycles covering everything from two-wheeled pioneers to modern Japanese and American machines – with a remarkable 1750 bikes in total – it's a pair of BSAs from the 1960s that particularly stand out.
Both hail from 1966, and of the pair it's the BSA Gold Star dirt track racer that's most intriguing. In modern parlance the Gold Star would be a superbike, making good power for its era and becoming a popular racer right from its introduction in the late 1930s.
How much is your car to insure? Find out in four easy steps.
Get a quote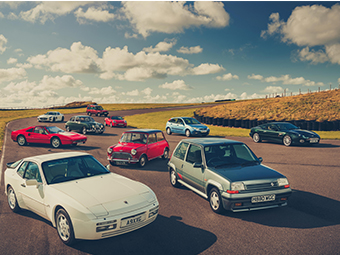 By 1956 its thumping single-cylinder engine had grown to 500cc, and in that final DBD34 iteration could top 110mph in production form, and factory racers put out more than 40bhp. They were competitive road racers, but in America they could be found pounding the dirt too in scrambler style and at flat track races.
That's where this particular bike comes in, owned and raced by Jim Rice in the late 1960s and early 1970s. Rice developed an interest in motorcycles after moving to California and picking up a Honda 50, but catching a glimpse of factory BSA rider Dick Mann at the 1965 Sacramento Mile in 1965 sparked his passion for racing. Rice would finally compete at the Sacramento Mile himself in 1970 – a race that would be immortalised on celluloid in On Any Sunday.
Mecum's listing notes the bike is in as-raced condition (this, for those of you pulling old scrap out of a garage and declaring it a barn find, is what real patina looks like) and has plenty of photographic documentation covering Jim Rice's racing history.
And remember Mann? The second of those two 1966 BSAs was his, as raced at the 1966 Daytona 200. Based upon a BSA A50 it's one of only eight purpose-built by the factory for competition, its 500cc engine ducking under a recent rule change that forced the larger 650cc A65 out of competition.
The A50 once again comes with photos documenting its racing history, as well as images covering an earlier restoration at the hands of Gerald Jessup, the late British bike specialist and former land speed racer.
It's worth skimming through the Las Vegas listing as there are some truly spectacular machines on offer – a 1911 Pierce Four Cylinder, a pair of oh-so-90s Kawasaki ZX7s and an example of Honda's brilliant Motocompo "boot bike" all stand out – but we reckon the BSAs will be the ones to keep an eye on.