Leading down a cobbled alleyway hidden behind rows of brown stone terrace houses sits Raysons workshop on the outskirts of Rochdale, Lancashire. Were it not for the bright blue wooden doors and signage of the garage you could easily imagine you'd stumbled onto the set of an industrial era period drama. Open the door and the sensation of travelling into a bygone age grows. The garage is part of a mill originally built in 1800s. And it's here that Ben Hardman, a third-generation exhaust fabricator, keeps alive the skills that, well, keep Britain's classic motorcycles alive.
Inside the workshop there's a comforting smell of oily engines lingering in the air. Exhaust pipes dangle from every available rafter of the workshop ceiling. Old lathes, milling machines and workbenches cover almost every inch of the cold concrete floor. And sat cross-legged in the middle of the room, fettling away on an old bike, with a mug of tea close to hand is Hardman.
How much is your car to insure? Find out in four easy steps.
Get a quote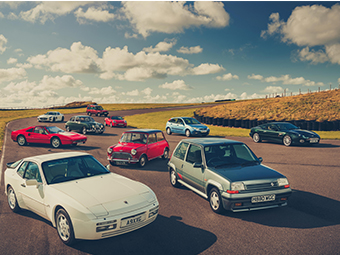 Hardman's craft, skill and knowledge of motorbikes – British bikes especially – runs deep in the family. He's the third generation to become an exhaust fabricator. His grandfather Peter Lee had his own bike shop in Rochdale, called Unity Equipe. It specialised in British bikes, particularly the Manx Norton and regularly had to fabricate and bend pipes for customers. Hardman's father Ray (Peter's son-in-law) was a keen road racer, regularly competing throughout the 80's and 90's. He often worked with Ben's granddad, producing exhausts and had his own business, Unibend. He even used the same workshop we now stand in. However, in 1997 Ray died in a racing accident at the famous Olivers Mount road racing circuit in Scarborough.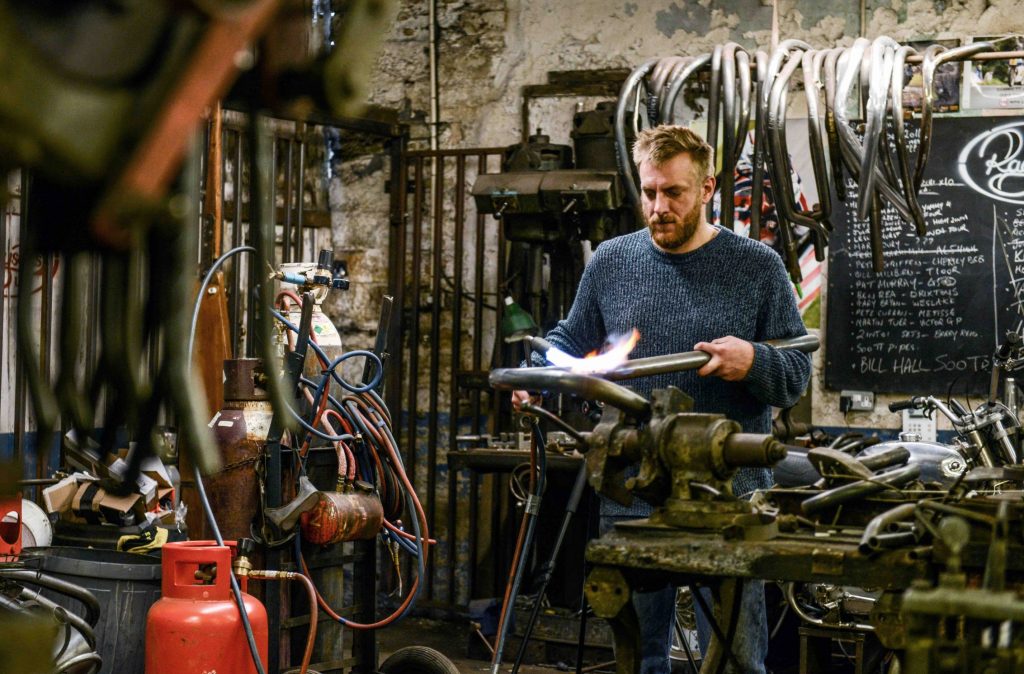 Despite the fact that Ray was unable to pass his knowledge and fabricating skills on, he had left his son a legacy of tinkering and a love of engineering, ingrained from a young age and weekends spent in the paddocks of the nation's race tracks.
Surprisingly, when Hardman first showed an interest in becoming an exhaust fabricator, in his twenties, his granddad wasn't keen; he worried it wouldn't make him enough money. Even his father's old friends try to dissuade him from the classic scene. "All my dad's mates said, 'You want to do Jap bikes, they're the next big thing; 70's stuff is coming up, you wanna do 2 strokes,' but I just didn't want to do 'em," Hardman tells me. But he stuck to his guns and thankfully the classic motorcycle scene has grown in popularity in recent years, especially British bikes.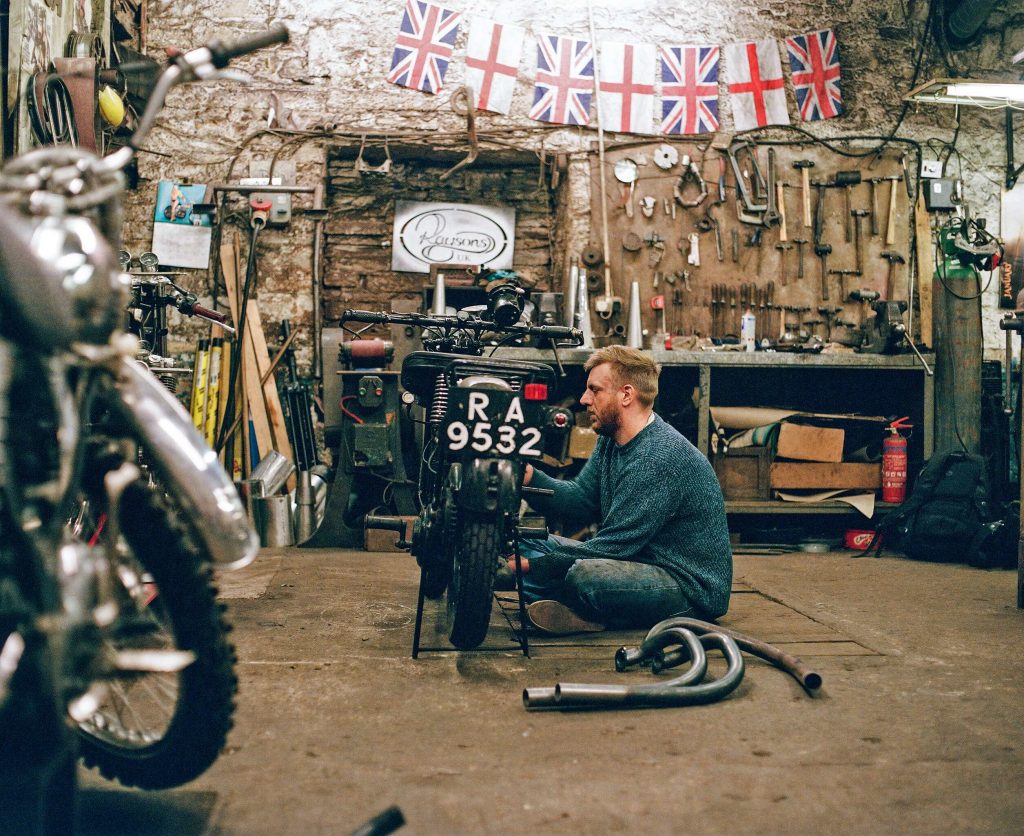 From 2008 Hardman learnt the craft, and it wasn't long before his granddad gave in and taught him the art of pipe bending. He's become an expert in the field of exhaust pipes and it's a fascinating sight to see him manipulate the steel pipes into precise, complex twists and turns using little more than a vice, torch (to heat and soften the steel) and his own bodyweight as he leans against the tubing, making fine adjustments.
Despite having been in the business for more than ten years and making a name for himself, Ben's still keen to push himself and learn new techniques. One process that I still can't get my head around is hydroforming, something that becomes second nature to an exhaust fabricator. Ben shows me a 'megaphone' exhaust as he calls them, it looks like a swollen pipe – kind of like the expansion chamber on a 2 stroke. To create this effect Ben welds two flat pieces of steel together and pumps water between them at high pressure (with a tap to let any air out) until the steel swells into a hollow cylinder. After knocking out any dents and polishing out the welds, the finish is seamless and the pipe looks more a piece of modern art than it does an exhaust.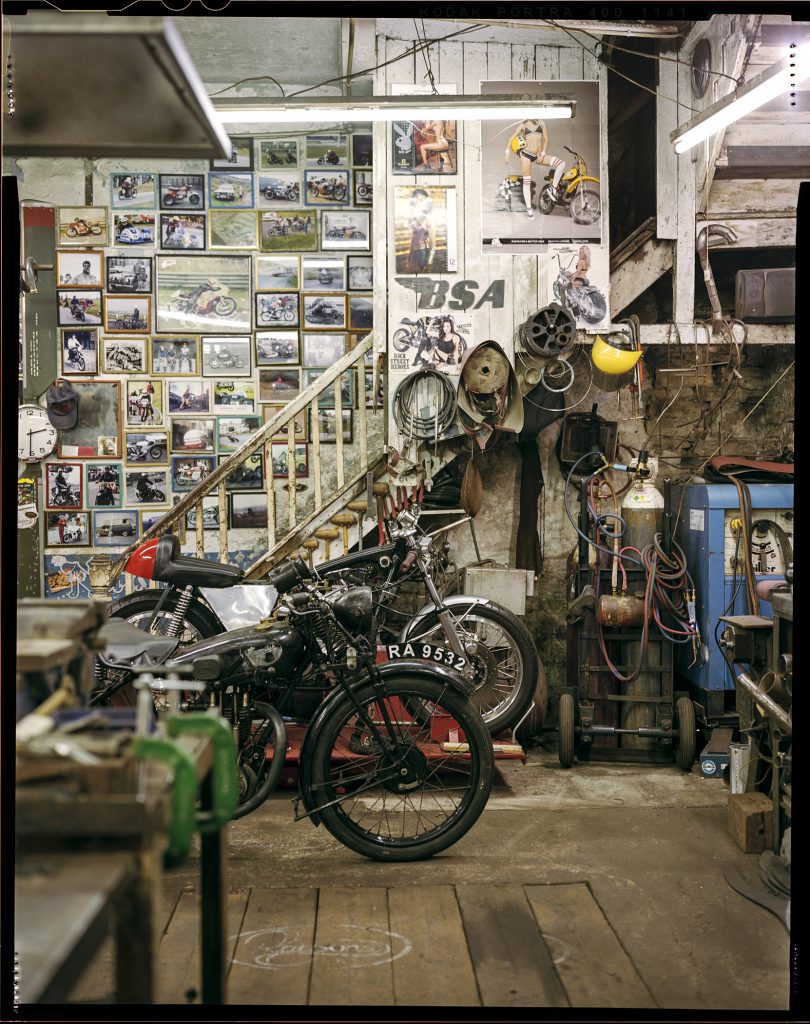 He believes in ensuring his work is faithful to the era and style of each of client's bike. He points to a pre-war bike, looking as though it's just rolled out of a museum. "That's a 1929 Humber that, the owner found it in a shed. I've got that style now where I can make them a bit rough, so they fit in". "So they fit the patina?" I ask. "Yeah, just by hand making them, I know how to make them look handmade. Rather than just a bent piece of pipe." Hardman does this using techniques and tools that both his granddad and father would have used. "I'll sandbend that," he says pointing to the Humber's exhaust sat on his workbench "and braze instead of tig welding it. Everyone's got a tig welder now, so they can tig weld absolutely everything. I'll braze or gas weld, depends on what it is really. Different jobs for different things."
A BSA Scrambler sits in the corner, looking as though it's come straight out of a showroom 50 years ago. "That looks immaculate, that pipe does," says Ben "It's currently at the chromers. But still it has to look a little bit rough, to make it perfect it's got to be imperfect. That's what makes these look dead nice, they're slightly imperfect." It's all part of the tailor-made patina that a craftsperson like Hardman is able to bring to the classic bike community.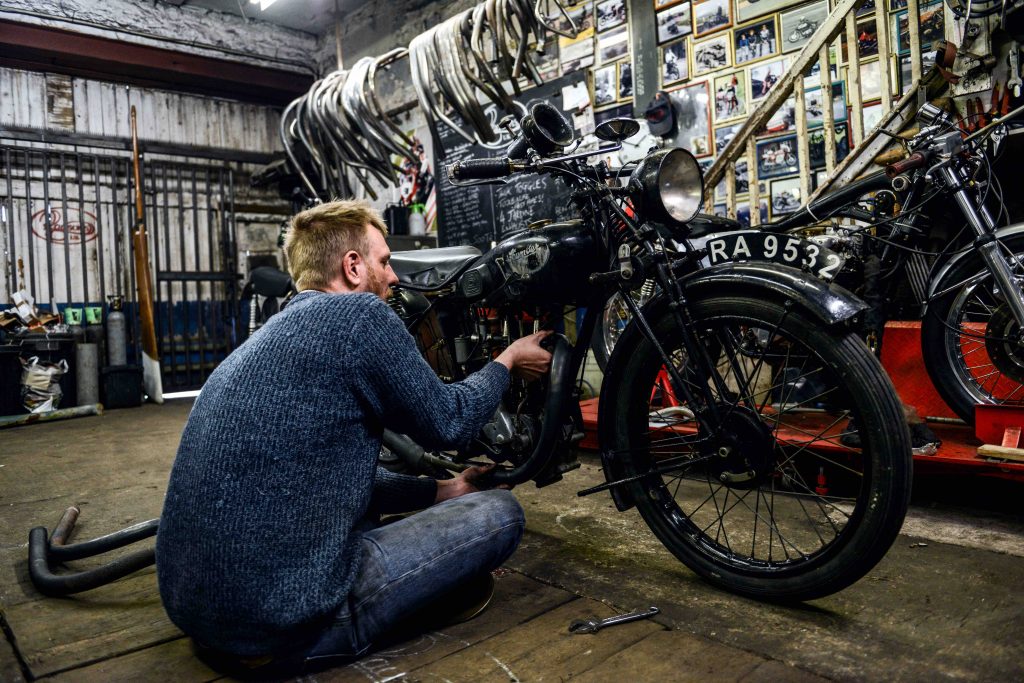 As you'd expect from the classic motorcycle scene, a mix of styles and genre's of bikes pass through the wooden doors of Rayson's workshop, from BSA scramblers to Seeley race bikes but of all the classics he works on what's his favourite? 'Road racers' says Hardman, in his thick Lancashire accent. Is that because of his father's history in racing? "Yeah, they're just nice aren't they – and you get to see them race afterwards. I like to watch the scrambler bikes race but it's just not as competitive.'"
He expands on his admiration for the racers. "Whereas the road racers take it proper, proper seriously. It's their lives, that's all they do. It all gets proper serious in road racing."
One of the most impressive and modern race bikes he's worked on in recent years is the rare Norton Rotary. Ben was asked to build an exhaust system for the Wiz Norton Racing team, for rider Josh Brookes to compete at the Isle of Man Classic TT. It was a dream commission.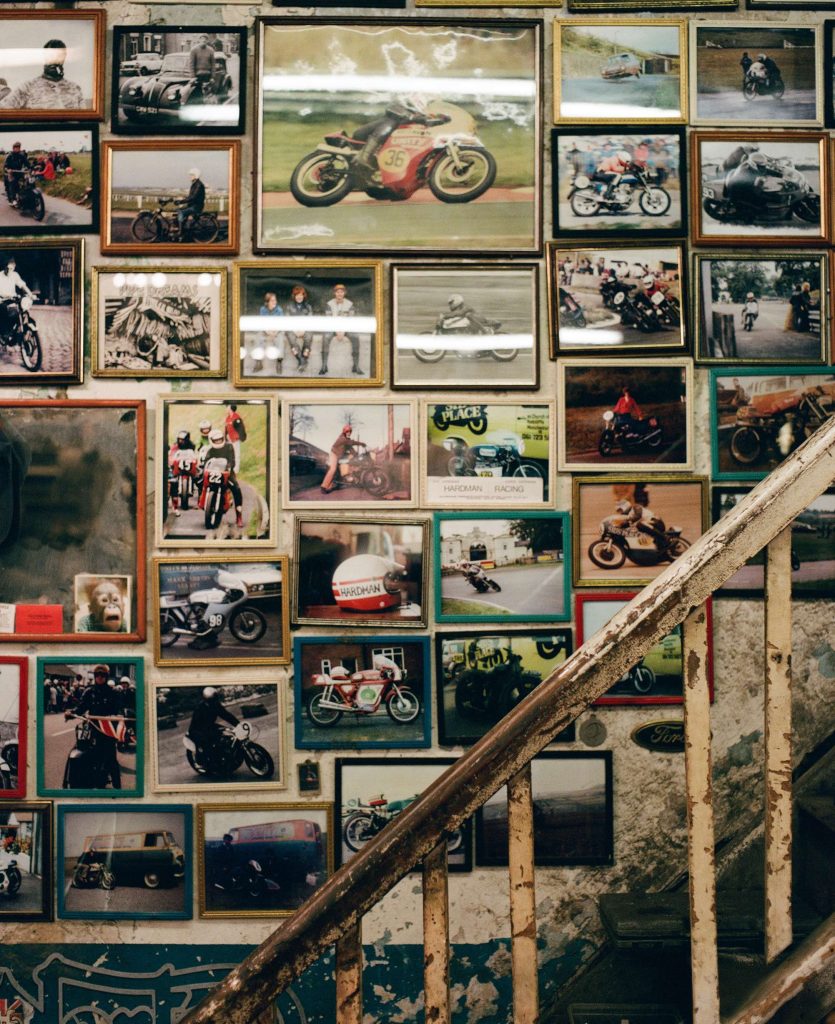 With a grin on his face he tells me how he leapt at the chance to fire up the unique sounding rotary in the alleyway outside the workshop. "It sounded like a Formula 1 car, I was like, 'Honestly we might have to kill it because someone's going to call the police!' Just had it running for a few minutes it was proper loud!"
Hardman's working environment is captivating. A large portion of the walls are covered in framed photos of his dad racing or working on bikes. Tools inherited from his granddad are scattered all over the benches and machines dating from well before Hardman was born line the floorspace, one of them even dates back to the second world war, a plaque stamped 'Property of the Air Ministry'.
For this third-generation exhaust fabricator, work is more a passion than a business. You sense the importance of family, the handing-down of traditional skills and the enthusiasm for the motorcycling scene that, dare we say it, you wouldn't get when dealing with off-the-shelf suppliers. Discussing what makes working on bikes so special, he sums up his approach, "Character, that's what it is character, they need a bit of soul." We need people like Hardman to keep feeding that soul.