Earlier this year I stopped by the Brumos Collection, before catching a flight from Orlando back to Britain. It houses one of the most impressive collections of landmark cars from Porsche's motorsport history.
Set in a bespoke building that harks back to the former Ford plant in Jacksonville, there's almost as much to admire about the architecture as there is about the cars housed within. That includes a boardwalk entrance which nods to the board tracks that were wooden wonders of the 1920s.
How much is your car to insure? Find out in four easy steps.
Get a quote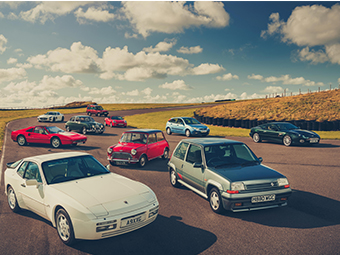 Knowing relatively little of the wooden ovals that gave rise to America's oval racing scene, the information displayed about them was a small but significant distraction from all the Porsches on the other side of the museum, and enough to draw me away from 908s, 917s and a charming little 914/6 GT, one of the earliest cars that Brumos Racing campaigned.
So when the folks at On Yer Bike produced a film taking viewers through the history of board tracks, with a focus on the early bike racers, I found myself compelled to watch, and not just because of the title – Welcome to the Murderdrome.
As the title suggests, after drawing pioneering racers and huge crowds, the wooden ovals would go on to face a backlash from the media after a series of high-profile accidents that killed riders and spectators alike. The papers of the day labelled them Murderdromes. Even Alastair Campbell couldn't spin his way out of that sort of bad press.
The practical limitations of the tracks are brought into focus in this film. They were built using Oregon Fir or Southern White Pine, depending on the location, and held together with 50 tons of steel nails. The wood would splinter or rot, meaning the ovals lasted a handful of years before major repairs were required – or the whole lot had to be abandoned.
So grab a cuppa, put up your feet and take a moment to find out more about America's lost wooden ovals.
The Flying Flea was Royal Enfield's secret weapon for the war