When you want to really test something to the limit, so the saying goes, give it to a squaddie.
And flinging something out of a plane from several thousand feet into a swamp and then relying on it to get you and crucial communiqués to the battle front in a warzone certainly qualifies as a test.
How much is your car to insure? Find out in four easy steps.
Get a quote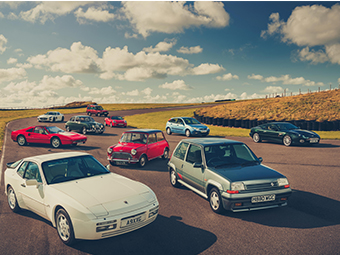 Except the "Flying Flea" completed test after test, with, had it had a face, the demeanour of a young gundog returning with a stick retrieved from an impenetrable bog: "OK, done that, what's next…?"
Simplicity and honest achievement can be endearing, especially in a lightweight 130lbs no-frills machine that just does the job.
The 1942 Royal Enfield RE 125 – the "Flying Flea" – makes a 1965 Honda 50 look sophisticated, and 1980s BMW GS a bit mission-incapable. The War Department ordered more than 4,000 of them, which when wrapped in quick-dismantle protective cages, were dropped in by parachute, to boost the mobility of elite troops and help them relay messages more rapidly.
How it was used during D-Day and Operation Market Garden
They were used in the Second World War's biggest airborne landings, both D-Day and during Operation Market Garden in 1944, an Allied attempt to shorten the war by entering Germany from Holland over a series of captured bridges.
They helped make a difference. But to get the respect of the Parachute Regiment scrapping its way across World War 2-torn Europe, the Flea had to be special. And something which they could parachute out of a plane and which could be ridden through, across or over just about anything – and be picked up and hoicked across terrain it couldn't be ridden through.
The key was simplicity. It took "basic" to a whole lower level. If it wasn't fitted, it couldn't be broken. If it was fitted, it could be fixed under artillery bombardment at 3am in a French ditch. The volume of clear air between teeny engine and fuel tank was a design feature that just about survived into early-80s Italian pseudo-Dakar mopeds before everything on two wheels needed to look as if it could be rolled onto a GP grid or a World Enduro Championship special stage. Suspension? Oh, if you must, but only at the front. Sort of. Other features? Does a seat count?
The Flying Flea came about after British troops were given bicycles to strap to their kit when parachuted into the front line, the idea being they could cover ground faster. It seemed like a great idea at the time, but in practice resulted in piles of bikes abandoned by soldiers sometimes after just yards.
It's unclear whether it was an idea born of ignorance, genius, or a biker in the War Office, but somebody came up with the idea of making something not much heavier than a bicycle, and giving it power, if 3.5bhp could be classified as power. Many of us started our biking lives on the 4.5bhp Yamaha FS1-E, the performance of which was, erm, eventual.
And it was two-stroke too, meaning fewer moving parts to go wrong, and as a 3.5bhp, 130mpg 125, it was hardly stressed. It needed revs to make progress, but the doubly-silenced stroker would run out of the ability to suck in fuel-air mix in volumes big enough to allow it to actually hit self-destruct rpm.
Potential for fault lay with the fuel-oil mix issue. Surely that couldn't be squaddie-proof? Well, the fuel filler included a measuring tube to ensure the two-stroke mix was somewhere within parameters. Seizures and bog-downs from weak or too-strong mixes were eliminated.
Now, those of us who were more test-the-limit type moped riders in our youth will know that 3.5bhp of finest two-stroke lack-of-torque power characteristic was rarely a handicap. My on-road two-stroke was surprisingly capable, if forced, with a complete lack of mechanical sympathy, to offroad with mates who had progressed onto trail bikes.
So many of us can imagine the effectiveness of a combination of low weight, wrestlability and ten million revs. Vintage war footage confirms this. In fact, it looked quite fun.
But war was serious. If they'd known the phrase, then military strategists would have been uttering the benefits of "marginal gains" provided by the Flea.
But perhaps the greatest irony of the Flea was its origin: it was designed by German motorcycle manufacturer DKW. And it was the-then Nazi authorities who imposed restrictions which led to DKW's Dutch concessionaires saying to Royal Enfield: "copy and make us some of these, please".
Shot in the foot, or what?