With the sun shining, the road ahead clear and the 650 Lightning rumbling along in relaxed fashion, it's hard to imagine what all the fuss was about. A touch of parallel-twin vibration coming through the seat and footrests doesn't prevent the elderly BSA from seeming enjoyably brisk and utterly inoffensive; much like many British twins of the Sixties and Seventies.
But the Lightning certainly put a few backs up on its launch in 1971, when it was a controversial departure for BSA. The A65L Lightning had originally been released in the mid-Sixties as the hotter, twin-carburettor version of the Birmingham firm's A65 twin. This updated model, with its raised bars, small fuel tank and minimalist chromed mudguards, was intended to add a bit of glitz for the important US export market.
How much is your car to insure? Find out in four easy steps.
Get a quote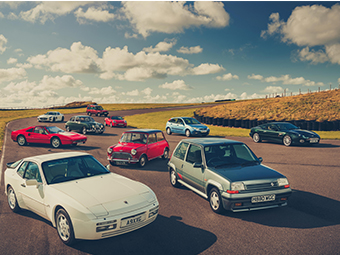 More importantly, this Lightning was the first with a new "oil-in-frame" chassis that was considerably taller than its predecessor. The redesigned frame had been specified by BSA's management even though the factory's development riders had warned that it was too tall, making the bike unmanageable for riders of average height or below.
It's to be hoped that the recently revitalised BSA's current Indian owners don't make similar mistakes. And perhaps that their promotional activities are more restrained than those of their predecessors, who launched the Lightning and 15 other models in October 1970 at a London spectacular that became known as the ailing British motorcycle industry's Last Supper.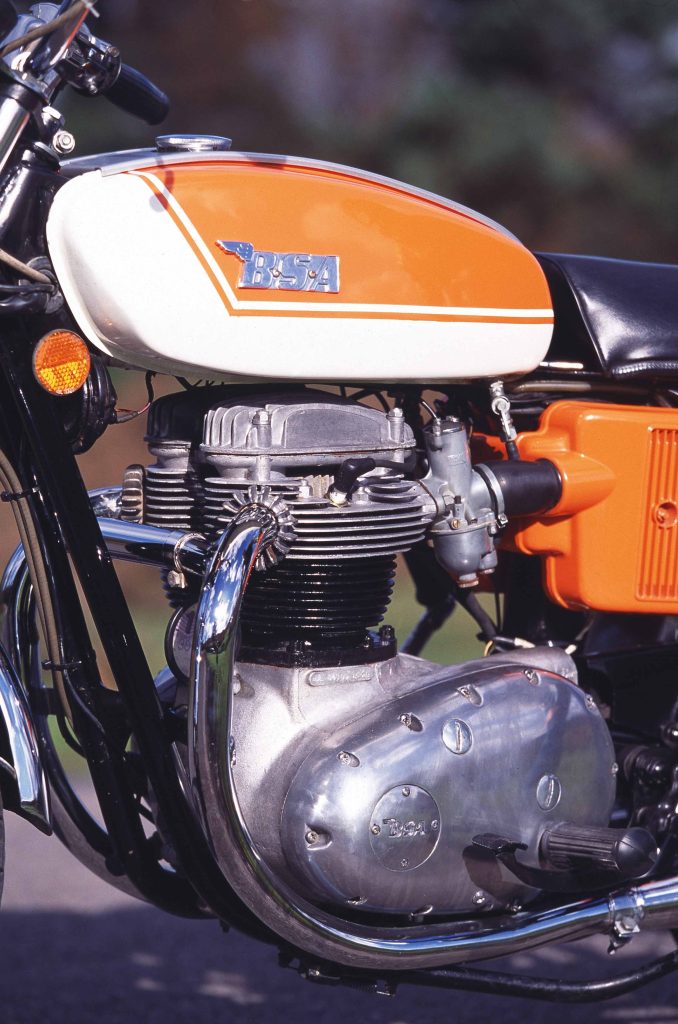 The lavish bash at the Royal Lancaster Hotel off Hyde Park involved lunch and dinner for hundreds of guests, including government figures as well as press and trade from around the world. Top comedian Dave Allen and dance group The Younger Generation performed before the bikes were unveiled to a trumpet fanfare, each machine wall-mounted in its own giant three-dimensional picture frame.
This slick PR event contrasted with the chaos surrounding BSA, which was already in deep financial trouble. The 1971 season turned into a disaster, with production problems, striking workers, badly produced parts, and even a faulty computer that ordered a large supply of unwanted components. The Lightning itself was delayed and didn't appear until late summer, missing much of the sales season.
Although not everyone liked the look of the revamped Lightning when it finally arrived, the orange-and-white twin was given a generally favourable reception. With its high bars and small, 11-litre tank it certainly looked more lean and modern than its predecessor, if less practical. The taller, 838mm seat height was dictated by the dimensions of the new frame, which incorporated a large, oil-holding main spine.
At least the slim BSA was respectably light, at 190kg. Being tall myself I was more worried about being able to start this ageing twin, which hadn't been run for a while. But after a few leaps on the kickstart it fired up with a restrained parallel-twin chuffing from its silencers.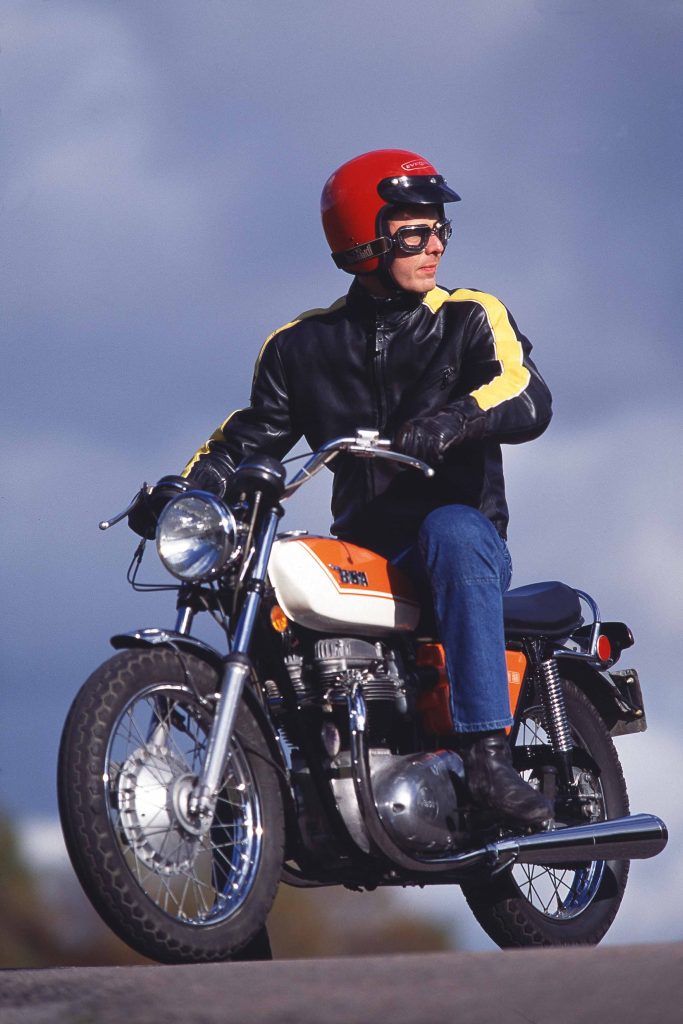 BSA hadn't done much to update the engine for 1971, having revamped the 654cc, pushrod-operated parallel twin the previous year with new parts including pistons and conrods, plus modified Amal carburettors. Maximum output was a claimed 52bhp at 7000rpm, competitive with sister firm Triumph's 650 Bonneville.
The bike I'm riding must have been restored at some stage because the '71-model frame was originally not black but a cream colour, matching the lower part of the tank. The view from that seat was clean and simple: the wide bars with their squashy grips, an alloy strip running along above the slim tank, and a pair of black-faced clocks either side of the chromed headlamp with its trio of coloured warning lights.
On a mild day the BSA was fun for gentle cruising on country roads. Its engine rumbled along lazily and fairly smoothly. Controls were light, and the four-speed, right-foot gearchange shifted sweetly. At that pace, sitting bolt upright with my feet on the forward-set footrests, I could see why BSA's management must have thought that riders on both sides of the Atlantic would appreciate the Lightning's laid-back looks and feel.
Things weren't so rosy when I turned onto a wider road and wound the BSA up a little more. The elderly twin accelerated crisply enough from low revs, and showed enjoyable enthusiasm through the midrange. But by the time the rev-counter needle approached 5000rpm the engine was sounding like a cement mixer, discouraging me from going much above 70mph, let alone checking out the ton-plus top speed.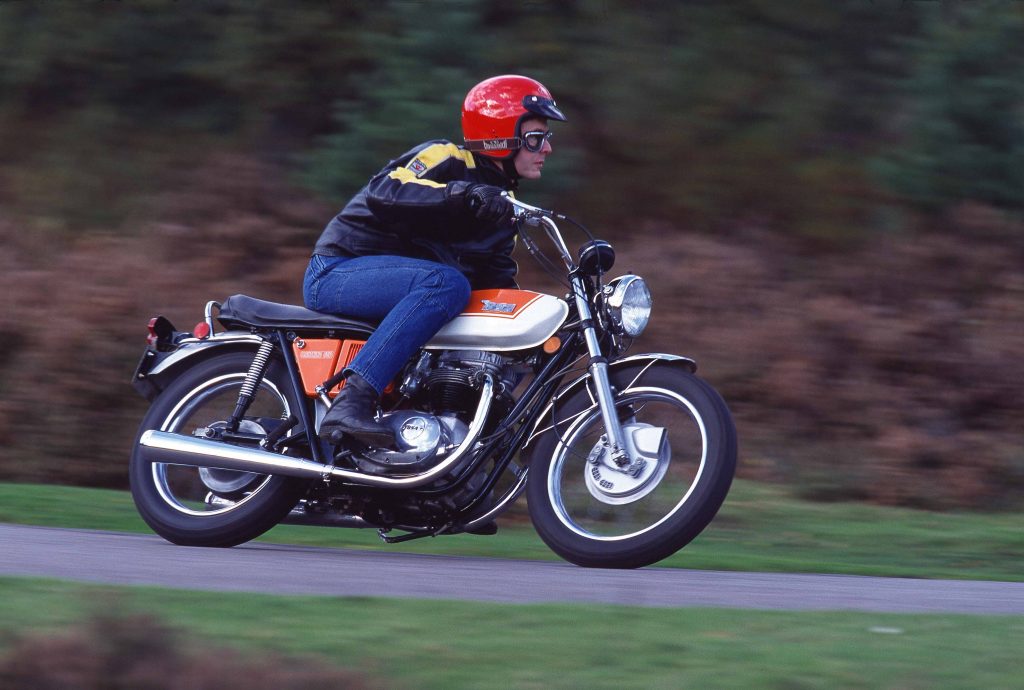 The combination of wind-blast and typical parallel-twin vibration coming through the footrests would have made long distances at speed tiresome, but there was not too much wrong with the Lightning's handling, which was rated excellent in its day – despite concerns over the hieght of that frame. Although I was wary of this bike's ancient tyres, the BSA could be flicked around easily using the leverage of those broad bars. Yet it was also stable through sweeping curves on the open road.
Despite its exposed riding position the Lightning was tolerably comfortable, too. The original forks and aftermarket shocks gave a fairly firm ride, and were well-damped by early-Seventies standards. This bike's only real chassis flaw – unless you had short legs, and also found its height an issue – was braking. The conical front drum lived up to its poor reputation by refusing to lock the wheel even with the lever pulled back to the handlebar.
That lack of stopping power reinforced my impression of the Lightning as a limited but sound parallel-twin roadster whose preference for gentle cruising was in tune with its Californian-inspired styling. But that was evidently not the opinion of BSA's management – at least, not for long. For 1972 the A65L was redesigned yet again, with lower bars, bigger fuel tank, more sober colour schemes and larger mudguards, as well as a revised frame and lower seat.
The new Lightning was more practical both at speed and in town, and most people who rode it thought it handled slightly better too. But if BSA had got the Lightning right at last, they were too late. By this time the famous old firm's financial problems had deepened further, and production of the twins ended shortly afterwards.
1971 BSA A65L Lightning
You'll love: Laid-back looks and easy handling
You'll curse: Feeble front brake, seat position if you're short
Buy it because: It oozes Seventies style and parallel-twin charm
Condition and price range: Project: £4000 Nice ride: £5000 Showing off: £6000
Engine: Aircooled pushrod parallel twin
Capacity: 654cc
Maximum power: 52bhp @ 7000rpm
Weight: 190kg with fluids
Top speed: 110mph
Read more
Steve McQueen's favourite bike was a little-known British brand
Classic motorcycles are flying out of the UK at full throttle
BMW's R90S could be its best bike ever