BMW Motorrad celebrates its centenary this year and reaches the landmark in fine health, with a varied range containing some brilliant bikes. But if a poll were held to choose the outstanding model of the German marque's 100 years of production, there's a fair chance the winner would be the R90S of 1974.
The half-faired R90S, finished in its striking smoked colour scheme (grey originally, with this bike's orange following as an option a year later), was seriously rapid, had handling, comfort and refinement to match, and was arguably the finest superbike of its day. It cost twice as much as Honda's CB750 and gave a huge boost to BMW's distinctly staid image.
How much is your car to insure? Find out in four easy steps.
Get a quote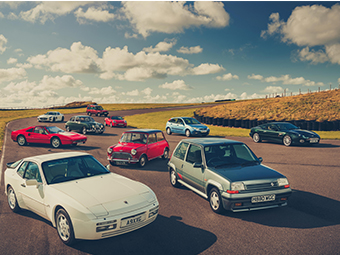 Decades later, a good example is still a joy to ride. As the road ahead unwinds in a gentle curve with 80mph on the clock, the big boxer engine is spinning smoothly at 5000rpm. I'm sitting comfortably, leaning slightly forward to slightly raised handlebars, my chest and head protected from the wind by the neat half-fairing.
The big orange tank is full, giving the prospect of 200 miles of non-stop riding. Below it I can see the motor's trademark sticking-out pots; their valves' gentle rustling almost drowned by a fruity twin-pot exhaust note. By modern standards the mechanical and exhaust sounds are loud, but they do nothing to mar the BMW's aristocratic air.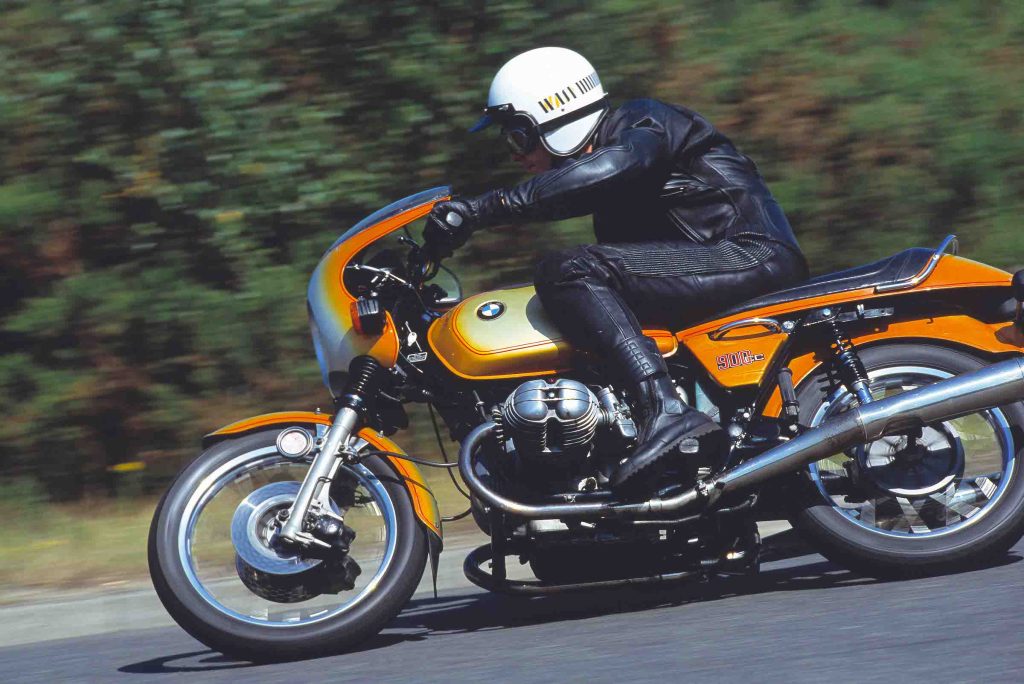 Nor does the bike's stability as I bank through a series of curves, the suspension soaking up the bumps efficiently, and the tall-geared engine feeling relaxed and unburstable. Never mind its generous fuel range, this bike gives the impression that it would cruise in comfort forever.
Such enduring characteristics should perhaps not come as a surprise given that BMW's very first bike, the R32 of 1923, was itself a horizontally opposed twin – complete, like this one, with shaft final drive and that familiar blue-and-white badge on the tank. More than 50 years later, the R90S was the product of a process of boxer refinement that continues to this day.
The S and its unfaired sibling the R90/6, introduced at the same time, were derived more directly from the previous year's R75 models. Enlarging the 745cc R75's bore from 82 to 90mm while retaining the 70.6mm stroke gave a capacity of 898cc. BMW also took the opportunity to make numerous engine upgrades including strengthening the bottom end, plus fitting a revised gearshift mechanism and new alternator.
The S model differed from the humbler 90/6 by having higher compression, and a pair of 38mm Dell'Orto carbs with accelerator pumps in place of the basic model's 32mm Bings. Those mods helped lift peak power output from 60bhp to a claimed 67bhp at 7000rpm – competitive with everything on two wheels apart from Kawasaki's mighty 82bhp Z1 four.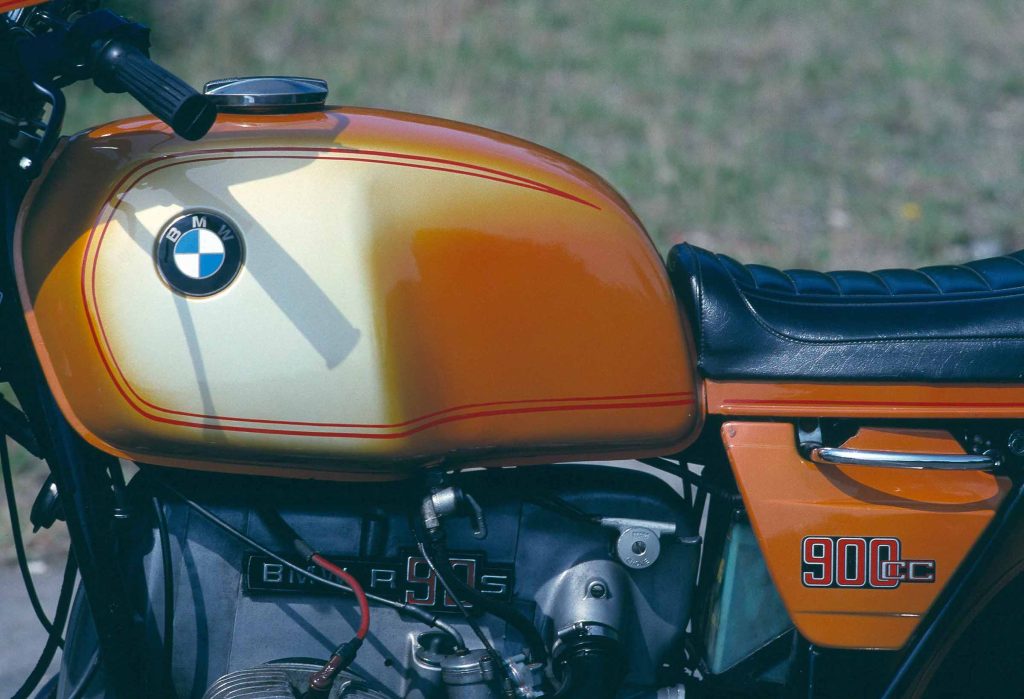 In addition the S model had a bigger, 24-litre fuel tank, and twin front discs instead of just one, plus of course that handlebar-mounted fairing, which held a clock and voltmeter above the normal speedo and rev-counter. The fairing, tank, front mudguard, sidepanels and the rear of the slightly stepped dual-seat were all visually brought together by that classy paint scheme of subtly changing tones.
To get the bike running you have to reach inside its fairing to the strangely placed ignition switch, then press the button to bring the boxer motor to life with its traditional side-to-side lurch from the longitudinal crankshaft. Despite its raised compression and big Dell'Ortos, the 90S was as refined and well-behaved as any of its BMW contemporaries.
Perhaps the most vivid sensation when riding the R90S decades later is how similar the old bike feels to more recent boxers. The tuned S model has a little less low-rev torque than the 90/6 but is still very flexible, its docile power delivery and relaxed cruising ability feeling typically BMW.
The R90S's top speed of about 125mph was impressive by mid-Seventies standards, but perhaps more important was the ease with which the bike could sustain a high-speed cruise, thanks to its lack of annoying vibration and the way the fairing diverted most of the wind from the rider. Aftermarket fairings were available to do a similar job for other bikes, but no standard rival was as easy to ride fast as the Bavarian bahnstormer.
As with most classics, the BMW's chassis felt more dated than its engine. Its front brake, a combination of tiny callipers and drilled 260mm discs, required a firm squeeze of the lever to deliver much stopping power. (Even this set-up was an upgrade on the first-year model's smaller discs.) At least the rear drum gave some welcome extra bite.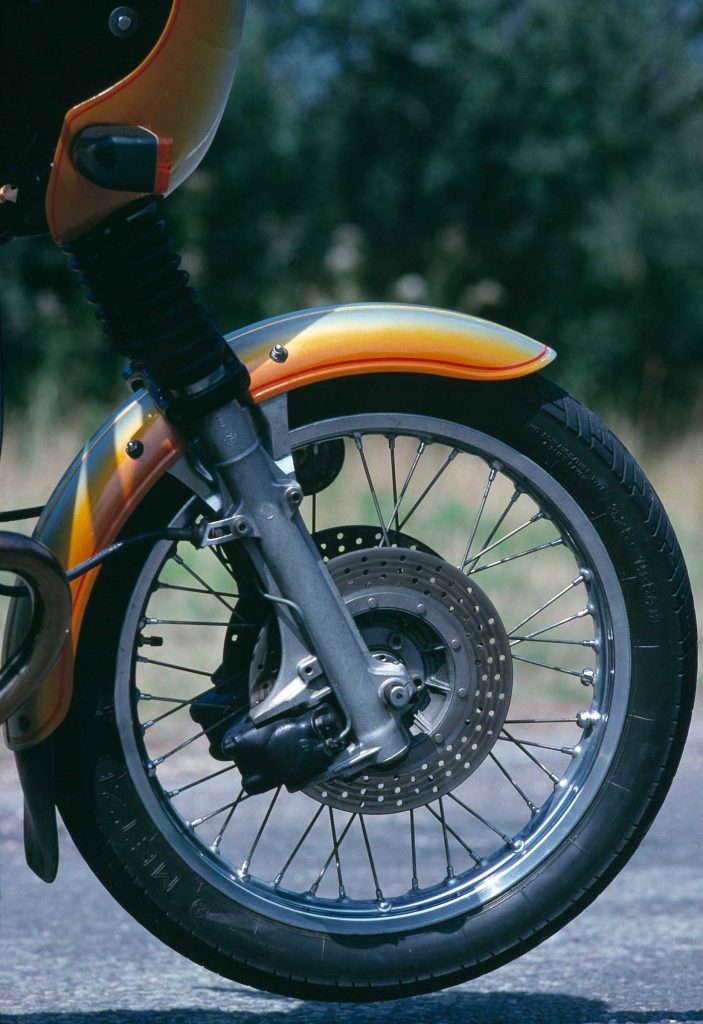 Handling and roadholding were excellent by the standards of the day, thanks to a conventional blend of steel twin-downtube frame, slim leading-axle forks and twin-shock rear end. This bike's forks benefited from a brace, and its original shocks had long since been swapped for a pair of Konis.
Although the R90S felt tall and fairly soft, it combined its excellent ride quality with sufficient damping to encourage spirited cornering, without too much interference from the drive shaft. It steered with a pleasantly neutral feel, and stayed stable at speed in a way that its Japanese superbike rivals did not.
The BMW matched its healthy power output with a respectably light weight of 215kg, which helped ensure that despite its gran turismo image there were few bikes that could stay with a well-ridden example. To prove the point, in 1976 expat British racer Reg Pridmore rode a standard-looking orange boxer to victory in the inaugural US Superbike series.
So the R90S was visually stunning, rapid, fine-handling, comfortable, refined… and a champion racer to boot. If you're thinking of nominating another model as BMW's best of these last 100 years, the bar is seriously high.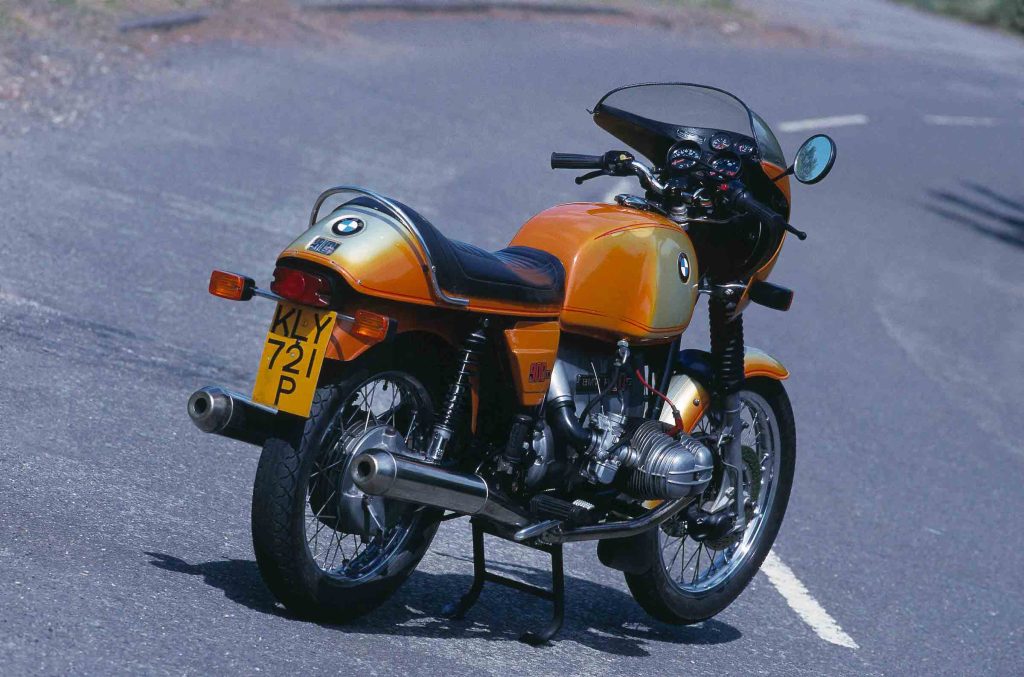 1975 BMW R90S
You'll love: Its unique style, charm and long-legged performance
You'll curse: The effort needed to slow from high speed in a hurry
Buy it because: For an exotic Seventies superbike it's great value now
Condition and price range: Project: £7000 Nice ride: £9000 Showing off: £12,000
Engine: Aircooled ohv flat twin
Capacity: 898cc
Maximum power: 67bhp @ 7000rpm
Weight: 215kg with fluids
Top speed: 125mph
Read more
Classic motorcycles are flying out of the UK at full throttle
We get it BMW, your old cars are uncool now
Riding the BMW R75/5 with its gleaming "toaster tank"