If you were asked to describe BMW's 1972-model R75/5 it's unlikely that words like "flashy", "extravagant" or "impractical" would spring to mind. Apart from shiny tank panels the 745cc boxer looks every bit a sensible old-school boxer, with its big mudguards, gaitered forks and a generously sized dual-seat.
But half a century ago this updated R75/5 caused a rumpus when BMW, aiming to shed its dowdy touring image, introduced a smaller, 18-litre petrol tank with chromed panels to its top-of-the-range roadster. The firm had already broken with tradition following the R75/5's launch three years earlier, by offering its 24-litre tank not just in black paint but alternatives including blue, green and mustard.
How much is your car to insure? Find out in four easy steps.
Get a quote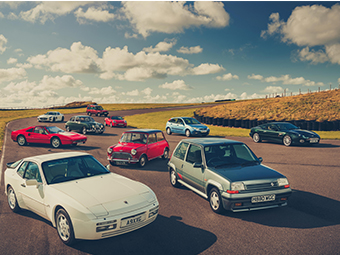 The colour choice was popular, helping the boxer compete against the new generation of superbikes like Ducati's GT750 V-twin, Honda's CB750 four and Suzuki's GT750 triple. The smaller tank capacity might have worked too but the chromed "toaster tank" would prove a step too far for BMW's conservative customers, the vast majority of whom opted for the larger-tanked, more modestly finished version instead.
This period was already one of big change for BMW, whose boxer engine layout dated back almost another 50 years to the R32 of 1923. The R75/5, along with its smaller siblings the 599cc R60/5 and 496cc R50/5, began a new era. They were built on a new production line in Berlin rather than Munich, leaving the old factory to the car division.
They were more modern too, notably with their use of telescopic forks in place of the old-style Earles forks. A new frame had twin downtubes that curved upwards just behind the engine, giving a look reminiscent of Norton's Featherbed. The bolt-on rear subframe disappointed some traditional BMW riders because it was too weak to support a sidecar.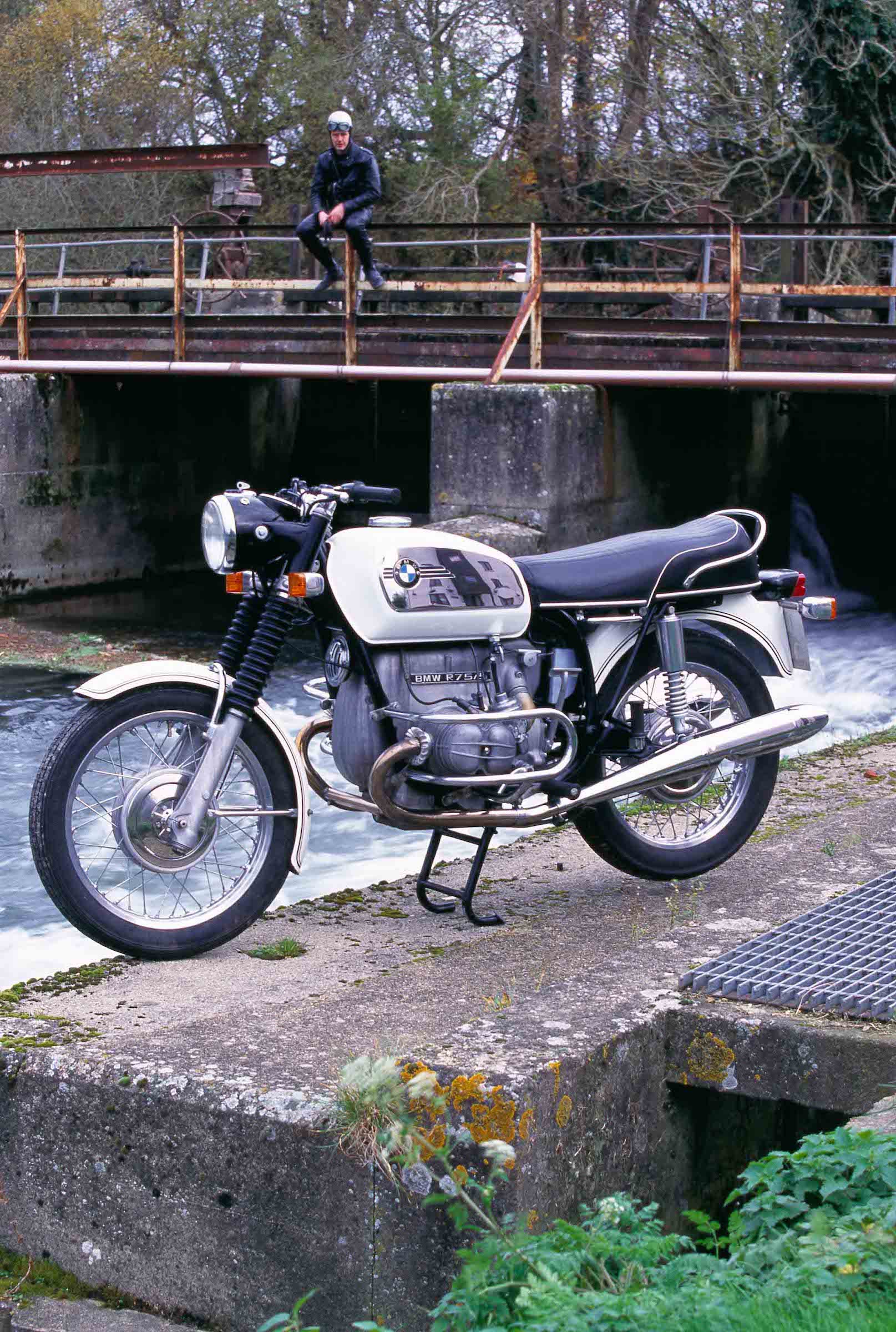 The engine retained the basic layout of aircooled, pushrod-operated flat twin. But the /5-series unit was larger, partly because its tall top section incorporated an electric starter. Aluminium cylinder barrels and a one-piece forged crankshaft helped give the R75/5 a maximum output of 50bhp at 6200rpm.
The toaster tank might have been too flashy for most BMW riders back in 1972 but on a dull day decades later it added a welcome touch of sparkle to this boxer, whose original chromed sidepanels were missing despite a recent restoration. Instant starting was not one of the early 75/5's strengths (later models had a larger battery to help), but this bike came quickly to life at a press of the button on the narrow handlebars.
I barely noticed the BMW's traditional flat-twin torque-reaction lurch to one side as the engine fired up. First gear went in with less of a clonk than I'd expected, too. But the bike still felt every bit an old-school boxer as I pulled away, its rear end rising in characteristic shaft-drive fashion.
At slow speeds the 75/5's manners were every bit as good as might be expected of an aristocratic machine whose 1972 price of almost £1200 meant it cost several hundred pounds more than Honda's sophisticated CB750. The BMW had a pleasantly flexible feel, with no sign of the heavy throttle action that was criticised in one contemporary magazine test.
The BMW was respectably light by 750cc standards, at 190kg, which helped make it quick off the mark despite being softly tuned. Its 0-60mph time was less than six seconds, impressive at the time. It rumbled through the standing quarter-mile in a respectable 14 seconds, heading for a top speed of about 110mph.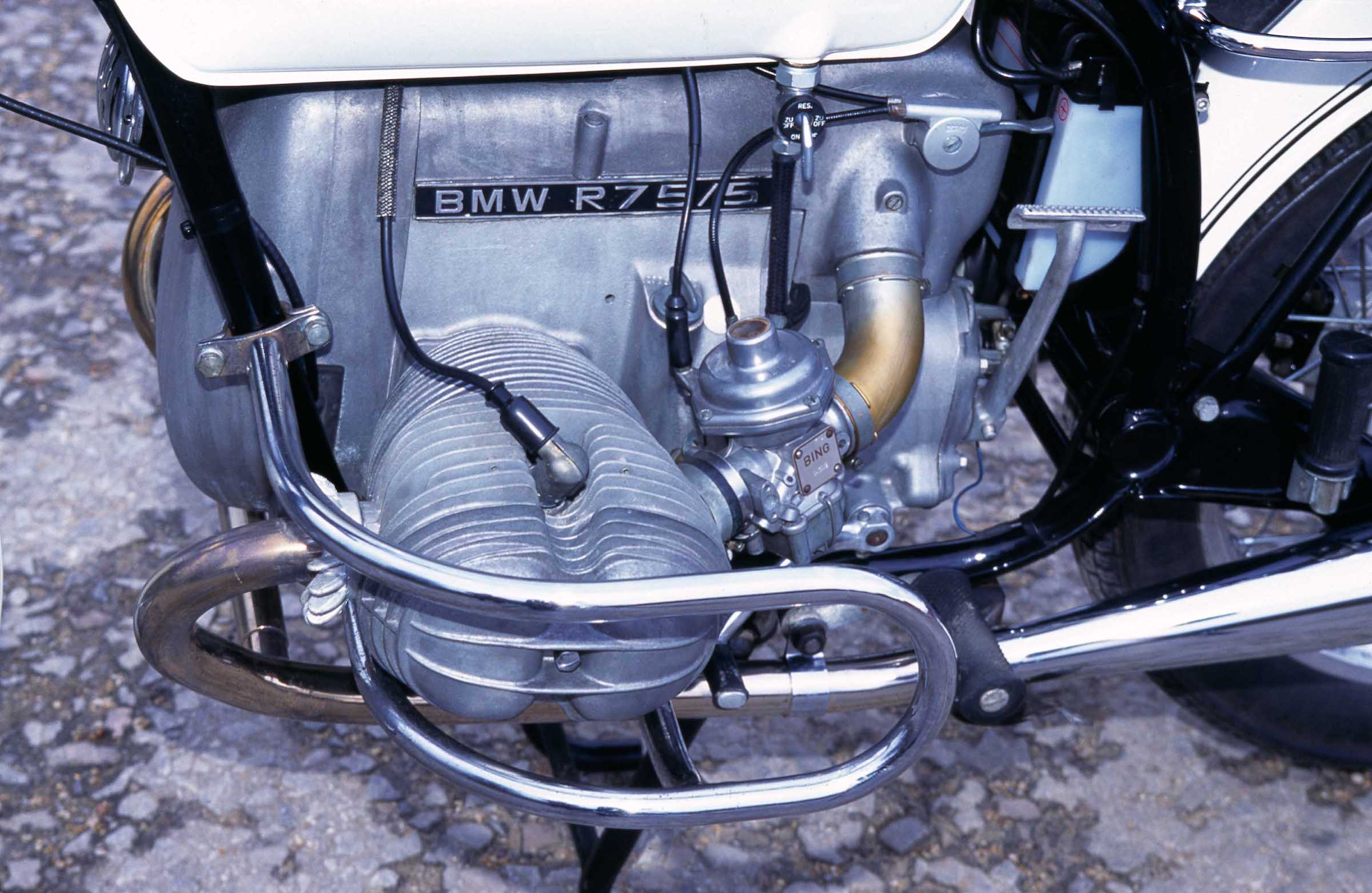 Even so, the BMW's flexibility and long-legged feel made more impression than its outright performance. At most engine speeds the engine was very smooth. Although the gearbox had only four ratios, with a big gap between third and fourth, the bike sat at an indicated 80mph in top feeling relaxed and unburstable.
In corners the 75/5 lived up to old BMWs' reputation for reliable if less than sporty handling. The forks were quite well damped, and didn't dive as much as I'd expected when I gave the reasonably powerful front drum brake a squeeze. Although the shocks were quite soft they worked fine, especially after I'd wound on some extra preload using the levers at the bottom of each spring.
Steering into a tight turn required a fair heave on those narrow handlebars, thanks partly to the BMW's conservative geometry and 19-inch front wheel. Once into a turn the twin held its line well and felt pleasantly planted, though care had to be taken not to cause the shaft-drive rear end to move down by closing the throttle. Especially as this bike's crash-bars scraped before the Metzeler tyres ran out of grip.
The 75/5's levels of handling and engine performance made it one of the fastest bikes on the roads in the early Seventies. But the BMW's practicality and long-distance comfort were just as important to the minority of motorcyclists who could afford one.
Minor drawbacks included pillion footrests that were too close to the silencers, resulting in some burned boot heels. But most details were good, including the roomy riding position, thick seat and sturdy pillion grab-rail. If you had distance to travel in a hurry 50 years ago, few bikes even came close.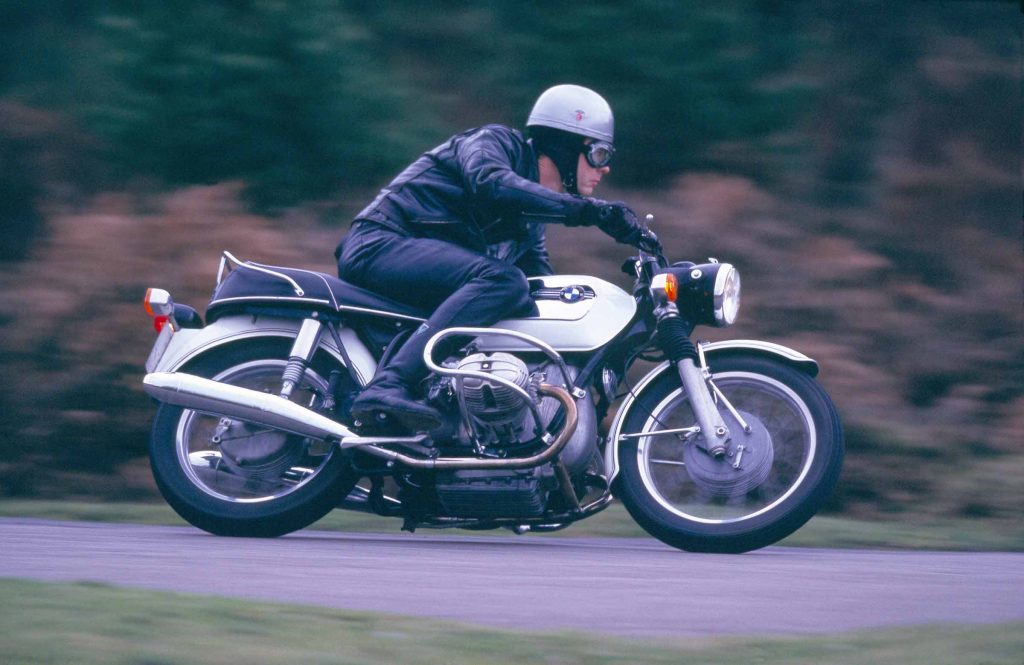 BMW managed a neat piece of promotion in 1973, when two R75/5s were taken to the Isle of Man in an attempt to win the Maudes Trophy, a historic award for endurance that had been achieved only twice since World War II. A team of 14 riders aimed to lap the TT circuit for seven days and seven nights.
They didn't have it easy, suffering with continual rain, a crash and clutch problems. But by the end of the week they'd covered more than 16,600 miles, which was deemed worthy of winning the Trophy and earned plenty of publicity.
By this time the chromed toaster tank was history, having been dropped after just one year. The R75/5 itself didn't last much longer. For 1974 it was replaced by the R75/6, featuring a new disc front brake and five-speed gearbox.
At the same time the engine was enlarged to 898cc and a handlebar fairing added to create the glamorous R90S, with its 125mph performance and striking smoked paintwork. The R75/5 was gone, but it had been instrumental in dragging BMW from the monochrome Sixties into the colourful superbike scene of the Seventies.
1972 BMW R75/5
You'll love: Flat-twin charm and practicality
You'll curse: Occasional reluctance to start
Buy it because: Ageing boxer still punches its weight
Condition and price range: Project: £4000 Nice ride: £5500 Showing off: £7000
Engine: Aircooled pushrod flat-twin
Capacity: 745cc
Maximum power: 50bhp @ 6200rpm
Weight: 190kg without fluids
Top speed: 110mph
Read more
Live out your Tron fantasies with this Moko Powa D10 bike
The snarling Vincent Rapide can still mix it on modern roads
The One That Got Away: Elspeth Beard's BMW R75/5