Some vehicles have a reputation that demands to be lived up to, and the Vincent Rapide is definitely one of them. Which explains, although possibly doesn't excuse, the fact that shortly after setting off on this 1950-vintage V-twin I was crouching over its petrol tank on a quiet dual-carriageway at a speed best not recorded here.
It was a magical feeling as the big 988cc V-twin engine between my shins revved softly away and the needle of the big circular speedometer clicked around the dial. As I leant forward into the wind gripping the narrow, near-flat handlebar the bike stayed stable, feeling as though it could maintain this pace until its petrol tank ran dry.
How much is your car to insure? Find out in four easy steps.
Get a quote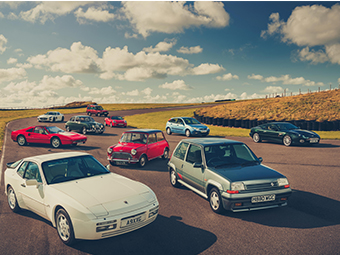 Speed was always the key attraction of the V-twins from Vincent, the Stevenage firm that produced some of motorcycling's fastest and most glamorous bikes in the decade after World War II. They were some of the most expensive too, and still are. A few years ago one sold at auction for almost US $1m, a world record for a motorcycle.
Hence the title Speed is Expensive given to a new movie that tells the glorious but all too short story of the firm and its founder Philip Vincent. As narrator Ewan McGregor puts it, the firm's string of speed records "proved that the Vincent motorcycle was the work of a genius".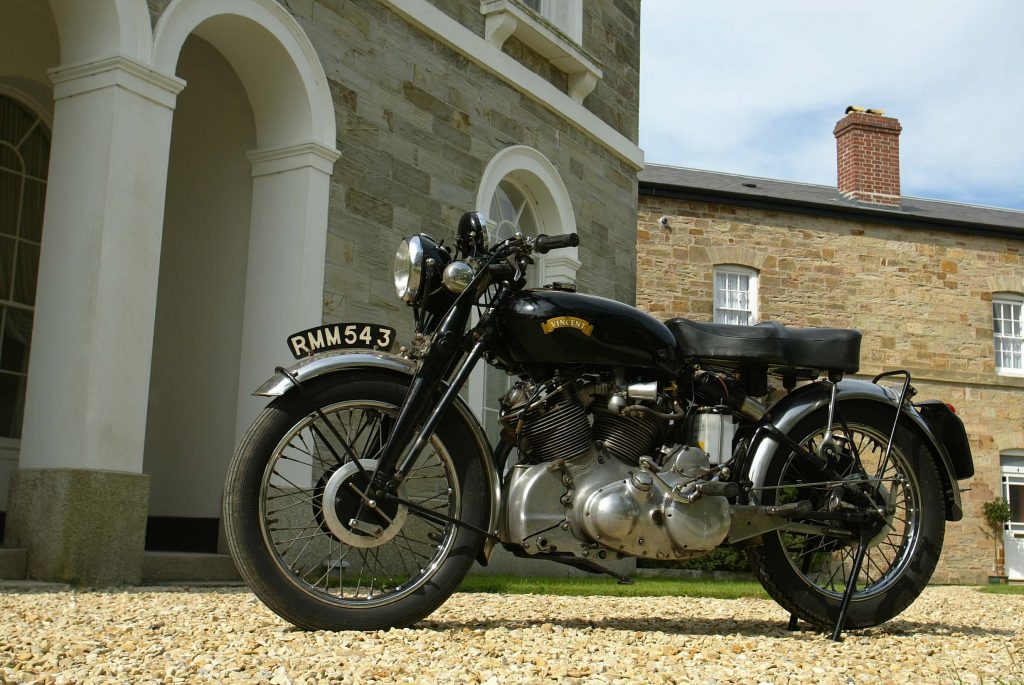 Vincent's reputation meant that I'd long wanted to ride one, but doing so risked disappointment. The Rapide might have ruled the road back in 1950, but it was long ago eclipsed by much more mundane machinery. Maybe this once mighty so-called "snarling beast" will seem old, heavy and dull in the 21st century?
Not a chance. I was captivated from my first sight of a machine whose elegance gave no hint that this bike's forebear, the original 1936-model Rapide, also earned the nickname "plumber's nightmare" due to its abundance of external oil lines.
That first Rapide engine, designed by Vincent's Australian chief engineer Phil Irving, had cylinders set at 47 degrees apart. Legend has it that Irving's inspiration for the V-twin came when two drawings of his single-cylinder Comet engine were blown into a Vee shape by a breeze.
The subsequent Series B and C versions of the Rapide were powered by a modified, 50-degree engine with integrated gearbox and much neater appearance. The motor dominated the bike visually, as well as acting as a stressed member of the chassis.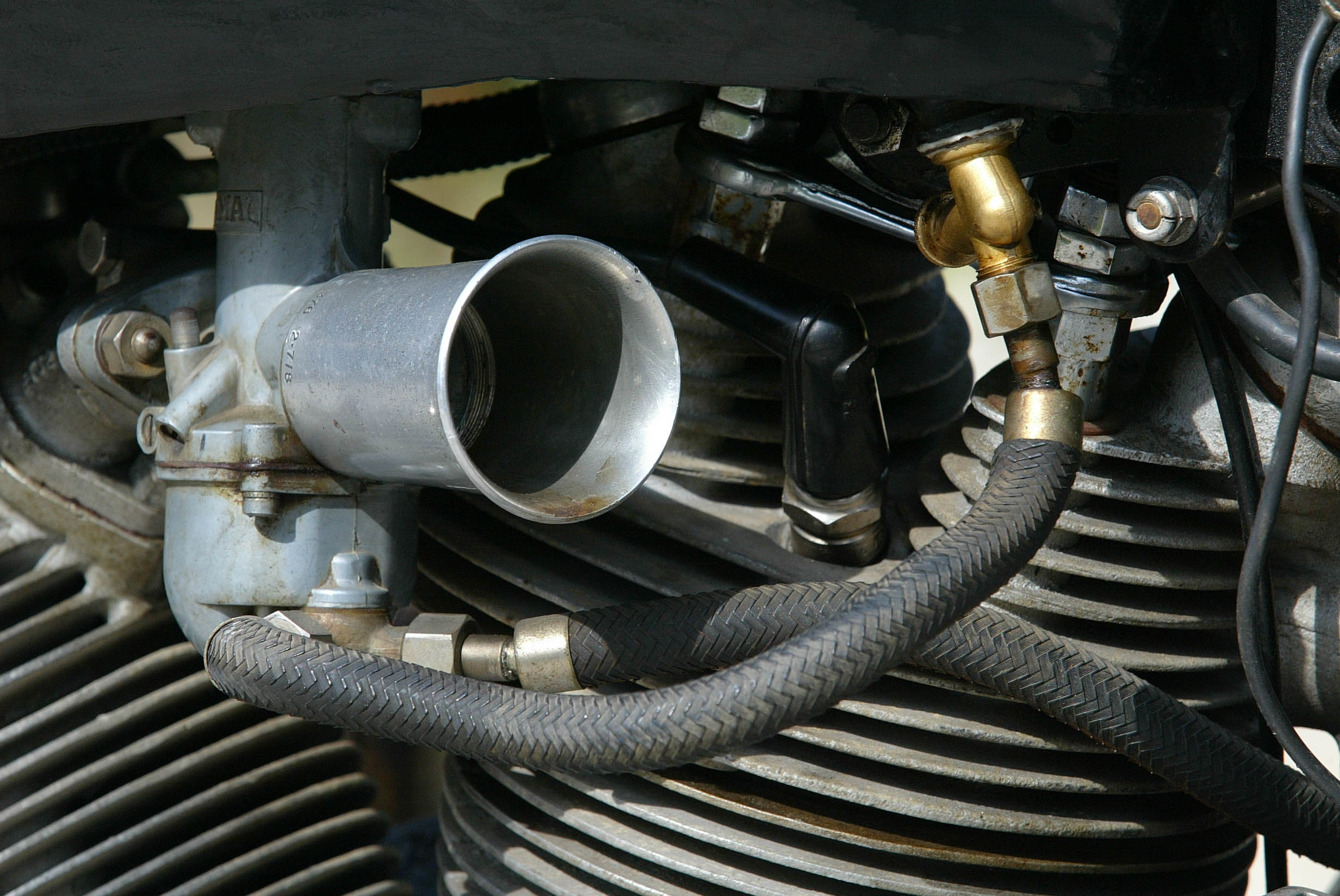 This Series C model's engine cases were dulled in places but still looked good, enhanced by the marque logos on rocker covers and oil filler cap. There was also a small dent in the petrol tank, which was in Vincent's traditional black with gold pinstriping. The finish was generally less than perfect but that's because this bike had been ridden and enjoyed over the years, rather than simply polished and admired.
It was standard except for a few details including the big, black-faced 150mph Smith's speedometer, which was originally fitted only to the tuned Black Shadow. Other neat details were common to both models, including the sidestand on each side of the bike, the tommy-bar axles that allowed both wheels to be removed quickly without tools, and the adjustable foot controls.
The Rapide doesn't quite have the kudos of the Black Shadow, whose higher compression, polished engine internals and bigger carbs increased power output from 45 to 55bhp, and top speed from 110mph to 125mph. Or precisely 150.313mph when tuned to Black Lightning specification and ridden by Roland "Rollie" Free, stretched horizontally wearing only a swimming hat, trunks and plimsols, to set a world record at Bonneville in 1948 – memorably captured in arguably motorcycling's most famous image.
These days, age has blurred the difference between Vincent models. And any worries that this Rapide's performance would disappoint disappeared within moments of my setting off. Its flat bars and tall seat gave an unusually high, leant-forward riding position for an old bike, and helped make the Vincent feel docile as I pottered along minor roads, enjoying the smooth feel of the engine – and its instant response to the throttle.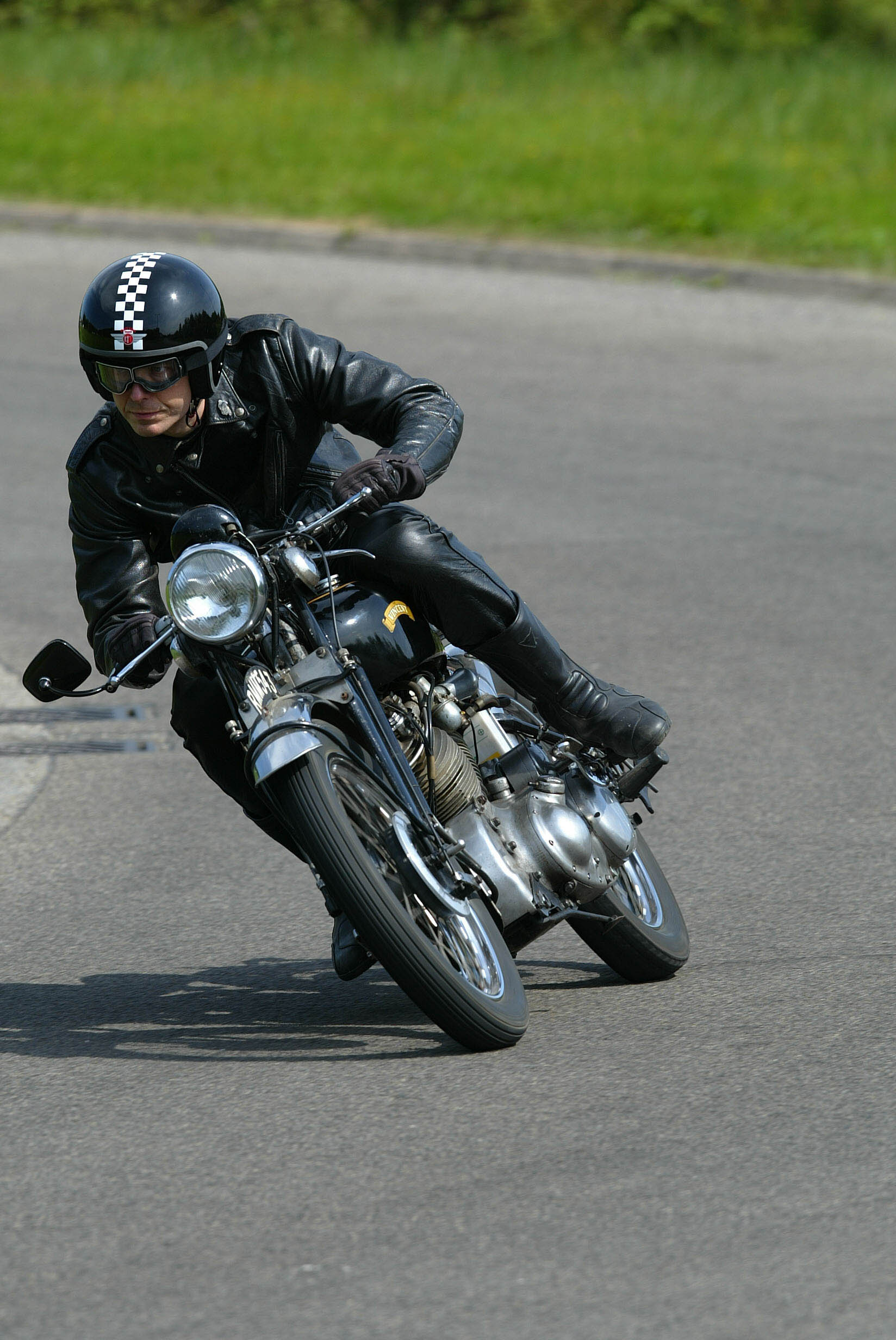 Given the briefest burst of acceleration it was easy to understand why the tester from Motor Cycle wrote of the Rapide that: "there has never been a production model with so much to commend it as a road-burner's dream. From 40mph up to the maximum of over 100mph there is thrilling performance available at the twist of the grip. Though the big engine and high gearing suggest easy, loping, fussless mile-eating, there is searing acceleration available if required."
Decades later this Vincent still had what it required to be fun. Unlike almost any contemporary, it had the pace to keep ahead of modern traffic without feeling strained. And it also had the chassis performance to be enjoyable and safe even on busy roads, though it took some getting used to.
On tipping the bike into the first tight turn, I was surprised to feel its rear end moving in disconcerting fashion, almost as though the rear wheel was loose. Nothing seemed amiss when I stopped to check. Then I realised that the feeling came from the Vincent's seat, the rear of which was linked by a rod to the swing-arm, so moved slightly as the rear suspension was compressed.
That strange sensation apart, the Rapide handled well, steering quite heavily at low speed but feeling respectably light and manoeuvrable. This was partly because its wheelbase was short due to Vincent's minimalist frame design, which used the engine as a key chassis member, in conjunction with a tubular steel frame spine (which carried engine oil) beneath the fuel tank.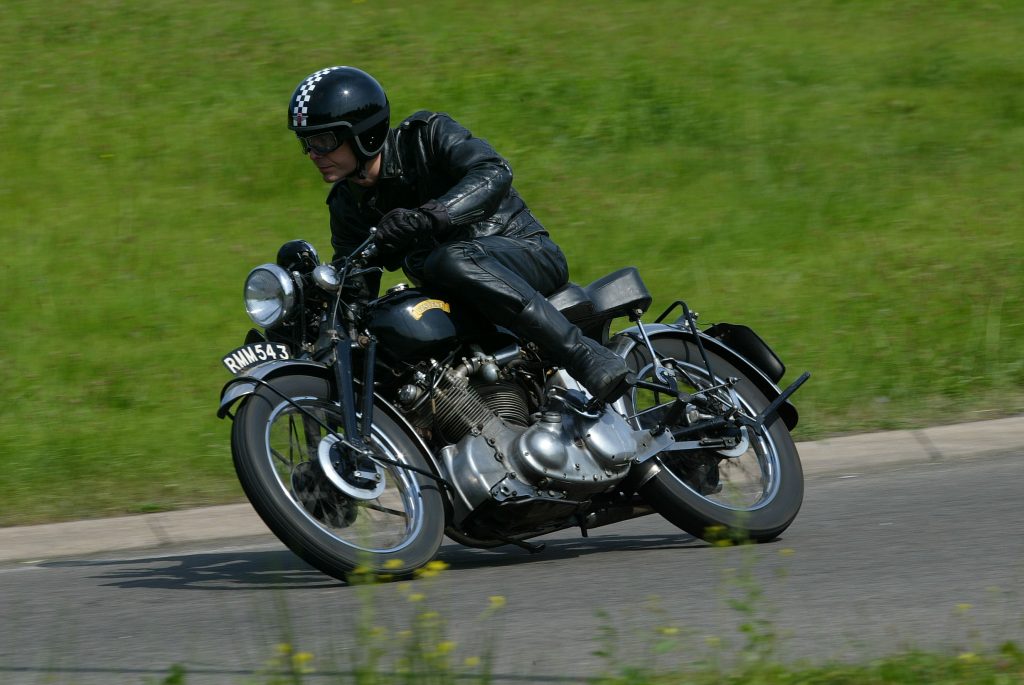 This Series C Rapide benefited from Vincent's own Girdraulic forks in place of the previous model's conventional girders. It also gained a hydraulic damping unit between its diagonally mounted, side-by-side rear shock units, to assist the original friction dampers. Along with the relatively thick seat, its suspension made the Rapide comfortable even on the long, fast trips that were its speciality.
Braking was respectably good, too, thanks to Vincent's equally advanced feature of twin drum brakes on both front and rear wheels. And its blend of Dunlop front and Avon rear tyres gave no problems, even when I was making use of the generous ground clearance provided by the neatly tucked-in exhaust system.
In fact the day's only real problem was that eventually the Vincent began to misfire, and then refused to start after I'd stopped for lunch. The cause was a lack of sparks, due to a battery charging problem that meant it ended its day's outing in the back of a rescue van.
Reliability was not generally an issue for Vincent, whose main problem was his bikes' unavoidably high price. In 1950, the Rapide cost £361 – which meant it was more than £60 cheaper than its Black Shadow sibling, but almost twice the £194 price of Triumph's 650cc Thunderbird, which was launched the same year.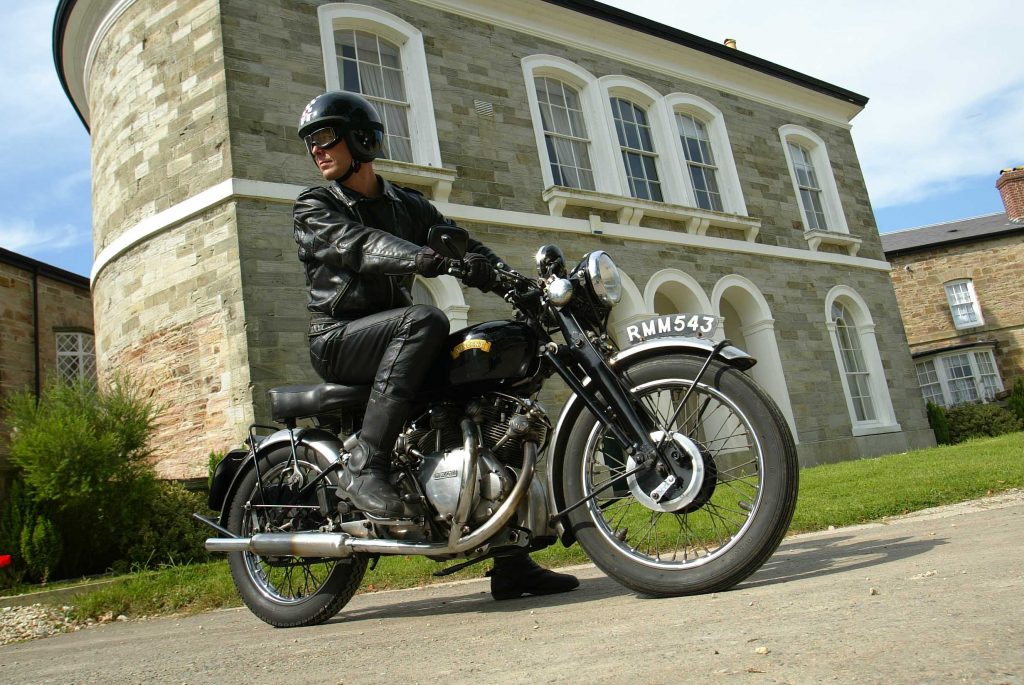 Perhaps it's no surprise that by this time Vincent was already in deep financial trouble. The Rapide was a magnificent motorcycle but in the post-War years it was too expensive to sell in the numbers required. Adding a fibreglass fairing, to create the Black Knight, increased practicality but also weight and cost – and not sales.
That Speed is Expensive movie title also refers to the fact that Philip Vincent's commitment to building fast but unprofitable V-twins led to financial ruin. Production ended in 1955. More than half a century later, the Rapide remains a glorious tribute to one man's vision and refusal to compromise.
1950 Vincent Rapide Series C
You'll love: V-twin performance with style
You'll curse: Maybe an occasional niggle
Buy it because: The Fifties never had it better
Condition and price range: Project: £35,000 Nice ride: £45,000 Showing off: £55,000
Engine: Aircooled pushrod V-twin
Capacity: 988cc
Maximum power: 45bhp @ 5300rpm
Weight: 207kg without fluids
Top speed: 110mph
Read more
Rudge match: The ins and outs of owning a pioneer motorcycle
The Ducati 900 Super Sport was the superbike of the Seventies
Steve Parrish: A lifetime of getting away with it