Let me take you back in time, 70 years or so, to the smoke-blackened brick arches on London's North Circular. Look carefully and you'll see a glint of chrome, a flash of silver helmet and nasty-man goggles, fisherman's wool socks folded over the tops of tall black boots, creaking leather jackets and then the crack of a parallel twin responding to a kick start…
Back then, there was only one arterial route round The Big Smoke and on the west side of it, just up from the Hanger Lane, and feeding and watering the inner soul of hauliers and bikers, was the Ace Café, a greasy-spoon Mecca which sounded like a cross between an idling Scammell, a wheezing Gaggia coffee machine, Bill Haley and the Comets on the juke box, and a fair slice of braggadocio. When time hung heavy, the young blades would tear-arse their machines up the road, to a roundabout and back with pride going to the fastest.
How much is your car to insure? Find out in four easy steps.
Get a quote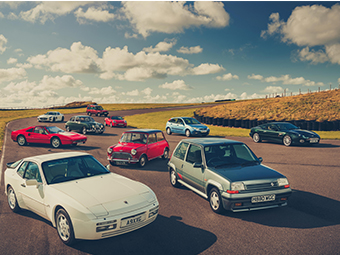 Attending the 60th anniversary a few years ago, I encountered Brian Winch, who was an Ace regular in the early 1960s; its biking heyday. At 19 years old, he rode a nearly-new 1961 Triumph Bonneville, bought for £189 at Pankhursts in Salisbury.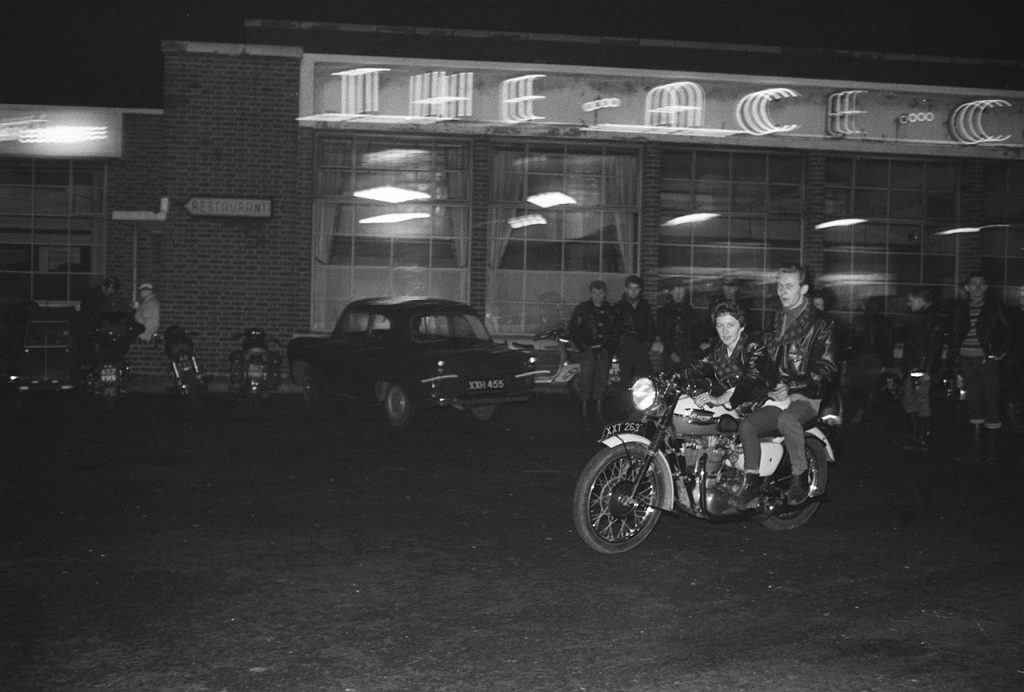 "It was like a space rocket in its day,' he told me. "On Saturday evenings we would ride up from Southampton through Camberley, to the Ace. Sometimes we'd go on to the Busy Bee Café on the M1, or we'd stay here and sleep in allotment sheds or in the railway carriages in the shunting yards. It was a basic transport café then, the food was edible if you were hungry. It wasn't a great place to pick up women, but most of the lads brought their girlfriends if they had them. We used to all ride together, the bikes were smart, with lots of chromium plate. We didn't call ourselves 'rockers', just 'bikers' and we didn't go to pubs, just cafés."
Bonneville was king of the hill in those days – cheap, fast, flash and with reasonable handling once Doug Hele, who was brought in from Norton, had sorted it out. A Norton with a featherbed frame handled better and was more comfortable, a BSA had a better engine, but the Triumph just had it! Marlon Brando, Bob Dylan, Clint Eastwood and Steve McQueen certainly thought so, and in truth this was an American machine, demanded by those West Coast bikers who wanted a bit more urge from their Triumphs than what they'd been given before.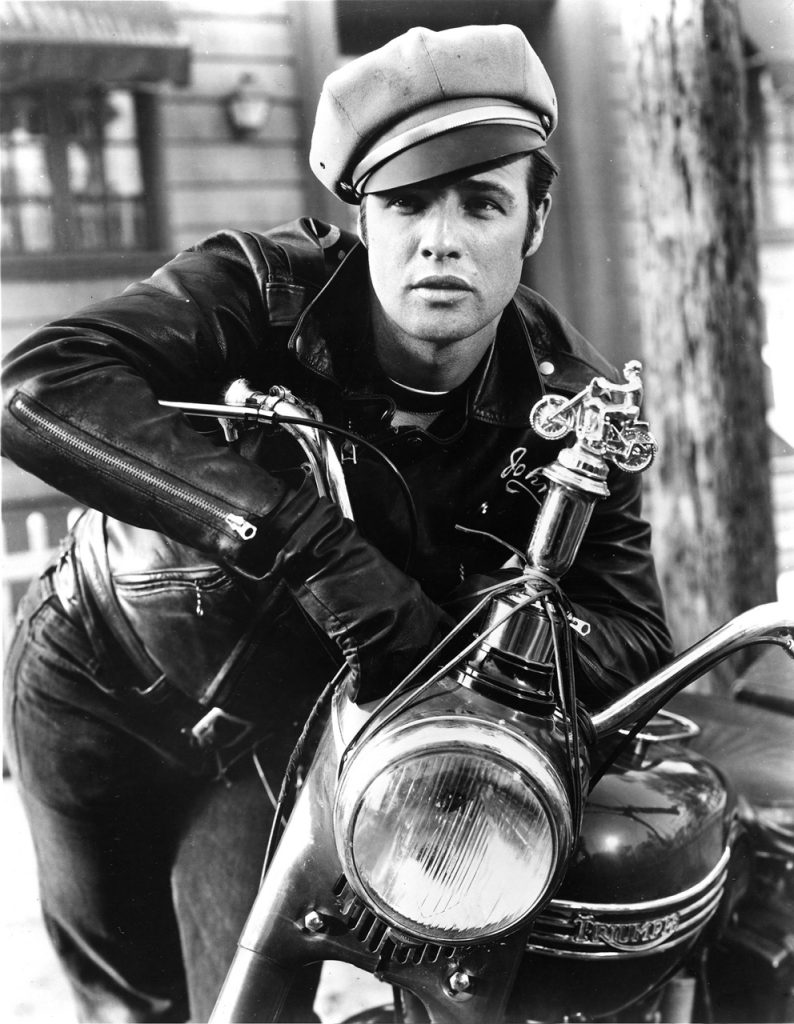 And what they got was a 120mph stone-cold classic, "Arguably the best British bike ever made, and is certainly one of the few that is both reliable and competent in modern traffic," wrote Frank Melling of the 1968 model in The Daily Telegraph. "One of motorcycling's most enduring Great British icons," said Steve Wilson in Triumph T120/T140 Bonneville. "Big grin," says Henry Cole on YouTube. "In modern traffic conditions, for me, it's perfect".
From working man's road rocket through two generations, to pure nostalgia in its third generation, but with a satisfying hint of the rebel and a surprising degree of practicality. Perhaps that's why the name still exists today on side of the modern 21st century John Bloor-owned Triumph parallel twin, which was launched in 2001 and is still a mainstay of the Triumph marque.
Turn the clock back again, though and think about the redoubtable Edward Turner. Born in Southwark in 1901 into a family of engineers, by 1929 he was married and working at Ariel where he designed the famous Square Four engine. When Ariel went bust in 1932, it was bought by industrialist Jack Sangster and in 1936, when Sangster purchased the newly independent Triumph motorcycles, he moved Turner across as general manager and chief designer of what was then called the Triumph Engineering Company. Turner rationalised the Triumph range and set to at the drawing board. In 1937, the result was the epochal 500cc Speed Twin, smaller and lighter than the rest of the Triumph range, it retailed at £75 and its 29bhp twin could propel the 166kg machine at up to 90mph. That fantastic piece of design set out the order of battle for British motorcycles until the Eighties.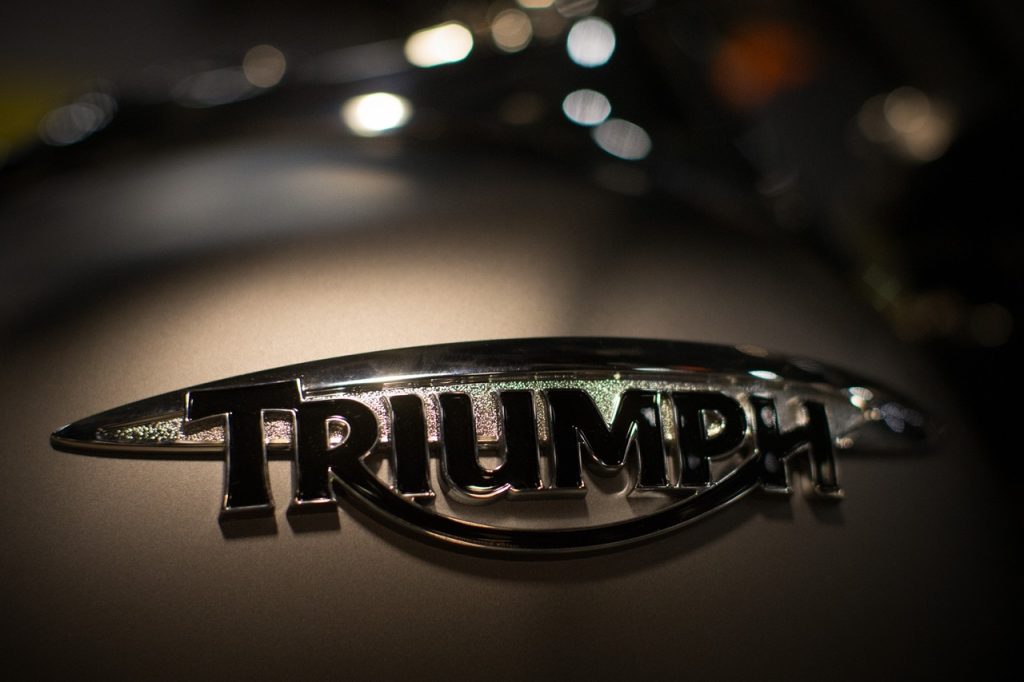 Turner was a prodigious talent, a genius even, but as colleague Burt Hopwood put it, he was also "hopelessly egotistical". He rowed with Sangster and left for BSA, leaving Hopwood in charge, but after World War II, Turner returned to Triumph and set about developing a model range where the genesis of the Bonneville were introduced. TRW, Tiger Cub, Terrier, T110 Tiger and the unit construction 3TA all contributed to the Bonneville, which was Turner's last design for Triumph, though he was said to be concerned about the performance which actually for the early models, was more than the frames and suspension could cope with.
"This, my boy, will lead us straight into Carey Street," he said, an idiom for bankruptcy.
The Bonneville name came from the small town near the eponymous salt flats, where in 1955, plucky American speed record breaker Johnny Allen rode his Triumph streamliner, Devil's Arrow, at a new record pace of 193.3mph. Bonneville was launched at the 1958 Earls Court Motorcycle Show, although with their usual ability to miss the big stories, the film news coverage from the show completely failed to mention the new iconic Triumph.
In fact, the launch seemed to pass many of the media by, being as it was a hepped-up T110 Tiger. Even in America, the new Triumph was scarcely noted at first, but that didn't last and before long, Triumph was struggling to fulfil home market orders as supplies of the 650cc twin headed across the Atlantic to Canada and America. But even by the mid to late Sixties, and despite the 1963 inclusion of Triumph's unit-construction engine and various fork and frame improvements, the writing was on the wall, especially with the 1969 launch of Honda's CB750. The end came in the Eighties amid the collapsing chaos of the once all-dominant British Motorcycle industry.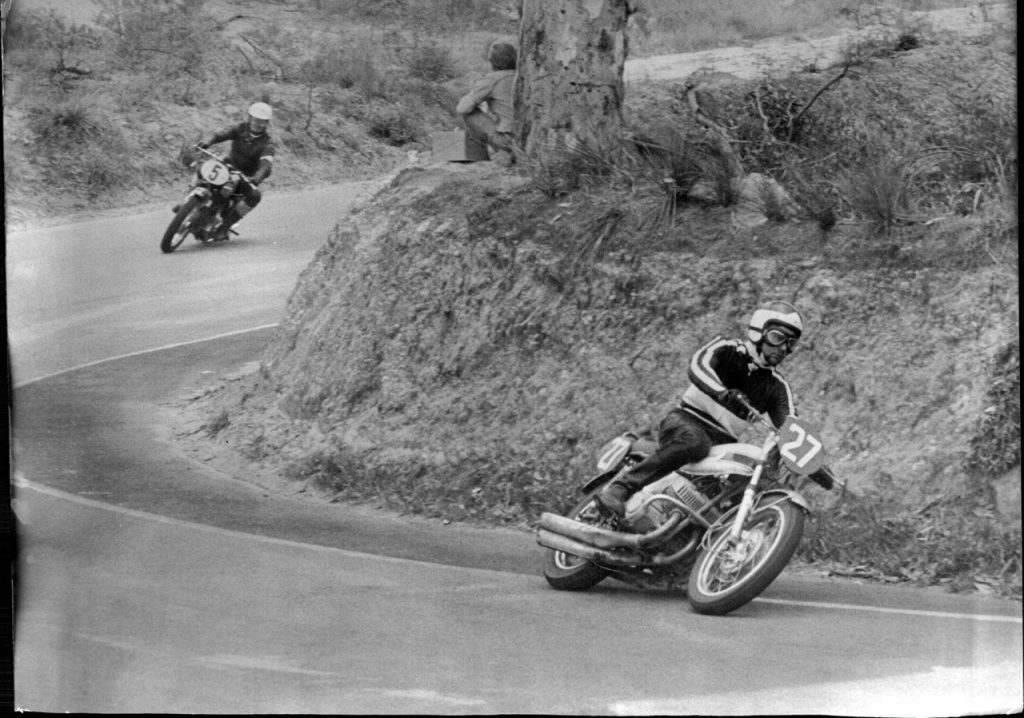 So, what are those early machines like to ride these days? Still brilliant, to be honest. There's a fair bit of faffing around before the start with all that turning on of petrol taps, tickling of concentric carburettors and so on, and for those born to electric starts, there's a knack to the kick start which is soon learned. Kick it like you mean it and the twin bursts into burbling life, which has to be delicately maintained on the throttle until warm up is achieved. The right-hand gear change should pose no problems and it really does feel fast, gaining speed quickly and (if a later model) feeling quick to turn in to corners but not unstable.
Fast corners will have the frame wombling around a bit, but it's stable. Just don't rely on the brakes too much, especially the single leading shoe originals. As for the performance, well, across Beaulieu Plain in my youth, a well-maintained Bonneville could just about keep up with a Yamaha RD250, and as my mate Al always said: "The sound you are hearing is all the engine bits trying to get out." But my goodness, it was a sound and a half.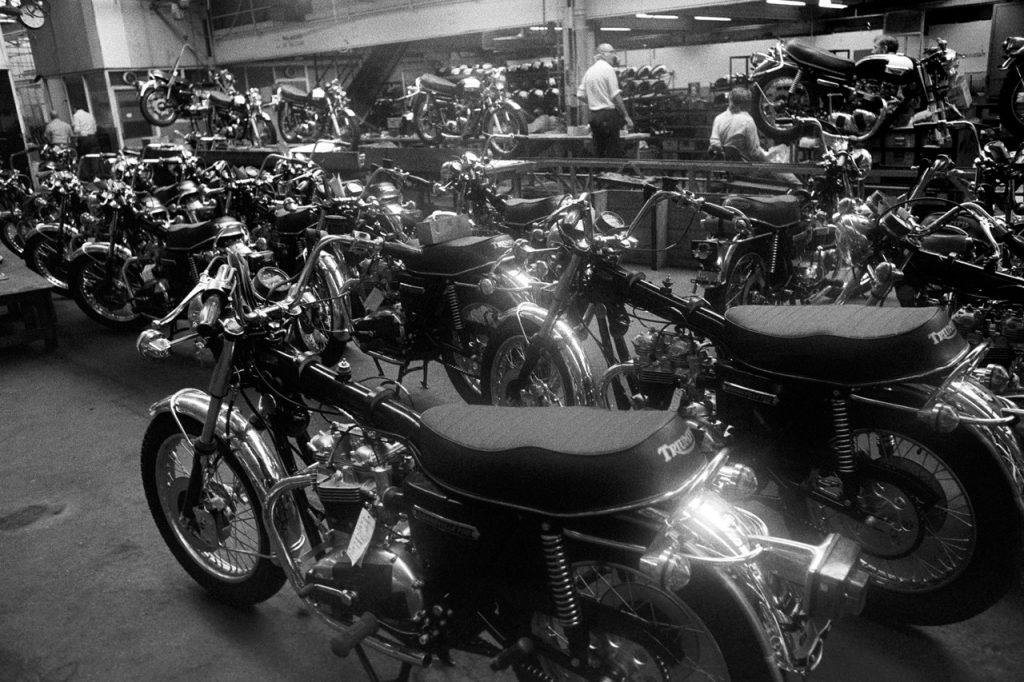 The T120 stayed in production until 1973, but in 1971 amid the growing chaos of Norton Villiers Triumph's finances, the oil-in-frame T140 was introduced. These later machines were scorned by purists, but something strange has happened in the last decade or two as old men gathered up huge collections of British machinery, which kept prices high and the legend alive. But these machines weren't exercised and the whole thing became a sort of pyramid scheme. Prices rose high even for fakes, imports, and bitsa machines, and so the younger lads and lasses went for the T140s and gave them their love. The irony is that now the old collectors are getting too old even to wobble round their miserly hordes, they're being sold off and prices are easing a bit.
To own an old Bonnie is a cinch, requiring just one annual service and resisting the syphoning of its oil onto the garage floor a bit better than Norton rivals. With modern ignition systems and specialists, parts are available and reliability is good. Plus there's a lot less snobbery about which machine you're on these days.
Yes, you're more likely to see a rebellious streak from the seat of a Honda Grom these days, Bonnevilles less so much for the reasons given above and also the prices for T120s, which range from about £7500 for something that starts and runs, but which requires TLC, to £14,000 from a hopeful dealer.
You'll smell of hydrocarbons and oil, and you'll spend time at the side of the road, but somehow, the world looks more full of opportunity and fun from the seat of a Triumph Bonneville…
Check out the Hagerty Media homepage for daily news, features, interviews and buying guides, or better still, bookmark it.
***
Note: A previous version of this story featured a lead image with the incorrect motorcycle. It has been updated.