Most of us know and use the terms 'retro' and 'classic' when describing an older vehicle, but once you start to get immersed in this scene you realise it isn't quite that simple…
According to the Vintage Sports Car Club (VSCC) there are four classes for older vehicles. Edwardian is a car built before 31st December 1918, vintage covers up until 31st December 1930, post vintage thoroughbred (PVT) extends this to 31st December 1940 and then anything built before 31st December 1960 is classed as historic.
How much is your car to insure? Find out in four easy steps.
Get a quote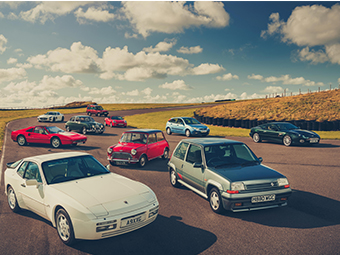 However for two-wheelers it isn't quite as defined, and generally speaking, they are described as veteran or pioneer if they are built before 1915, and vintage or post-vintage from then onwards. Unless you are talking insurance, when 'classic' can typically mean a bike that is over 15 years old (various companies have different definitions and age limits). Or taxation class, as the DVLA states historic tax applies to any vehicle over 40 years old.
Confused? Well, for the sake of this feature we will narrow the criteria and just talk about pioneer motorcycles.
The guardians of the Pioneer Register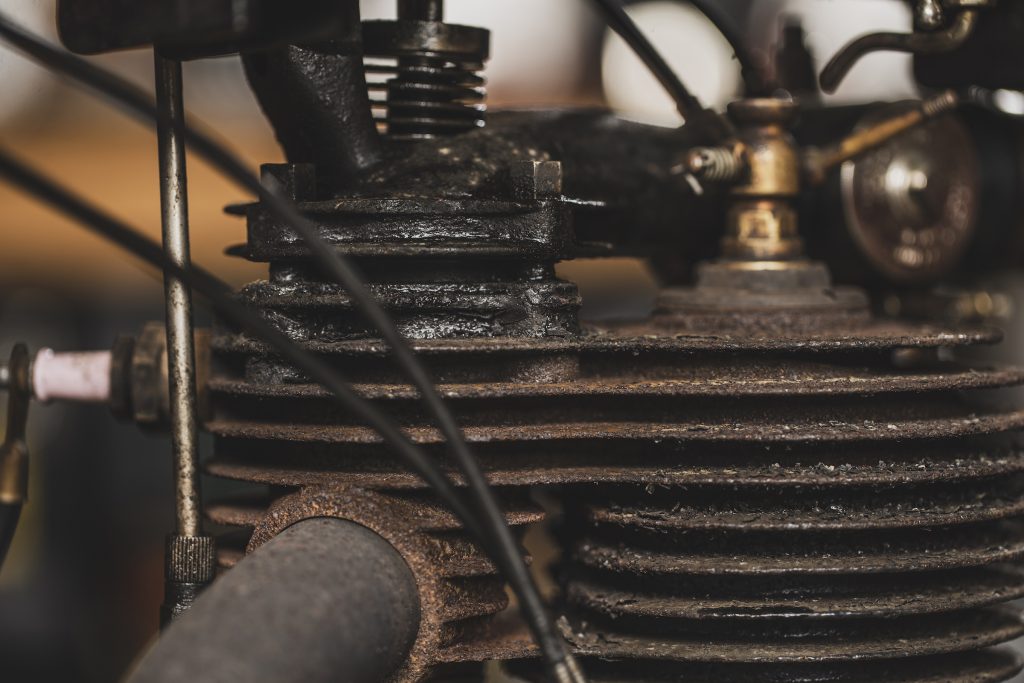 There is one motorcycle club that has made it its mission not only to keep a record of bikes built pre-1915 that are still on the road, but also organise events tailored to ensuring owners get the chance to use and enjoy them.
Founded in 1924, the Sunbeam Motor Cycle Club (SMCC) is one of the oldest motorcycle clubs in the UK and caters for veteran, vintage and post-vintage bikes, but they are most famous for organising the Pioneer Run.
We'll cover the Run a little further down, but the SMCC also runs the Pioneer Register, which is a register of pre-1915 bikes with each bike individually vetted and checked for eligibility by the Dating Committee before being either approved or rejected entry.
If you gain a Pioneer Certificate, and individual number, this certifies your bike as not only a genuine pioneer bike but also eligible to enter the Pioneer Run, potentially increasing its desirability and value. So what kind of bikes will you find on the register?
A smorgasbord of choice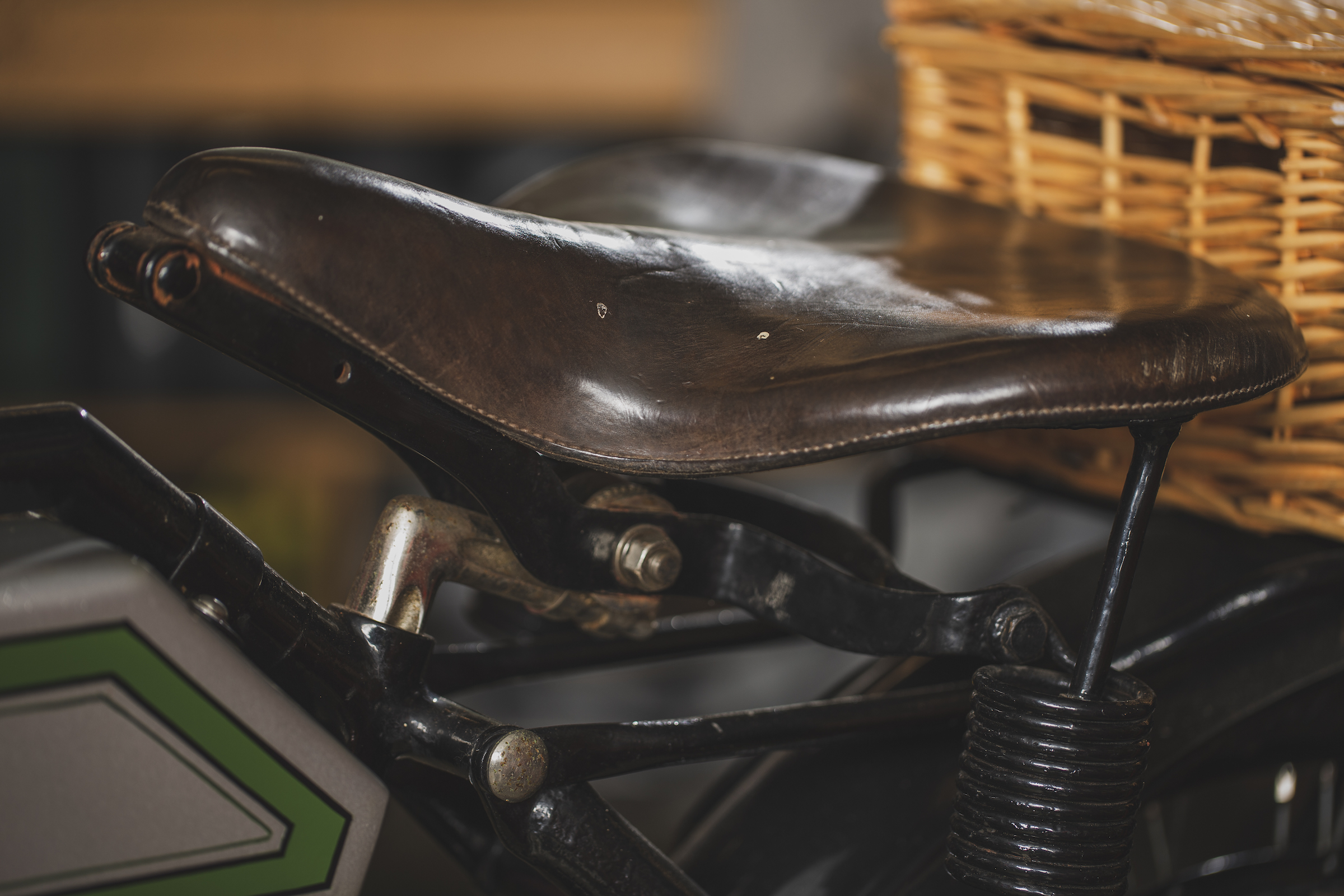 When you consider the first motorcycle, the Daimler Einspur, was built in 1886 (coincidentally, the same year as the first patented motor car) you can see that the two-wheeled world was still very much in its infancy in the pioneer days – hence the name.
This means that while there are many brands still recognisable today such as Triumph, Douglas, Rudge, B.S.A., Ariel, Royal Enfield and even Harley-Davidson, there are an equal number which have fallen by the wayside, mainly due to the tumultuous effect the world wars had on this early and experimental motoring climate. Brands such as Léon Bollée (who made tricycles), Rex, Wanderer and many, many more no longer exist.
In the pioneer days many motorcycles were effectively a bicycle frame with an engine attached, so entrepreneurs could set up their own motorcycle company fairly easily using an 'off the shelf' motor to supply the demand for this cheap form of transport.
The Pioneer Register contains a huge array of manufacturers and no two bikes are the same, which is why buying one can be a tricky decision, as they are hard to identify…
How do I get one?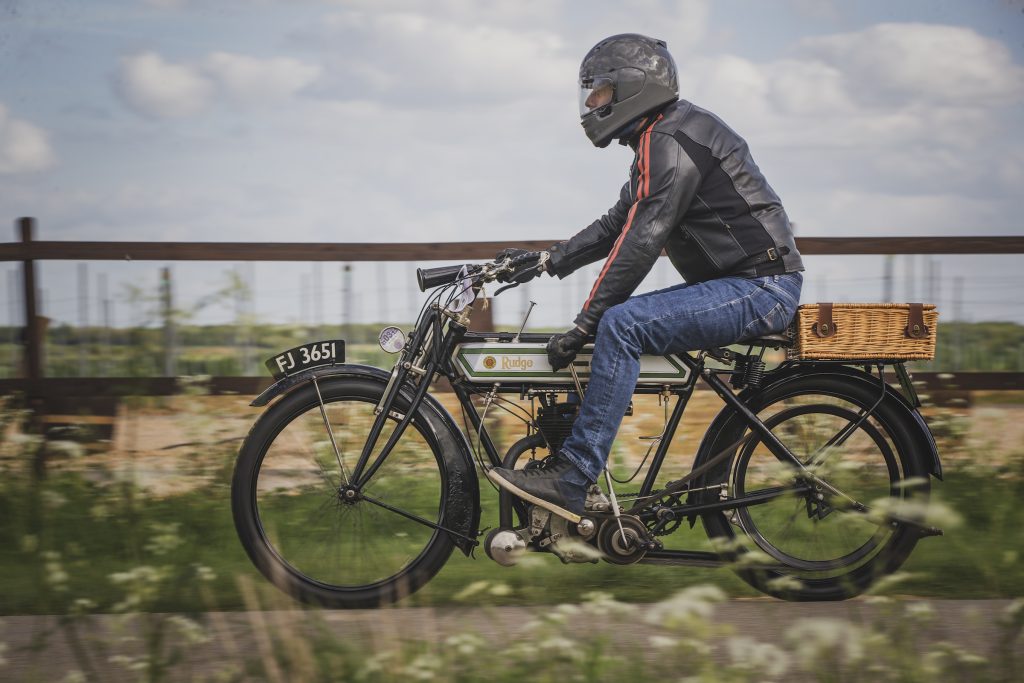 Pioneer bikes pop up in auctions fairly regularly, however the issue with buying from an auction is that you are quite limited on the research you can do. The bike may be listed as running but that doesn't necessarily mean it will be reliable – or indeed able to be enjoyed in a pioneer ride out on the road.
If you are serious about buying one, the best course of action is to join the SMCC (£24 a year) and get their bi-monthly Club News magazine. In the back of this mag is the 'Members Advertisements' and that's where you can find a pioneer bike for sale that (hopefully…) has a Pioneer Certificate, and some kind of history about whether it has or hasn't completed the Pioneer Run.
If it has completed the run, or better still multiple runs, that's a great sign and means you are looking at a 'useable' pioneer bike, which is what you want. Bikes are there to be ridden, not just looked at.
What are they like to own?
If you get a good one, a pioneer bike can be a joy to ride. Often utterly terrifying on the road, too, but a joy nonetheless. And I say this as an owner of a 1912 Rudge. They are a dichotomy of a bike because while there is something gloriously basic about them, this simplicity can also make them a bit of a nightmare.
How? Well some bikes lack a clutch, which means that you basically have to stop the engine at every set of traffic lights and then start it again (usually through pushing it) when you want to get going. Just try this at a busy T-junction and see how you get on!
Brakes are another source of concern. My Rudge has a totally useless front brake (called a Bobby-dodger as its only job is to appease the law) and a rear brake that is best described as 'marginally effective' – not great on a bike that will do over 30mph.
Did I mention the throttle? It's not a self-shutting, sprung-loaded twist-grip, but a lever that you set into position and stays that way until you alter it. And the gear change is done by taking a hand off the bars. And you need to remember to regularly pump oil into the engine while you are going along or it will seize, as there is no sump and it is a total-loss oil system. Simple, right?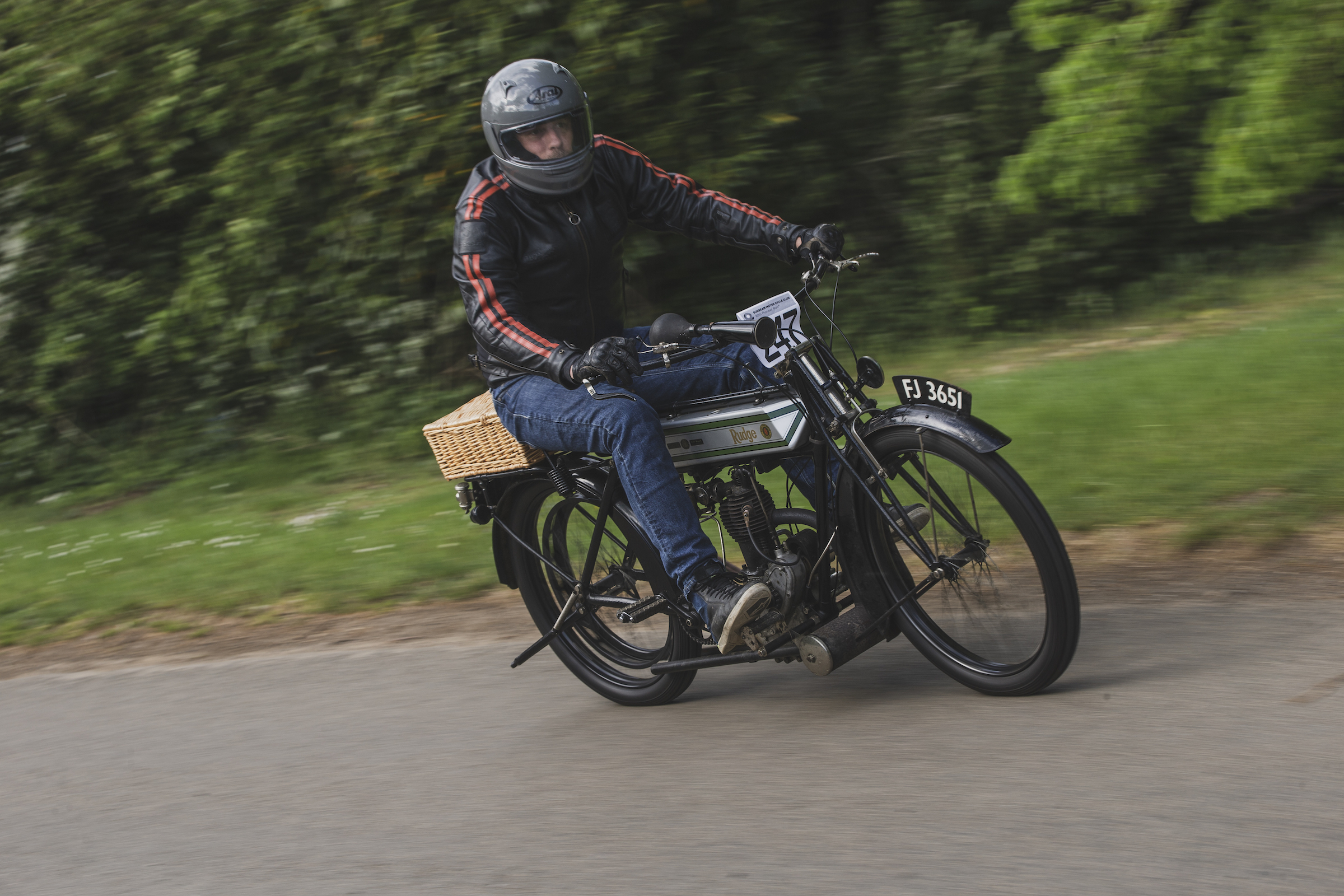 Riding a pioneer bike requires a lot of thought and preplanning then, which is why it isn't for everyone, but get it right and it is immensely rewarding, and smelly, as you will be saturated in fumes. And then there's the mechanical side of things…
To own and run a pioneer bike you need to understand things like advancing and retarding the ignition (done via a lever) while you are riding to optimise the fuelling, how to strip the basic carb, remove the leather drive belt, and more. All fairly simple stuff, but it can quickly get a lot more confusing and expensive.
If the engine breaks you'll need to source a piston that has the same dimensions as one built in 1912 (I think the Rudge's is from a Beetle…), find an expert to rebuild the engine, locate tyres to fit a wheel size from 1912 (I think mine are from a rickshaw), the list goes on and on. However, clubs like SMCC are full of helpful, and passionate, pioneer bike owners. Which is why it is always best to go for a 'popular' model.
Buying a pioneer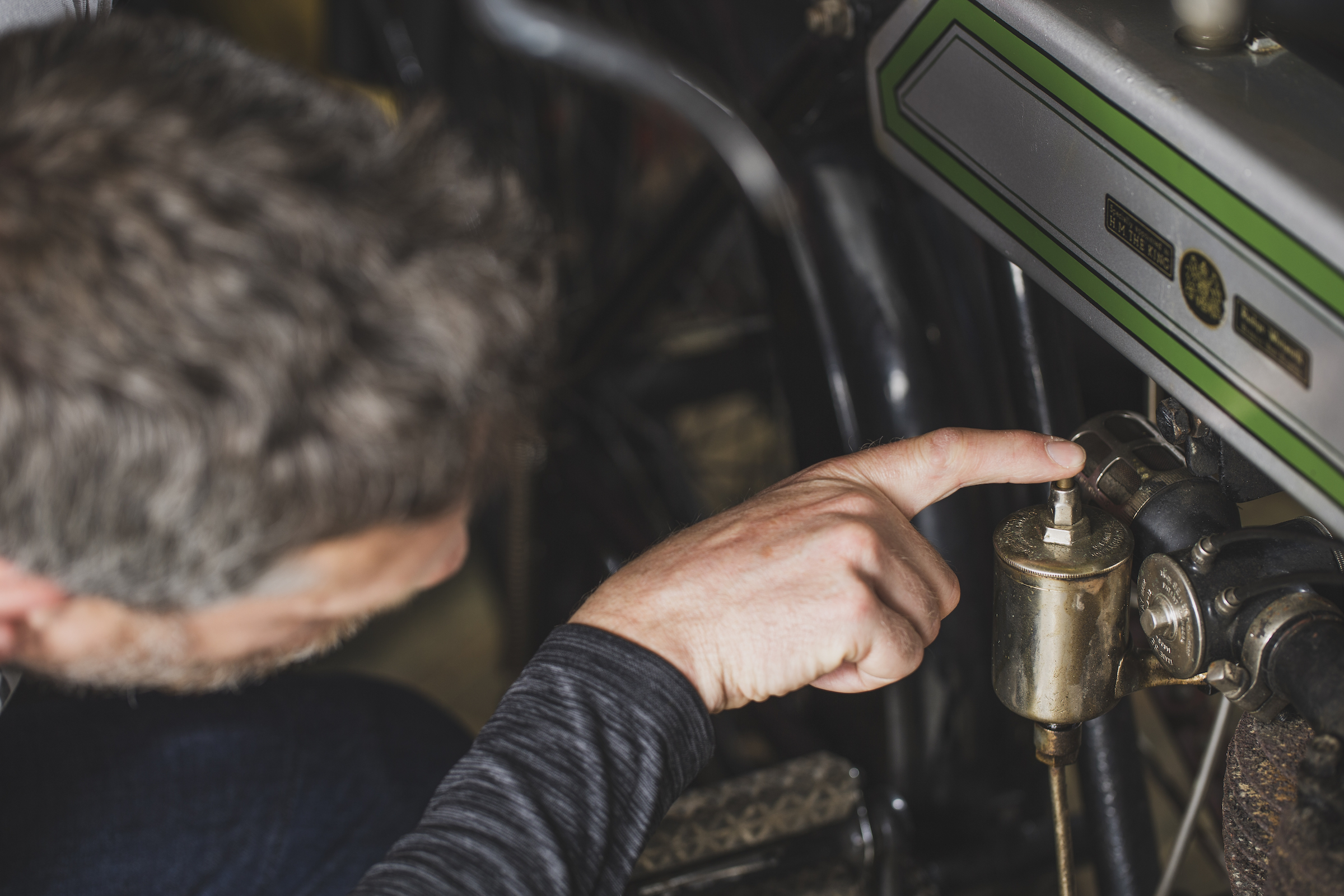 Popular is a loose term because pioneer bikes are rare by their very nature, though some models are still more common than others.
My Rudge is viewed as a solid starter pioneer bike as it is easy to work on, parts aren't too much of an issue and there are quite a few around. The same is true of Triumphs, Humbers and Douglas from the era. If you look at the entry list for the Pioneer Run, it is these names that are the most common.
Buying one will set you back from £8000 to £16,000 depending on condition, if they have a Pioneer Certificate and if they have completed the run successfully. Some such as the fixed-drive 1914 Triumph TT Model F are cheaper at £5000, others like a 1905 White & Poppe, 1913 Ariel or a 1912 Precision V-twin more expensive. If you want a pre-1900 tricycle they can be over £50,000.
Some pioneer motorcycles sell for vast sums of money but we are talking realistic, useable purchases here, not collector's items, so a budget of £12,000–£14,000 should get you a good, running bike that you can ride and enjoy while also keeping your investment secure. But what will you do with it?
What's the scene like for pioneer bikes?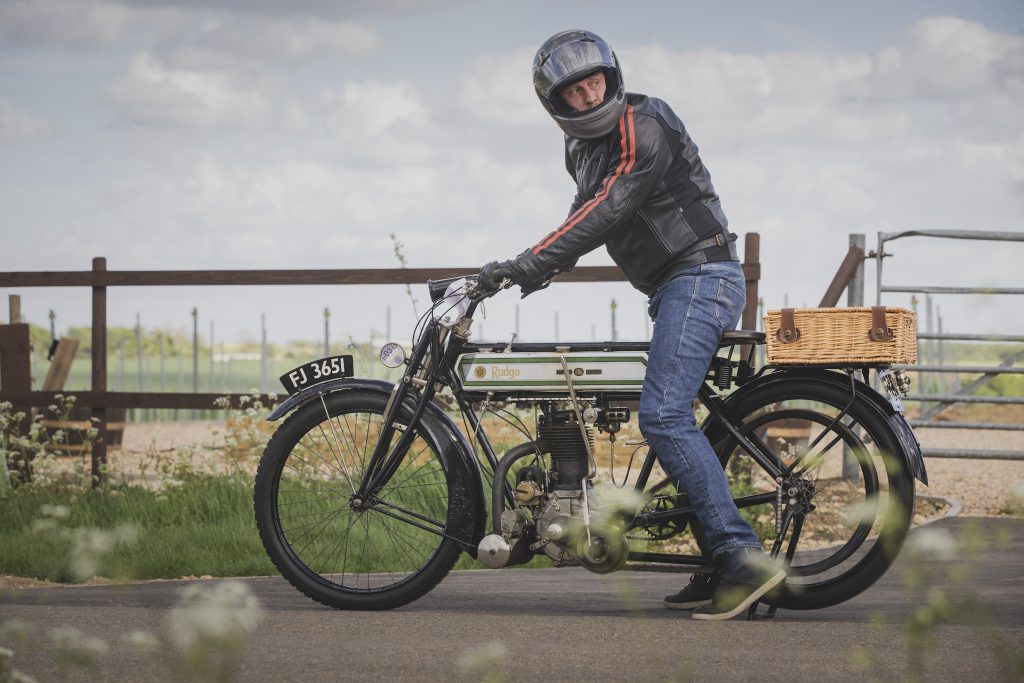 That's where the Pioneer Run comes in, the biggest event on the calendar and run by the SMCC since 1930. This amazing event attracts over 300 pioneer bikes from all over the world, whose riders attempt (with varying degrees of success…) to ride the 45-odd miles from Epsom Downs to Brighton.
It is a staggering spectacle and one that is a firm fixture on any pioneer owner's diary. If you complete the run you get a medal and a badge, and if you fail (a lot do…) you get a lift home with your support truck.
The Pioneer Run used to happen in spring, but this year's event is now scheduled for 2nd October 2022 after the pandemic hit the established schedule. There are also various runs happening all through summer, so you are seldom stuck wondering what to do with your bike.
However with a pioneer motorcycle you need to either have a trailer or van to get it to events, so often owners simply enjoy them in their local area on a sunny day, and do the Pioneer Run as their main adventure. That's exactly what I do – and I thoroughly enjoy taking my pioneer bike out for a run when the desire arises.
Read more
A classic British bike is one of life's great pleasures – when it's working
The Triumph Silver Jubilee Bonneville's reign was short-lived
Ten '80s motorcycles that crank out fun without costing road tax