As an American trespassing in Britain, the Beaulieu Autojumble struck me as a distinctly British version of our own massive swap meet at Hershey, Pennsylvania – that's what we call them in the States, swap meets, which probably sounds as funny to a Brit as the word autojumble does to an American. Beulieu might not be quite as large as Hershey, but the vibe is very much the same. The chrome glints in both places, the rust keeps on rusting, the punters pull their carts full of treasure, and the mud swells just the same when it rains.
However, Beaulieu more than makes up for any size difference in history and diversity, as we discovered in talking to some of the stall holders this year, returning to the fields next to the National Motor Museum, in Hampshire, after a two-year Covid hiatus. At its peak, it has accommodated more than 2,000 stands and attracted more than 38,000 visitors, all on the hunt for a little bit of treasure.
How much is your car to insure? Find out in four easy steps.
Get a quote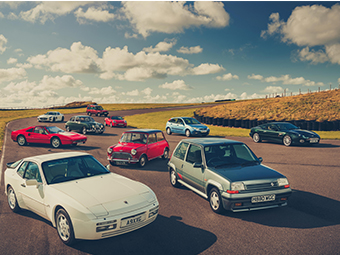 Everyone seemed glad to be back, even if the stall count and crowds were down somewhat from previous years, according to veterans. Some blamed covid's lingering grasp, others a generational shift, while Brexit was cited repeatedly for making the event more difficult for continentals to attend.
Either way, glorious sunshine made the day spectacular, as did the motoring stock on offer and the conversations with some of the vendors. Here are four of the most memorable.
All smiles at the BSA Front Wheel Drive Club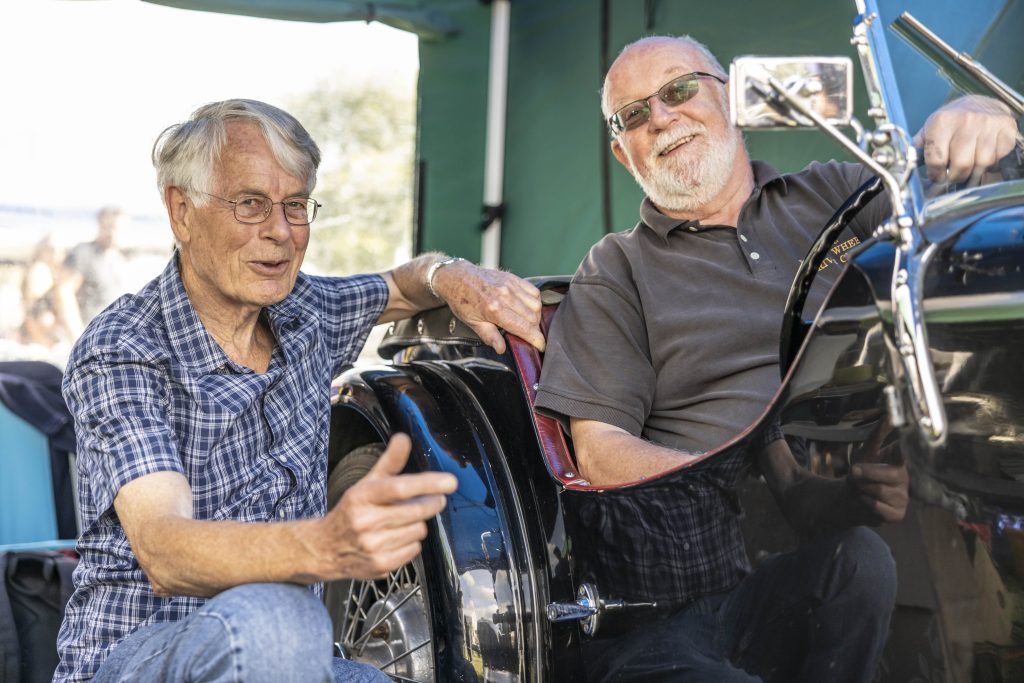 A unrecognisable black roadster that resembled an MG TA but clearly had a front-drive powertrain drew us into the tent of the BSA Front Wheel Drive Club. There, Graham Skillen and Peter Cook of the club were happy to take me through the front-drive history of The Birmingham Small Arms Company, which produced about 10,000 front-drive cars, three-wheelers, and vans between 1929 and 1940. The club itself formed in 1959 and has had a booth at Beaulieu almost since the beginning in the late 1960s.
Skillen, the club historian who wrote a book on BSA's front-drivers, produced a club membership card with a photo of him from around 1973, when he first started coming to Beaulieu. At the time, he was working on the Concorde program as a flight test engineer specialising in the supersonic airliner's engine induction system. "Intake development – that was the clever bit," said Skillen, describing the plane's multiple overlapping control systems and power supplies, which communicated by a pioneering use of fibre-optic cables.
"At the time I thought Concorde would be suspended and they would lay us all off," he said. Skillen thought, oh well, what the hell, might as well buy an antique British roadster to stay busy. In the end, he wasn't sacked, spending 12 years on Concorde before moving on.
Of Beaulieu, Skillen feels that's it's smaller than it used to be. "A lot of people have died, and a few of the real characters aren't around anymore," such as the legendary Scot from Edinburgh who came in a string vest and kilt and wore high-heel shoes. But otherwise, he said, "it's pretty much the same."
Memories of working at John Wyer Racing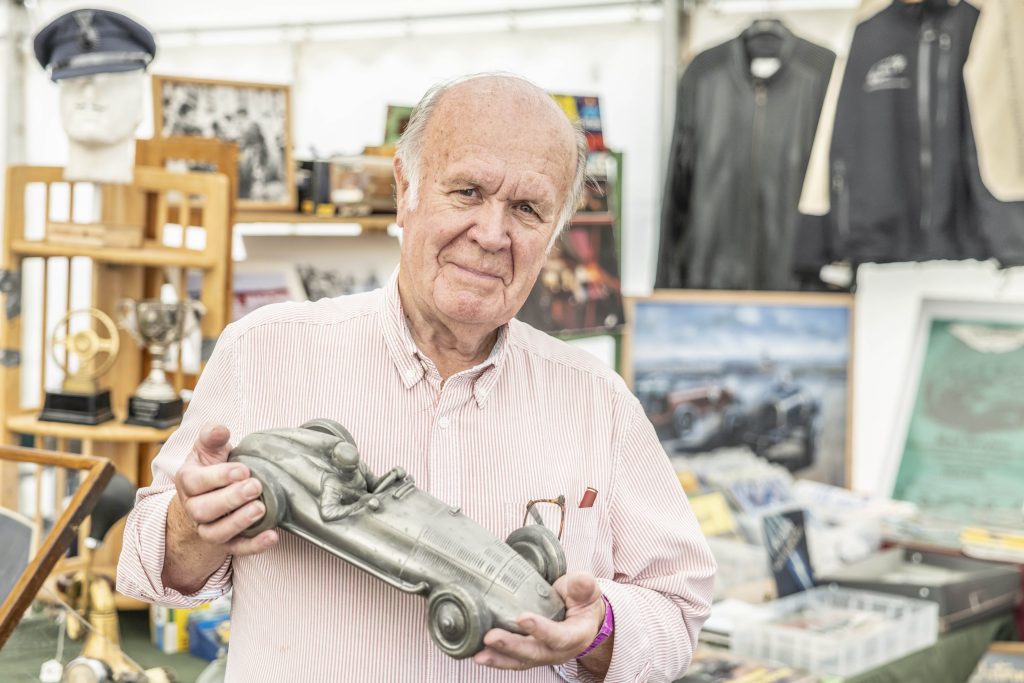 Freddie Jones from Colchester had a small, unassuming booth inside one of the big tents that seemed stocked with a random assortment of personal mementos. It was only after I struck up a conversation that I learned that he worked for both Lotus and John Wyer Racing in the 1960s and had at one time been a trackside engineer for Wyer's legendary Porsche 917s.
Jones joined Lotus in 1966, when the factory was still at Cheshunt in Hertfordshire, before the move to Hethel Airbase in Norfolk. He worked on Formula Fords and F3 cars as well as the STP Indy turbine racers and forthcoming Europa. "All heads were down to get the Lotus 47 (Europa) running," Jones recalled. "I worked on the pedal box and I learned that you could never say 'can't' at Lotus."
In 1969 he moved to J.A. Automotive Engineering, Ltd., otherwise known as John Wyer Racing. Wyer had been Aston Martin's team manager during the 1959 Le Mans win and worked on the early Ford GT40 program before starting his own company. He campaigned the later Gulf-liveried GT40s as well as the early Ford-powered Mirage before falling in with Porsche, becoming Weissach's main racing partner.
"The early 917s were a bugger to drive," said Jones. "Wyer did a lot of work to make them drivable." Jones recalls how the Porsche factory supported the program with a cost-no-object approach. "A bag would arrive with titanium washers for the master cylinder. They were always trying to save weight." Then he showed me some old photos of a never-seen-before Wyer project to run in North America's Can-Am series with a prototype roadster that incorporated bits from both the GT40 and Mirage. However, test driver Derek Bell wrote the car off at the Goodwood circuit before it could break cover, and Wyer abandoned the project. "Bell said, 'Worst f*cking car I've ever driven,'" reminisced Jones. "I think I took the only photos of it." They were for sale in his booth, though buried in a bin.
At Beaulieu, you often have to walk slow and go digging to find the real treasures.
'We came from South Africa to sell at the Beaulieu Autojumble'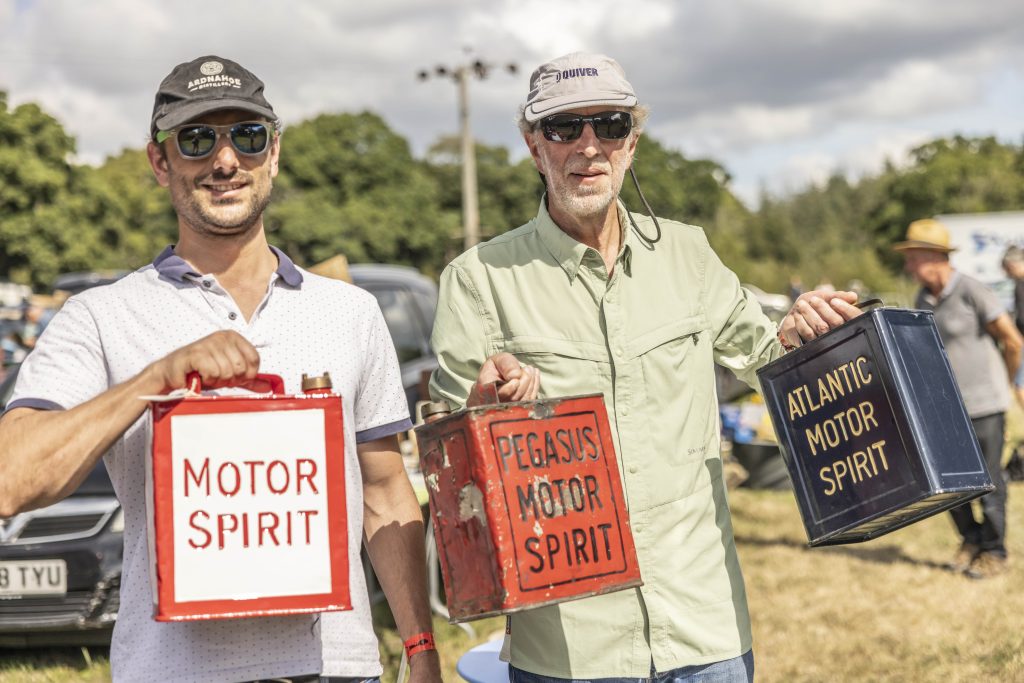 Tim and Nick Howse, father and son from Cape Town, South Africa, were Beaulieu rookies, out in the distant boot-sale section where they sat by their rental car in camping chairs and with no tent covering, just three vintage petrol cans on offer. However, despite appearances, their first Autojumble had been a roaring success. They had made the long journey to Beaulieu with no less than 19 vintage petrol cans carefully packed in their checked baggage, and by the time we found them, they had sold two for 700 GPB each the rest for 300 GPB or more from an 80-quid boot-sale spot. Their remaining stock thus dwindled to three, they were planning a fly fishing trip afterwards before heading home.
Beaulieu was "a bucket list item," said the senior Howse, as the event is "ten times larger than anything in South Africa." He acknowledged that "people covet weird things," and that he started collecting vintage petrol cans about 15 years ago. Though the pair had disposed of most of their supply, they had purchased "a can" at Beaulieu. "I sent a photo of it to Mum back at home," said Nick. "She was very unimpressed. She said, 'You're supposed to sell them, not buy them!'"
The Howses said they learned a lot their first time out, starting with British Airways' extensive regulations for packing fuel containers in checked baggage. Another takeaway was to purchase shade/rain cover; they figured the good weather was extremely fortunate considering their lack of preparation. "We'll definitely be back next year," they said.
Striking gold with a one pound box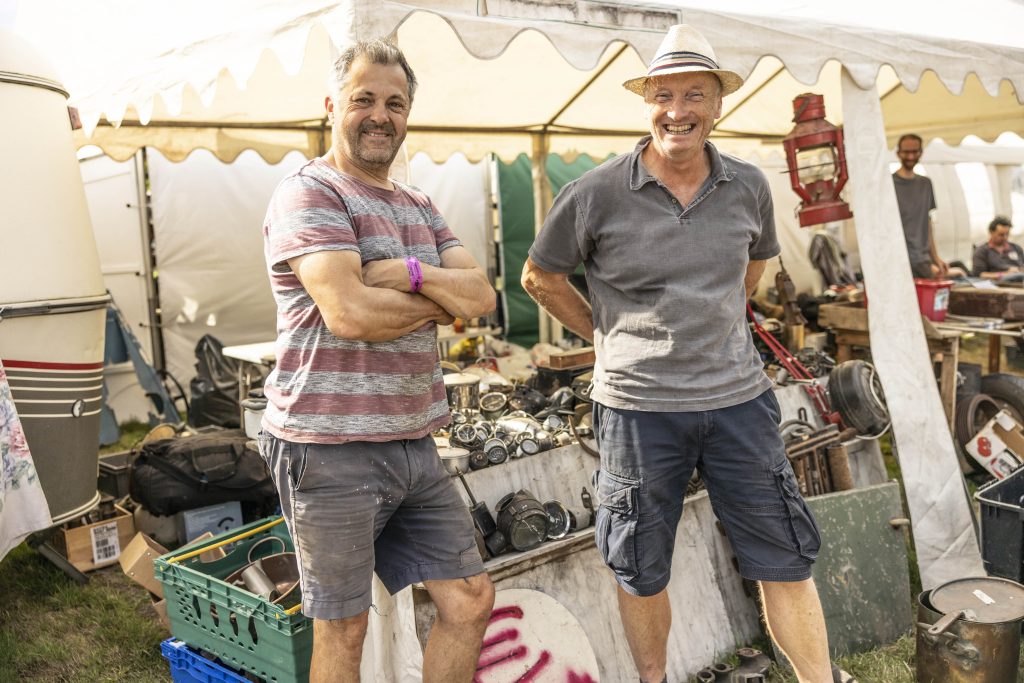 Matt Blake and Winston Teague are two old mates from Worcestershire who are part of a group of friends who have erected stalls at Beaulieu for years. Teague summed up their mission at the Autojumble as "selling lots of crap to foreigners."
However, Brexit has made that tougher. "It's been a disaster, really," said Teague, figuring the event was down by at least 30 stalls because of it. "French guys used to come over every year, but now they have to declare every single item, filling out forms and paying duty on every item they buy." Looking around at the tents filled with hundreds if not thousands of small bits, one can see how that would be a barrier. Though he's heard stories of people just being waved through the border posts, "you can't rely on nobody checking," said Teague.
The pair's best idea was to create a "One Pound Box" or a box in which everything in it costs a pound. Among their three stalls, three boxes netted 500 quid. "You always go home with a grand in your pocket," says Teague, but the main reason to come to Beaulieu is seeing friends. "They do one in Rheims (France), but everybody stays in hotels. You can't stay in inns, you have to stay in tents here. As much as anything, it's social."
Read more
A shedload of surprises: Discovery of huge fuel can collection reveals 500 rare artefacts
The astonishing story of the jerrycan
A sixth sense, a shaky hand and finding the sweet spot: Terry Smith reveals the secrets of signwriting