Editor's note: At the 2022 Goodwood Members' Meeting, Derek Bell will be on hand to drive Porsche 956 and 962 models, in a display marking 40 years since the Group C sports car category transformed endurance racing for fans around the world and the 956 began Porsche's period of domination. Here, Bell takes the Hagerty community back to the beginning of the project and his personal relationship with the car and its maker. James Mills.
His career encompassed its fair share of ups and downs, but one thing is clear: few racing drivers have ever extracted more enjoyment from motor racing than Derek Bell MBE. His stint in top-flight motorsport spanned more than 30 years, during which time he claimed two World Sportscar titles, five 24 Heures du Mans victories, and three Daytona 24 Hours wins. What's more, the majority of these were accrued driving Porsches of many flavours and hues, his name being forever associated with the 956 and its 962 descendent in particular. Few men – if any – made a Group C car dance quite like Bell.
How much is your car to insure? Find out in four easy steps.
Get a quote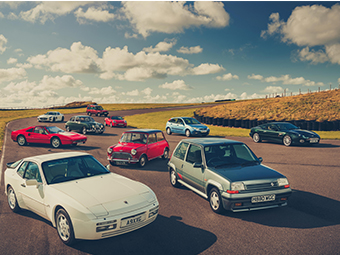 The irony is that him landing a drive with the works team occurred more by happenstance than planning. He had almost quit racing for farming at the end of the 1970s, by which time he was a former F1 driver and a one-time Le Mans winner. Then in 1980 he received an offer to drive a works Porsche at Le Mans – a 924 Carrera GT Turbo. "The prospect of driving a production car-based machine didn't enthuse me beforehand, but that particular race had a huge impact on my career," he recalls. "So much so, the works team asked me to drive for them the following year on the same basis, but I didn't want to be out in a GT car again."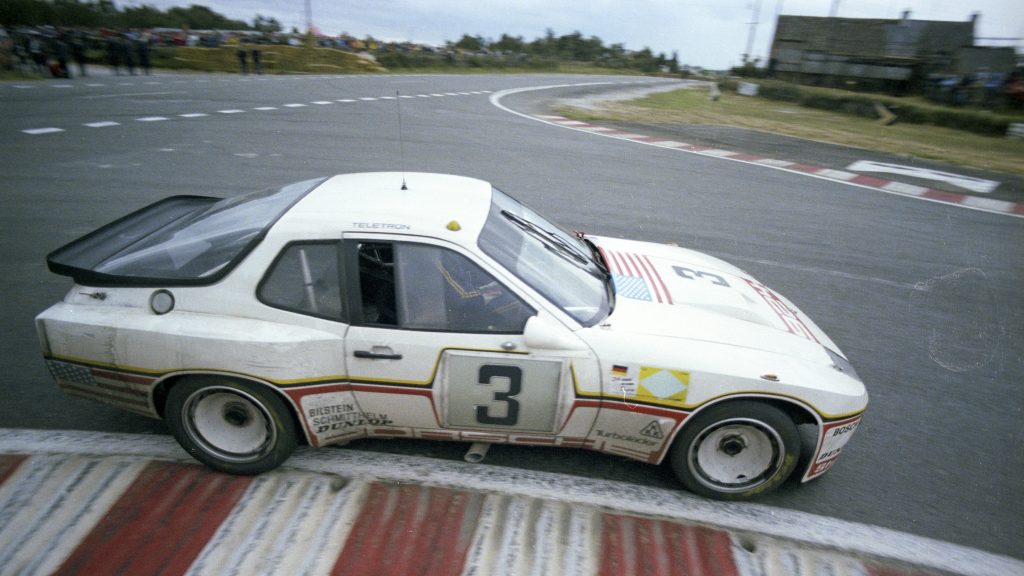 Not that this was the only stumbling block to Bell returning to the fold. "The real sticking point for me was that Porsche wanted me for Le Mans and only Le Mans. That was great, but what about the rest of the year? I couldn't turn down a season-long drive with a 'lesser' team for the sake of a single race. I had a mortgage and school fees to pay. If you wanted to make money as a professional driver in those days, you really had to earn it, believe me. At the end of the 1970s, I came close to quitting as a driver because I simply wasn't earning enough. I needed a regular drive."
He found one for 1981 with the EMKA privateer squad. Bell: "I teamed up with Steve O'Rourke who was the manager of Pink Floyd. Originally, Steve intended fielding a Lancia, but I talked him into buying a BMW M1 instead. David Hobbs and I finished second in the 1981 Silverstone 1000 Kilometres in the M1. Then I went out to Monza for a race and bumped into Porsche's senior engine man Valentin Schaeffer who was also staying in the Hotel de Ville. We got chatting and he said, 'Why don't you drive for us at Le Mans?' It turned out that they were also going to run a proper sports-prototype – the 936/81 – and Valentin intimated that the drive could be mine.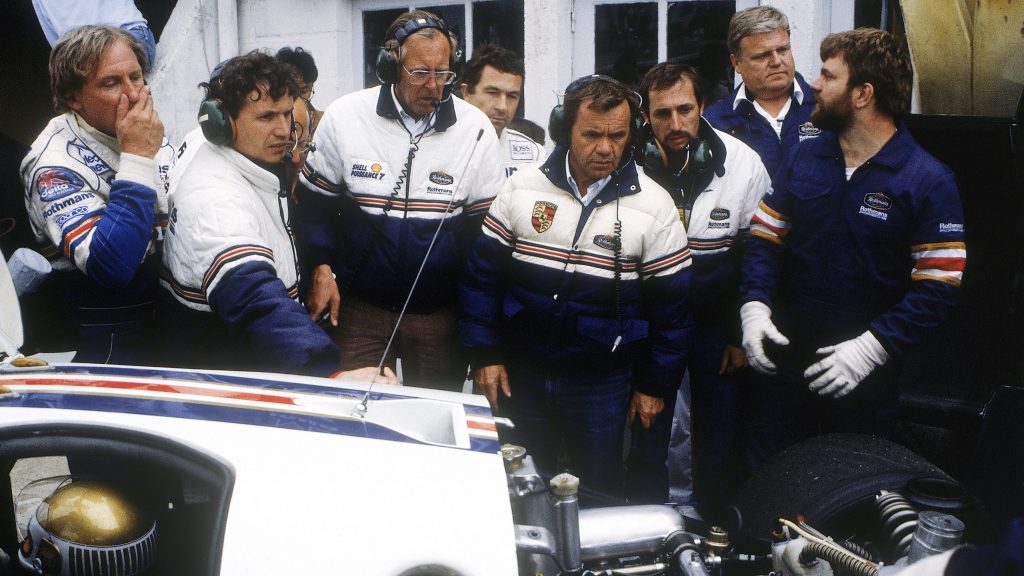 "I was committed to driving the BMW, but this was a huge opportunity and one of the never to be repeated variety. I was torn over whether or not to jump ship. I felt honour bound to stay but fortunately the decision was made that much easier by Steve. I will never forget his generosity in allowing me to accept the Porsche offer as it led to my second win in the 24 Hours. That in turn led to me picking up a full-time drive and the rest is history. So much of what happened in the second half of my career, my two world titles for starters, was down to Steve releasing me from my contract."
Bell's 1981 win at Le Mans was made that much sweeter because once again Jacky Ickx petitioned for him to be his team-mate. "We complimented each other so well, and of course I then learned about the Group C project. I can clearly recall going for a meeting at Porsche in October 1981. I was ushered into Professor Helmuth Bott's office, and he said that he wanted me to drive for the team in 1982 alongside Jacky. Then he began to describe the new car we would be driving – the 956. He said: 'We have never built a monocoque car before. We have never run a ground-effects car before. Nobody has ever put a horizontally-opposed engine in a ground effects car before. But we have never yet been wrong!' That was the Porsche mindset all over."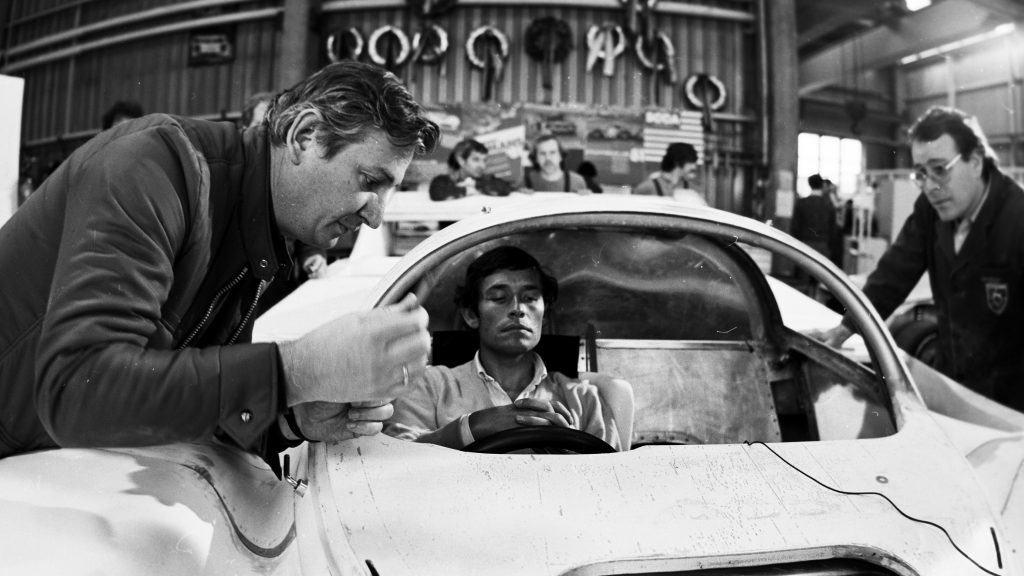 Driving for a manufacturer team again after many years spent with smaller outfits also proved an eye-opener. "They had more than 2000 people involved in the research and development programme. Peter Schultz was the CEO of Porsche AG, and Professor Bott shouldered an incredible workload as the development chief for both the road and racing cars. The key engineer in the competition department was Norbert Singer who pretty much designed every last nut, bolt, and washer on the 956 but remained never less than humble. At Porsche, it was all about the team rather than the individual. It was far removed from my spell at Scuderia Ferrari during my single-seater days where everything revolved around Enzo Ferrari."
Bell instantly adapted to ground effects, too, after testing the prototype for the first time at Paul Ricard. "I loved the 956 from the moment I first drove it. It initially seemed that the stiffer we could make it, the more stable it became because the air flowed under the car more smoothly. It was basically an understeerer, in part because we always ran with a solid differential. I remember driving the 956 with the low downforce Le Mans bodywork for the first time and it was something else entirely. The long-tail made all the difference because it had very little downforce. You would arrive at a corner, brake and the tail would step out."
He goes on to add: "The 2.6-litre flat-six engine had originally been developed for an IndyCar project that was abandoned and then recycled for the 936/81 which Jacky and I drove at Le Mans in 1981. As such, we knew that it was a bloody good engine and one that would go the distance. I should add that the Group C regulations limited fuel capacity to 100 litres, and we were only permitted five stops during the course of a 1000-kilometre race. I don't think anyone at Porsche fully appreciated this, though."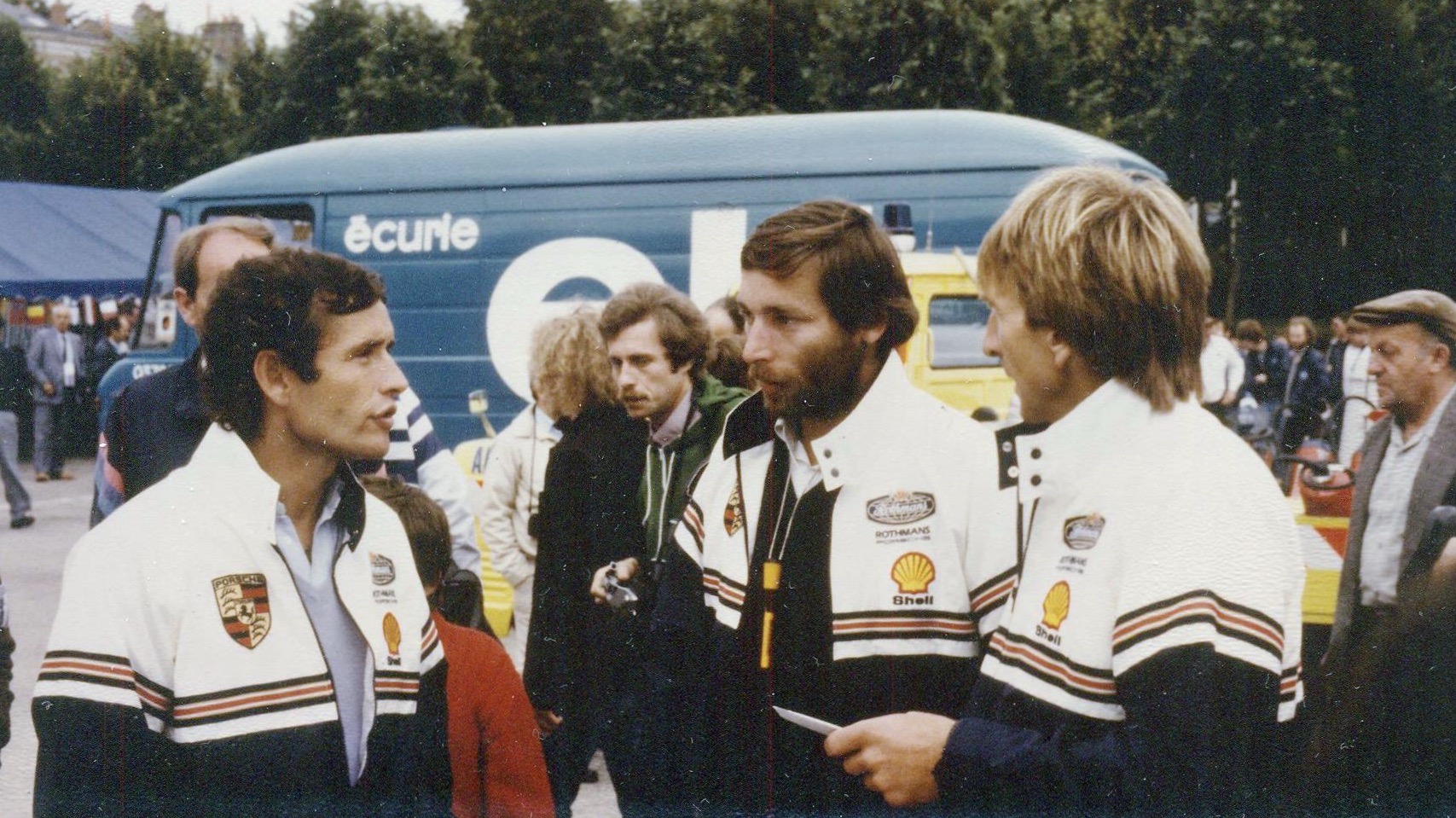 This became abundantly clear during the 956's debut race, 1982 Silverstone 1000 Kilometres. "Prior to the start, Jacky and I were told that we weren't going to win because we would have to cruise around just to eke out our fuel mileage. We would never make the finish with our allocated fuel if we drove anywhere near our qualifying pace. As such, we finished second behind a works Lancia which was exploiting a one-year-only rule and ran to the old Group 6 regulations so could basically use as much fuel as it liked.
"Otherwise, the 956 was pretty much spot on from the outset. We had the B-spec version a year later, before it was superseded by the 962. Essentially an IMSA [International Motor Sports Association is a North American sports car racing governing body] version of the existing car, the major difference was the single turbo, 935-derived engine [2.8- and later 3.2-litres] and lengthened wheelbase to bring the pedal box behind the front axle line. It was a nicer car to drive than the original 956. I won a lot of races during that period, and to claim the 1985 World Endurance Championship alongside Hans Stuck was phenomenal."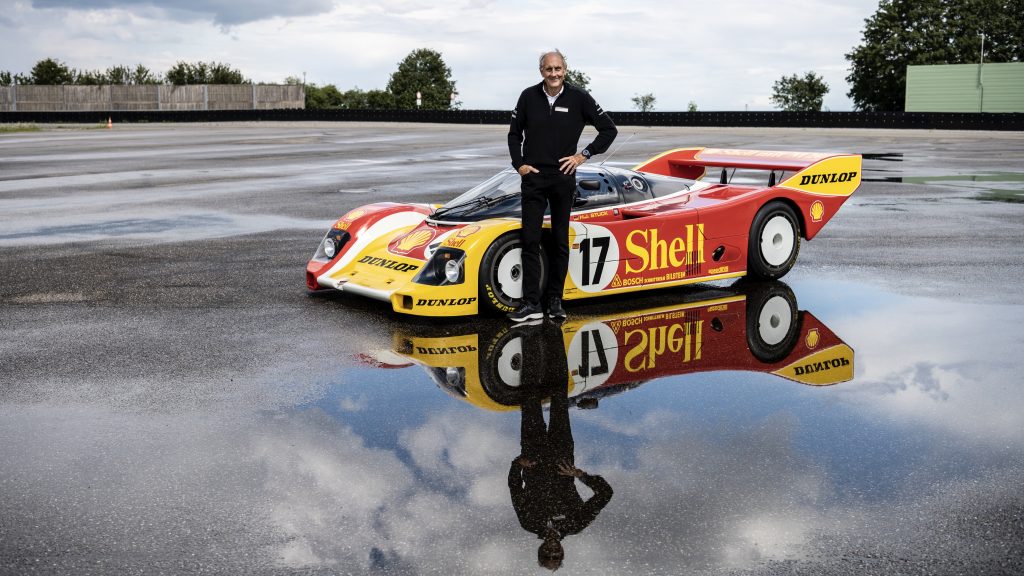 Warming to the theme, the racer recounts: "Looking back, what I loved most about driving for the factory team was the sense of camaraderie. I wasn't a young pup anymore. I was in my forties when I started winning titles and big races on a regular basis. I relished being a key cog in the machine. Everyone knew what was expected of them. It was for this reason that I didn't jump ship to the works Jaguar team when I was approached in 1985. Why would I want to give up what I had? Of course, what I didn't know was that Porsche was about to pull out of sports car racing in favour of IndyCar!"
In addition to his factory team campaign, Bell was a prolific winner Stateside during the 1980s, competing in the IMSA GTP series. "I worked my butt off to establish myself in the USA and it was very kind to me. I have to thank Bob Akin for giving me a crucial foothold on the American sports car scene when he offered me a go in his Porsche 935K3 for the 1981 Daytona 24 Hours and Sebring 12 Hours. Once I got my feet under the table, I picked up drives and dovetailed outings in IMSA with my works gigs elsewhere, and from 1984-1988 I drove in IMSA exclusively for Al Holbert. We won a lot of races together.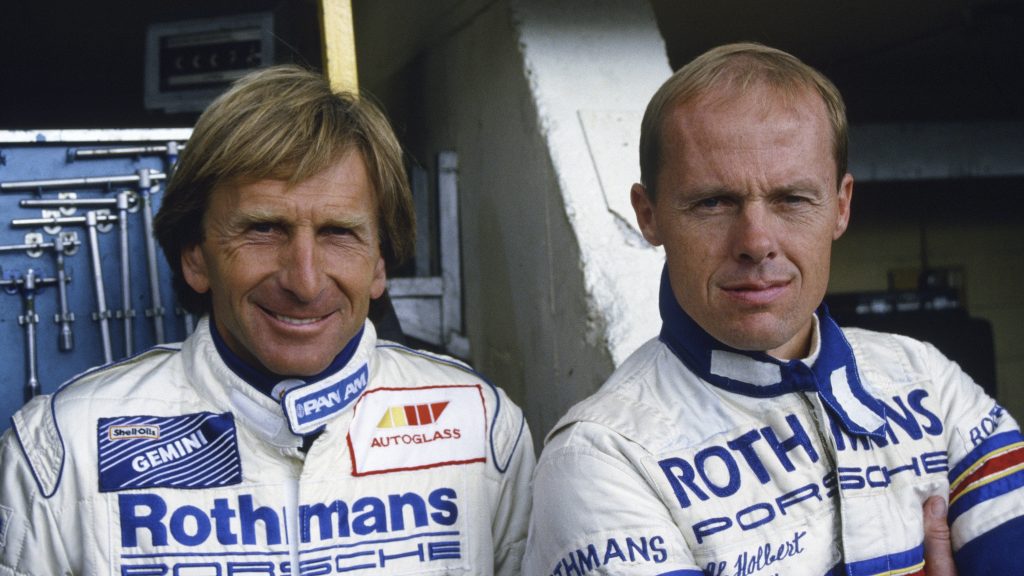 "Al was a brilliant bloke. He was a fine driver, but he was also a superb engineer and another of those guys who led by example. Holbert Racing 962s were always immaculately prepared and looked fantastic in their Lowenbrau liveries. I won 19 races driving for Al, and I would quite happily have carried on racing for and with him until I hung up my helmet. In September 1988, Al showed me a model of a new car he intended building. He was aware that the 962 was nearing the end of the road but Porsche reckoned it would have cost $16m to do a new sports car from scratch. Al said he could do one for $1.6m. Unfortunately, the project never came to anything because he died in an aeroplane accident a day later. It was heart-breaking."
Holbert's death occurred in the same year that the works Porsche team withdrew from top-flight sports car racing following the 1988 Le Mans 24 Hours. Bell continued to claim major scalps aboard 962s, though, not least the 1989 Daytona 24 Hours driving for team owner Jim Busby, but his days as a factory driver were behind him. "I was 47-years-old when I won at Daytona for the third time, driving Jim's Miller High Life car alongside Bob Wollek and John Andretti. In the final stages of the race, it was between us and the Jaguar XJR-9 of Price Cobb, John Nielsen and Andy Wallace. I believe the margin of victory was about 80 seconds. If you had told me before the race that we would finish, let alone win, I wouldn't have believed you."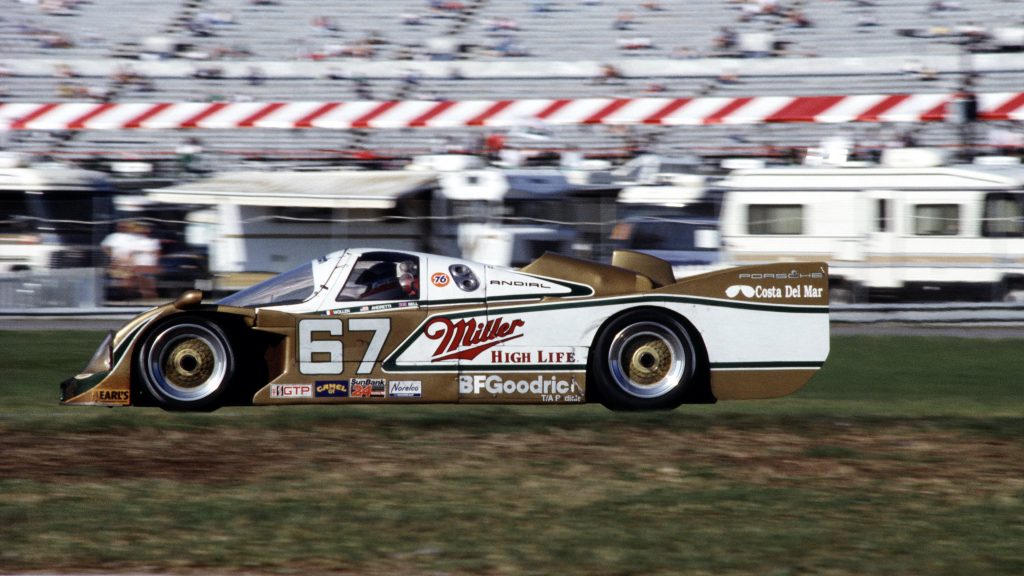 Bell's third victory at Daytona was also his eighth in a 24-hour race which was a new record. It was also the 962's fiftieth win in IMSA in just five years. "I was at the sort of age where most racers have already long since retired, but I still loved driving and wasn't embarrassing myself. I was a frontrunner still. Even in middle-age, my competitive instincts hadn't dulled, and I have always looked after myself physically, so carrying on was never really an issue. During the 1990s, I drove for privateer teams once again, mostly in 962s and cars derived from it. I was fast enough to put my Kremer K8 on the front row at Le Mans in 1994."
Having called time on his full-time career when he was in his late fifties, Bell nevertheless wasn't averse to making the occasional comeback in historics, often in 962s. He competed in the 2018 Le Mans Classic and the following year's HSR Classic Daytona Group C contest. He won the latter alongside son Justin, Kevin Jeanette and Rodrigo Sales when he was 78 years young.
"I do have great affection for the Group C Porsches," he says by way of a parting shot. "I am not sure if I will race one again, but I often get asked to drive them, at Goodwood or elsewhere. There is always that same sense of familiarity. You could put me in one blindfolded and I would know instantly what I was in and where everything was. To be honest, I would drive one around a car park if that's all that was on offer!"
Read more
"I want to find out for myself" – I was there the day Ayrton Senna went rallying
Peter Stevens: Designing the Jaguar XJR-15 road-going Le Mans racer – in a car park after work
Freeze Frame: The 240mph McLaren