Welcome to Freeze Frame, our look back at moments from this week in automotive history.
31 March 1998 – Andy Wallace hits 240.14mph at Ehra-Lessien in the McLaren F1
What's the fastest you've ever – legally – travelled in a car?
Perhaps you've driven on Germany's Autobahn before in something with a bit of poke, or other derestricted roads such as those in the Australian outback or across 'the mountain' at the Isle of Man.
If you're a trackday regular or amateur racer, maybe you've hit some decent three-figure speeds, and if you happen to be a professional racing driver in a top-tier series, you might have seen 200mph once or twice – though you'll probably have been concentrating on the next corner rather than your V-max.
How much is your car to insure? Find out in four easy steps.
Get a quote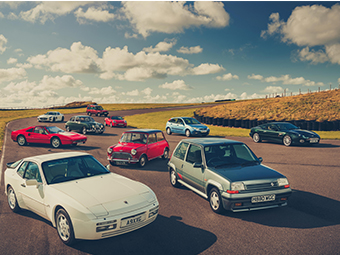 The number of people who have been deep into the 200s though will be much smaller, but Andy Wallace, winner at Le Mans, Daytona and Sebring, will be close to the top of that list.
Before chicanes were installed in the Mulsanne straight at Le Mans in 1990 – Wallace's victory in the XJR-9 LM came in 1988 – cars regularly topped 230mph, sometimes more, down the 3.7-mile stretch. And as test driver for Bugatti, he has since achieved more than 300mph in a specially-modified Chiron.
But on March 31, 1998, Wallace drove a McLaren F1 to 240.1mph over a two-way average at Ehra-Lessien in Germany, setting a new production car world record – and for naturally-aspirated cars, one that still stands today.
The task, even for a car like the F1, was not to be underestimated. As Wallace puts it in McLaren's official video on the run published in 2017, he was "younger and a bit more stupid in those days", so when the call came in that McLaren wanted to see how fast the F1 could go, he didn't dwell for too long.
If he had, Wallace might have spared a thought for the energy that doing well over 200mph puts through a set of tyres. They held out of course, but McLaren still needed to do work on the fly, as the 1988 Le Mans champ quickly found himself hitting the rev limiter in sixth.
In the end, engineers wound the limiter around to 8300rpm – just 100rpm shy of the end of the car's tachometer – and Wallace kept it pinned for several kilometres along Ehra-Lessien's enormous 5.4-mile (8.7km) straight, calmly narrating his speed for the cameras.
The LCD display on top of the dash flicked between 390 and 391km/h several times, indicating to Wallace that the car had given its best, and as good an excuse as any to finally ease his right foot from the F1's slim throttle pedal. He'd hit a one-way maximum of 243mph, with a two-way average of 240.1mph, or 386.4km/h.
As he turns off the car in the paddock, the video shows Wallace chuckling – half blown away by what he'd achieved, but half, we suspect, in nervous relief. "That was quite fast, that time" he says as the door swings open.
He went faster in that Chiron, of course, and the Bugatti run was remarkable in its own right: the Chiron blasts through that 391km/h mark like the F1 had at 291km/h, and only gives up itself at 490.5km/h, or 304.8mph. But it's the McLaren run, soundtracked by that 6.1-litre BMW V12, that is truly unforgettable.
Read more
McLaren F1 takes top sales crown at Monterey with record result
Sonic boom toys: Mclaren P1 vs Senna
Future Classic: McLaren MP4 12C