Andrew takes a look at the twists and turns of Aston Martin's 1959 World Sports Car Championship season when the ageing DBR1, a pit fire, and Moss's brilliance combined to create an unforgettable finale at Goodwood.
If before this year you didn't know Aston Martin is a past winner of Le Mans you will now, especially if you went to the Festival of Speed and saw the lone DBR1 race car forming the central display outside Goodwood House to mark the 60th anniversary of that well-earned win back in 1959. It is less likely but still possible you will recall that Aston Martin also won the World Sports Car Championship that year a feat that, like winning Le Mans, had not and has not been repeated before or since.
How much is your car to insure? Find out in four easy steps.
Get a quote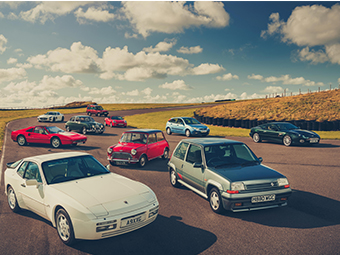 But I wonder how many of you know that Aston Martin must be the only race team in history to win a top-level championship despite having not the slightest intention of even entering it? Allow me to explain.
When John Wyer joined Aston Martin as the manager of its race team in 1950 his primary aim was to win Le Mans, yet by the end of the decade the factory team had racked up one third and two second places (with another second by a private Aston) but the top step remained as elusive as ever. So, for his 10th attempt in 1959, Wyer decided to go for broke: all attentions would be directed at winning Le Mans which would be the only event in the five round World Championship it would contest.
Now and to be fair, one Aston did cross the Atlantic to contest the Sebring 12 Hours, but only because the organisers not only begged for it to be there but paid too. But the DBR1 had not been well prepared because no-one had expected it to be needed until June, and with Carroll Shelby and Roy Salvadori driving, it retired early. So, we can forget that. And we can forget the Targa Florio that came next because Wyer stayed true to his word and kept his cars away. Two events down, three to go and, as entirely expected, nul points for Aston Martin.
But then came the Nürburgring 1000km which was tempting, even for Wyer. Unlike Le Mans, which was and remains a power circuit far more suited to the Ferrari V12s than Aston's straight sixes, the most important commodities at the 'Ring were a skilled driver and a car that handled like a dream. And in Stirling Moss and the DBR1, Wyer had both. Moreover, the DBR1 had won the race the two previous years, and Moss was certain the hat-trick was on.
Yet Wyer still resisted. He didn't want any distractions, least of all from a race held just two weeks before Le Mans. Even when Moss pointed out that the factory had a spare car that wouldn't be needed at Le Mans, Wyer stood firm. Only when Stirling offered to pay out of his own pocket (which meant he'd keep the prize money) did Wyer relent and agree to send one car for him and Jack Fairman and a skeleton crew.
It looked like it might pay off too: Moss streaked away from the field and by the time he came in to hand over to Fairman the race seemed in the bag: Fairman was nothing like as quick as Moss but the lead was already so great as to appear unassailable. At least until Fairman threw the car off the road avoiding a back marker. Word was relayed to the pits where Moss, assuming his race was over, changed out of his overalls. It was a rare mistake from the master: Fairman finding strength from who knows where and leaving a tell-tale dent in the back of the car for his troubles, managed to lift and lever the DBR1 back onto the track.
By the time he got the car back and Moss had hopped in, that commanding lead had turned into a 75 second deficit. But driving as only Moss knew how, he slashed the deficit lap after lap, eventually passing the two Ferraris ahead of him to take a victory even he conceded was one of his finest.
Then came Le Mans and despite all the team's preparations, the odds remained stacked against them, not least because the DBR1 was getting old, having first raced at Le Mans as early as 1956. Also, there was that power thing: the Ferrari motors would have been knocking on the door of 300bhp, the Aston engines around 250bhp on a good day. In practice, even Moss couldn't get within seven seconds a lap of the fastest Ferrari.
This meant Maranello could tell its drivers to go easy on their cars and still cruise to victory, unless Aston Martin could find a way of combatting them. The answer was to give Moss an engine with only four main bearings instead of the usual seven – so it had less friction and more power but was more fragile too – and tell him to drive the wheels off it in the hope the Ferraris would take the bait, chase Moss and compromise their own reliability. Even Wyer described the Moss car as 'semi-expendable'. But it did its job before it broke, allowing his slower team-mates finally to claim the victory for which the team had worked so hard and waited so long. Wyer said it was 'impossible to over-estimate the role played by Moss in our victory at Le Mans.'
Suddenly and thanks to a strange quirk of the rules, Aston Martin found itself in a position where it could actually win the championship. The championship had five rounds as previously stated, but only a team's best three results counted for points. And with two wins already under its belt, if Aston Martin entered the final round and won it, the title would be theirs. And as that round was the Tourist Trophy held at the the very DBR1-friendly Goodwood Motor Circuit in West Sussex, clearly they had to have a go.
The fight was between Aston, Ferrari and Porsche, all with a chance of the title. But Aston had the DBR1 and Moss and when the latter rocketed away from the start, it seemed in the bag. And there it stayed until team-mate Roy Salvadori came in for fuel, some of which splashed onto the car's exhaust sending not only it but the entire Aston Martin pit garage up in flames. Neither could be used again.
Which would have been the end of the title race were it not for a man called Graham Whitehead, who'd scored that privateer second place at Le Mans the year before, and who was now racing his own private Aston from another pit garage. He was persuaded to retire his car and give up his garage for the greater good, whereupon the slower DBR1 of Carroll Shelby and Fairman was brought into the newly acquired pit and given to Moss. What followed was a repeat of the Nürburgring, Moss cutting swathes from the lead lap after lap in a field containing five former or future F1 World Champions, drawing in his quarry inexorably until victory was his. Aston Martin won the race and claimed the title for which it had never intended to compete. How glad must John Wyer have been that Moss insisted on doing that Nürburgring race?
The 1959 Tourist Trophy has been described as the greatest race ever held at Goodwood and, sixty years later, given what happened and its significance to one of Britain's most famous and coveted automotive brands, it is hard indeed not to agree.