If you still haven't made a new year's resolution, how about letting your hair down and changing your plaything car to something altogether more outlandish? This month the auction houses are whirring back into life, with interesting sales that would make you the talk of the town – and any event you arrived at with one of these oddballs.
We've looked past the usual range of Porsches, Ferraris and other exotic fare, and found there's potentially more surprise and delight to be found in the… well, less usual suspects. From a drag-racing coffin to a vintage ice cream van, these nine vehicles coming up at auctions in the next couple of months would give the year a kick-start unlike any other.
How much is your car to insure? Find out in four easy steps.
Get a quote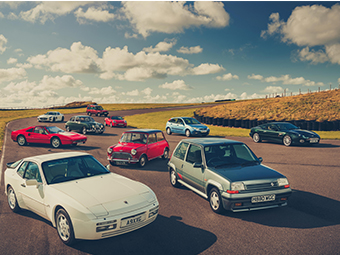 Our choices might also give you a few ideas if you're planning to dip your toe into the world of cool, classic and collector cars this year, though with some of the unusual rarities below, don't bank on being able to find another precisely like them…
1964 "Drag-U-La" Coffin Dragster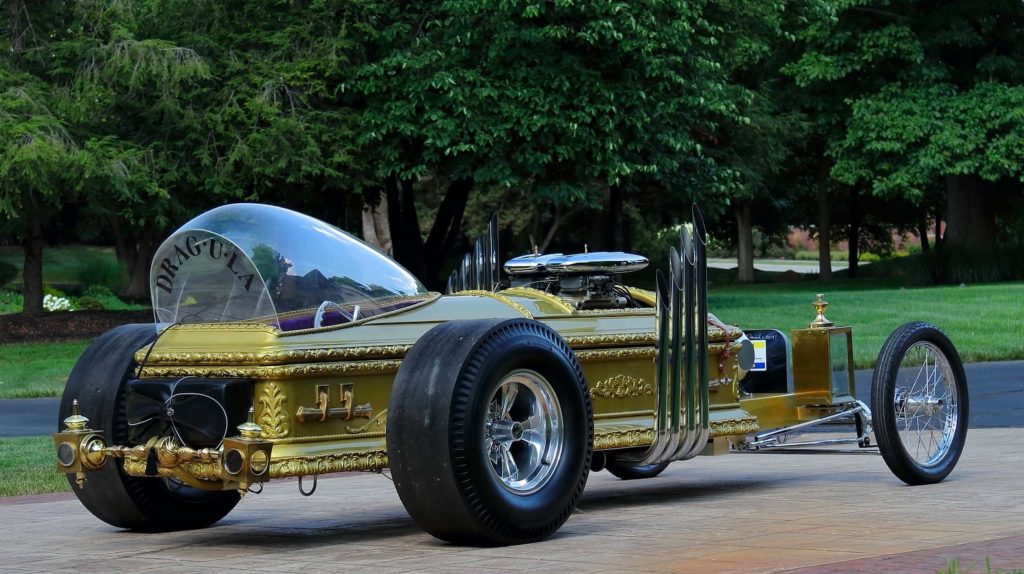 Mecum Kissimmee
Estimate: $50,000 – $75,000 (£37,000 – £55,000)
Remember The Munsters? The show was cancelled 56 years ago, but it's a hard program to forget, and most of us have at least seen a rerun or two. Even people who don't care about cars whatsoever might recognise Drag-U-La and the Munster Koach, two wild custom cars built up by George Barris for the spooky sitcom.
Legend has it that Drag-U-La's fibreglass body was built up from a coffin, but since it was illegal in California to buy a coffin without a death certificate, Barris' project engineer had to pay for one in cash, then pick it up from behind a North Hollywood funeral home at night. The body was then painted in gold flake paint, and resting in pieces was a 350bhp 289-cubic-inch Mustang V8. Four organ pipes on each side served as the exhaust, and lighting was by old glass headlamps with candlesticks for lights. Instead of a grille, there's a marble gravestone that reads "Born 1367, Died ?"
In the 1965 episode "Hot Rod Herman," Herman Munster loses the Munster Koach in a pink slip drag race, and Grandpa decides to build Drag-U-La in order to win back the family car. When Grandpa first pulls it out of the garage, an impressed Herman declares "Detroit could take a lesson from this design." Grandpa wins the race with ease, but is only able to bring Drag-U-La to a stop thanks to friction from Herman's big feet.
This Drag-U-La isn't the original coffin-bodied dragster used in the show, but it is one of the cars built by George Barris and Dick Dean in period to promote The Munsters. According to Mecum it is the last of five original Drag-U-Las built, and it has a $50,000–$70,000 (£37k–£55k) estimate. George Barris fans might also be interested in his wild jet-powered, three-wheeled dragster that's for sale at the same auction.
1995 Alfa Romeo 155 V6 TI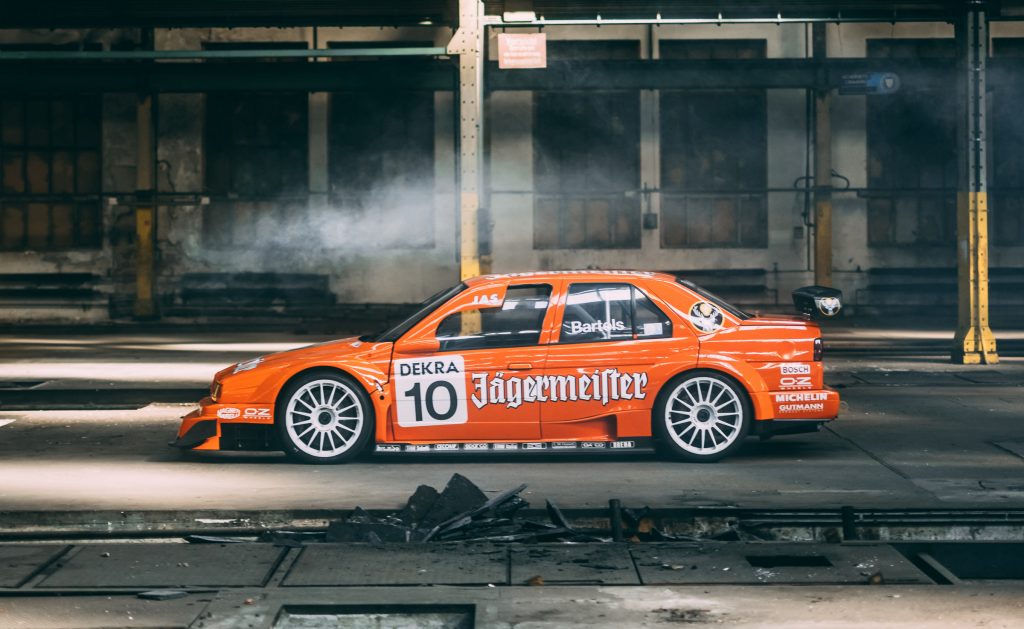 RM Sotheby's Paris
Estimate: N/A
The International Touring Car (ITC) era of the Deutsche Tourenwagen Meisterschaft (DTM) is one of those periods of motorsport that will go down in history, producing some of the most advanced racing cars the world had seen until that point. From Mercedes fielding a C-class with suspension that could adjust to every corner on a track, to the spectacular Alfa Romeo 155 V6 TI, it was one of the most recognisable tin-top series of the 1990s.
The 155 constructed by Alfa Corse was far removed from even its dominant 155 super tourer. Packing all-wheel drive and a screaming 2.5-litre V6 capable of reaching almost 12,000rpm, the 1100kg racer took Nicola Larini to championship victory in the car's first season, 1993, and was good enough for victories in every other season until ITC disbanded in 1996.
Chassis 005, being sold through RM Sotheby's, is a 1995 model in eye-catching Jägermeister colours, and was driven to a pair of victories at Diepholz in 1995 by Michael Bartel, a German driver who went on to take a couple of overall victories at the Nurburgring 24 hour race. It has since enjoyed a chassis rebuild in 2017, carries a rebuilt engine and gearbox, and comes with a series of spares. Alfa has built prettier and more evocative racers, but not many are as wild as its DTM monster.
2002 Smart Crossblade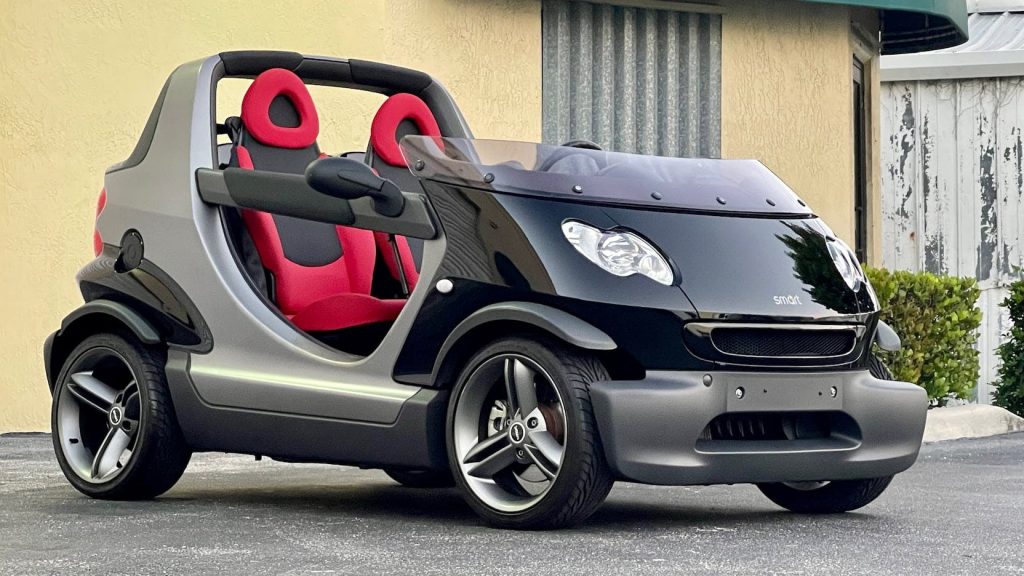 Mecum Kissimmee
Estimate: N/A
"Crossblade" sounds like the name of an off-brand athletic shoe, and from a distance this car does almost look like a stubby piece of footwear. In fact, the Smart Crossblade is a factory-built open version of the Smart Fortwo. Produced in a limited 2000-unit run, the Crossblade is even less practical than a regular Smart car, and it looks even more terrifying to drive.
With no roof or doors, plus a tiny windscreen, it's a bit like a junior Ariel Atom, albeit one packing a city-friendly 60bhp three-cylinder engine. Smart never sold the Crossblade in the America (Smart didn't officially sell any cars in the US until 2008), so it's unclear what this one is doing there or if it is road legal. Perhaps that's why it's been driven for just 1408km (875 miles).
1959 Devin C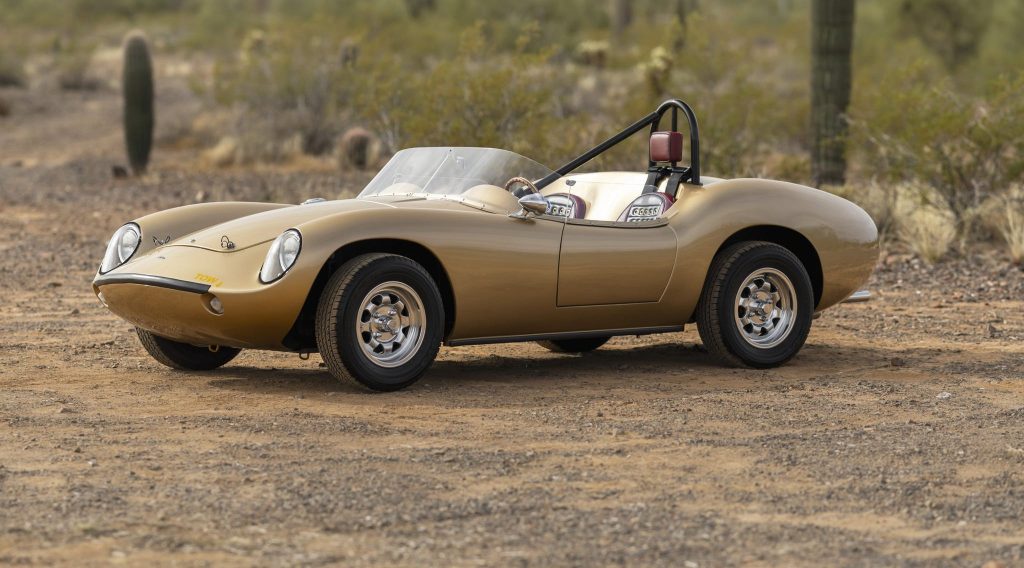 RM Sotheby's Arizona
Estimate: $70,000 – $90,000 (£50,000 – £66,000)
It has an air-cooled flat-six mounted out back and a racy history, but this is no Porsche. It's a Devin C, one of just 21 built, according to RM Sotheby's.
California car dealer Bill Devin made a name for himself producing fibreglass body kits for sports cars and for building racers of his own design, powered by everything from Panhard twins to small-block V8s. One of his designs, the Devin D, utilised a Devin chassis and body combined with parts and powertrains from Porsche or VW. When Chevrolet launched the Corvair, Devin modified the D chassis to accommodate Chevy power, added Corvair rear suspension and brakes, and called it the Devin C (for "Corvair").
This example is reportedly the first Devin C built, and upon completion it was loaned to the Granatelli brothers who were testing superchargers at the Bonneville Salt Flats. Bad weather prevented a record, but the blown Devin set an unofficial top speed over 165mph. The car then set several sports car records at California drag strips during 1961, running a 12.44-second quarter-mile at 109.75mph, and then with the supercharger removed raced at the 1961 Los Angeles Time-Mirror Grand Prix at Riverside. It was also featured in a period article in Sports Car Graphic.
1978 Bedford CF ice cream van
Anglia Car Auctions
Estimate: N/A
If you're looking for a more unusual experience from a classic vehicle, lick no further. [Apologies. Ed.] There is a small but dedicated market out there for vintage ice cream vans, and much like a camper van, they offer the benefit – if suitably outfitted – of being more than just a way of getting around on a sunny day.
The 1978 Bedford CF ice cream van coming up with Anglia Car Auctions is a little rough around the edges, and with no information in the listing just yet, we'll have to rely on the photographs for an assessment of its condition. It looks like it could be saved though, and would look fabulous with its period livery brought back to life.
And, with some freezers installed and other equipment updated, you'd have the option of turning it back into a working vehicle. Selling ice cream out the back is one way of getting children interested in classic cars, at least…
1964 Apollo 5000 GT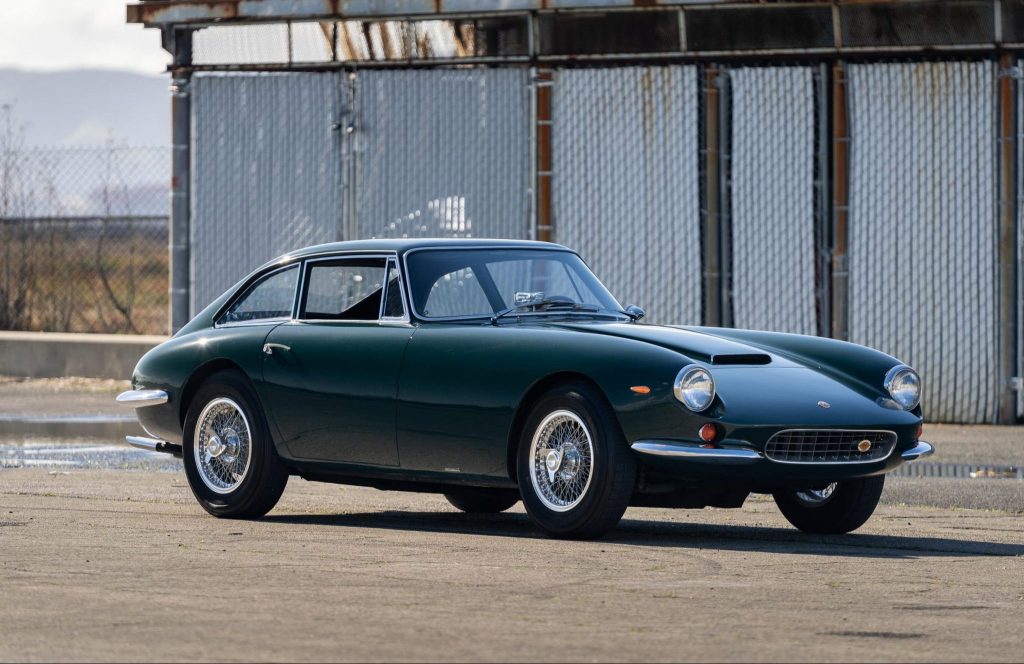 Bonhams Scottsdale
Estimate: $175,000 – $225,000 (£130,000 – £165,000)
The Apollo featured bodywork by Intermeccanica in Italy and an engine from Buick, and it was assembled in Oakland, California. It looked like a Ferrari and went like one, too, but like many upstart sports cars it proved too expensive to build and also make a profit. The company's assets were sold off in 1965 and a few more cars were completed, albeit sold as Vetta Venturas.
The first Apollo was the 3500 GT, powered by Buick's lightweight 3.5-litre V8. The later 5000 GT was essentially the same car but used Buick's new iron-block, aluminium-head 5.0-litre unit. According to Bonhams, this one is the second-to-last of the 76 total Apollos built, was owned in the 2000s by Apollo founder Milt Brown, has done just 4000 miles from new, and remains largely original. For reference, this same example was a $130,000 (£95,000) no-sale on Bring a Trailer last year.
1971 Morris A60 Sun-Tor camper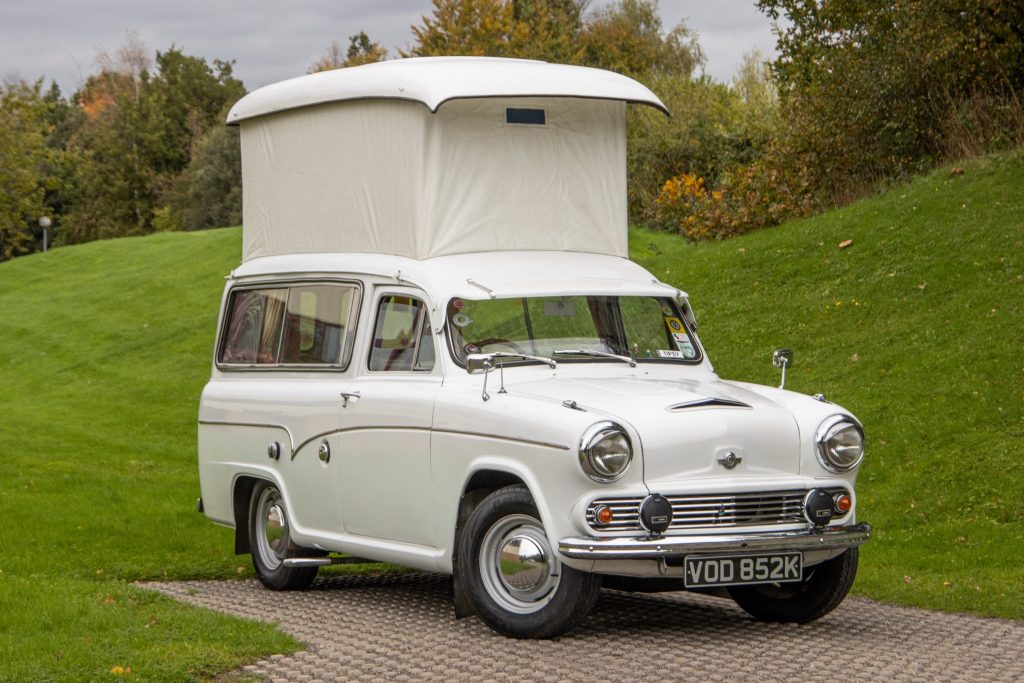 Manor Park Classics
Estimate: £7000 – £9000
We saw fit to include a camper van in Hagerty's 2022 Bull Market list, and for good reason: Not only did that particular car (a Volkswagen T3) promise enjoyable ownership, but being a camper van, it could be appreciated for more than just its driving characteristics; campers are classics you can use for more than just pottering to the pub.
So with campers on the brain, it's no surprise that this 1971 Morris A60 at Manor Park Classics has caught our eye. For a start, just look at it – it's bursting with charm inside and out, and while this era of camping is familiar to owners of more popular Volkswagens, the A60 offers a completely different way of going about the '60s-'70s camping experience.
Built in 1971 by SunTor Cars of Torrington, it has had just two owners in the past – the first keeping the A60 all the way until 2014. There's plenty of history with the camper, which seats four in front of a sink and cooker, and under an elevating roof. It apparently drives well too, and with the auction taking place in early February, you've got a few more weeks to plan a trip away.
Rumi 125 scooter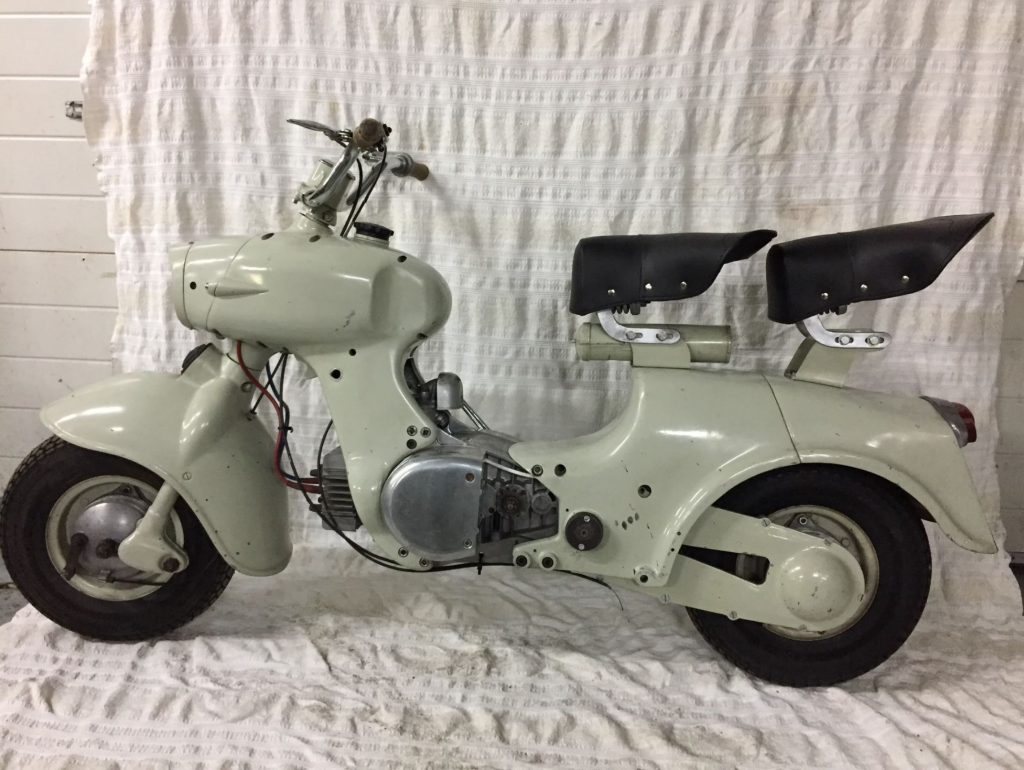 Osenat Alsace
Estimate: €7000 – €9000 (£5800 – £7500)
Scooters were an essential element of postwar European transportation. People had bigger things to concentrate on than putting the latest, shiniest car on the driveway – if they had a driveway at all – but still needed an economical way of getting about, and scooter companies sprung up in their dozens to meet that need.
Moto Rumi began in 1949 in Italy, and while it lasted only until 1969, it managed to churn out a line of characterful two-wheelers in those two decades. The model being sold through Osenat in Alsace – incidentally, the region this particular scooter was sold in when new – is a Rumi Formichino, a model built between 1956 and 1962.
The listing has few details, other than noting it needs a few things doing before it's fully restored, but it's sold with the original 125cc two-stroke flat-twin engine, rebuilt in Italy and fitted with a 20mm Dell'Orto carb. Look no further if you want something different from the usual Vespas and Lambrettas.
2007 Matra MS630 Sports Prototype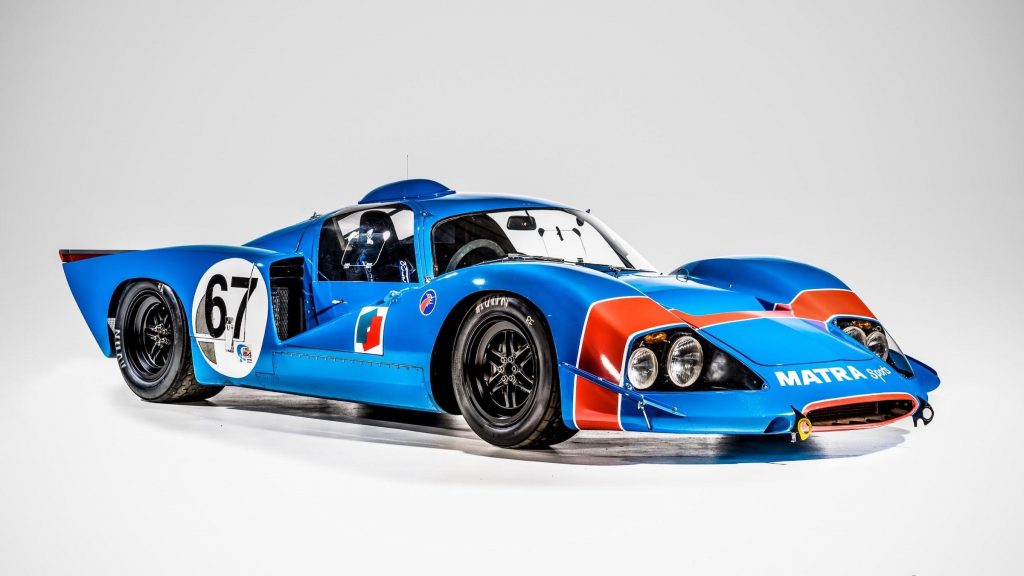 Bonhams Paris
Estimate: €350,000 – €550,000 (£290,000 – £460,000)
You'd be forgiven for thinking this Matra was built in the 1960s, and you'd be nearly right. This MS630, while similar to that designed for competition in the 1967 world sports car season, is in fact a continuation car built in 2007, under authorisation from Matra, and wears a Matra chassis number.
In period the MS630 used first a 2-litre BRM V8 engine and then a 4.7-litre V8 sourced from a Ford GT40, and it's a variant of the latter that this continuation model houses under its sleek skin. The auction listing notes that not only does this grant the car significant performance (thanks in part to its 820kg weight), but it also makes it a practical racer; Ford V8 parts almost grow on trees in the otherwise rarefied world of historic racing.
Built in 2007, the car has since been refreshed in 2014, and in competition actually won the qualifying race at the Daytona Classic in 2015, so there's pedigree here too. Even if you never raced it, it'd be a fabulous thing to simply stare at in your garage and run at the occasional no-limits track day…
Read more
Drive like a king – or The King – in this 1975 Cadillac
10 cars that broke the Hagerty Price Guide in 2021
High-flyers: The most influential sales of 2021