Whether you're into the idea of a celebrity-owned car or not, some examples undoubtedly have a greater draw than others. You'd probably not pay a great deal extra for a Vauxhall Corsa once owned by a member of the cast of Hollyoaks, but when a 1975 Cadillac Fleetwood Brougham once owned by Elvis Presley pops up for sale, you sit up and pay attention.
Going to auction soon through Car & Classic, this '75 Caddy has the provenance to back up its celebrity ownership, with documentation and photographs both proving that The King was indeed its first owner.
How much is your car to insure? Find out in four easy steps.
Get a quote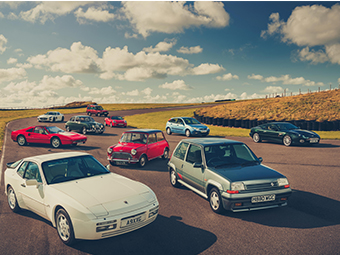 According to Car & Classic, the Caddy comes with the original order form signed by Elvis himself, recording that the car was bought from Madison Cadillac on September 26, 1974. The singer specified various optional extras, including 'Vogue' tyres, a bonnet-mounted 'Goddess' and a sunroof.
It cost him the princely (Kingly?) sum of $12,512, equivalent to around $70,500 today, or a few grand less than a base-model Escalade SUV from Cadillac's modern lineup. Which actually makes the Brougham look like a bit of a bargain if you ask us.
Elvis used the car for a couple of years before gifting it to his doctor, Dr. G. Nichopoulos, in 1976. Dr. Nichopoulos used the car until 1985, selling it to the current vendor. The seller actually moved the car on again in 1990, but bought it back in 2021.
Some of the articles being sold with the car are quite remarkable in their own right, including a framed 14-carat gold key for the car, several period photographs showing the car in front of Presley's Graceland home, along with several of his friends, plus all those early documents.
There is some documentation missing from the car's ownership post-Elvis, and the car itself is in usable rather than pristine condition – the auction listing notes cracks and splits in some of the interior fabrics and materials, and a few dings to the sizeable (5.6 metre long by 1.9 metre wide) exterior.
It's also not currently running, but since everything is original, it should hopefully be fairly simple to coax it back into life. While we'd typically advocate using old cars, there are some circumstances where you probably wouldn't want to do any more than a light recommissioning ensuring its characterful history is preserved. This is definitely one of those.
The final detail is that the car is currently located in Sweden, so don't think you can just pop 'round and kick Elvis's old tyres. Getting it delivered to where you are shouldn't be insurmountable though, and if you chose to fix it in Sweden and drive back to the UK, it'd be a heck of a road trip.
The auction begins on January 8th at 15:30. It may not surprise you to learn that the Hagerty UK Price Guide doesn't hold values for 1970s Cadillacs, but our colleagues in the US value an equivalent, non-Elvis-owned Brougham between $4800-$19,200 (£3500-£14,200) depending on condition. What will this one sell for? Make your guesses now…
Read more
Princess Diana's humble Ford Escort sells for a royal sum
Perfect for a Sunny Afternoon? Méhari once owned by The Kinks' Dave Davies is up for auction
Something strange? Ghostbusters Ecto-1 values are on the up