For fans of the weird and wonderful world of the concept car, no period is more diverse, vivid, or plain crazy than the 1990s.
Where once manufacturers might roll out a concept to preview a new model or idea, or design houses may compete to create a shape you might very well see in the pages of Car or Motor, if not on the road, the 1990s is where carmakers let their designers run riot, echoing the optimism of the decade with bright colours and bold shapes.
How much is your car to insure? Find out in four easy steps.
Get a quote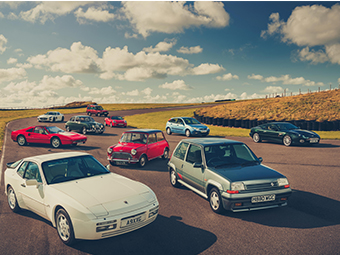 Simply choosing what to include on this page was challenging, so to best show off the diversity of Nineties concepts, we've ruled out those that directly previewed production models – like 1993's Boxster, 1994's Volkswagen Concept One, or 1995's Honda SSM – as well as out-and-out supercars like the Ford GT90 or Audi Avus, which deserve column inches all to themselves.
This, then, is a cross-section of the wildest concepts of the 1990s – and a preview of an alternate reality of BMW city cars, two-stroke Toyotas and sporty Honda pickups.
Alfa Romeo Nuvola (1996)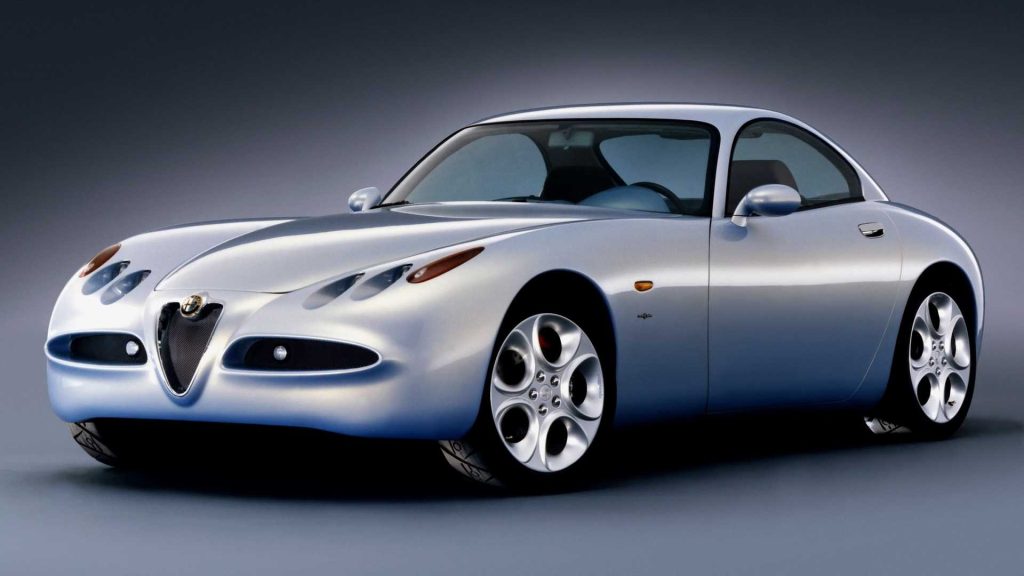 Walter de Silva – subsequently of SEAT, Audi, and Volkswagen – transformed Alfa Romeo's product line in the 1990s. Attainable beauties like the 156 and 147 were designed under his tenure, with curves that hadn't been seen in Alfa's range since the 105-series coupés had disappeared.
The first sign de Silva's design office was working on something special though was 1996's Nuvola concept, designed at Centro Stile and built by coachbuilder Stola. A traditional front-engined (with a twin-turbo, 2.5-litre Busso V6), rear-drive sports car, it was the undisputed star of that year's Paris motor show.
Alfa didn't build it, of course. But beyond a simple statement of intent, the Nuvola did give Alfa Romeo's range one key characteristic that made its road cars just a little more special: its colour. Nuvola Blue was subsequently offered across the Alfa range, and is as beautiful on a GTV or 156 as it was on the concept that lent its name. You can still see the Nuvola today, at Alfa Romeo's museum in Arese.
BMW E1 (1991)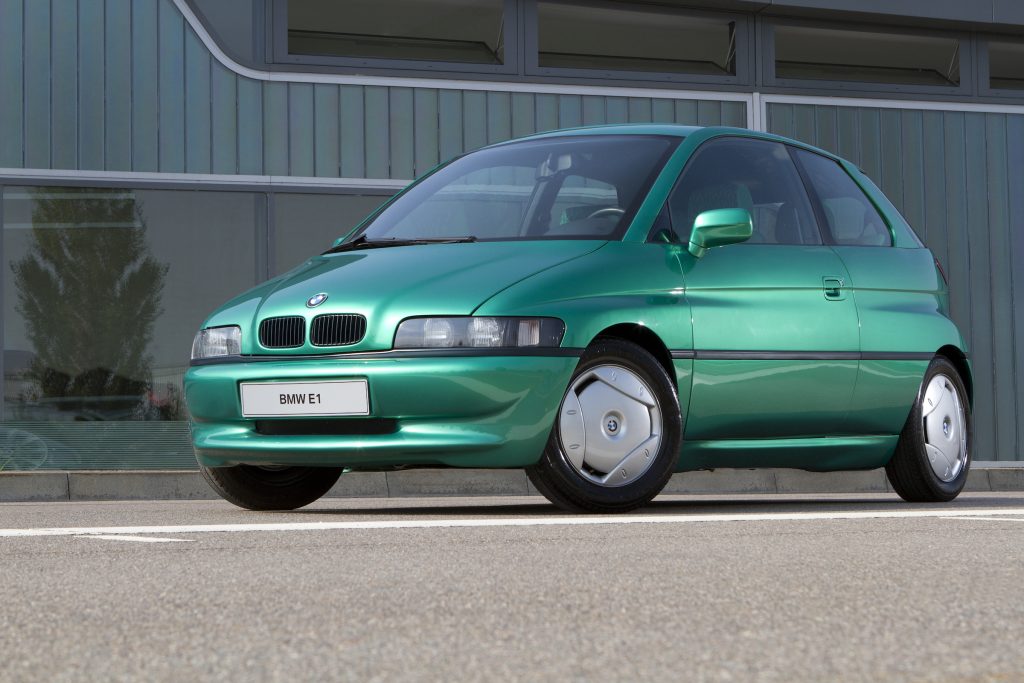 In our 1980s concept car list we explored how Mercedes-Benz had been investigating "megacity" vehicles since the early 1980s with the NAFA (Nahverkehrsfahrzeug, or short-distance vehicle). It took BMW a little bit longer (though arguably it was first when it built the Isetta) but the E1, shown at Frankfurt in 1991, showed what the brand was considering internally.
As you might infer from the name, E1 was electric – not BMW's first foray into the technology, but a serious investigation nonetheless as the environmentally-conscious 1990s dawned. A 124-mile range showed BMW knew what it was doing, though a 43-horsepower motor and 75mph top speed reduced any autobahn credentials.
It is, with the best will in the world, a goofy-looking thing, looking a little like a Honda CRX that someone had stretched upwards. It was unlikely to ever sit alongside the new E36 3-series in BMW's range, and it's a bit too friendly to work as part of the automaker's modern range, but park it next to a Z1 and there might be more similarity than you'd expect.
Ford 021C (1999)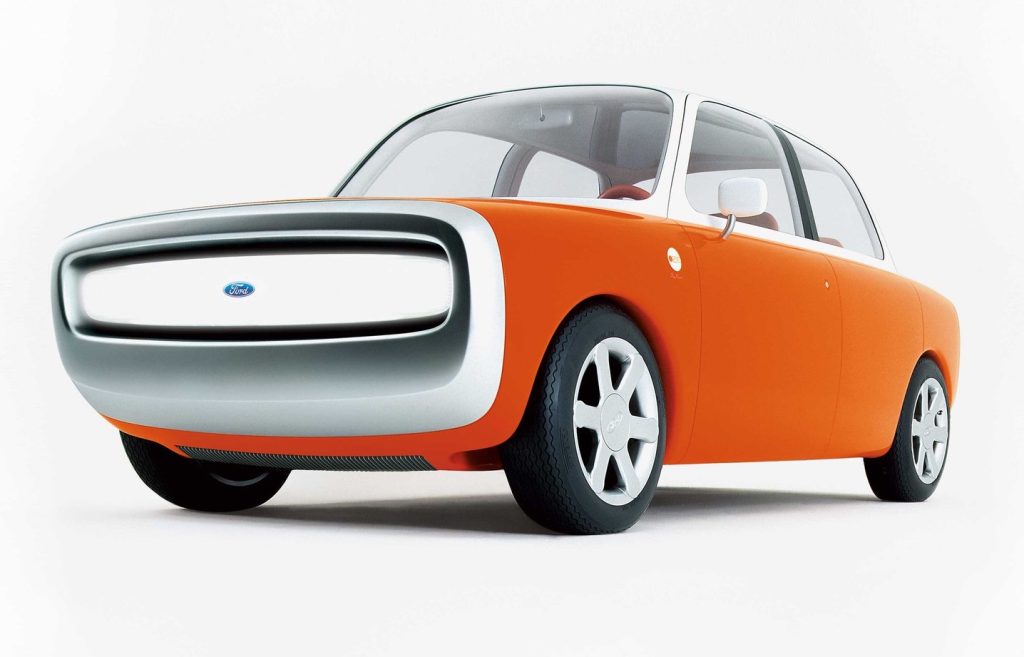 Without a doubt one of the decade's most divisive concept cars, the 021C was the work not of an automotive designer but a product designer, Marc Newson. Best known for furniture and jewellery, Newson incorporated his signature themes of soft curves and bold colours into a Ka-sized pillarless saloon.
The name was a double entendre, referring both to the coming millennium and to the concept's colour on the Pantone scale – very smart. At the front a large, single light bar served as a headlight, and its counterpart at the rear opened up like a kitchen drawer.
Built by Ghia in Turin and displayed at the Tokyo motor show (where it won Best Concept, quite a feat given the Tokyo show's usual output in this department), 021C showed the value – sadly, rarely exploited in the car industry – in minimalism. The 021C was later shown in a fetching lime green, and looked just as striking – though the name made a lot less sense as a result.
Ford Ghia Vivace (1996)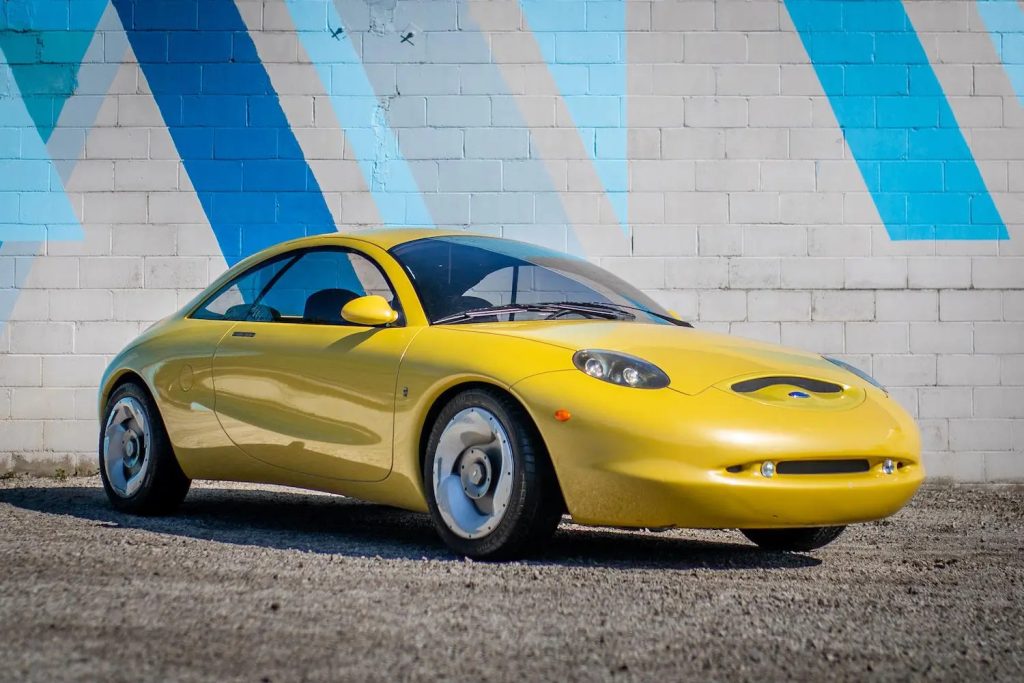 Ford had some of the most eyecatching concepts of the '90s – from the crazy GT90 and Indigo supercars, to the Zig and Zag superminis – but the Vivace represented probably the purest expression of the brand's styling for the 1990s, at least until the Focus came along and debuted 'New Edge'.
This was a motor show exercise in the purest sense of the word, with no hope of existing. Nominally based on the Mondeo, it lacked anything to actually make it go, being little more than a styling buck. And with that Focus arriving soon, even the styling would soon be out of date.
But as a snapshot of the 1990s, somebody got a great deal when the Vivace show car actually came up for sale on Bring a Trailer in 2020, and sold for little more than $3000. It really would need a trailer, since there's not even a functioning interior, and underneath it's all steel girders, but the buyer aimed to put it in their museum in California, for everyone to enjoy once again.
Honda Spocket (1999)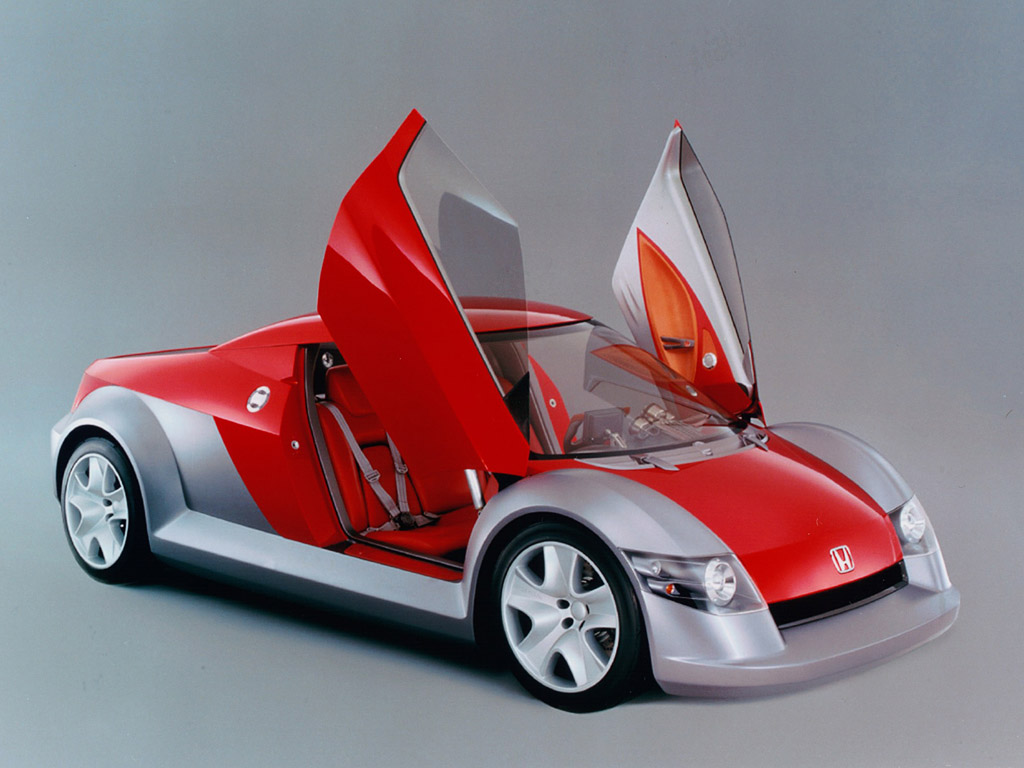 Nope, not 'Sprocket', like the counterpart to a bicycle chain. The name's weird and seems to have little meaning, but the car it was attached to was far more interesting. First shown at the Tokyo motor show in 1999 (the same show as the 021C further up), the Spocket was Honda letting its corporate hair down.
That hair was probably a mullet too, since the Spocket was a pickup – albeit a small one, measuring under 4.3 metres long and sitting a bit too low to be much use on a construction site. Not unsurprisingly, it was the work of Honda's studio in Torrance, California, but it was far from some brutal muscle car.
Instead, the Spocket used a four-cylinder engine to power the front wheels and an electric motor for the rears. With bucket seats and harnesses up front and a load bay behind though the Spocket was a kind of reverse ape drape: party up front and business behind. While it never got close to production, Honda still had an eye on the compact coupé market, eventually launching the CR-Z in 2010.
Jaguar XK180 (1998)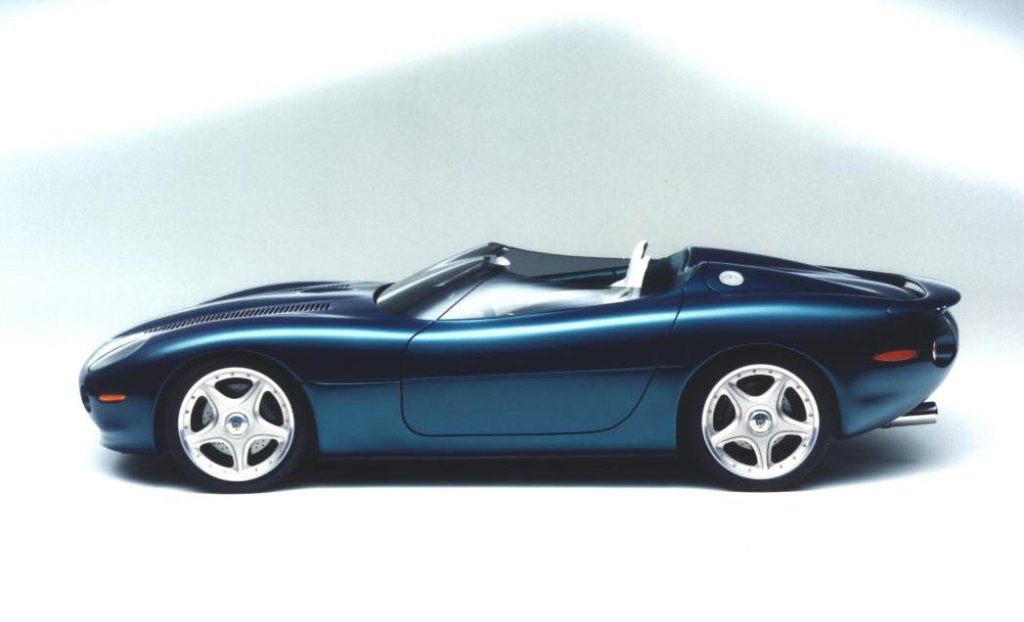 One of many revivals of the E-type idea, the XK180 presented at the Paris motor show in 1998 was the one we all secretly (or maybe not so secretly) hoped would make production.
Just look at it! Okay, it's very much a shape of the 1990s now, lacking definition in some of its details (perhaps a little too close to the production XK8 of the time) and almost looking lost in that Ecurie Ecosse-like colour scheme in some lights.
But with a double-bubble windscreen, open cockpit, wonderful turned aluminium dashboard and a 450bhp supercharged V8 under the bonnet, it certainly had the knockout visuals to do justice to the original E-type. So much so, in fact, that a handful of companies have built functioning replicas based on XJS and XK8s.
Mini ACV30 (1997)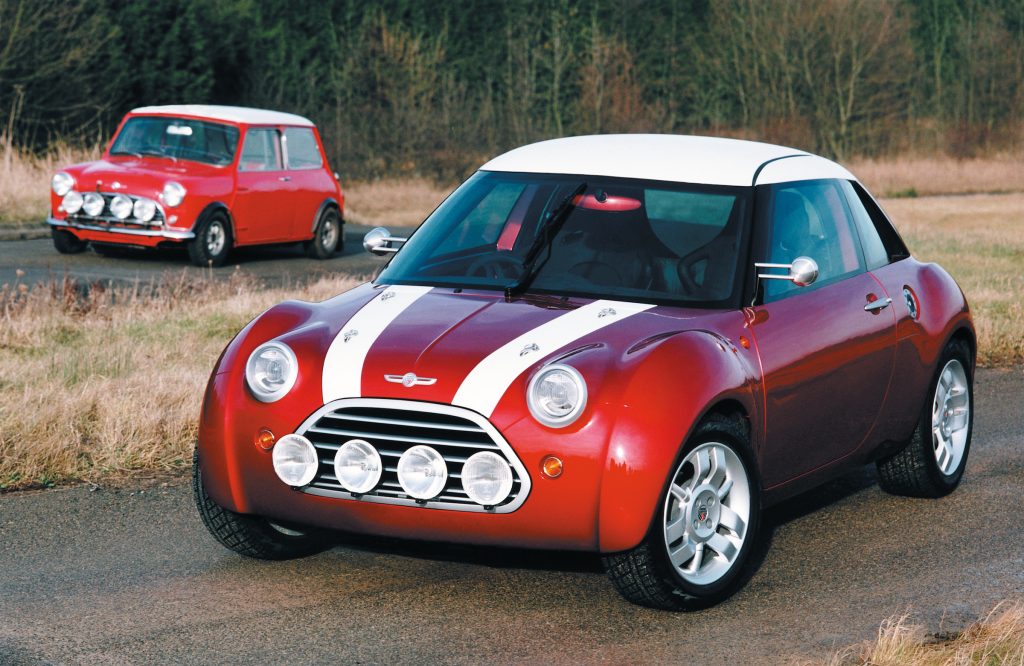 The ACV30 sneaks through our self-imposed "no production car previews" rule because while it's clearly inspired by the classic Mini, the R50 Mini that eventually appeared at the turn of the millennium wasn't strictly a derivative of this mid-'90s concept.
Rover unveiled the ACV30 at the 1997 Monte Carlo Rally, 30 years on from the Mini's final victory there, lending the concept its name. But far from being a front-drive city car, the ACV30 was basically an MGF underneath – making it mid-engined.
That explains the sporty, coupe-like silhouette – something Mini wouldn't explore in production form until 2011. But the ACV30 previewed the millennial Mini's look (the wrap-around glass and floating roof) in a way Rover's Spiritual concepts didn't – not least because, according to AROnline, eventual R50 Mini designer Frank Stephenson was involved in styling the concept.
Peugeot Nautilus (1997)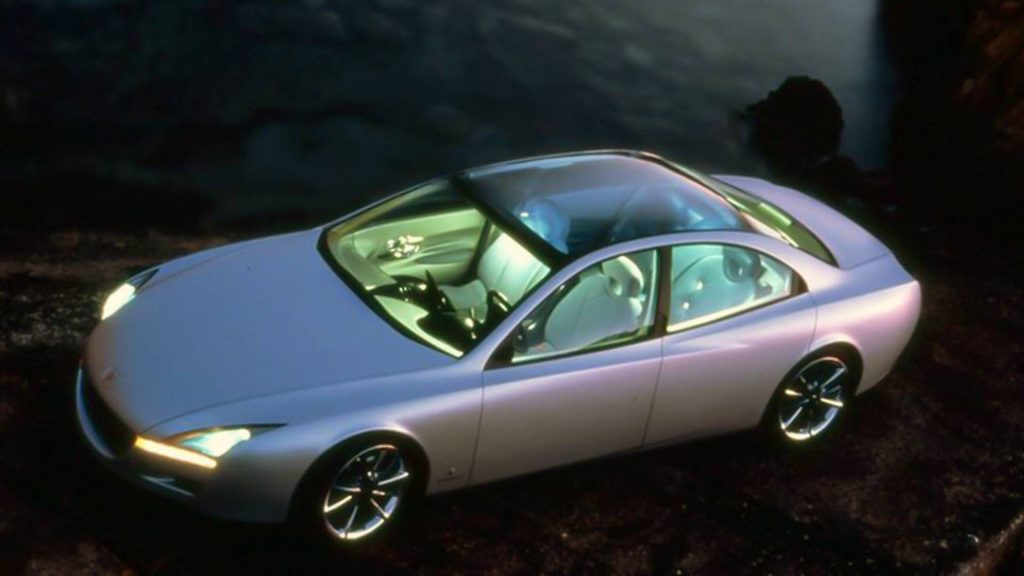 Pininfarina is often, and often erroneously cited as the design house behind many of Peugeot's most popular shapes, but squint a bit and you could argue 2010's 508 had some Pininfarina inspiration – as it bore more than a passing resemblance to the Pininfarina-penned Peugeot Nautilus concept of 1997.
Truth be told, most of that similarity is in the grille and the downward-sloping headlights, but it's strange how that likeness skipped a whole generation of Peugeot's cars – the 407 launched in between 406 and 508 looked nothing like the concept, though its wheels did make it into the 406 Coupé range, dubbed, quite appropriately, 'Nautilus'.
Enough about production cars though: the Nautilus was a large French car in the best tradition, long and elegant and beautifully trimmed inside, with a steering wheel hub aping the eponymous sea creature. Drive was more prosaic – PSA's 3-litre V6, driving the front wheels – but inside, outside, or under the sea, we doubt you'd mind.
Renault Fiftie (1996)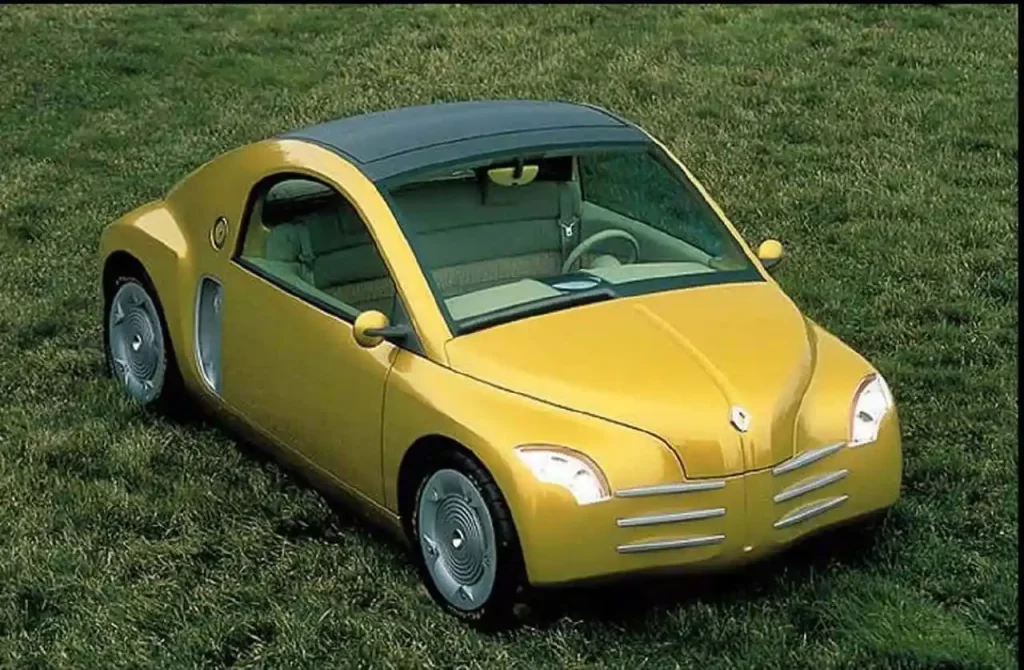 Sorry to do this to you, but the Renault Fiftie, built to celebrate the 50th birthday of the Renault 4CV, is now more than half as old again, given it was created in 1996. What's interesting is that it walked the same retro-futuristic visual path as the Alpine A110 went down just over two decades later.
Not that we're trying to compare the pair, though there's one other significant similarity: underneath the Fiftie's cute bodywork was a Renault Spider. This made it mid-engined, and of course, the Spider was built at the same Alpine facility in Dieppe that the A110 now emerges from.
Well, not all of the Spider made it – the engine was a simple 1.2-litre from the Clio. But who cares when it looked like it did? The interior was simple, and as a two-seater with a sliding bench seat, spacious too. The dash was trimmed in Fablon – remember that? – with wicker panels below and a central speedometer. Had Renault built it, Nissan Figaro-style, it would surely be considered a 1990s icon.
Toyota AXV-IV (1991)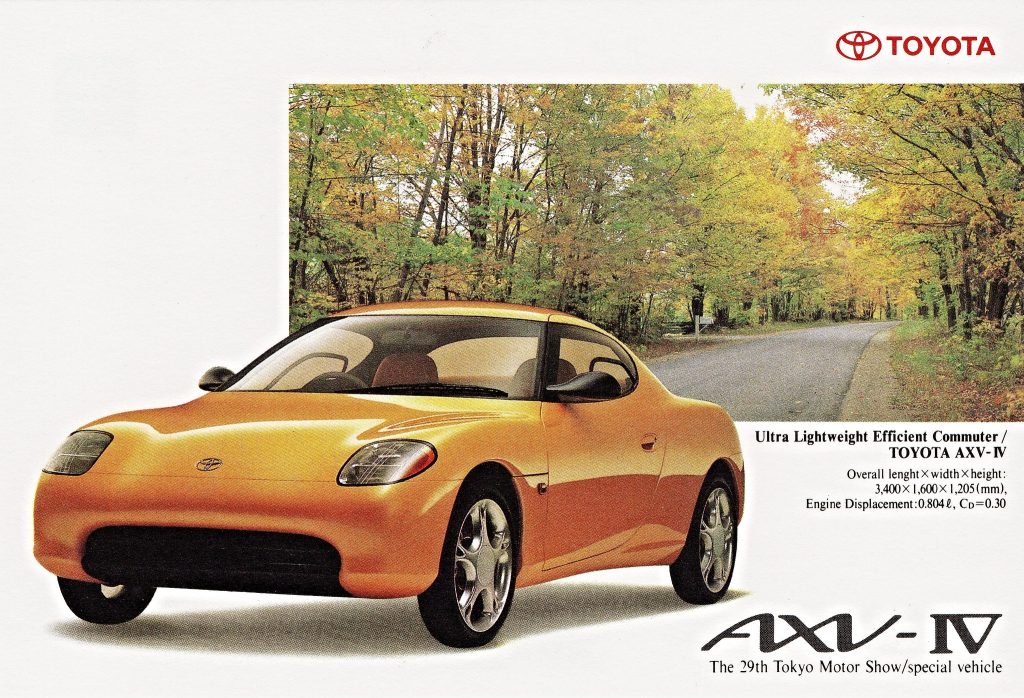 The Tokyo motor show is consistently home to some of the wildest concept cars, and 1991's was typically special. One of the most eye-catching of all was actually one of the most sensible, in intent if not execution: Toyota's compact AXV-IV.
Visually, it's distinctive if unremarkable: a small coupé you might expect to be powered by a kei-class 660cc engine. The reality though was an 804cc, two-stroke, 10-valve, twin-cylinder diesel producing 64bhp. Toyota claimed excellent low speed torque, low noise, and low vibration.
Combined with an astonishingly lightweight aluminium, magnesium and composite structure – coming in at 449kg, or similar to a Caterham Seven 170 – the AXV-IV promised extreme economy with willing performance. Tech such as resin springs that also served as suspension arms, could have made this the cleverest small car ever created; alas, it was never to leave the drawing board.
Read more
How Porsche's secret 989 saloon went from saviour to failure
Concept Cars That Never Made The Cut: MG Rover RDX60
10 high-tech concept cars from the 1980s