Everybody thinks they're good at driving and sex, but the BMW made me think I was a better driver than I really was. The handling was sublime but I nearly killed myself in it; driving like a tit. I went into a corner thinking I was the big "I am" and completely lost it, I ended up pointing the wrong way in the middle of a Welsh B-road. I was on my way home in broad daylight.
This dark metallic green 1997 R-registered BMW 323i M Touring was the first proper grown up car I bought, and an upgrade from my diesel Maestro van. It was two years old, but like brand new, and I think I paid £13,000.
How much is your car to insure? Find out in four easy steps.
Get a quote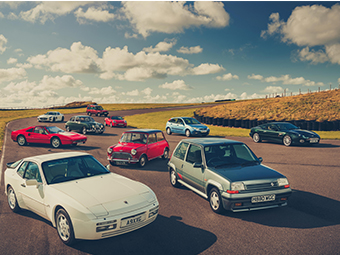 It was a really high-spec 323i manual but with all the M stuff on it – bar the engine – so it was lowered, had black leather Recaro type seats, M-specification wheels, suspension, brakes and decals. With its six-cylinder engine, this car pulled like a train in every gear; it just went on, and on, and on. It was quite small, but made the most glorious noise.
The 'Evo triangle' is like the Welsh Nürburgring, but everybody locally knows it as the Cerrigydrudion to Denbigh back road. Before it was ruined by people in baseball jackets driving horrible Lamborghinis, I used to take the BMW out on it late at night, or early in the morning. It was the first time I ever really tuned in with a well-handling car, and I gloried in it.
I'm an antiques dealer so I love estate cars because of the space, but when I inherited two step-daughters I needed something bigger than the BMW. I sold it to a car dealer in Cheshire and when I woke up the next day I felt bereft. I loved everything about that BMW, and had quite a few M cars after it, but nothing came close.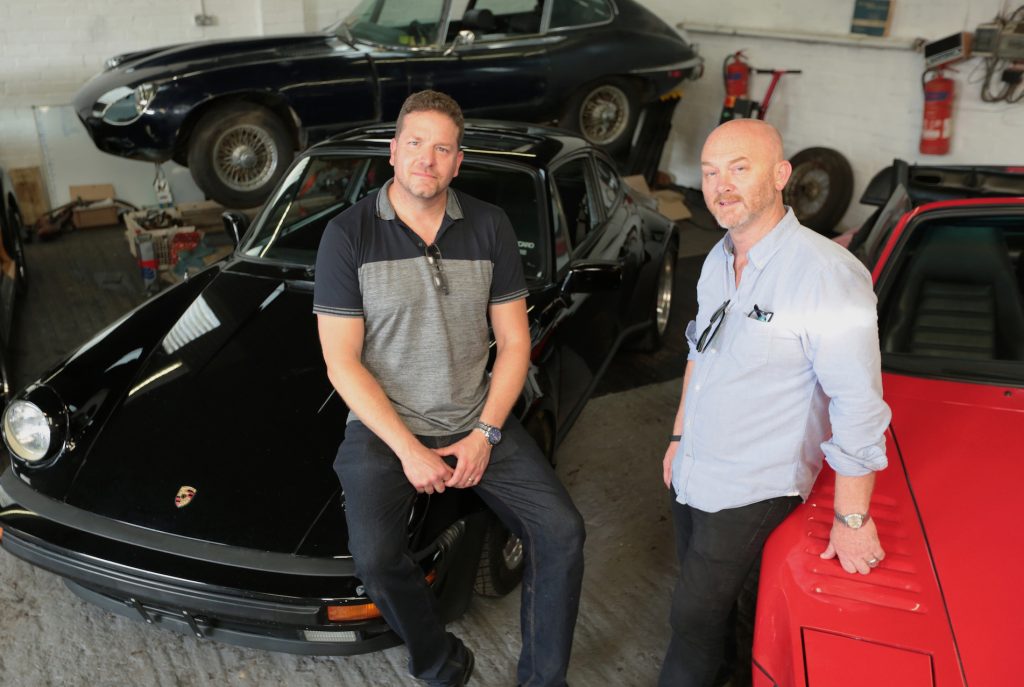 I can remember the registration numbers of all my cars and have pictures of most of them; but for some reason, not this BMW. I've spent hours looking for it on Auto Trader, but I've never seen one with the same specification. I hope it still exists somewhere, I'd buy it back in a heartbeat.
Cars are like little boxes of memories when you think about all the stuff you do in them; like going out on your first date with somebody, going out with mates, going to see a film or going to see a band. You want the car back, but you also want those moments in time back, and for me, I always hanker for the feeling of that first drive.
When I was 17, I was working as a stained glass restorer in north Wales and all my mates had really cool looking VWs. It was 1987 and I had a bright yellow and completely knackered Mk2 1600L Capri, "KED 88P" aka "The Flying Banana".
I found a 1967 RHD Canterbury Pitt conversion split-screen van for sale in the back of the local rag. The owner was a hippy and he stank, the van reeked too, but he was a nice guy and we settled on a part exchange – £180 cash and my Capri. Within minutes of driving away in the Volkswagen I had fallen in love and I've never been without an air-cooled VW bus since; I've got three at the moment.
It was a bit of a heap and had been hand-painted orangey pink with red and white striped bumpers. It had a slipping clutch and mis-matched tyres, but mechanically, including its 1500cc engine, it had never been taken apart. I used it constantly; I went to Glastonbury festival in it and took it to VW Action, where I decided to do a big wheel spin which snapped the gear linkage.
About three years later I swapped it for a beach buggy and instantly regretted it. Before the pandemic I put a picture of me with it on social media and within minutes Twitter had found it. The owner has painted it a horrible colour and put a Subaru Impreza engine in it. He knows I'd like it back, but won't sell it. I don't like cars that have been fully restored, scratches and dents don't bother me, but if I got the bus back I'd have it put back to its two-tone grey and cream standard.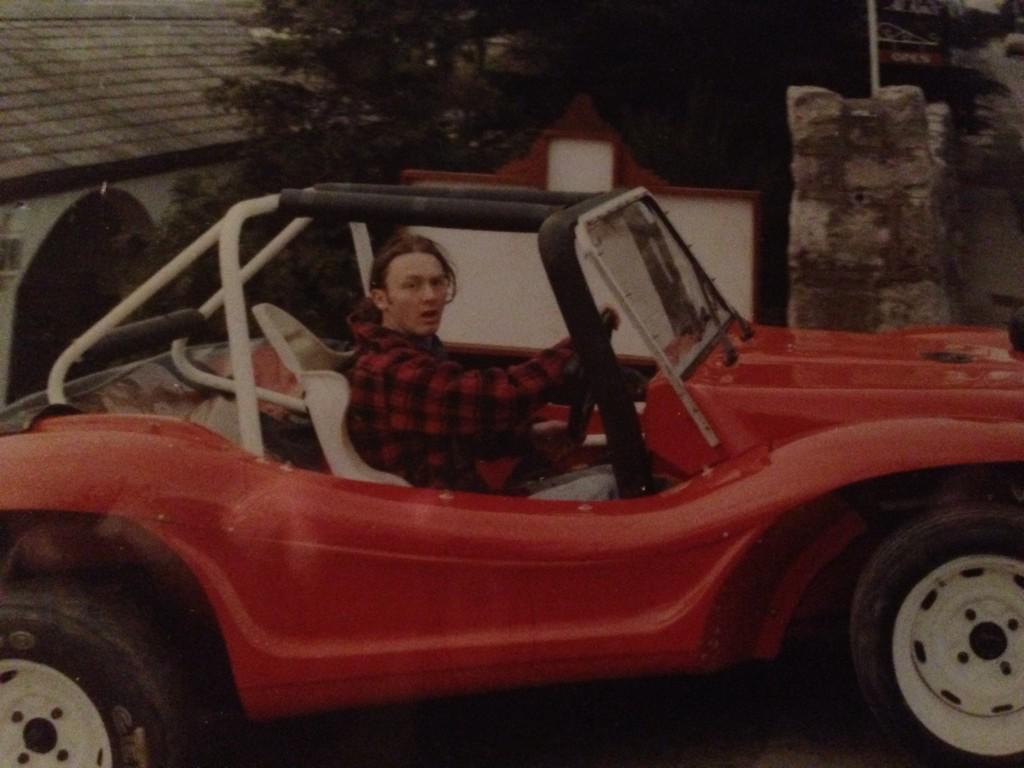 My relationship with cars is odd, and bizarrely most of them have been black. When I had my perfect collection, I had 13, and every one of them was black, so it was like going into a morgue when I went into the garage. Then I got divorced, and had to part with a few.
In 2009 I bought a 2006 Porsche 911 C4S manual Cabriolet in triple black from a dealership called John Holland in Sheffield; they're worth watching because they've always got something different. It was £27,000 and ticked all the boxes, including one previous owner and only 11,000 miles on the clock. I drove the wheels off it and in 75,000 miles not once did it break down.
When I was 49, I part exchanged it for an Aston Martin V8 Vantage because I'd always fancied one, and again, instantly regretted it. The Aston Martin was a beautiful thing to look at, but it broke down on the way home. I rang the dealer and said "I'm really sorry mate, can I have my car back?" and he said it was already gone. I tried to live with the Aston, couldn't, and swapped it for an old 1961 23-window Samba Volkswagen van – which was great.
I longed for that 911 because I knew it inside out, and years later I found out it was for sale with the dealer I'd sold it to. We didn't end on good terms, but after a few days I got a text saying "the car is yours and I'll discount it by £2000". A German guy had bought it, spent a fortune at Porsche having all the mechanicals rebuilt, drove it back to England, and sold it at a loss.
It might sound morbid or morose, but when I got it back, I drove to the grave of a very good friend of mine who died very young. We were both really into Porsches and old Volkswagens, and I just sat there and talked to him. I've got three 911s now, but I'll never let this one go.
I've had five 993s and stupidly sold all of them. You can see there's a pattern emerging now; I get something great and then I lose it. I had to sell my first one "N93 ABY" quickly, and at a loss, when I had a bad couple of months in the business. I had no choice and I was gutted; when you've had as many cars as I have you know when you've got a good one, and that first 993 was a really, really good one. It's in Bristol somewhere, but the guy won't sell me that back either.
Mum and dad still own the 1952 MG TD they brought me home from the hospital in when I was born, and mum asks why I have so many cars when I've only got one arse – but buying and selling things is all I've ever done.
I was dealing in dinner tickets, records and Dr. Martens by the age of 11, and at 15 I went round knocking on people's doors if they had an old car on the driveway to see if they'd sell it to me. If they did, I'd push it back to my parents yard and break it for parts to make money. We weren't poor when I was growing up, we didn't want for anything, but we didn't have anything extra so to be able to afford what I wanted later in life has been a big deal, and still is. For the first time ever I don't have to sell things to survive.
About four years ago I bought an original, one owner Subaru Impreza Series 1. It was perfection, but at a low point Paul Cowland offered to buy it and I said "go on then". That was the turning point; I thought, I can't keep selling cars that I love, and I've not sold one since. I've nipped my bad habit in the bud.
I'm a dealer by nature so in the past if anybody would see me a profit on something I'd let it go; that's how I make my money so I've always had that mentality, but now I'm buying to keep and I've learnt to enjoy what I've got.
I've had over 250 cars in my life so there's a lot that have got away. I'd feel like I'd be righting a wrong by getting them back, because I feel guilty for selling them. What a sad old fart!
Read more
The One That Got Away: "Jake", Sarah Crabtree's ginger Mini
The One That Got Away: Alan Stote's search for one of the world's most beautiful Art Deco cars