"The Peco Big Bore exhaust and rock classics banging out of the 6×9 speakers didn't exactly make my Mk2 Golf GTI understated, but that wasn't the reason I was stopped by the police all the time, it was because I looked about 12 when I was actually 19. They'd say 'come on son, you've been caught' and I'd reply, 'no officer, this is actually my car!' and would always be surprised when they found out my age.
The main reason for my youthful looks was that I was diagnosed with Crohn's Disease aged nine and had been taking so many steroids to keep it suppressed that it kind of suppressed my ageing process. I desperately tried to grow a beard or moustache, but failed, so in an attempt to be cool and slightly rave-y I used to wear a reversed custard flat cap and Rupert Bear trousers, which paints quite the picture doesn't it? Thankfully this was the early nineties, before social media, so there are precious few photos. Unlike me, the VW Golf Mk2 has aged well, they're such an iconic car, so good to drive and so evocative it's no surprise they've gained cult status.
How much is your car to insure? Find out in four easy steps.
Get a quote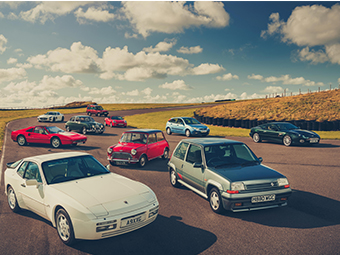 So how did I get my hands on one? Well, in a moment of crazy generosity, my dad [Partfitt's father is Rick Parfitt, of Status Quo, who died in 2016], who was not prone to bouts of crazy generosity, bought me a 1.4 Mk1 Golf for passing my A-Levels, I think this was 1993. I was really thankful and crazy excited to get a brand new car, it was an incredible moment, plus he'd had a GTI badge put on it and a double light conversion. Super cool, but of course it wasn't a GTI, it still had steel wheels and was thoroughly boring to drive.
I promptly buried it in a central reservation on the M1, had it repaired and sold it. I used the money to buy a Mk2 Golf GTI 8 valve in electric blue with a big bumper conversion, Recaro seats, a sun roof and factory spec BBS alloys. I didn't know it at the time but this spec was a limited run edition; it cost me five thousand pounds and was a mega bit of kit. I was in love!
The Mk2 was so much more than just a car for me because it was a way I could express myself. I've dealt with pain pretty much my whole life because of Crohn's and the accompanying symptoms made me insecure and very insular during my teens; I didn't go to parties and avoided socialising because I was worried about needing the bathroom and people judging me because of how thin I was. It's a cheesy thing to say, but the Mk2 gave me my freedom and sense of self back. I felt completely at one when I was sat in that car, its wonderful boxy 'wheel on each corner' design meant it handled brilliantly and you knew exactly where each corner was when you were driving; after the 1.4 its performance was intoxicating. I'll never forget the growl of the engine and as my mother lives in Germany I have many mega memories of caning it along the Autobahn at over 100mph!
The Golf gave me the opportunity to be the person I wanted to be, which is why I saved up for all the bits and personalised it. Like most kids did in those days I had a bonnet lip fitted, replaced the rear lights with smoked ones and replaced the rear parcel shelf with a new wooden one with massive speakers. I could be heard smashing out loads of proper rock from Guns N'Roses and Thunder whilst bouncing down the road thanks to the huge subwoofer strapped in the boot. When I bought the Mk2 my dad wasn't best pleased because he wanted me to be sensible (oh the irony!) but he was a car guy and when I took him for a drive and blasted out some tunes he was sold.
This all happened during peak Max Power generation and I trawled the magazine for inspiration; I was really into the tuning companies Zeemax and Mykoo, both of which did big bodykits with crazy flared arches and wings. Luckily, I could never afford any of them.
Dad had some incredible cars over the years. I loved the Rolls-Royce Silver Shadow he used as the 'pub car' and remember it feeling like we were floating along on a magic carpet. He had over 16 Porsches and crashed the majority of them, but the one I loved the most was a signal red 964 Turbo 2 which suffered a truly rockstar fate. He took it to a party at a friend's house and allegedly the last thing he remembered was going to bed, but he didn't. What he actually did was get in the car, drive it down the M3, fall asleep at 130mph, barrel roll into a ditch and subsequently woke up in a police station. When he was informed of the situation he simply replied 'rock and roll'! We shared many cool road trips but driving to Le Mans in a 1987 Aston Martin Vantage Volante chasing Derek Bell in his Porsche 928 is a highlight.
They say kids of rock stars are well balanced people because they've got a chip on both shoulders and I think that's true because you're constantly striving to find your own identity. My two major passions in life are motorsport and music, but motorsport was a way for me to gain credit for my own talent and I've managed to achieve a lot – when you walk into the British Racing Drivers' Club at Silverstone and there's the RAC trophy with your name on it alongside the other greats including David Coulthard and Stirling Moss, it's immensely humbling. I'm just a middle-aged rock musician, but I wanted to prove that even with Crohn's Disease, with a lot of determination you can prove people wrong and get to the top.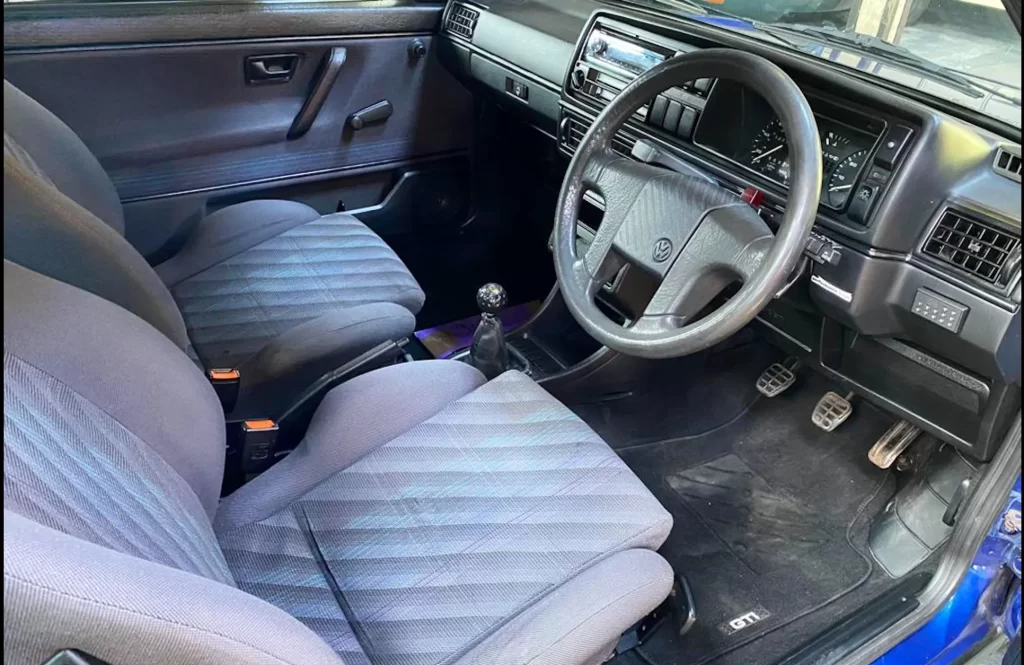 Maybe I'm getting old, but my taste in cars is definitely becoming more old school; mass manufactured stuff has a distinct lack of personality, there's simply no sense of occasion. It's similar in the music industry where songwriters work to briefs set out by record labels which means there's a distinct lack of originality, but from time to time you do get artists that break through like Billie Eilish and Sam Fender, who are doing their own thing and writing from the heart. I guess I'm waiting for someone to design the Sam Fender/Billie Eilish of electric cars, but until then, I get my kicks when cars and music collide at events like Car Fest, where I'll be performing with my band the RPJ Band later this month.
I parted ways with the Mk2 after my 21st birthday. I'd seen this big beautiful Suzuki Vitara at a friend's garage with huge Fondmetal wheels, but there was no way I could afford it and health wise I was in a really bad way. I was in hospital, weighed five and a half stone and in huge amounts of pain with Crohn's, which resulted in my first (of four so far) major bowel resections. Little did I know my Dad had bought the Vitara because of what I was going through, and when I came home from hospital it was parked in the garage. He handed me the keys and said 'you've had a tough year, this is your present' and I burst out in tears. A wonderful moment, but the Vitara was an atrocious car, it drove like a roller skate and handled like a boat but it looked cool.
In hindsight, I should have kept the GTI and returned it to factory spec, I definitely over-modified it but everyone put their own identity on their Golfs, that's what made them special. I've fond memories of my Mk2 and if I could have it back I'd jump at the chance.
My daily driver these days is a BMW i8 hybrid which I truly believe is going to be a modern classic. BMW were way ahead of time when they launched it in 2014 but the only downside is I'm piling on the mileage driving to gigs (I'm playing over 100 with the band this year) and race circuits, so getting a nice little Mk2 Golf back as an every dayer would be a cracking idea. I can't remember the full number plate, but it was a 1990 'H' reg car, and I've found one for sale that's identical to the one I had… even down to the rear lights. I've messaged the owner to find out if it's mine, and if it turns out it is, there's a cosy spot in my garage ready and waiting."
For more information about Chron's, visit crohnsandcolitis.org.uk; CarFest South takes place on the 26-28th August, for more info visit carfest.org
Read more
The One That Got Away: John Illsley of Dire Straits and the Aston DB5 bought with his first royalty cheques
The One That Got Away: Ant Anstead's hunt for Bridget the MG Midget
Wheeling and dealing in the fastlane: 'You couldn't sell a Ferrari 250 GTO because it was too slow to win races'